Oh Dips! I can't be the only one who has a vaguely worried and protective feeling about her, right? She just seems to have been hit by life so many times.
Usual Disclaimer: I don't know these people, I have no special knowledge, this is just how it looks to me based on publicly available sources.
Years ago, I read an article about how female athletes tended to have more long term injuries at a younger age than male athletes. Because the combination of that female training to please others and sacrifice yourself, and the sports ethos of doing it for the team, created so much pressure that these girls teenage girls would literally cripple themselves and keep it all inside. Don't complain, don't make other people feel bad, swallow your feelings and keep going to make everyone else feel happy. When I look at Deepika, even today, somehow that is what I see. A little girl raised to practice 6 hours a day at a sport she wasn't even sure she liked, but still too scared to tell her family she wanted to quit until she was almost grown.
Deepika's family is a special kind of sports royalty. What everyone knows is that her father was a badminton star, that's why she was born in Denmark. But it wasn't until I started researching a little that I learned her father wasn't just a badminton player, but her whole family was dedicated to sport in an almost religious way. Her grandfather was secretary of the "Mysore Badminton Association". Her father dedicated his young adulthood to being literally the best player in the world (won his first international title at 19, ranked number 1 in 1980, retired at 36 with 3 international gold medals). Once he retired, he founded a training academy for young players in his home city of Bangalore, coached the India national team for 3 years, and co-founded an organization to provide support to young Indian athletes looking for Olympic medals, 4 out of the 6 medalists at the 2012 Olympics were supported by his group. This is a family that sees sports as a national duty, as a service to people, as the best way to uplift Indian youth. Not through celebrity endorsements and big splashy events like Cricket matches, but through slow serious dedication, by making every child a potential champion, by lifting up any talent.
Deepika was a national badminton champion her whole childhood, and state level in basketball. Her younger sister is an international golf champion, and also played Cricket and basketball at a state level. She was born in 1986 in Denmark, where her father was training. The first few years of her childhood were spent traveling between Bangalore and Denmark (her father had close connections to the players and coaches there). They moved back to Bangalore when her father retired in 1991, when Deepika was 6. And then her life as an athlete began. Up at 5, practice, then school, then more practice, then homework, then sleep. Deepika has described herself as being shy as a child, but looking at her schedule, I don't know if she had the chance to figure out if she was shy or not, she didn't have a chance to do anything but follow her routine.
Deepika's family background of athletics, and her own past as a badminton champion, that's all public knowledge. But what I find most revealing is how Deepika described her finally breaking free of this tradition, "I asked my father if I could give up the game and he wasn't upset at all. " Poor little Deepika! Waiting until age 16 to finally tell her father she hated this life because she was sure it would make him unhappy, and then to her surprise "he wasn't upset at all!"
Deepika spent her childhood focused on athletics, but just for fun, her parents also had her do some modeling. Not serious modeling, local ads and TV stuff. She was from a good family, she was a pretty little girl, it was a respectable thing to do. And when Deepika was 16 and finally spoke to her father about quitting badminton, she switched that kind of serious dedication to her modeling work. She started college, but dropped out, and rapidly climbed the ranks of models. At 21, she left home and moved in with an aunt in Bombay to see if she could make it in films. Deepika was a hard worker and serious about her career (a little girl who was raised to dedicate herself to practicing hours a day is not going to take anything lightly), but she rocketed to fame because she was born with something really special in her look. When she first appeared on the modeling scene, comparisons were drawn to Aishwarya Rai the biggest most famous model India had seen until then. She did print ads, TV ads, and finally a hit music video. She didn't "act" necessarily in any of them, but just her face reacting to things was hypnotic, impossible to look away. Dips smiles, and you just have to smile back.
The first film Deepika was cast in was Happy New Year. Farah Khan had a vision of an unapologetic dance girl, a cheerful sexy silly one, one the audience would just love even if she wasn't the "good girl" type. She reached out to Malaika Arora first, the top item dancer in India. Malaika wasn't interested but passed Farah on to her friend who happened to be Deepika's agent. And then Happy New Year fell apart and didn't happen and instead Deepika's film debut was in her home industry, Kannada. Farah remembered her though and offered her the lead in Om Shanti Om instead. And that's how Deepika became a movie star.
I find it fascinating that Happy New Year was supposed to be her launch. The original vision was Deepika as this difficult un-heroine like woman that the audience would love anyway. And that's where Deepika landed in the end, 5 years later, finally being given a role that really dug into that conflict of being a woman you just had to love, even as you saw her flaws, in Cocktail.
I don't think Deepika is necessarily a better actress in those unlikable roles, or even the best actress for them. I look at her performance in Om Shanti Om as both the damaged movie star and the sprightly trusting young fan, and it is quite good. I look at Piku, and I can see another actress in the role, anyone from Rani Mukherjee to Anushka Sharma. But I don't know if, with any other actress, I would find this difficult woman so endlessly forgivable, if I would want her to be happy, if I would look forward to her smile so much. Deepika is a good actress, but what makes her a spectacular movie star is when the character she plays is combined with her arresting, magical, special face.
You may be reading this thinking "really? She's not that special". But that's the thing! She doesn't feel "special". In a role like Yeh Jawaani Hai Deewani, we can believe her as the shy glasses wearing girl no one noticed in school. If someone actually called her "ugly", that would be unbelievable. But her looks don't make you say "beautiful, sexy, unbelievable". They make you say "oh, I love her smile". Her face is beautiful, but it is her expressions you remember more. That's really rare, and something some people are born with and some aren't. Deepika was lucky enough to be born with it.
The problem is, early in her career, people kept casting Deepika in roles where she just had to be beautiful, not special. Om Shanti Om was wonderful because the camera loved her face. And because Deepika buckled down and swallowed her emotions and did what Farah told her to do (for instance, she has a phobia of fire, but didn't want to mention it during the fire stunt, only told Farah long after). But in Bachne Ae Haseeno, she was a quirky pretty girl the hero fell in love with. In Chandni Chowk To China, she was a quirky pretty girl the hero fell in love with. In Love Aaj Kal she was a quirky pretty girl the hero fell in love with, with a little bit of depth and internal conflict. Karthik Calling Karthik, Housefull, Lafingey Parindey, Break Ka Baad, Aarakshan, Desi Boyz, over and over again Deepika was the pretty girl the hero fell in love with and not much else. She had some better roles mixed in there, even her love interest part in films like Break Ka Baad had some layers. But there weren't really any script backed roles, anything with real depth to it. And Deepika as an actress needs that.
There are some actors who thrive with freedom, who like to work with their directors and writers and dig out the truth of the character. But there are other actors who do best with structure, when they are handed a complete character and then bring their own spirit to it. I think Deepika is the second kind. When she is given a character who's whole backstory is "pretty girl that smiles at the hero", all she can do is stand there and smile. It's a great smile, it's enough to keep her working in those pretty roles, but it doesn't really make her stand out as anything special.
It was Cocktail where, FINALLY, Deepika got the kind of support she needed and really showed what she could do. It's a great performance and a complicated character, a damaged party girl with a big heart who you should hate, but you don't because it is Deepika and you just want her to smile. And in real life, Deepika finally smiled too. After Cocktail, her father took down one of his badminton trophies and gave it to her, so she knew he was finally proud of her. Poor man, only able to convey his feelings by trophies.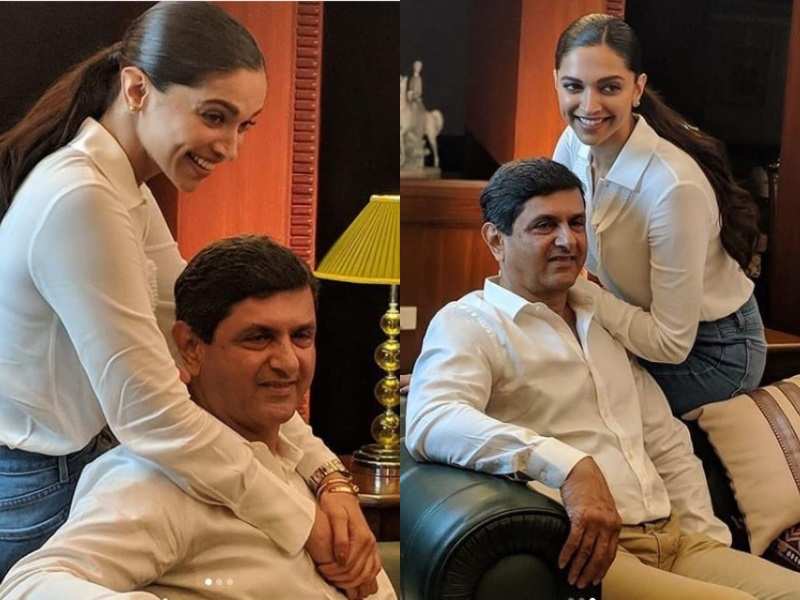 And poor Deepika! Working and working and working and trying harder and harder and then, FINALLY, getting the acknowledgement she needed for so long, ever since she was 16 and confessed to her father that she didn't want to be another generation of badminton champions. Deepika just keeps getting knocked down and keeps going. At age 21, in her second movie, she fell in love with her co-star Ranbir Kapoor. He was 26, not that much older, and because love is perfect and everything is always going to be wonderful forever and ever, they gave lots of joint interviews and Deepika was photographed with his parents, and she got a tattoo of his initials "RK" on the back of her neck. And then, shockingly, first love was not true love and perfect forever and ever and they broke up. And there was Deepika, with "RK" on the back of her neck and quotes about how she would love him forever and ever, and an acting career that was seemingly dead in the water. And Deepika just kept going. At that point, a lot of women would have stopped, gone back home, retreated from the public eye. But Deepika swallowed the hurt and smiled.
And she was rewarded! After 5 years of struggle, she got a role that let herself shine as an actress. And that same year, she found a man to support and love her unconditionally in a way she never really had before. We can't know the inside of Ranveer and Deepika's relationship, but we can know that she wasn't sure her father was ever proud of her until she was 26 and he gave her a trophy, and we can know that Ranveer makes sure that (so far as the world is concerned) everyone knows he thinks Deepika is the perfect best woman EVER.
And, finally, Deepika started letting a little bit of who she is shine through, instead of swallowing it down and keeping going. In 2015, she went public with her struggles with depression and founded an NGO to provide information about depression to school children, physicians, and on social media. That same year, she narrated a video "My Choice" for Vogue India encouraging women to take control of their sexuality. And she backed it up with her riskiest role yet, Piku, a sexual independent difficult woman in a film co-starring Irrfan Khan and Amitabh Bachchan, two of India's greatest actors.
A different actress would have retreated into marriage and semi-retirement at this point, but instead Deepika kept looking for new challenges to win. She pursued an international career with a part in XXX 2. And then she was wise enough to retreat back to India when it didn't really work out, instead taking on a challenging high profile role in Indian film, the lead role in Padmavat. At this point, a different actress might have just kept going and going. But again, Deepika had learned the wisdom of letting herself be kind to herself, and she followed her big hit film with a decision to marry her boyfriend of 6 years and just be happy for a while.
Deepika is trying producing now, and her come back film/first film as a producer is about to release, Chhapaak. I don't know where she is going from here, but I hope she is able to keep smiling, and also know that it is okay to say "no" sometimes when you are just too hurt to keep moving.