I feel like we could crowd fund this one, right? Just pay Anushka enough to produce it on a shoestring, and then get a locked youtube video that can be shared only with the DCIB community. For Happiness.
Thank you Courtney for the idea!!!!
Katrina-Anushka Love Story, 1/3rd finished
Anushka is a hard partying confident cocky Lesbian and a successful writer/reporter. We open seeing her having a big blow out break up with her latest girlfriend who says she is always too tough to open up and admit she feels things, then Anushka goes out and gets drunk, seduces a sexy pretty item girl in song (Esha Gupta maybe?), then casually kicks her out the next morning in a nice way that shows Anushka does this a lot (has casual sex with girls who don't usually sleep with girls but sleep with Anushka because she is so sexy). And only then does she get a call for a PR job writing an in depth redemption profile of an empty-headed actress, Katrina.
Katrina just got dumped by her latest boyfriend and her sympathetic manager/mother figure Shefali Shah is trying to convince her to meet with Anushka and be totally honest and open. Kat is nervous because she has never told the full truth about herself, not even her age is correct, and how can she trust the public who already hate her to forgive all the other stuff she has been through? But Farida tells her that is why Anushka is perfect, she's India's most famous out Lesbian, she was a top columnist for one of the biggest magazines, then wrote a bestselling memoir about being an Indian Lesbian, and now she has agreed to take a fabulous sum of money to write an intensive profile of Katrina. Anushka made her name by making the unredeemable impossible woman into someone people love, its on her as much as Kat to make this work.
Now, the middle bit is where I need help. We have Anushka (tough blunt fedora wearing hates all of Kat's careful lies) and Kat (super reserved, feminine, finds Anushka's whole thing very distasteful). Because Anushka has already spent the advance, and Kat's situation is getting worse and worse day by day and Farida swears this will help, they have to keep meeting. Blah blah, slowly opening up, and after Kat confesses all the deep dark secrets of her life (and Anushka responds in kind, revealing parts of her journey that weren't even in her writings), they go out drinking, and somehow end up falling in to bed together.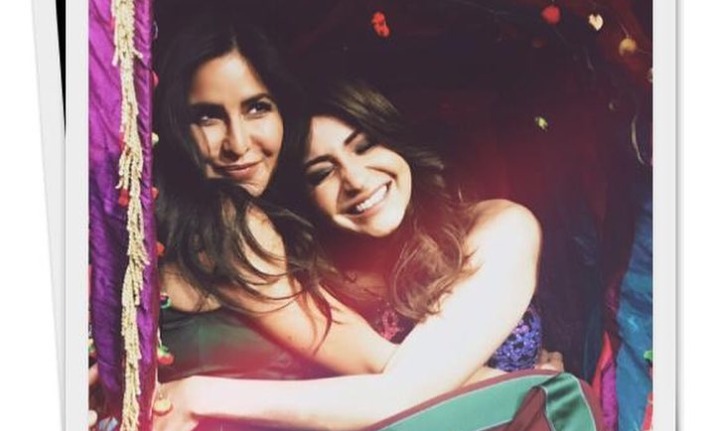 Clear clear, good good. After some backing and forthing, they decide to try it as a couple. Anushka's friends think she is crazy, those "experimenting" girls are ones you might take to bed for a night, but an actual relationship never ends well. No one in Kat's life knows except for her maid (Sheebha Chabbha, because why not!) who walked in on them. She is accepting, but worried about Kat, Kat is so pretty, doesn't she want to get married and all that? She already has her dream wedding sari purchased and in her closet, after all.
And then Something Happens and they break up. Maybe Kat walks in on Anushka with her ex and misinterprets. Maybe Anushka sees Kat kissing a co-star to create rumors for the cameras. Something that brings all the fracture lines up again, Anushka doesn't believe Kat will ever love her enough or be brave enough to go all in on this relationship. And Kat isn't sure she can really risk everything for love, not if Anushka is going to keep pushing her to be out-out instead of just cosy "out in the industry but not in the papers".
Until Anushka publishes her article, and it is so loving and understanding that it immediately solves Kat's PR problems, plus makes her realize as she reads it that Anushka really does love her in a way no one has before and that's worth more than everything. And in response Kat comes out on National TV in an interview with Karan (playing himself, obviously). She says that she had many relationships but never felt truly loved or happy, and then last year she finally fell in love for the first time in her life, with a woman. Anushka sees the interview on the TV screens at the airport as she is about to leave to go spend months with her next interview topic, and rushes to try to get back through security and then find a cab, we aren't sure if she made it, until Karan suddenly looks up and sees something while he is still talking to Kat, it's Anushka! She made it in time from the airport and Karan waves her on. She is crying, Kat is crying, and then Anushka gets down on one knee and proposes live on camera. Hugs, tears, a kiss, and Karan is so overcome he declares "And I'll perform the wedding!"
Happy ending song, Anushka and Kat's big wedding, Karan performs the ceremony in an amazing outfit, Anushka's wearing a kicky turban and Kat's in a gorgeous sari, everyone who loves them in their lives is there (maybe Anushka has finally reunited with her sister thanks to Kat's encouragement? She was angry because her sister didn't stand up for her when their parents threw her out, her sister has been reaching out to her for years and she ignored her, Kat encouraged her to see it from her sister's side and understand and forgive, they finally met and her sister explained that she was just a kid herself, she didn't knew it was wrong but was scared, she has lived with that guilt every day but didn't even know how to find Anushka until her memoir came out, she cut their parents out of her life and has just been waiting to be reunited with her sister), and they have a big dance number. Heck, even Anushka's ex is there! Maybe we see a cheeky bit of her dancing with Esha Gupta, implying that Esha is going to be seduced into another lesbian encounter.
What do you think? How should they become friends and then fall in love in the middle bit? Travelogue with Anushka following around while Kat films a song overseas? Or Anushka taking Kat to her dive bar Bombay world until she loosens up? Maybe some wacky misunderstanding where gangsters think they are smugglers or something?
Should Neha Dhupia play Anushka's ex or Sanya Malhotra? Or someone else? What about Kat's motherly manager and worried maid?
And what should Kat's secret past be? Anushka's is easy, good liberal family that threw her out when she came out to them and ever since then she has been on her own and not fully trusted anyone. But Kat? Beyond having some famous relationship that just ended? Call girl seems too depressing, being white is too meta. Maybe just that she lied about her background to make herself seem higher class/caste after entering the film industry? But is that enough?
What do you think? Before we start up our Kickstarter page, what more do we need to add?
Should Rekha be involved?