It's snowing in Chicago, and will continue snowing for…..ever? The point is, it's grey and drab outside and I need a distraction. So let's have a totally silly and self-indulgent fan discussion!
As I explain to people every time I do my lecture around K3G, the Star Intro is a basic element of Hindi film. You want to build excitement slowly until it bursts forth in an orgy of whistles, cheers, stamps, and applause. Shahrukh has had some really great intros but which (in your mind) is his absolute BEST???
These are the intros I remember, complete with gif/video/image reminders:
Deewana: Doing motorcycle stunts and singing as he rides down the roads of Bombay
DDLJ: Scoring the winning rugby goal
Yes Boss: Singing on the back of a truck
Kabhi Khushi Kabhi Gham: Voice over, then feet hitting ground, then running back, taking off sunglasses, and finally coming around the corner in slow motion while waving his finger
Devdas: Flying sheet reveals his face.
Kal Ho Na Ho: Slowly coming out on a snow covered balcony to have his face revealed as the family next door prays for an angel, with flashbacks to face-obscured moments of arriving in America.
Main Hoon Na: Obscured bits of eyes and hands, and then triumphal arrival in an explosion of glass and light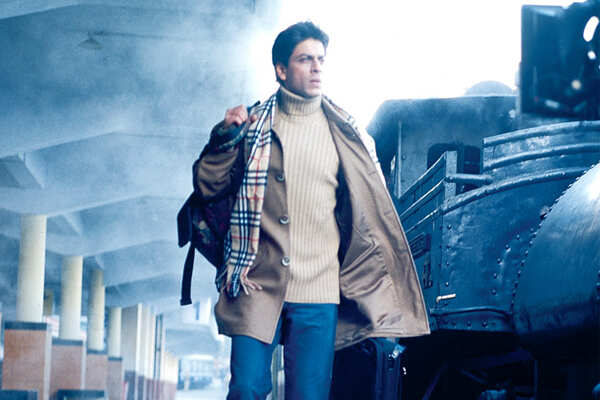 Don: Obscured sunglasses face, slowly revealed as he walks through a dance studio, finally fully viewed during opening fight scene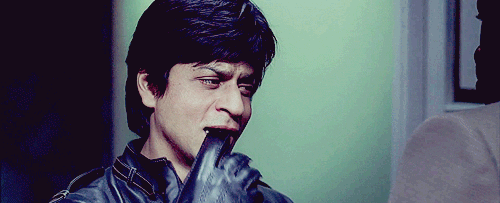 Om Shanti Om: Waving hand from the crowd, then slow motion catch of a jacket thrown to him by historical Rishi Kapoor
Don 2: Hair covering face until fully viewed during fight scene
Jab Tak Hain Jaan: Motorcycle and sunglasses, then slow low angle walk down the street
Happy New Year: Mud fight with his face covered in mud, until water is poured on his naked torso finally revealing him, culminating in his slow motion shirtless walk to the camera with his voice over in the background.
Dilwale: (special circumstances, second intro) Walk down the hospital corridor as his face hardens into anger, followed by shadowed fight scene with flames revealing his face as he burns the drugs at the end.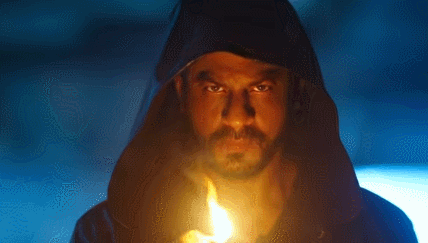 Dear Zindagi: Voice, then slow pan into room to reveal him casually dressed and relaxed continuing his monologue.
Raees: Shirtless, sweaty, whipping himself with chains in slow motion
Zero: slow walk gunslinger style.
Okay, so far as I am concerned K3G, DDLJ, and Main Hoon Na are the ones to beat. For you, which is most memorable? Like, you read the title of the movie and immediately could picture his intro?
Also, bonus, which film has the most/best entries? Like, Happy New Year where ever five minutes Shahrukh was moving into a room in slow motion from a low angle.