Part 2! Jaya post-marriage, the sticky years between 1973 and 1983. The affair rumors, Silsila, and finally almost losing her husband.
Usual Disclaimer: I don't know these people, I have no special sources, this is just how it looks to me from a far far distance.
In 1974, Jaya Bachchan and Amitabh Bachchan were married and left for their London honeymoon immediately. There was no thought of slowing down just because of marriage, they had both been balancing work and relationship for years, why should marriage change things? They even had their next film signed, another movie together, Sholay. It would come with a long location shoot that could serve as a second honeymoon after their first one.
They were in London for almost a month, and Jaya returned already pregnant. It happens sometimes! Some couples get married and BAM. This was a nice respectable educated couple, and this was the era of family planning being a patriotic duty, so I don't think this was unplanned or anything. And yes, the dates line up for their daughter's birthday and their wedding being just barely 10 months apart. So they got married, chose not to use birth control because they were ready for a baby, and got lucky and got pregnant basically on the first try. Like the wedding (forced to happen quickly so they could use the London tickets already booked), having a baby was something this couple was always going to do eventually, it was just the timing that was a surprise.
Jaya was 26, which in that era wasn't exactly a "young" wife and mother. Even in terms of her career, she wasn't that young, probably only a few more years before she would start losing out roles. It was probably faster than expected, but it wasn't a disaster. And she didn't slow down, nor did Amitabh ask her to, they both happily left town for the long Sholay location shoot.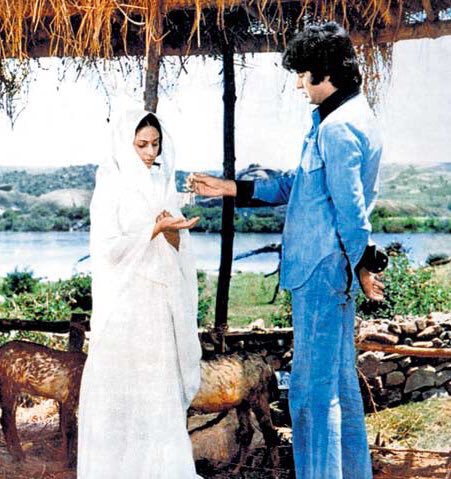 The first schedule of the shoot with Amitabh and Jaya just married and already pregnant was heaven for them. They were together all day every day, and at night Amitabh and Dharmendra and Jaya would drive around to remote villages looking for the pickles or sweets or whatever she was craving. Everyone was happy, everyone was excited for them. In fact, that's why the shot ended up stopping early. Ramesh Sippy, the director, wanted Jaya to play forlorn and sad and empty as a widow. But she was looking so beautiful and happy all the time, he couldn't get the performance he wanted. So the whole shoot ended, on the schedule of Jaya's pregnancy. Hundreds of people just packed up and went home so Jaya could go be happy and have her baby, because they loved her.
Jaya and Amitabh went back to Bombay and set up their household. During the Sholay break, Amitabh signed other films and his career suddenly became huge. It happened so fast, they married and left for their honeymoon with Amitabh celebrating his first real hit film and Jaya the top actress in the industry. They came home and Zanjeer (the movie that was Amitabh's first hit) was still running and getting more popular day by day. They left to make Sholay, and half a dozen more Amitabh films released while they were gone, and slowly Amitabh was getting bigger and bigger. They took a break from Sholay, and Amitabh dashed off Deewar, and suddenly his legend was born. They returned and finished Sholay, and now Jaya was the also-ran almost forgotten member of the cast, while Amitabh towered over everything. They had two years of dating with Jaya as the famous one and Amitabh as the failure, and as soon as they married, fate reversed it. Amitabh was now the famous one, and Jaya was just his wife.
The other funny thing is, looking at the schedule and all that, post-marriage they actually spent less time together than before marriage. Before, they were both working in the same places. Even if they weren't co-starring, they could dash between sets during breaks and say "hello". And they were young and energetic, they could go out after a long day of work, they could hang with friends, they could stay up all night talking. Now, Jaya was pregnant. When they worked together on Sholay, it still worked out, they were together all day and everyone looked out and took care of Jaya. But in Bombay? Could she really travel back and forth to studios and sit around all day just so she could grab occasional minutes with her husband? Would she want to? As for going out, Amitabh had more and more "work" social events. It was fine for Jaya to go to those with him when they were both working, but now to dress up and drag herself out just to be stuck with the wives? Especially for someone who had always been private, this sounds just torturous.
So in their first two years of marriage, Jaya filmed Sholay, took a break and finished out her pregnancy and gave birth, went back to finish Sholay, and got pregnant again literally within months of Shweta's birth. While she was cranking out babies, Amitabh was cranking out movies. Jaya faded into nothing, photos at events and the occasional family photos made public, while Amitabh became ever present everywhere.
There are some marriages where you look at them and say "the wife wasn't allowed to work". That is not what I see when I look at the Bachchans. Jaya finished Sholay straight through pregnancy and birth. But she had two tiny babies bang bang, one right after the other. You'd have to be a super woman to go back to work right away after that. Instead, she took time off. The year she was pregnant with Shweta, she still had a string of pending releases that came out. The year she was pregnant with Abhishek, it was three of her best performances (all opposite Amitabh), made before marriage and pregnancy, Mili and Chupke Chupke and Sholay. The next few years so a handful of films come out, all clearly filmed before marriage (she is listed as "Jaya Bhaduri" in the credits) and held up for some reason. While Amitabh was at the peak of his career, and gaining a reputation as a consummate professional (always had his lines memorized, always on time, always gave 100% to every scene), Jaya was hiding away at home.
There are plenty of photos and stories from this era showing them as a happy family with two equal parents. Yes, Jaya was primary caregiver and Amitabh worked hard long hours. But both Abhishek and Shweta tell stories of just going for walks with Dad, Amitabh was a presence at children's birthday parties and boring stuff like that, and you can see casual candid photos of family trips and family play times. Amitabh didn't abandon his family, Jaya wasn't alone, but they weren't as solely and totally together as they were when it was just the two of them dating. Most of all, their lives weren't shared as much. Before, it was one life for two people. Now, Jaya's life was home and children and nothing else. While Amitabh was half with her, and half out in the world with his fans and his films.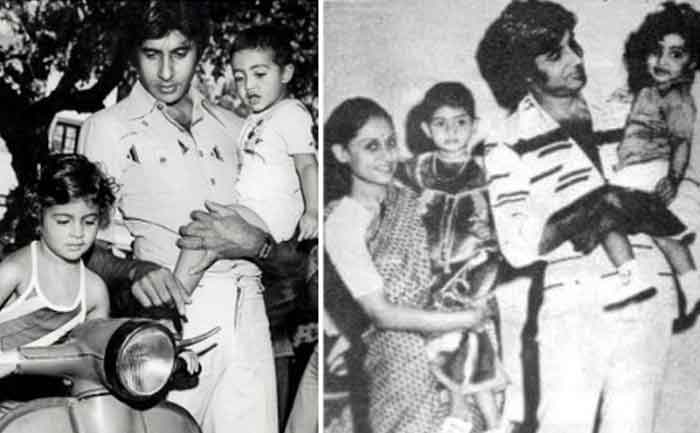 This is the time when two rumors started. First, that Amitabh was having affairs all over the place. And second, that Jaya was broken by this. This is Jaya's day, so I want to make clear that there are TWO stories here involving TWO people. From Amitabh's side, yes he was working a lot and not home much and not seen in public with Jaya that often. And people saw the chemistry and closeness with co-stars from Rekha to Parveen Babi to Zeenat Aman. From Jaya's side, she just wasn't there. Was she avoiding media and social events because of shame, heartbreak?
Amitabh's affairs would not have been the story they are, if Jaya was not so beloved. She wasn't acting any more, she wasn't giving interviews or being seen, but people remembered her. The Amitabh affair stories came with an immediate backlash of "how can you do that to Our Jaya?" The Guddi girl, the sweet little thing with the nice smile, the one we all loved, how could he break her heart????
Forget whether or not Amitabh had affairs, let's focus on whether or not Jaya was broken by them. Karan remembers her from childhood as a Mom, someone who organized events and sometimes invited her to join in on them. Other industry kids seem to have similar memories, she wasn't like Salma Khan locked away sobbing, she was out there smiling and participating and around like the other Moms.
In 1981, she came back to acting for the first time in Silsila. Amitabh is the one who asked her to do it. And it was a film for an old friend, Yash Chopra. But it was also a film that would co-star Rekha, Amitabh's most famous rumored affair. Jaya's performance in Silsila is inarguably brilliant. She was gone for over 5 years, and she returned without missing a beat. Not just her acting, but even the way she took the camera, wore her costumes, everything. She had all her tools right there before her and all she had to do was pick them up again. But she also told Yash Chopra that she would not speak to or interact in any way with Rekha, Yashji and Amitabh had to act as go-betweens. And on the one day when she and Rekha had to touch (the shooting of the plane crash finale), she told Yashji that she would do one take and then be done. When it was over Jaya just walked off set and didn't come back until the next day. So yes, she was happy and calm and comforting at home, in her space of wife and mother, but when she went back on sets, into Amitabh's space as actor, her skills were still there but her confidence in herself was gone. And she didn't act again after Silsila for 17 years.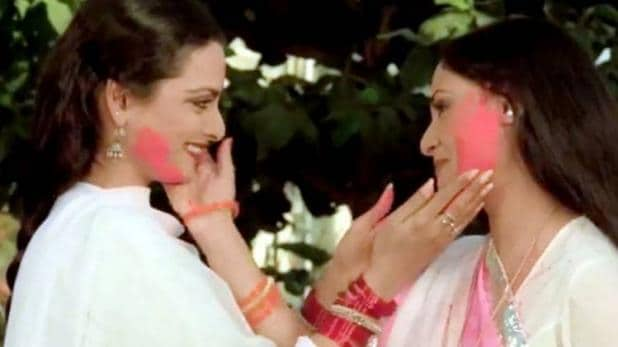 There was one spectacular surprising period when Jaya, not as an actress but as Amitabh's wife, had to come out of the private space. In 1983, Amitabh almost died because of an onset injury during a fight scene that lead to internal bleeding and organ failure, he hovered near death for weeks. This was shortly after Silsila, the two kids were 9 and 8, Jaya was back home full time. But then Amitabh was injured. Jaya went to the hospital, coordinated his care and also the public access for visitors ranging from co-stars to the Prime Minister, and kept her children feeling safe and reassured. And in between times, she was seen going around to every religious space in the city (Masjid and Gurudwara and Temple and Church) to pray. This is a lot of strength. This isn't a woman who is broken by an affair, who has lost all self-confidence, this is a woman who knows what she has to do and that she can do it. Silsila was about her private life being made suddenly public, the Coolie incident was about public life suddenly becoming her private life, and that Jaya could handle.
That's the public side. The private side has one small story the family has told, which says so much about what kind of marriage Jaya had and what kind of parents she and Amitabh were. Jaya brought the kids to see him one time while he was in the hospital. When he was stable and able to talk for a while. The kids came in, and Amitabh smiled at them and patted their heads and told them that the tubes going in and out of his body were for lemonade and root beer. And Abhishek and Shweta hugged him and laughed at the dad-joke about lemonade and root beer, and then Jaya took them out of the room. That's the story everyone tells, this 5 minute visit. But what I am interested in is what must have happened around that visit. Balancing the need for the kids to see their Dad with the fear that he could die literally while they were in the room, Amitabh and Jaya prepping and waiting until he had enough strength to get through without faltering, and most of all Abhishek and Shweta both remembering it as a weird funny thing but not scary at all. That's a sign of two good parents working together, that these little kids could walk into a hospital room with their Dad having blood pumped into him and walk out giggling and safe and happy. That's the kind of thing that makes me think, whether or not Amitabh had affairs and whether or not Jaya struggled with it, they were a family and nothing and no one was going to touch that.