That's how you know it is summer! When you fall in the lake and go for an unexpected swim.
This is not my first time falling in a lake. I won't say it is a yearly event, but it is common enough I can't remember how many times it happened. I remember a few years back when I was up here alone with two friends and we tipped over the canoe and then had to raid my Mom's closet for dry clothes. And I remember the time my sister fell out of the sailboat three times in a row because that was HILARIOUS (she may disagree, but she is wrong).
Anyway, my Dad and I went out in the little rowboat, and when we got back up to the pier I put one leg over the side of the boat and planned to gracefully and elegantly swing my other leg over the side and slide gently into the foot and a half of water and wade over to the pier. And then I overbalanced and went SPLASH sideways right into the water. I look forward to many interesting and exciting bruises that will slowly bloom over the next few days. I also look forward to some point in the distant future when my clothes dry out.
Here is the boat:
And here is an artistic representation of what I looked like: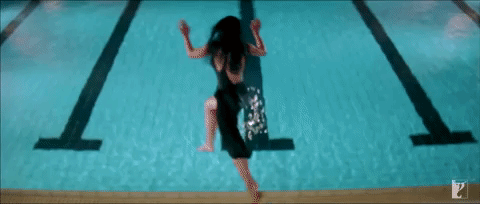 Oh, and I guess this is also a Clothing Day post! In that, my clothes got wet.