Clothing Day! Probably less universally exciting than food day, but still interesting! I wonder what my theme should be for tomorrow? Hair? Teeth? What else does every human possess and have opinions on?
Okay, show and tell! I am going to give categories and you get to share your favorite examples of each one. I look forward to lots and lots of shared photos!
Hats
I pick Kajol's hat in "Ho Gaya Hai Tujko"! It's the only part of her outfit that I like, and it is a perfect example of the 90s hat style in the West. Which is my favorite hat style, I still have like 4 wide brim straw hats.
Shoes
Hema's white boots from Seeta Aur Geeta, definitely! A great go-go Western modern 70s look, and a perfect kind of throwback to swashbuckling swordfighting outfits to go with her Hero role.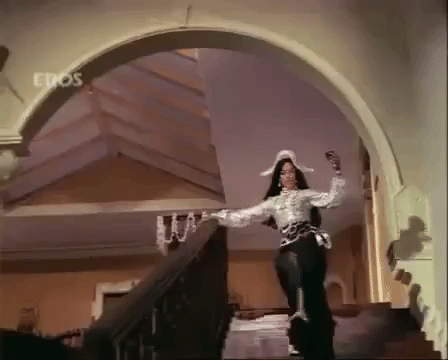 Use of Color
Boring choice, but Swades! Specifically Gayatri's "Saawariya" outfit
Use of Feathers
Amitabh in Jhoom Barabar Jhoom! Love the wacky feathers on his hat, that is what brings it from just "odd outfit" to "magical wandering bard who is not of this world"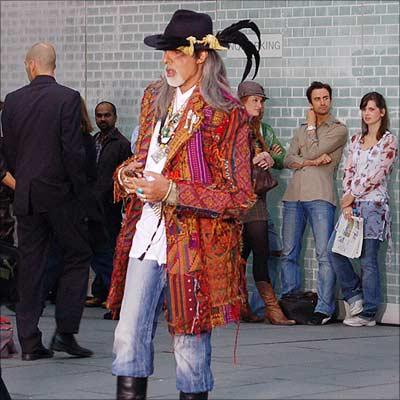 Use of Patches
"Yeh Kaali Kaali Aankhen"! I take it before you can, ha-ha-ha-ha-ha!!!! Such in insane ridiculous half leg patch thing. I don't even necessarily like it, but boy does it take the eye!
Use of Jacket
Sanjay in Khalnayak! That black and white look, the way he could sweep the hem of it around, irrisistable. I can't think of a better jacket.
Okay, your turn! One category or all of them, share your favorite example or the strangest example or the most beautiful example or whatever you want!
(to add an image to a comment, first find it online. Then, right click on it and select "copy image address". Then, in your comment, go down a line, paste the image, and down a second line. It still won't always work depending on if the image source has locked it, but it usually works. And at the very least, we will always be able to click the link and view the image ourselves)