I said if I was in the mood, I might finally write a Guru Dutt 101. Well, the rain kept me awake all night, it's still overcast and drizzling now, but at the same time the light on the lake is so beautiful in the rain that the beauty is worth the melancholy. Perfect time to think about Guru Dutt.
Usual Disclaimer: I don't know these people, I have no special knowledge, but this is how things look to me from a great distance.
I do not believe that suffering creates great art. I think that is a dangerous statement to make, I think it hurts people when you tell them they must suffer for art. I also think that there is very little art in the world that is worth the price of suffering. If an alcoholic can only create art while drinking, I would rather they stop drinking and live for their family and loved ones than keep making art for strangers.
But in certain rare cases, I do believe that great art can lead to suffering. Guru Dutt is one of those cases. He had a vision of such beauty in art, beauty of feelings, of visuals, of humanity, that by contrast reality became almost unbearable. And then truly unbearable. He sacrificed everything at the alter of this beauty, and it ripped his soul in half until he had to kill himself for the pain of it.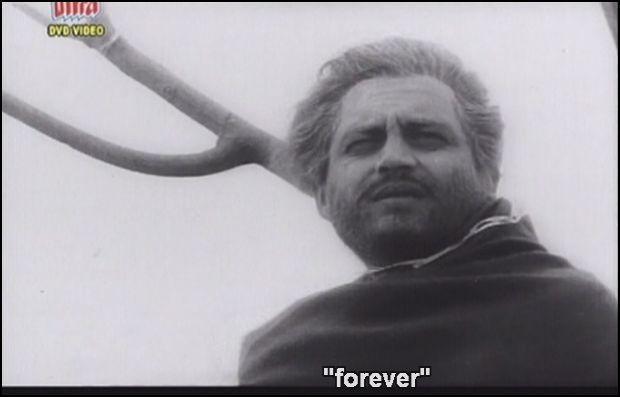 Guru Dutt had 3 small children when he died. For their sake, I wish he had been able to close his mind to the beauty he saw, to accept the tasteless reality of the world instead. But by golly it is a close thing!!!! The art he created is at a level that, were I given the power to let him see that beauty in reality instead of just art, to see that in his children and be happy, I would almost be tempted not to use it. To say "the world needs the films you created more than your children needed their father". Almost. In the end, there is nothing that weighs in the balance against 3 children needing their parent. But Pyaasa and Kaagaz Ke Phool come within a hair's breath of it.
Most of Guru's life is proof that suffering does not lead to art. He had a happy life in all outward ways. As a child, he lived with his parents and sister in a smallish town and was loved and safe and given all he needed. As a teenager, he ran away to join Uday Shankar's modern dance troupe, he made friends and was talented and successful there. At 19 he left the troupe and reunited with his family, now living in Bombay. His uncle helped him get a solid contract with the Pune based Prabhat film company as a choreographer, he liked the work and was good at it. And he made friends easily, including his lifelong friend the aspiring actor Dev Anand. At 25, he met a pretty talented successful young playback singer and they fell in love. They dated for 3 years and slowly wore down their families, before marrying for love when Guru was 28 and his new bride Geeta was 23.
Two years before their marriage, Guru made his first movie as a director (Baazi) which proved to be a hit and he worked steadily as a director from then on. He was respected in his profession, had many loving close friends around him, was married to a talented intelligent woman he loved, had a loving family around him (his sister also entered the artistic world of Bombay and remained close to him his whole life), and had 3 healthy young children. There was no suffering there, far less than in the lives of those around him even (Dev had an unfulfilled love affair, Raj Kapoor had the tragic childhood deaths of his siblings, Dilip Kumar lost his mother at a young age, and so on). And yet, Guru was followed by sadness all his life.
There's a story I read years ago about Guru that stuck with me. His younger sister, who went on to be an artist herself, remembered when they were children Guru would entertain her by making shadows on the wall in the light of the lamp. Light and shadow and movement, that was already all he cared about, even as a child. And then I thought, "what would have happened to that little boy if he had been born before the invention of film? Before there was a place for him to put his passion?" And then I thought, "what would have happened to him, is what did happen to him." It was never enough. Guru had a vision inside of him that simply could not be satisfied. Maybe he was born in the wrong time, maybe 100 years from now there will be some new form of art as radical as film was 100 years before now, and we will finally understand what was driving him. To have this vision of something just barely out of reach, to get closer and closer to it and never quite touch it, that could drive someone truly mad.
Guru as a young man seemed like all other young men in film. He was perhaps a bit more determined to direct than was common, most directors sort of fell into it backwards, certainly a handsome graceful young man would be more likely to dream of acting than directing. But beyond that odd quirk, Guru seemed like all the other post-Independence dreamers who landed in film. Literally interchangable, which is how he met Dev Anand. They were both young men staying in lodgings near the studios, and the laundry deliver man gave Guru's shirts to Dev and vice versa, because one young man was just like another. Guru and Dev met and swapped shirts, and swapped stories and dreams, and became friends. Dev swore that if he made it big as an actor, he would make sure Guru got his chance to direct. And he did, he gave Guru Baazi.
Baazi was a clever fun film noir thriller with fun little touches in the filming. Guru followed it up with a series of fun clever film noirs and lighter films. His Mr. and Mrs. 55 is a straight up comedy. And then came Pyaasa, and everything shifted. Or rather, I suppose, then came Sailaab and everything broke and reformed.
Guru Dutt didn't have a total history of success until Sailaab, but no major failures. In life or in film, it took him a while to get married but he did marry for love eventually. His friendship with Dev had some rough patches, it took him a while to get his first directing job, but nothing really bad. And then there was Sailaab. A Shakuntala story, a city boy crash lands his airplane in a remove village and falls for a village girl, but then forgets her when he returns to real life. Guru directed, and his wife Geeta sang the songs and was the producer of record. It proved to be a massive flop, driving Geeta and her brother who co-produced to declare bankruptcy. Plans for their next film had to be canceled midway as the money ran out, and Guru started writing Pyaasa.
Pyaasa is a heartsick cry from a tortured soul who is looking for understanding. Someone who's greatest pain is that he made the best of himself and tried to give it away, and it was rejected. This isn't a man who is sad from loss of money, or time, or fame, but sad because he poured his soul into a gift and the world rejected it. On the one hand, it makes him question who he is if his gifts have no value. On the other hand, his art keeps driving him on and on to create, to risk rejection again and again.
Just before Sailaab came CID, and Waheeda Rahman. The legend goes that Guru fell for Waheeda and she for him and their romance brought perfect hopeless misery to all involved. Personally, I don't believe in that. Based solely on the evidence of Guru's films. If he could make something that beautiful, I don't believe any woman could compete. I think that if Sailaab had been a hit, if Guru had felt fulfilled in his art, the love for Waheeda would not have come near affecting him as it did. It was art first, then love.
Waheeda was a teenager, a classically trained dancer from the south. She had been in a handful of southern films and done well in them, Guru Dutt saw one of those films and offered her a chance to come to Bombay and be in CID. She was only 18 at the time. In CID, Waheeda technically has the smaller heroine part, but her face somehow just took the camera and stole the screen from Shakila. She has a remarkable face, fluid and expressive, and yet also still and featureless somehow at the same time. Guru could treat her almost as a blank canvas, as he raised and lowered the shadows on her face a whole new person was seemingly revealed over and over again.
Guru didn't use her for Sailaab, taking the established Geeta Bali instead. But he went back to Waheeda for Pyaasa. Once again, she has the seemingly lessor part. Mala Sinha plays the vibrant exciting lost love from college, the one who gets the youthful flashback and meaty dramatic moments in the present. But once again, somehow she came to the fore. This time in the narrative as well, the film is a story of Guru letting go of his intended recipient for his gift and accepting Waheeda instead. The wealthy and powerful, his family, his collegemates, his first love, they may all reject him. But this humble pure powerless prostitute, she can appreciate him.
Somewhere during the filming of Pyaasa, it began to be rumored that married man Guru Dutt was in love with his young star Waheeda Rahman. And then Pyaasa flopped as well, and Guru started sinking into alcoholism. And working on his magnum opus, Kaagaz Ke Phool.
Part of Guru's odd not-of-this-world artistic power is that his films did not merely reflect his life, they predicted it. Pyaasa was about an artist whose greatest work was dismissed and forsaken, whose first love grew apart from him, and who found solace in a young untouched woman who understood his work. Pyaasa was Guru's greatest work, and it was dismissed, and he grew apart from his wife and towards Waheeda. Kaagaz Ke Phool is about a successful director who discovers an amazingly talented new natural actress and builds an expensive ambitious film around her, while his marriage crumbles. The film fails, the relationship fails too, and over the next few years he sinks deeper and deeper into depression, forgotten by the world that once loved him, until he dies of a broken heart. And, tragically, that was also a prediction of Guru's life.
Kaagaz Ke Phool was supposed to be the amazing ambitious fun popular movie that would put him back on top and pay back his debts. Instead, it turned into the film within a film, the one that cost too much and failed, leaving the actress a star and the director/producer nothing. He predicted his own doom. The Waheeda relationship ended at some unknown point, but it was too late for his marriage, he and Geeta were living like two miserable strangers. After Kaagaz, Guru was afraid to even put his own name on a movie, there are two more films that are generally considered unofficial parts of the Guru filmography, although he was the mere producer-writer of record not director, Chaudvin Ke Chand and Sahib Biwi Aur Ghulam.
Chaudvin Ke Chand and Sahib Biwi Aur Ghulam end up predicting the life of the two women Guru loved. In Chaudvin, Waheeda is torn between a passionate love and marriage. After much drama, her lover dies, and she settles into happiness in her marriage. Which is what happened in real life, Guru died in 1964 and ten years later, Waheeda married a nice man and had a nice married life with him.
Sahib Biwi Aur Ghulam predicted the sad ending of Geeta Dutt, Guru's singer wife. Meena Kumari's sad Choti Bahu was lonely for her husband who went out to watch dancers every night. To keep him with her, she started to drink and share his melancholy. Until eventually she over took him in sadness and alcoholism. Geeta was an enormously talented woman, deserving a place on the short list of Greatest Playback Singers of All Time. She was successful before marriage, and after marriage. But somehow whatever dark swamp swallowed her husband ended up coming for her too. Eight years after Guru died, Geeta died as well, of complications from alcoholism.
Maybe that's why Guru was put on this earth? To tell, on film, the story of these three people, himself and Waheeda and Geeta. Or just to tell these three almost universal stories, the artist tormented by an uncaring world. The woman tortured by a lover she cannot have. And the woman tortured by the husband who does not want her.
No one knows how Guru died exactly. He had tried to kill himself twice before, both times talked out of it by his friend the comedian Johnny Walker. Just as Johnny appeared to bring light and humor to his films, so he appeared to bring light and humor to his life. Guru was living alone by now, he was a poor husband by all accounts, so driven by his art and work that he was barely around in the home and he and Geeta were separated. Guru was in the process of planning a new film, he had meetings all day, and meetings all the next day. He was hyper at such times and struggled to sleep. He was also an alcoholic. So he had his nightly alcohol, and his nightly sleeping pills, and then he never woke up. Was it suicide? Did he know what the combination would do to him? Or did he plan to wake up the next day, go to those meetings, continue his life?
I think he simply burned himself out, one way or the other. So physically wound up he required higher and higher doses of sedatives to fall asleep until the inevitable collapse occurred. Or on such an emotional peak at all times that one night it took just a fraction of pressure to push him to take a few extra pills and never wake up.
To give this a bit of a happy ending, Guru and Geeta's three children are doing far better than you would expect. After Guru's death, and then Geeta's, they were raised by relatives. Loving supportive kind relatives. They went on to be successful members of society, and Guru's son occasionally acted as a family spokesperson and representative, giving interviews and appearing at film festivals that feature his father's work. Before he also died at a fairly young age (58), so okay, that's not the happiest of endings.
Overall, it is a sad story. A person who had everything you could wish for in the world, loving parents, a successful career, devoted friends, marriage to the woman of his choice, but because the world did not appreciate his art, he could not find it in himself to survive in this world.
To be fair to Guru and his family, there are a couple of myths I want to specifically disprove: Guru was not a failure. Pyaasa and Kaagaz Ke Phool, his two greatest films, were massive flops. As was Sailaab, as I mentioned. But everything else he directed or wrote or produced was a success. His career was in a stable place at his death, as it had been for most of his life. Guru did not die because the world did not appreciate him, he was not an unknown unsung cult director. He just sometimes felt like he was.
And second, Waheeda Rahman did not single-handedly destroy his happy home and happy life. The work obsession, the dissatisfaction, the depression, that was already there and was what lead him to look for something outside of his marriage to make him happy. This was not a happy home in the first place, Waheeda or no Waheeda. She did not break his marriage, and she did not break his heart, she was just one thing that happened to him in a period of struggle.