Thank you alert readers, while I was out on the sailboat with my dad, big BIG news dropped in India and you were on top of it and let me know.
Amitabh just tweeted:
Followed by Abhishek confirming and saying he is also hospitalized and the rest of the family is being tested:
This is it in terms of news, his announcement is the only confirmed fact, anything else you may hear is rumor.
But there are a few random things that occur to me as related discussion topics which I have been considering for days now.
With India being in lockdown, I have been wondering if that means the households designed to have staff are somehow struggling along without them, or if that means the more highly staffed households might actually be in more danger as even the bare minimum of daily workers is still a lot. It's something I think about a lot personally, my 98 year old grandfather has three home helpers who give him round the clock care in 3 shifts. So while my fairly healthy household was having contact with literally no one for weeks, Grandpa was having close contact with three people, all of whom had to travel to him on public transit and so on. But it's the balance of risk, canceling his staff could kill him within days just from the exertion of trying to get dressed without help. Keeping the staff going meant his risk of infection was far higher, but there was still a chance he could stay clean. By the way, so far (knock on wood) the gamble has been worth it, none of his helpers have been infected and in fact only 12 workers in his whole complex (hundreds of people coming in every day) have been infected.
And there's Amitabh. I am sure his household requires staff, not just in a "it makes life more pleasant" kind of way, but a real "we cannot serve food or have clean clothes or keep the dust levels down so as to prevent chest infection without staff" kind of way. We've been hearing this all along, movie star households where one staff member or the other tested positive. And I've been thinking it must be very common for everyone at that level of society in countries where household workers are the norm, in fact the rich might be at more risk in a strange way because of it.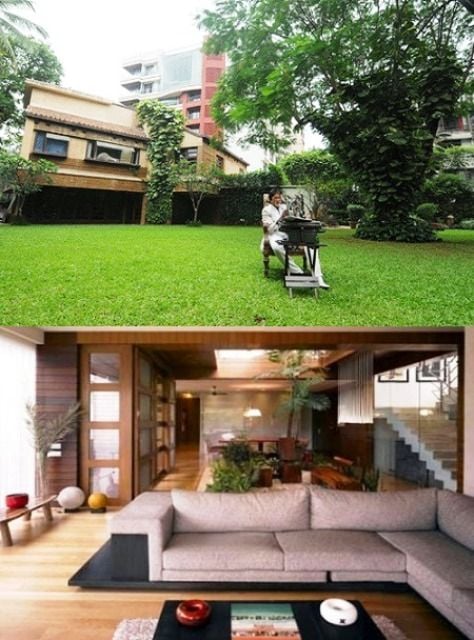 Other thing I've been thinking about, is the way the film industry functions and how work works, as it were. Filming is shut down, sure. But any kind of work would require contact, reading lines with co-stars, meeting with directors, and so on. I suppose there are loads of other industries with a similar balance of in person versus virtual kind of work. With Amitabh in particular, we know he has not just an enormous work ethic, but a liking for what he does. He could have retired, I don't know, 10 years ago? At the very least, he could have slowed down. But instead he works harder and works more than actors a third his age. It must be for the joy of it. I don't imagine he was taking crazy risks, he's too smart for that, but I think he was likely one of the many older at risk folks that we all know who was so miserable being trapped without work that he maybe pushed himself more than his family would wish.
And finally, just to remind us of the risk factors and depress us all, in 1982 Amitabh had a massive accident on set in which his internal organs were injured and he was near death. He survived, but lost most of his liver function. He also contracted Hepatitis B from the blood transfusions that saved his life. After all of this, and unrelated, he was diagnosed with the nerve disorder Myasthenia Gravis. Myasthenia Gravis, luckily, has various treatments and can be managed without affecting life expectancy or quality of life. It causes drooping muscles in the eyes and face, and suddenly muscular fatigue in the legs and arms. One of those things you just learn to live with, you take your pills and see your doctor and know you will have good days and bad days. I believe it is this disorder that is most often at fault when co-stars talk about Amitabh coming into work "sick" and visibly struggling on set, or when he suddenly cancels commitments.
So he is 77 years old, has only a quarter of a liver, is living with Hepatitis B, and has a nerve disorder that can affect your ability to breath. A lot of risk factors there.
On the other hand, setting aside all his long term conditions, he is in excellent health, much discussion of his energy and agility and ability and so on. He will also receive the best medical care, and (equally if not more important) will be surrounded by a family who loves him and will give him much to live for.