I did two posts quickly summarizing and reviewing each of the 6 episodes (first 3 and then second 3). And now, a very quick post discussing the WHOLE THING!!!
Based on the first episode, I thought it would be a show about celebrity culture and mother-daughter relationships. But after watching the whole season, I think that was the juicy opening point, and it isn't really that at all. It's about the world of the upper class artistic Bombay people, balancing work and personal fulfillment, while living in this little bubble of liberal forward thinking in the middle of a regressive society. Everyone in this show is outside the "perfect" Indian family structure and life structure as it is defined by the larger society and represented in most films. There are no engineers, there are no happy young husband and wives with young children, there's casual queerness (no one is defined as "out" or "in" or anything like that, they just have boyfriends or girlfriends), and there's casual sex. And divorce. And happy marriages where husband and wife don't live together.
It's also about social media. Masaba herself, the real person, used social media heavily to promote her fashion line back when she was nobody and no one noticed her. She still uses it heavily now, along with shows at fashion week and so on. In the first episode, she used social media to coordinate first her defense against the rumors of divorce, and then to announce her divorce. Over and over again, she uses it to send a message. It isn't "truth", but the feeling behind it is truth. She and Neena fight, Neena posts a social media plea for jobs, Masaba reposts it. She doesn't acknowledge her fight with her Mom, pretends on social media that everything is fine, while also sending her mother a message that she is proud of her and supports her. She and her friend fight, her friend isn't picking up the phone, she puts up a post about how important their friendship is. She doesn't tell social media "we had a fight", but she tells the world "I love this person" which has a bigger message for her friend that she appreciates her and is ready to tell everyone. It's an interesting theme through out, how social media is used to help design an image, while not exactly being a lie.
Oh, and fashion, that too! Like some of you, I was under impressed by the actual fashion show we saw. But Masaba's costumes episode by episode are just stunning. I think there is a similar slight of hand to how she uses social media going on here. She knows the fashion show storyline will only be in a few episodes, so she puts her least interesting stuff there, and saves the real great stuff for her own costumes.
Finally, race! Masaba a couple of times mentions struggling with her hair. Which is a way of acknowledging the day to day challenges of living with kinky hair unlike the hair of those around you, or what people expect. And there is the ADORABLE little Masaba, really a cute little actress, which is also a little touch of showing the audience a darker skinned little girl with natural hair looking cute and wonderful.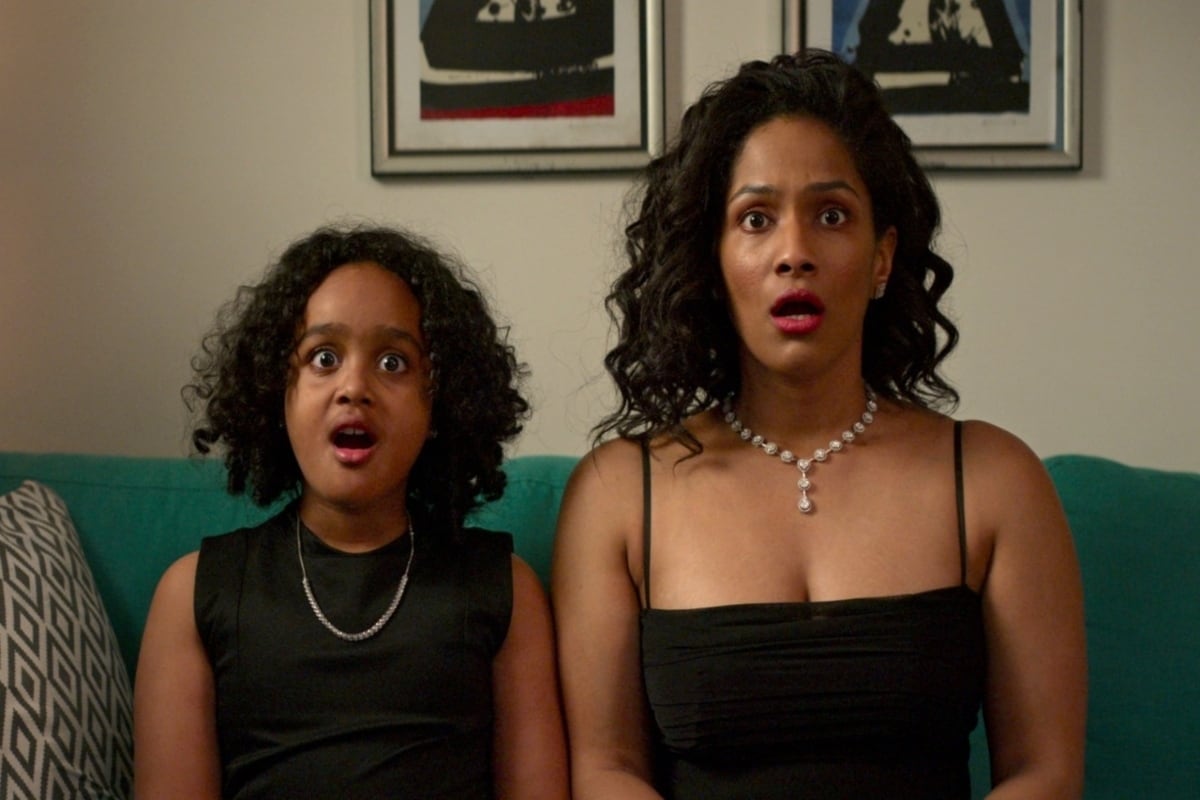 One final thing that is really a small thought/question. The rich Bombay folks who speak English (and they speak it A LOT) seem to be speaking with an American accent more often than not. Is that now the norm? American English is the biggest sign of class and sophistication?
Okay, those are all the big thoughts I can think of, how about you?