I so enjoyed (and continue to enjoy as more comments come in) our post about friendships and what lasted and what didn't. I want to do kind of a partner post about another sort of childhood relationship that I have found has lasted into adulthood much more strongly, that "my Mom's best friend" relationship. Or, in Indian English, your Aunties.
My Mom's best friend got married while I was in college, and I was all excited and trying to explain this relationship to my desi roommate. She's my Mom's best friend, but she also taught me how to drive, and her kids used to come over to our house after school every day, and she would take us sledding in the winter, and it's not just like she's "my Mom's friend". And my desi roommate said "oh, she's your Auntie". And yes! That is exactly what she is! Not my "aunt" in a "sibling of a parent" way, but my "auntie" in a "woman who helped raise me" way. And her children are my "cousins" in a "children of my auntie, and regard my mother as their auntie, and my Mom loves them like an auntie" kind of way.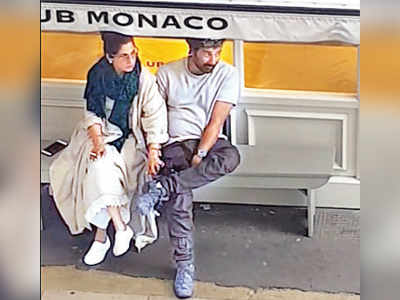 (unrelated part of this story that I have to share, I was explaining to my college roommate about this marriage and how great it was, because my Auntie had this horrible divorce and then had been a single mother for years and years, and now she met this great guy and was getting married just as her kids left home. My roommates response "yeah, but at that age (45), it's really just companionship, right?" Moral of this story: for an 18 year old college freshman, anyone over age 40 is incapable of romantic love)
Now, in adulthood, all my childhood friendships have drifted away but I still feel super close to my collection of "aunties". It's a very specific relationship. On the one hand, I have that strong reliable feeling of "well, they're the grown ups, they will know what to do" about them. Like, if my car broke down I would call one of them because they are Grown Ups and will show up and know how to fix it. I also have that comfortable feeling of love, because they have known me since I was a baby and love me in that particular "I look at you and see a baby" sort of way. And finally, there is the ease of connection through my parents. I get reports on what is happening in their life, they get reports on what is happening in my life, neither of us needs to make any direct effort, it's just natural. When my sister got married, they had a guest list of only 60 people and about half of them were those "Auntie" types. People she hadn't seen in years, but who drove for hours to be there and who she really wanted at her wedding. And during the pandemic, my Mom spends hours on the phone with my "aunties" and gets detailed reports on their kids because she is worried about all of them, and passes on detailed reports about us because all my aunties are worried about us.
This can't be unique to me, can it? In fact, I suspect it is universal only some cultures aren't as good about acknowledging it. For instance, I have known people in the African American community who casually refer to "aunties" as in "my auntie who lives with me now since she broke her hip", and they mean this definition of "auntie", older woman who has known you your whole life. It's only in WASPy culture that we have this awkward "woman who is my Mom's best friend but also taught me to drive" kind of definition.
The "auntie" relationship is hard enough to define, but the "my auntie's children" relationship is way WAY harder!!! I've landed on "honorary cousin" because it seems simplest. Again, this can't be just me! We weren't kids who would have been friends on our own necessarily, but we spent huge amounts of time together growing up and generally got along. And I sincerely want to know everything that is happening in their lives now in great detail. I also would feel comfortable if I were ever stranded in their city randomly calling one of them up and saying "Hey, it's Margaret, your mother gave me your phone number and I need a place to stay". Even though we were never really "friends" exactly and have never had an adult relationship.
There's one exception to this. One of my "honorary cousins" is about a year older than my sister (massive age difference when you are 3 and 4, like they were when they met). She also was a very different kind of person from my sister her whole childhood. Extremely nice and pleasant and all of that, but not interested in school, started dating young, and so on. While my sister was all about school and had no interest in boys. And then when they were both about 24, they ended up in the same city again. She was now married and going to college, my sister was in grad school, and they ended up becoming close friends! In an odd sort of "we have known each other as long as we can remember, but now suddenly we are building a new connection" kind of way. And now my sister is an "auntie" for her boys, and she is an "auntie" for my nephew. Isn't that nice? And kind of logical I guess. Our Mom's became friends as adults, so it makes sense that their daughters would turn into similar people in adulthood even if they were different as children.
Anyway, I'm curious, do you all have "aunties" in your life like this? And/or "cousins"? How do you explain the relationship to people when it comes up? Do you use "aunties" or do you have another title for it?
Oh, and does anyone have "uncles"? In that same "parent generation man who has known me since I was a child" definition? I have a few, but not nearly as many as I have "aunties".