Woot! Comic books!!!! I am on SUCH a comic book kick right now. They are the perfect thing to read when life is crazy and you can't focus. And Ms Marvel is, like, THE BEST.
One of the best things about Ms Marvel is that it takes all the big scary "grown-ups" from the other Marvel serieses and turns them into safe kid versions. I like this Loki standalone, because it turns him into the silly older dude at the high school dance, trying to relate to the young people, giving them good advice they mostly ignore.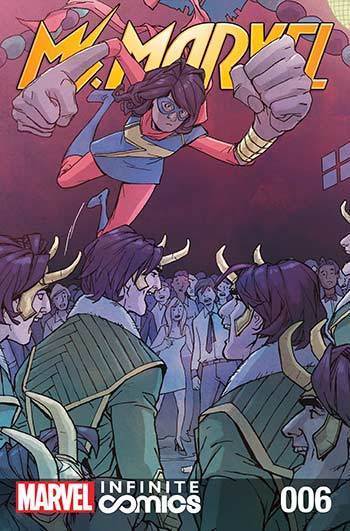 I also like this Loki standalone because it is sooooooooooo Jersey City! At least, the Ms Marvel version of it which (I hope) is close to reality. Everyone's generally nice, but also "ugh, hipsters". Kids hang out at convenience stores. The high school dance is full of folks of different colors, sexualities, everything.
And the LESSONS! It takes the classic Valentine's Dance high school story and turns it around. A letter from a secret admirer is CREEPY. Being a friend is awesome, not a bad thing. And sometimes the Valentine's dance is a time to say "Friendship love is just as important as other love and I love you". Not to mention that all the couples at the dance are revealed to actually be miserable and feeling pressured once they take the truth serum.
I wanted to start with this book and this particular story because it feels like where the creators finally relaxed and went "okay, this is gonna work, we can do the thing we want to do and now we know what that is". The first two volumes deal with her gaining and understanding her powers, and defeating her first villain "The Inventor". It establishes that she's not gonna be a an angsty hero with a big backstory, just a kid trying to do the right thing because it's the right thing. And it establishes that the kids around her will be just as important to the story as her. This isn't a "imagine if I had powers and suddenly mattered in the adult world" fantasy, this is a "I already matter, my friends already matter, and I am not going to leave that behind just because I have powers, I'm still a kid" story.
The previous volume is called "Generation Why" and it has a whole big thing about how teenagers today are constantly being told they are draining society, do nothings, on their phones, worthless, until they start to believe it. And Ms Marvel is saying "you aren't worthless, young people have value and promise, believe in yourself and that there is a better future possible". Good mission statement for the series, but way more fun once we get past the mission statement and into seeing it in action.
I think that's what the resolution to the Loki story is getting at. They don't need adults looking at them suspiciously, trying to defeat the "bad people". They need a safe place, "wards" around their schools, and let them grow up a little. I mean, that's the whole concept of Ms Marvel. She's a kid, trying to do the right thing, but still being protected by the adults around her because kids should be protected.
Okay, what did you think? And how perfect was Bruno's "I'm never going to tell her how I feel and then I will DIE and go off to college and never see her again" for teen angst?