My annual Christmas post! A day late! Which kind of makes sense, because this year what I am interested in is "waiting".
There are a few yard Nativity scenes around me where baby Jesus is missing. Have you seen this? Plastic Joseph and Mary go outside at the start of December and just kneel there in the cold all month looking down at the empty space between them. And finally, on Christmas, a baby appears. It's disturbing, I don't like, it makes me sad. But also, maybe, that's part of the meaning of Christmas.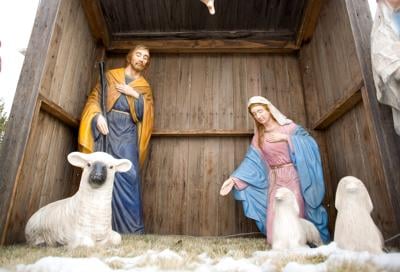 The story that has lasted through the years starts not with Jesus, but with Mary. And with her cousin Elizabeth. Mary was a young girl, really too young to be a mother, not even married yet. But she became pregnant and suddenly a baby was on the way whether she was ready or not. And Elizabeth was an older woman, past childbearing age, without hope of a baby, and suddenly she became pregnant as well. These two women who did not plan for a child or expect one, found themselves waiting for one to arrive, together.
Unexpected blessings. You never thought they would happen to you, you didn't plan for them, and suddenly here they are and they are all you want in the world. And you are kneeling there in the cold, waiting for this thing to appear that you never thought you would have, never wanted, and yet desperately want.
A few years back a minister at my church preached a Christmas sermon on the topic of "Jesus, a child of rape". Which is probably true. I am not Christian, in that I do not believe that Jesus was the magical son of God. But I am Christian in that I believe EVERY baby is the magical son of God. EVERY child. Including children who arrive in this world in a messy sort of a way.
Mary was a teenage girl who, without wanting it, found herself pregnant. Joseph was her fiance who struggled but stood by her and by the time their baby was born, believed it to be truly his son and his child, no matter how it came to him. Christmas is about this young couple traveling and struggling, fighting against the odds once again, giving birth in terrible circumstances, and yet that birth was a miracle. As all births are miracles.
All births are miracles, but not only births are miracles. It's a miracle that bread rises, it's a miracle that people fall in love, it's a miracle that all the lights change to green just when I hit the intersection. Christmas is a reminder of that. Just when you least expect, just when you don't even want it, a miracle can happen.
Miracles are messy, miracles can't be controlled, miracles may take a long time coming. But they do come, eventually they do come.