I've done it!  Whole thing!  And it was SO MUCH FUN!!!  Don't worry, Bahubali orgy isn't over yet, there will be a big over-arching themes post next week, and there is the start of what will be a multipart fanfic tomorrow.  But this is IT for the scene by scene stuff.  (part 25 here, you can crawl back through the archives from there)
Previously: EVERYTHING HAPPENED!!!!  Just accept that there is a big battle, and the leaders of the opposing forces, younger but less experienced Prabhas 2 and older and stronger but stupider Rana, are now facing each other for the Big Fight.  While Anushka is trying to complete the ceremony to defeat evil that has to be done by the daughter-in-law of the royal family ever 26 years.
Let's talk big picture here with the Rana-Prabhas fight.  This fight is about a simple line from start to finish.  The start is both of them in armor, with advanced weapons and tools, Rana carrying with him all the power of Mahishmati and Prabhas all the strength and cleverness of his youth, and the power of nature.  The end is Rana, stripped of his kingly powers, and Prabhas, stripped of his armor and strength.  But what Prabhas still has, what gives him power, is his father's sword and his mother's chains.  It is their suffering, and their nobility, which carries him through at a time when all seems lost.  Along with his own faith in a greater power than himself.
As the fight goes on, Rana is losing powers.  But Prabhas 2 is gaining them.  Rana loses Anushka, the symbol of his conquering Prabhas 1 and taking control of Mahishmati.  Then he loses his lawnmower chariot, symbol of his battle power from the Kalakeya war.  Then his mace, symbol of his status as the prince of Mahishmati.  And finally his armor, symbol of his personal status (since we have decided the lion on his armor is his family sign).  He is being driven further and further back inside himself, looking for inner resources to keep him going, and he just doesn't have them.  There is an emptiness at his core, and this is the emptiness that Prabhas 2 eventually rips through to, and which is revealed in his last mad grasp at Anushka, begging her to come with him in death so he won't be alone.
Rana rips through to Prabhas 2's core as well, but that core is revealed to be full and strong.  Prabhas didn't have that much to begin with, some armor with his father's signal (we have decided) on it, some friends to fight with him, a spear and a sword.
Rana slowly breaks each of those down, the friends are sent away, the weapon is broken, and finally the armor is torn off.  Which is when Prabhas 2 starts to find the strength within himself.  He manages to snap the stone which has been stabbed through his palm to hold him down and raise himself and free himself, with his chest bare and bloodied from where Rana grabbed at his heart.
Interesting to look at the imagery of that stone through his palm.  First, as a Christian, there is this huge meaning behind someone being pinned with a wound in the palm.  I don't think that is the first thing the filmmakers through of, or even the fifth thing, but it is the first thing I thought of.  Second, the stone looks kind of like a little Lingaa, slightly rounded at the top.  And third, it is a natural stone, not cut.  Through out this fight, the manmade objects of Mahishmati have been destroyed.  Most dramatically, the base of Rana's ego-statue crumpled, sending the statue itself down to the ground.  But even before then, pillars fell and walls broke.  And often it was Prabhas 2 making them fall.  The manmade is Rana's weapon and Prabhas 2's enemy, the natural is Prabhas' ally.  So of course the natural stone will give way at just the right moment to let him break free.
The big instance of this is at another point in the fight (sorry!  Can't remember if it is before or after this!), when Prabhas 2 takes the only remaining living thing in this pavilion, the tree, and raises it up and uses it as a weapon.  And the tree, unlike all the other man made objects, does not break.
Prabhas 2 starts to come back when he breaks the stone, but he really comes back when he stumbles over to the Lingaa in the palace courtyard.  The same Lingaa that we saw his father, Prabhas 1, playing around and worshipping as a child.  And the same type of religious object that he worshipped back in the village.  And that he used to first reveal his prowess, doing the impossible and lifting and carrying it to a new location.  And the Lingaa that symbolizes Shiva, his personal God.
All the things that Prabhas 2 is, when he is stripped down to nothing, are there in that Lingaa.  His beliefs, his childhood, his inheritance from his father.  Most of all, his humility.  Rana does not worship anyone.  Remember before the Kalakeya battle?  Prabhas 1 cut himself to offer to Kali.  Rana killed a bull, showing off his own strength and power rather than offering tribute to the Gods.
I am not Hindu, I am barely even Christian, but there is a purpose in acknowledging a higher power, whatever it may be.  It gives you something to aspire towards.  And a kind of strength when you believe there is something out there that is bigger than you.  And most of all, it puts a challenge in perspective, that whatever you are trying to do (clean your apartment, defeat evil), it is part of a bigger plan and greater purpose.
When Prabhas 2 touches the Lingaa, he is connecting to his past, both his father and his childhood.  But he is also connecting to a higher power, a reminder that he has something to fight for, that there was a reason for everything that lead him to this moment.  Maybe we can't see that higher purpose, but Prabhas 2 has faith that there is one, and that his part of this purpose, right now, is to fight Rana as hard as he possibly can.
And so he paints himself in this power, puts the powder from the Lingaa on his chest as new armor, and returns to the fight.  This is the beginning of his re-finding his purpose, but not the end.  He follows the powder with his mother's chains.  It is her sacrifice and his anger that he wraps around his hands and uses to defeat Rana.
More than that, the chains are the best symbol of the pain and power Rana has used for the past 25 years.  It's all control control control.  Anushka was his greatest captive, but the rest of Mahishmati was captive as well, the people we saw back in B1 being whipped, the oppressed rebels in Kuntala, Kattappa, everyone.  And Prabhas 2 is tapping into, taking all the force that has been fed into this repression and turning it back on Rana.
And finally, there is the sword.  I'm not even going to worry about where he was carrying it this whole time (in his hair?).  Because it is perfect in its symbolism.  Shivaa, his inner sense of a higher power and his simple beliefs from his childhood, that is what gives him the strength to win.  The chains, the torture and power that Rana poured into the people of Mahishmati, that is what he uses to hurt Rana.  But what he uses to punish him, to exact perfect justice, that is the sword of Prabhas 1.  A symbol both of his father, and of the greater meaning of justice that his father followed, the abstract concept of justice and royalty and everything else.
Rana and Prabhas fight the big battle, but it is Anushka who gets to give the killing blow.  Or is Anushka fighting the big battle the whole time?  Before Rana and Prabhas start fighting, they both address Anushka (thank you sheshankjoshi for reminding me!).  Prabhas tells her to start her journey to defeat evil and light the pyre for Rana, and Rana tells her to light the pyre and both their sons' heads can burn together.
I don't want to say that they are fighting for her exactly, or to try to win her, it's more like they are both fighting to impress her.  Anushka is the ultimate judge of their prowess, just like Ramya was the ultimate judge when Rana and Prabhas 2 were fighting the Kalakeya.  Both boys just need her approval.  But in different ways.  Rana needs her to give him some kind of validation, some sense that he can be liked for himself, or at least noticed for himself.  Prabhas 2 wants her approval because he respects her as an ultimate symbol of virtue, and believes he will be doing right if she approves.
Anushka is also gaining that virtue as they fight, completing the sacrifice that will strengthen the kingdom and root out evil.  This has meaning on a larger level, that Anushka represents justice and rightness and so on, and she is slowly and inevitably completing her task, just as ultimately justice will prevail.  But it also has meaning on a family level.  This is the ceremony for the daughter-in-law of the royal family, a status Anushka has been denied ever since her arrival in Mahishmati.  It is also a ceremony for a royal, another status Anushka has been denied.  She is finally redeeming herself, as a respectable married woman and as a royal, with her son and future daughter-in-law to witness and assist her.
Ramya at the beginning hesitated in her path, looking over at Prabhas instead of straight ahead.  But Anushka never hesitates.  She moves forward, fearlessly, without looking left or right.  Even when all seems lost, she has faith. Tamannah and Kattappa, her most fearless defenders, are captured.   And Nassar has sent the bridge on fire ahead of her.  But she moves forward, neither faster nor slower than before.  And sure enough, her faith is rewarded.  Just as she reaches the fire, the statue that Prabhas' blows have weakened falls, and the head rolls down for her to walk on, across the face of Rana.
Anushka's faith and Prabhas' fight reach the same end.  Rana is dragged to the fire pit by Anushka's chains, and pinned there by Prabhas 1's sword.  And Anushka arrives to drop the hot coals from her head into the pit.
But before she can do it, Rana makes one last attempt to reach her, calling out in crazed laughter to invite her to come and join him in the flames.  And he really seems to think he has a shot!  That she will want to!
(Maybe because they are so cute together in real life?)
This comment is all of a piece with their earlier exchanges.  When he asked how she could run off with Prabhas 2, she was only with him for 9 months but they were together 25 years.  Or when he found her gone and admitted that all his happiness for the past 25 years was seeing her in chains.  Or when he smiled in pleasure watching his men abuse her.
It finally clicked into place for me, Rana is a stalker!  Or one of those crazy guys who kidnap women and keep them in basements.  He can't have a real relationship, to the point that in his mind, this is a real relationship.  Having a woman there, forced to tolerate his presence, is all he can conceive of as any kind of relationship, romantic or otherwise.  And so he is sincerely confused when Anushka seems to want to run away.  Didn't she appreciate what they had?  Didn't she feel that same connection with him?
And Anushka's reaction is the same as those women.  Complete disgust and confusion and most of all survival.  She survives by keeping herself, her real inner self, as locked away as possible.  Rana never managed to touch that, Anushka kept it sacred to Prabhas 1 and 2, and most of all to herself.
Just like those disgusting real life guys, Rana has his reasons and his motivations, those mommy issues with Ramya, his envy of Prabhas 1, his inability to make the people love him, all of that.  But for Anushka, and really for the rest of us, those reasons shouldn't matter.  He has done horrible things for 25 years.  In his own mind, he is the hero and everything he has done was justified.  But Anushka and everyone else still sees him as the monster he really is.
And, FOOF!!!!  Up in Flames!!!!
And then, FOOSH!!!  Coronation!  I already talked about this a little in my original SPOILER review.  Prabhas 2 is blessed by his adoptive mother, in her position as his mother.  And then given the crown by Anushka in her position as Queen Mother.  He takes his place on the throne with Tamannah standing at his side.  And as we pull back, we see that his adoptive parents are sitting in thrones below him, with Anushka and Tamannah joining him on the dias.  And he stands to issue his first order, that anyone who tries to abuse and use the good hardworking people of Mahishmati will be punished!  This is his word, and his word is law!  And, RAJAMOULI STAMP!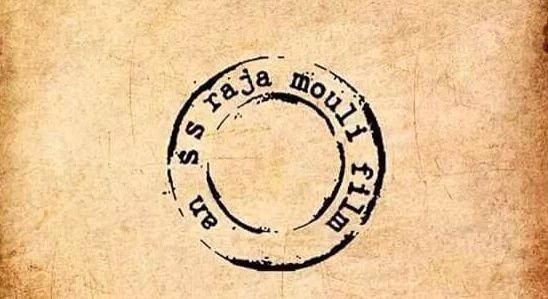 (STAMP)
And then, end credits tag, the golden head of Rana is rolled off the top of the wall, into the moat, where it floats (gold floats?) down the river, past Kuntala, and over the waterfall.
What I already talked about was how Prabhas 2 is confidently surrounded by women.  His rule will balance the male and the female.  But there's other stuff to talk about as well.  First, I like that his adoptive parents are there.  Not just because I like the acknowledgement that adoptive family relationships are just as real as any other.  But because it is a sign that his rule will pick up not just on Mahishmati's traditions, but on what he learned in the forest.  The simple commands, and lifestyle of equality.  His parents were the chiefs, we saw them (his mother especially) order people around plenty of times.  But they weren't living in some fancy place removed from everyone else.  Prabhas 2 learned how to lead and control not through laws and armies and impressive palaces, but simple strength of personality.
Even the Mahishmati traditions he is using have been changed.  The format of the ceremony is the same, the mother blesses her son and the queen mother gives the crown, on the big dias in the middle of the central courtyard.  But the crowd is completely different.  It isn't an organized series of army people, but the common people, all gathered in a big tangle.  The power is no longer coming from the army, and it is no longer tightly controlled, it is a spontaneous outpouring direct from the people.
Taking a break from Prabhas for a moment, let's look at the two women up there with him.  Thank goodness, Anushka looks a little more comfortable.  Hair brushed, face washed, clean clothes.  But she doesn't look "pretty".  She is not going to turn back into that princess she was.  She is fully a Queen Mother now, regal and powerful, not merely "beautiful".  Tamannah, on the other hand, the reverse!  She is regal and beautiful and pretty.  But not sexy.  She is not standing up there as some kind of plaything for Prabhas 2, she is standing there as a dignified member of the royal family.  And she is standing there in the colors of Kuntala, not just showing Tamannah as finding her inner beauty and happiness, but showing Kuntala as a whole being returned to it's happy pink and blue lifestyle.
(Not this.  This is just for her and Prabhas 2.  For the public coronation, she is as dignified and different as Prabhas 2 is.  A woman, just like a man, can have a different face for different situations)
After that coronation moment, what do we think about Prabhas 2's first words as king?  There's two parts to it.  First, his summary of all the evil that has just happened.  It's not about the lying and the jealousy and the murder and obsession.  It's what he did to society, oppressing the working class for profit.  Way back several sections ago, around 15 or so, I mentioned how Rana for a long time seemed like he might be an okay king.  He had that weird thing with his mother and brother, and his father was a horse's behind, but Rana himself was reasonably smart and well-spoken and knew the laws and all of that.  He could have been fine.  He could have even killed Prabhas 1, and still gone on to be a fine king.
No, the line was crossed when he started to abuse his power.  Imprisoning Anushka for no reason.  Tormenting Kattappa.  And all the things he did to the people of the country, all those things we didn't see in detail but can imagine.  And that is what Prabhas 2 is punishing, in his role as new leader, not some petty vengeance for his family (although that is what the initial fight was about), no, this moment of tossing the head is about what ruling should be and the pact between a ruler and their subjects.
Finally, let's talk about that "my word is LAW!" statement.  It could be a bad sign, that we are returning to the Ramya years, or Rana's tyranny.  Only, when Ramya was in that "my word is LAW!" mode, that is when she was at her best.  It was when she started weakening and prevaricating and trying to find justification in law books because she was no longer sure of her own mind, that's when the problems started.  And Rana, so far as we saw, never had that kind of internal compass that lets him make these decisions.
But Prabhas 1 and 2 do have that compass.  They are always sure of the right thing and able to carry it out.  And what Prabhas 2 is declaring here is that he is never going to hesitate to carry out his inner sense of things, he will not let the country fall again to the petty tyrannies of laws and tradition and so on.  He will keep it straight and simple and follow his own mind where it leads him.
Remember, Mahishmati does not have a tradition of primogenitor.  That seems like a random thought to put out there at this moment, but it is directly related.  Nassar did not rule because he's a horse's behind.  Instead Prabhas 0 got to rule.  Ramya was going to pick between the two boys based on ability.  Prabhas 2 got that "fated to rule since birth" thing, but that's just because the country was in such a horrible state.  All of this tells me that, in general, Mahishmati is ruled by the wisdom of one firm leader, not by law books.  And that system works because the one firm leader is a good leader, not just whoever happened to be born first.  And Prabhas 2 is returning them to that tradition.
And finally, let's watch that head roll on down!  It's too bad that most people walked out of the theater for this part.  Because it's kind of important.  Nature, for one, is taking away Rana's golden head.  All his gold and power are nothing in front of the water that washes it away and washes the kingdom clean.
For another, it's taking us backwards through the whole journey of the films, giving the audience the kind of closer we need.  And finally, and most importantly, this is what tells us that it is Prabhas 2's victory, NOT Prabhas 1's.  The head is swept back to the source, the Shiva Lingaa that Prabhas 2 moved at the very start of the film.  It is his clean power, like the power of the waterfall, that was needed to sweep through and take the evil out of the kingdom.  Prabhas 1 couldn't quite do it, but for Prabhas 2 it was easy.  The right man, the right time, exactly as the Gods arranged it.  And it is that clean power direct from God that, in the end, looms over the gold and power of Rana.
And WOOT-WOOT!  THE END!!!!  Let me treat myself to a celebration song of my awesomeness!