Okay, you ready to fight me? The problem is, unlike actors, actresses never really get the chance to lead the industry, there isn't a clear "Queen" the way there is a clear "King". So this list is a bit of a judgement call, I realize that, and that means there is lots and lots of space for us all to argue.
1.1. Devika Rani
Well, this first one is easy! Devika Rani was the first female star of Indian film, the first female producer, the first female studio owner, the first female everything. And also the first everything. And yes, that includes first Star. Devika Rani was a known face and name and popular with the audience before Ashok Kumar. She discovered Ashok Kumar. The father of Indian film is Dadasaheb Phalke, but the mother is Devika Rani.
Devika was the daughter of a doctor, educated in Europe where she met Himanshu Rai, another European educated upperclass Indian who dreamed of founding a film studio. While her future husband Himanshu was hanging around German film sets learning how to use a camera, Devika was taking training classes in make-up, hair, and fashion design. When they founded the studio, Devika was the female star, and the chief make-up, costumes, and everything else artist. After the death of her husband, Devika ran the studio alone, before finally selling it to her discover Ashok Kumar and moving on.
Devika was unique in the history of female actresses. Since she was the first, she got to forge her own path, do whatever she wanted. But by the time the next actresses came along, the industry had barriers built in. Women began to be sidelined as "just" actresses, with the producing and studio running left to the men.
2. Nadia Wadia (full Hindi 101 just on her here)
A very different kind of female star! Not upperclass, not educated, not even Indian by birth. But brave and strong and beloved by the audience. She rode in on her horse "Punjab ki beti" with her black mask and hat and whip which gave her her name, "Hunterwali" (from the slang for a hunters whip, "hunter"). For 30 years, she ruled the screen at the lowclass theaters, all the way into her 60s. And although it was never official, she was helping to write and direct and produce her own films most of this time.
A big blue-eyed blonde born in Australia, her father (a British Army officer) moved them to India when she was 3. After his death, she and her mother (a Greek belly-dancer) stayed in Bombay for several years, and then moved to the frontier to live with her uncle, a cavalry officer, when Nadia was a teen. She learned to shoot, to ride, to do all kinds of stunts from the young officers. And also, not-so-surprisingly, ended up pregnant. She returned to Bombay at 19 with her one year old "brother" Bobby. And at this point, two young Parsi brothers who were looking for new acts for their "stunt" films in their upstart little movie studio saw her act and decided this was their new star.
Nadia was born "Mary Ann Evens". She took "Nadia" as her stage name. And she took "Wadia" when, after years of living together unmarried, she finally agreed to marry her producer Homi Wadia when they were both in their 50s. The films she and her husband Homi made, they were not classy or intellectual, but they had a fierce patriotism to them in the colonial years, lots of hidden messages against tyranny and so on. And they were cheerfully unembarrassed about what they were and what their audience wanted. The bad guy got his just desserts, the hero and heroine were united, and Hunterwali rode off into the sunset looking for her next adventure.
3. Meena Kumari (full Hindi Film 101 posts on her here and here and here and here)
I can't decide! There's going to be a whole bunch of actresses for this era, the late 40s through the late 60s. I'll start with Meena. She overlapped with Nadia and Devika, the Bombay film industry wasn't that large back then. She was a child star at both Wadia Movietone and Bombay Talkies. She was launched as an adult at age 14 by Wadia in a fantasy adventure film. But by her late teens, she had become a "real" actress, working with a series of established well-regarded directors, including her then husband. And then her story ended, a lot sooner than the other two. While Devika went on to second innings as the wife of an artist, and Nadia and her husband lived a happy life in their small Bombay apartment into their 80s, Meena had drunk herself to death by age 40.
Meena grew up with film and on film. By the time she was born, the Bombay film industry had become the sanctuary for all the impoverished traditional artists of India, including Meena's family, her father being a classical musician and her mother a dancer. Desperate for money, her father dragged his children to the studios almost as soon as they could walk. While Nadia and Devika joined film as adult women making a considered career decision, Meena never had a chance to decide. She was a star at 7, and a heroine at 14. And by 20, she was the top actress in the industry. Only to see her career start to slide at 30 with nothing left in her life to hold her together once the work went away.
It wasn't just the decision to have a career, Meena had much less control over her career once she had it. The studio system was dying, independent producers ruled everything. Well, first the in demand male stars ruled everything. Then the superstar directors. Then the producers. There was no space for a woman to grow and take any kind of control of her own career without forcing herself into competition with all these men, no studio system to facilitate slow steady growth and training. And no studio system to protect her either, to keep her acting as just a job, to give her some safety and security on the job. Meena never felt security, never had a chance to plan her life out, and lived and died as "just" an actress.
4. Nutan (full Hindi film 101 on her here)
Another version of the Meena Kumari story. But with a twist, her mother was an actress before her. In the slightly more open era of the 1930s. Her mother, Shobhna, was a star. And was able to use her stardom to start her own production banner, used to launch her daughter. There was no childhood struggle and lack of preparation for Nutan, instead there was quite a bit of parental pushing and pressure. Which "worked", arguably, Nutan not only became a top star, she became arguably the greatest actress of Hindi film history. She holds the record (tied with her niece Kajol) for greatest number of FilmFare Awards won.
Nutan had a lot of parental pressure. She was launched at 14, and when her first few roles didn't hit, her mother sent her to Switzerland with instructions to fatten herself up so she would look prettier. Nutan fought back by rebelling in a series of ways, including taking the more artsy and risky roles her mother might not have approved of. And finally marrying a Navy officer at the peak of her career. And eventually getting caught in a messy court battle with her mother that lead to an estrangement which lasted for years.
What I find interesting about Nutan is that, like Meena Kumari, she was "just" an actress, even though her mother had founded a family studio that she could have taken over, Nutan chose to focus on acting alone. And that she could have that career, without jockeying for power or game-playing. Of course, her mother did some of that jockeying for her, and her talent helped her avoid the game-playing. But still, the industry had a maturity now where they could recognize an actress purely for her acting, not for her ability to ride a horse or apply make-up.
5. Nargis (full Hindi Film 101 on her here and here and here)
Kind of a combo of the two previous actresses. Another child of an out of work classical artist on the fringes of film. Another extraordinary talent who built a career based on that more than anything else. Another daughter of a powerful mother who pushed her forward and made sure she got her place. But someone with her own sense of self and strength to build a fairly happy life for herself, worked for 15 years as the top actress in the industry, then retired, married a nice man, had kids, and died years later revered by the entire country.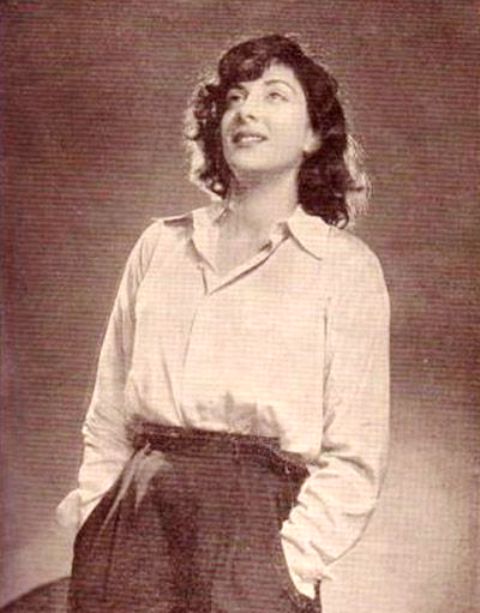 Nargis' family came from the classical courtesan tradition in North India. Meaning they had extraordinary singing and dancing training, and weren't the most respectable people. Her mother came to Bombay and found work helping with the music for the new Hindi film industry. When Nargis was 14, a family friend K.A. Abbas offered to "launch" her. Nargis loved acting, was happy on sets, and controlled her own career, picking and choosing her own scripts. When she was 19, she fell in love with up and coming director/producer/actor Raj Kapoor. They formed an amazing power couple for 10 years, until she left him, tired of waiting for a marriage that would never happen (Raj was never going to leave his wife). Nargis did one final amazing role as the title character in Mother India, then retired and married her co-star Sunil Dutt, a talented actor with a social conscience who eventually became a politician and proudly had Nargis on his arm the whole time.
The thing about Nargis is, because of innate confidence, her friendly upbringing with workers in the film industry, because of the support her mother gave her, for whatever reason, she was able to control her own life. Mostly. Even as "just" an actress in this star driven era, she made connections with the right producers and directors, got the roles she deserved, and made the public love her too, made public appearances and gave interviews and made her mark. Of course, she still got sucked into the aura of Raj Kapoor and devoted her career mostly to him for 10 years, but she was also able to suck herself out of it once it stopped being creatively and personally fulfilling.
6. Sharmila Tagore
There were a lot of actresses to pick from in the 1960s, it was an interesting era. Suddenly acting in film became, not exactly respectable, but more along the lines of "risque" rather than "prostitute". And so "nice" girls from good homes like Sharmila started acting in films, bringing in a new era of perky happy pretty heroines, onscreen and off. They acted, then they got married to nice men and retired. Or, like Sharmila, married a very nice man and semi-retired.
Sharmila came from the Tagore family, the highest artistic level in India, grandniece of Rabindranath Tagore, India's first Nobel Prize winner. Her first movie role was as a teenager for Satyajit Ray. And then she moved over to the Hindi industry, to play rich girl heroines with fabulous clothes and elaborate cat's eye make-up. The 1960s gave her a nice mixture of silly love stories with serious scenes, and serious films with silly love stories.
And to prove that there was no shame in acting, she landed one of the biggest catches in India as her husband, the captain of India's cricket team, and the king of a tiny principality, Tiger Pataudi. And as a modern couple of new India, they kept an apartment in Bombay, she kept working and so did he. Through long years of stardom until a slowdown as she aged into mother roles. And into being one of the respected elders of Indian film, the first generation of actresses to do this, to wear their former career with pride and keep a foot in the film industry even after marriage/retirement.
7. Rekha (full Hindi Film 101 on her here and here and here)
Oh Rekha! Our first southern belle. Daughter of an actress, and illegitimate daughter of one of the biggest stars of the Tamil industry. Her childhood was a little more on the Meena Kumari lines than the Nutan or Nargis. She went to school, but when she was 15, she started working and supporting her whole family. Rekha was a 1970s style actress, not just perky and modern, but sexy and sexually free, proud to flout convention and happy to use the freedom that her acting career gave her. The forerunner of today's actresses who use their fame as a platform to project a new vision of femininity.
Rekha landed in Bombay at 16 and was immediately tagged as "sexual" by her first producer. And she just sort of went with that. She was a teenager, living alone in a hotel, and she acted like a teenager, she skipped out on filming to go buy ice cream, cheated on her diets and her beauty routines, and constantly fell completely in love with a series of young men. And didn't hide or act ashamed of any of this. And she also wasn't ashamed of or hiding when she changed, got serious about her career and herself. Just like Sonam today talking openly about all the effort that goes in to her glamour, Rekha talked about her diet and her yoga and everything else. And she aggressively took control of every aspect of her own image from that point on, building up "Brand" Rekha. She never looked into producing or anything like that, but she was always a power in the industry just because she made it impossible to ignore her.
8. Jaya Bhaduri Bachchan
Yes yes, cheeky order to put them in, but it wasn't on purpose! I just find it interesting to compare the two. Jaya is a bit different, respectable middle-class background, but artistic. Built her career carefully as both a serious actress and a loveable public personality. And then became one of the first "star wife" actresses, staying in the film industry partly through her own position and partly through her husband.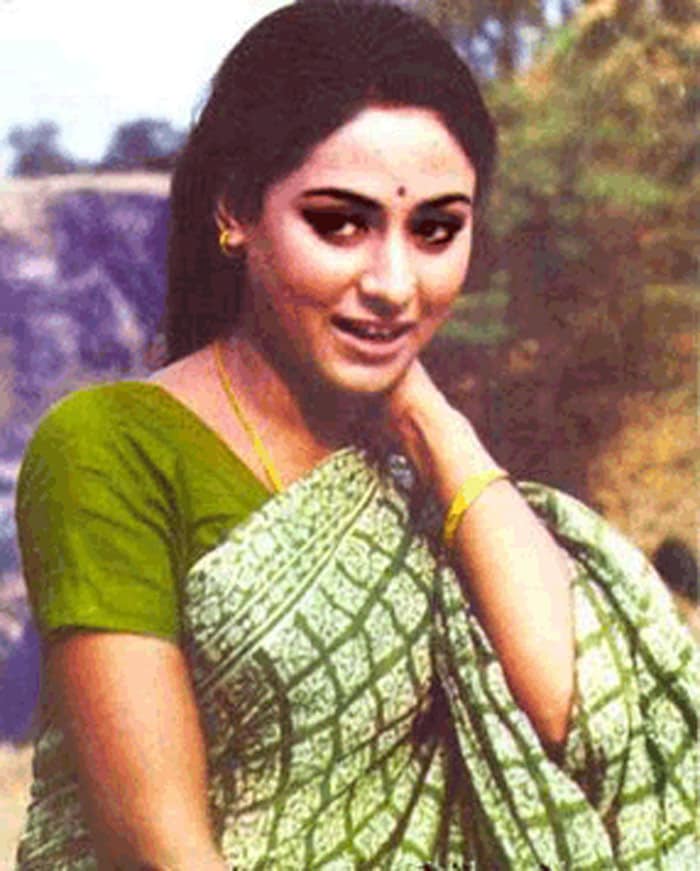 By the 1970s, classical artists were back to being respectable instead of scrounging on the outskirts of the film industry, so Jaya had a respectable stable middleclass upbringing. And she was college educated! Had a degree from the Indian Film Institute and everything. Took to acting like it was a profession, not out of desperation, or family habit. In addition to all this training, she was also endlessly adorable, all of India fell in love with her from her very first film. And stayed in love with her through her marriage and semi-retirement.
Jaya went from 'India's Sweetheart' in adorable young heroine roles, to being a respected actress, to marrying her film star boyfriend Amitabh. But all with dignity. She wasn't breaking barriers or already on the outskirts of society like other actresses, she was a nice middle-class girl who married a nice middle-class boy and had a nice middle-class life, they just also happened to be film stars. ('middle-class' in the Indian sense, meaning a certain kind of lifestyle that values education, tradition, mixed with Nehruvian liberalism)
9. Hema Malini
Another southern star! Came up from the south to star in a failed film which still made everyone love her. Parents were in the southern film industry, but Hema's biggest advantage was her dancing ability, having full classical dance training. Her first Hindi film failed, but the audience loved her in it, and her career took off. In the era of heroes, she was her own Hero. She had big popular crowd pleasing films built around herself, not any male co-star.
Hema hit fast and lasted long, she was a star by the end of her first year in the industry, and 2 years later took the lead in her first double-role movie, Seeta Aur Geeta, an all time classic. And she stayed a star for a full 10 years, the same youthful fun happy star she was at the beginning. Even marriage didn't slow her down, she married her frequent co-star Dharmendra and had two daughters, and kept acting, and dancing, and teaching dancing, and even entered politics. Again, just like the male stars. She even produced, just enough to launch her daughters, but still!
She didn't play the "ahead of times glamour" of Sharmila Tagore, or the "nice girl next door" like Jaya, or the "open and honest about how different her life is" of Rekha. She was just a Star, like her male colleagues, so popular that she could control her own career and her life just on her popularity.
10. ??????
I just don't know! After Hema, it get's very confused. Kajol, Madhuri, Sridevi, Rani Mukherjee, Anushka, Deepika, they are all big, but who is the biggest? Heck, before Hema it gets confused, I feel terrible about skipping Waheeda Rahman.
The problem is, we don't have the distance we need for today's heroines. Their careers are so short, compared to the heroes, after 25 years we know that Aamir, Salman, and Shahrukh are very important, but how can we tell after only 10 years who is the most important actress?