On Friday I did a "TGIF" of happy couples, and then I realized that I was kind of skipping to the end, posting the couples without defining "happy" before.  And I also find it legitimately fascinating how tricky the public versus private requirements of Hindi film industry marriages are.
Disclaimer: I have no special knowledge of anything.  This is primarily my own thinking on the situation, combined with some minimal rumors and facts that are common knowledge.
Let's start by defining "marriage".  To my mind, marriage is a covenant between two people which is recognized by society.  That's all.  The details of that covenant are personal to the individual couple, and can vary greatly couple to couple.  But so long as their own individual covenant is made and kept sacred, and society recognizes the existence of a covenant (without knowing the details), that is a marriage.
(For instance, this is a marriage.  No crowd, no priest, but the two of them know what they are promising each other and the rest of society recognizes it)
What gets tricky is when part of the covenant between those two people is based on societal expectations.  NOT that society is defining their covenant, but that at least one of the people involved has chosen to care about what society general considers to be a "marriage" and based part of their particular promise on it.
Here is a common example of what I mean: the big wedding versus the elopement.  Society expects a big wedding.  That does not directly effect the couple, it can't brainwash them into being different people than they already are and force them to want a big wedding.  But what can happen is that you have a couple who both would prefer an elopement.  But while one of them is willing to elope no matter what anyone else things, the other one would be uncomfortable insulting friends and family and having to explain the decision (although it is also what they would prefer to do).  And so the couple compromises.  They have a small ceremony and a big reception.  Or elope, and then get married again for their family.  Or simple have the smallest wedding possible.  The couple, between the two of them, know what they want and need, but they choose what they will reveal to others of what they want, and take into account social expectations as part of that reveal.
This is how social/cultural expectations work on a marriage.  They don't actually change the intimate fabric of a marriage between two people.  But they do cause a change to how that intimate fabric is presented to the outside world in order to protect the fragile trust between those two people.
Where Indian culture is a little, I don't want to say "unique", but at least not the same as some other places, is that the social/cultural expectations for marriage are so incredibly specific.  It's not just general things like "a husband works and a wife cooks", but detailed day by day and hour by hour rules and practices.  That is, if you are marrying with in your same religion/ethnic group/caste.  This is how the arranged marriage practice has survived and even flourished.  Two strangers marry, but they don't have to worry about working things out between each other, at least not most things, they can just follow the rules prescribed for them.
(Like, packing lunch in the tiffin box after serving breakfast every single day)
A "love marriage" doesn't just mean that a couple met by accident instead of being introduced by their families.  It means that you are marrying outside of that very very specific shared culture.  A "love" couple has no rules to follow, has to make things up as they go along, and it is expected that they are staying together in some sort of fantasy of an ideal marriage.  The accepted rules of "love" are the only ones they must follow, but they must follow them rigidly.
The problem is, again, a marriage is a covenant between two people and that covenant doesn't necessarily follow any rules that are shared by anyone else.  Arranged marriage, or love marriage.  Life is not that predictable, and people are not that limited.
Dilip Kumar's autobiography gave a really good example of these two marriages.  His parents had an old-fashioned arranged marriage.  His mother came from a similar family, and knew that her job once she was in her marital household was to run the kitchen and take care of her in-laws and be always obedient and sweet.  His father knew that his job was to help support the general household and have children.  The couple was not supposed to have any intimate relationship outside of the greater family.  And yet, they did.  Observant young Dilip noticed that his father would buy his mother presents and give them to her secretly, would hide his affection in their private quarters.  And most likely moved his business to Bombay partially to save his wife from the overwork she was suffering from the rest of his family.  That's not supposed to happen in an arranged marriage.  To show this kind of special bond, this preference for each other, was unacceptable within their family.  And so they had to hide it, pretend that they were only fulfilling their duties as "husband" and "wife" rather than loving each other.
But then there was Dilip himself.  Publicly, he and Saira Banu had a "love" marriage.  All of India fell in love with this romance of the handsome older man and bright young actress, passionately in love with each other, endlessly happy, a huge joyous wedding, an ideal honeymoon, and so on and so forth.  But, again, marriages are not that simple.  Saira was unable to easily fit within Dilip's household, and occasionally moved across the road to stay at her own home.  After years of marriage, Dilip was briefly married to another woman and then divorced her.  The Indian public/media was confused by this.  If it had been an arranged marriage, a couple who fulfilled their public duties as husband and wife but privately were not that close would not have been such an issue.  But Dilip and Saira were supposed to be a love marriage, they must be always together and happy and perfect with no problems.
Nowadays, Saira and Dilip might be considered the "love cum arranged" or "arranged cum love" kind of marriage.  Dilip was close to her family for years, they were very similar backgrounds and so forth, Dilip was suddenly struck by Saira's beauty at a party, and 2 weeks later he asked her to marry him and then promptly asked permission of her family as well, which they were delighted to give him.  There was no dating, there was no planning their lives together, there were no fights and accommodations and getting to know each other.  It was a couple of meetings, and then straight to marriage.  A marriage that was happily sanctioned by both families.  They still had the expectation of following the certain rules and positions that were involved in marriage, that's why Saira struggled with her in-laws, fitting in with people who resented her presence but still expected her to follow the rules of a good wife, but on top of that they had the expectations of love, that they had to be romantic and perfect with each other, to live up to this love story.
Another example might be Kajol and Ajay.  Reading between the lines, it is fairly clear that they had an "arranged cum love" marriage.  That is, their families arranged for them to meet with an expectation of marriage.  But, they met and became engaged years before the actual marriage occurred.  They had years of fights and discussion and getting to know each other before they took on the roles of "husband" and "wife".  And, even more interesting, the only things they had in common in terms of background were the film industry.  Kajol's family was Maharashtrian and Bengali.  Ajay's was Punjabi.  Kajol's family were artistic and upperclass, Ajay's family was dirt poor as recently as his childhood.  But they were both second generation film people.  They knew film parties, they knew film work, they knew the world of filmi couples, most of them love marriages, most of them cross-cultural.  And so Ajay and Kajol made a match, because they shared this strange new caste of "film".
The problem is, while within these marriages and even within the new caste of "film", certain rules may be expected and accepted, those same rules are definitely not expected and accepted by the Indian public at large.  And so a couple is left with the difficult choice of either carefully creating a smokescreen over who they really are for the general public, or directly confronting public expectations and revealing what their marriage is.
In the "olden days", the most common answer was to keep marriage entirely private.  Dilip and Saira were a special case (part of the reason the public was so in love with them).  But Raj Kapoor and Krishna Kapoor were unlikely to give joint interviews, or discuss their relationship in anyway.  Dharmendra's first wife was barely photographed.  Even Aamir and his first wife kept their private life strictly private.  It crossed gender lines as well, Vyjantimala and her husband, Waheeda Rahman and her husband, they never spoke in public or made their marriage part of their publicity.
Shahrukh was one of the first to break this rule.  He not only talked about his girlfriend and later wife, he talked and talked and talked about her!  And once they were married, they were photographed everywhere together, she became part of his public mystique.  And the public fell in love with the idea of this love marriage.  A marriage across religions, a couple living outside all the standard rules (no family around them, a working wife).  And the "rules" for love marriage became more and more firm.  It must be always romantic and perfect and wonderful.  Poetry at breakfast, can't keep hands off each other at public events, like that.  And, of course, NO infidelity.
This was a break from the expectations of arranged marriages.  When I first got into Indian culture/Indian film, I was shocked at how accepted infidelity was.  Not "shocked and horrified", I'm not saying it is better or worse than other systems, just shocked.  The rules for what a husband and wife were supposed to be were so firm and accepted that, so long as they were followed, infidelity might be overlooked.  If a man married, had two children, took care of his parents and the rest of his family, properly performed all the marriage rituals that were part of his religion/caste background, him being in love with someone other than his wife wouldn't really matter that much.  Whether that was a man or a woman, whether it was a consummated love or not, so long as he kept up all the duties that were specific to a married man, he could still be considered a proper good husband. Of course, a married woman had a different set of rules.  She had to properly respect and care for her husband above all others.  No one else could be set before him.  But she didn't have to "love" him, at least not in the laughing flirting happy kind of love.  More the "wash his dirty underwear and bear his children" kind of love.
(Paro, in the novel and the non-Bhansali films, was considered a "good" wife, or at least not a bad one.  She continued to love Devdas, but she also took care of her household and her stepchildren and gave to charity and did all the things that a "wife" is supposed to do)
But now, with the love marriages, the husband and wife were expected to be constantly passionately in love with each other.  And that kind of slowly building boring background kind of love, the responsible and day to day kind, was discounted, or not supposed to be there.
What's disturbing is when the two meet.  It's confusing to have Shahrukh say in an interview that after so many years, he and his wife really only talk about the kids.  And it's confusing to have Shahid and his arranged marriage wife (same background, same religious group, married within weeks of meeting) be so flirtatious that they can't stop touching each other in public.  How can a love marriage turn so dull?  And how can an arranged marriage turn so exciting?
And this is why the public face of these marriages in the Hindi industry has become so rigid.  As the media has grown and grown and become more intimate and constant, and as the Hindi industry is entering it's second and third generation of these love marriages between film families, the "love" marriage story is becoming more and more common.  And there is a certain pattern and expectation that the media and public has for these marriages.
If a couple marries for love, after dating publicly, they are supposed to never have problems again.  They must always be smiling and happy together.  They must go on wonderful family vacations, have perfect beautiful children, talk about how they are happy-happy-happy all the time.  Most of all, the man is not supposed to be unfaithful.  And so it is awfully exciting when he is.
This is not the case with the old-school arranged marriages.  The ones where we (the public) barely saw the wife, there was no public and oft repeated story of how they met, everything was assumed to follow the standard boring practices of a marriage based on duty and proscribed societal roles.  Raj and Nargis barely bothered to hide their affair.  Not everyone approved of it, but it was hardly huge shocking news.  Dharmendra and Hema Malini, the story wasn't that Dharmendra was cheating on his wife, but that Hema was romancing an older married man.  Dharmendra stepping out on his arranged bride was no news at all.
But now, every time there is even a hint of a possibility that someone with one of those public love marriages might be having a romance outside of marriage, it is repeated and repeated and causes shock and horror and so on.  I say "someone", but it's almost always the man.  Even in a love marriage, the expectation is that a wife is long suffering and dutiful while the man is the one stepping out on the marriage.
(one of the rare exceptions were the rumors that Suzanne Khan was having an affair with Arjun Rampal.  Which is confusing since Suzanne was also and remained close friends with his wife.  So either the rumors are completely false, or the rules of their marriage meant his wife didn't care)
The problem is, again, all marriages are a mixture of that perfect poetic love and the hard daily work.  And also, all marriages are private and between two people.  So everyone says the same things about how magical and perfect things are, but at least some of them are lying.  And all of them are only telling part of the truth.  Because you can't possibly tell the whole truth, not about something as complicated as a marriage.
In my post on Friday, I picked out Twinkle and Akshay as my current favorite couple.  That is partly based on their Koffee With Karan interview in which they made an effort NOT to sell the fairy tale romance.  They got together in a location shoot hookup with no expectations of anything more than a few week distraction.  They lived together for a year before getting married in order to try out the relationship.  They went into things with their eyes open and no thought that love would fix everything.  And they were brave enough to say that in public instead of selling the ideal romance.  Saif and Kareena have given a few similarly blunt interviews about living together before marriage, making sure to go on vacations to stay in touch with each other while they are both working, and so on.
But what no one is brave enough or foolish enough to say is that those location shoot hookups may not end with marriage.  And that may not be a problem for their marriages.  Even if it is a happy love marriage, a man may still "cheat" and a wife may not mind.  We can't know.
(It might be an arrangement like this)
Let me go back to my example at the beginning of the couple who both want to elope, but compromise by doing a variation of the accepted society thing so they don't hurt the feelings of others, or feel embarrassed.  That is magnified by a million when you are a global superstar and your every move makes headlines.  Maybe some of these people have completely open marriages.  Maybe some of them have a limited agreement of infidelity in certain circumstances (say, if you ask permission in advance from your wife and keep it limited to during a location shoot).  Maybe some of them had real true patches of cheating, followed by tears and reconciliation and a lot of work to build the marriage back up again.  But none of them, across the board, would want this private business publicized.  I mean, who would?  When it is this personal, and this certain that the greater society will not approve?
And so when I look at stories of infidelity in the film industry, I use my own judgement to decide if it is "true" infidelity, that is, something that breaks the covenant of the marriage between those two people, or simply a matter of someone having sex with someone to whom they are not married.  And if it is an issue that the husband and wife have worked through together, outside of the public eye, and emerged stronger, or not.  Because the Indian media is going to treat everything as a horrible betrayal of the perfect love marriage, and the stars are going to treat everything equally by not talking about it.
What this means is, for me, the only person I will always place blame on is the one talking about the affair.  Because they are talking about it. The one thing we can be sure of about the marriage of these celebrities is that part of their promise is to not discuss an affair publicly.  Because they don't.  And it is not our business to get involved in their marriage and break that covenant.
And most often, the one talking is the other woman.  It is the breaking of the expected responsibilities of a marriage that gets the blame and embarrassment from society, not being the single other woman.  Being a married woman having an affair with a married man, that would NOT be okay.  But the media/public seems more able to forgive a young woman for being overcome and falling in love with a married man than the married man for cheating.  Which is why it seems as though, Rekha to Kangana, it is the other woman who starts spreading these stories in the media.  Her career benefits in a heightened profile and, while she may find it harder to get a husband, the public as a whole will understand her as being within the tradition of the tragic romantic who gave it all up for love, just like Anarkali or Chandramukhi or Mastani.  The only "punishment" she risks receiving is internal.  Within the "film" caste, it is part of the rules that you never ever talk about these things, you don't harm two people personally and professionally in that way, and so if someone breaks that rule, they will be cut out from the greater film community as much as possible.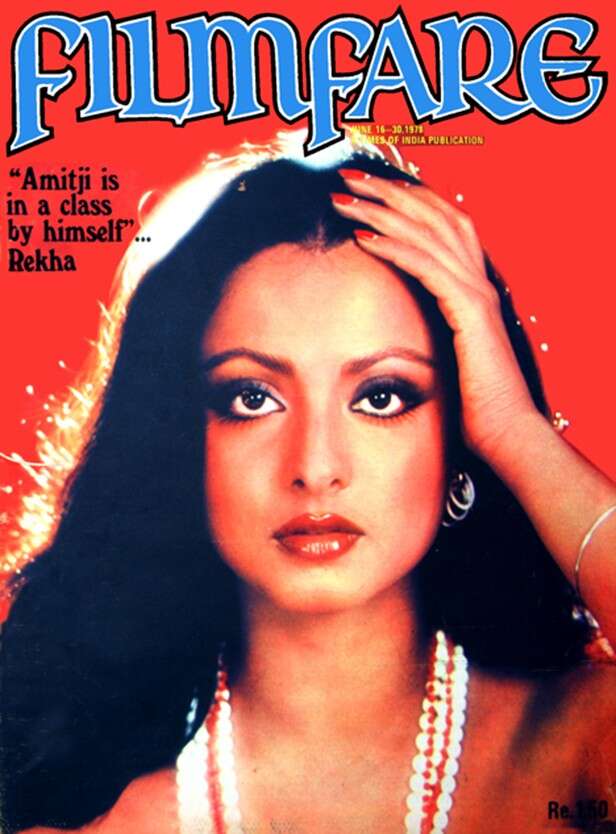 (Rekha gets a FilmFare cover, Jaya gets publicly humiliated)
Of course, I do have exceptions to this.  If a man threatens or abuses a woman in some way related to their romantic relationship, for instance forces her to sleep with him for a role, then she absolutely should/could go to the media and reveal what he did.  But the mere fact of a married man having a relationship outside of marriage I do not find to necessarily be our business.  And I find it needlessly cruel towards the wife, the uninvolved party, to be publicly embarrassed as the personal details of her marriage are dragged into the public eye.
You can feel free to disagree with this perspective, but I wanted to give you the background of arranged versus love, how the public face of marriage has changed, and how it effects the way we see marriages of Hindi film celebrities reported now.