My boss' wife is sick today, so he had to bring his two year old into the office.  She is the sweetest little thing and they are soooooooooooooooo cute together.  And thus the inspiration for this post!
Okay, get ready for the dying-of-sweetness SRK photos!
Comforting when she lost her match.
Embarrassing at school function
Shy young teenager out with Dad
Confident older teenager with Dad there to proudly support her
Suhana confused baby at work
Confident little girl in Daddy's office (this is essentially what is happening at my job today)
And, of course, Cutest Picture Ever
Saif Ali Khan and Sara, during her awkward teenage years (Sara, if you stumble across this post, don't feel bad!  You were beautiful, just not comfortable in your own skin yet)
And in Saif's awkward midlife crisis phase.  Very nice of Sara to be willing to be seen with him then.  (Saif, if you stumble across this post, you should feel very very bad about yourself.  Tinted glasses?  Tanktop?  You have a CHILD!)
Adorableness alert!  Both of them look SO YOUNG!
Also adorable, both of them in traditional clothes!  With Sara feeling a little shy.
Okay, big finish, best one!
Arjun Rampal, because he is The Best, has two daughters!  Both adorable, and he is extra adorable with them.
Dopey Dad face!
Proud happy Dad face
Strong playful Dad face!
Content Dad Face
Thinks his daughter is just the best Dad face
And finally, Dad with Motorcycle face
Speaking of Dads with motorcycles, Aamir and Ira!  This is a super cool Dad move.  Not sure if I approve of it, what with the lack of helmets and long pants.  But maybe it was just like a door to door quick ride.
This I approve of, hanging out at a charity football match with friends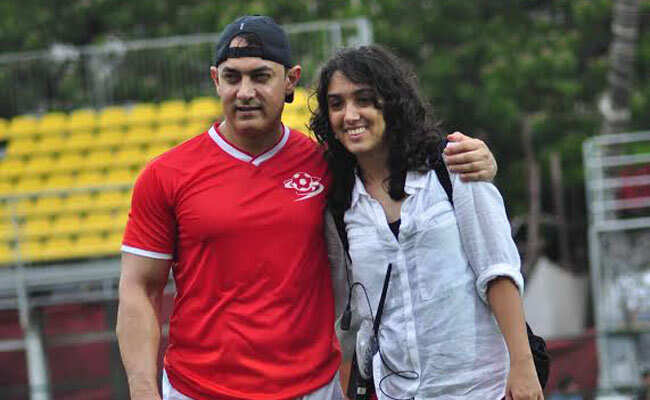 Going to a movie with tiny tiny Ira and his stupid Mangal Panday mustache/hair
So cute!!!!  Both of them!  Prepare for overwhelming feels!
Okay, this is also pretty cute.  And can I just say, what freaky combination of genes made that Giant out of Aamir Khan?
Okay, one who always breaks my heart a little, Sanjay!  And his daughters.  Look at them both young and happy!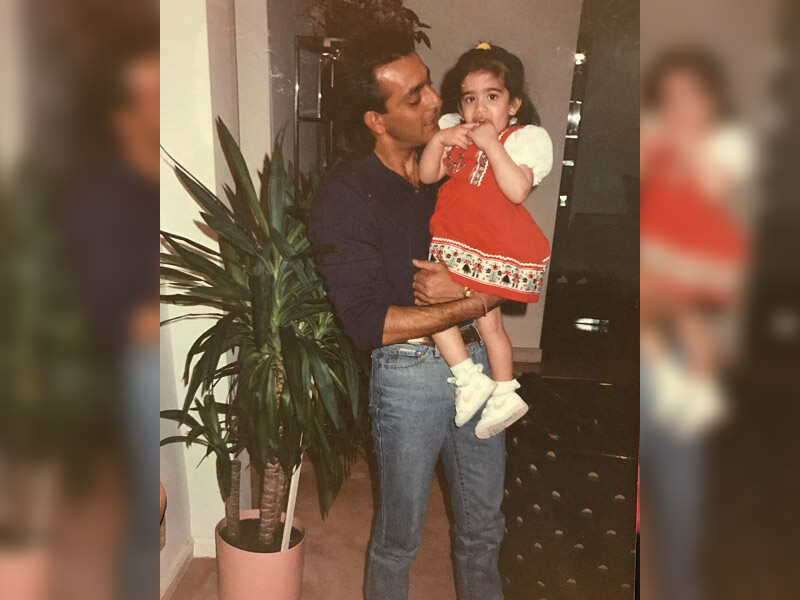 Another one where Trishala has very fancy hair
And both of them a little older
And finally, Sanjay with his tiny younger daughter.
Don't worry, I'm not forgetting the southerners! I know how upset that makes you all.
Tovino and daughter
And again in black and white!
And here she is all grown up.  Well, more grown up.
Hmmm.  Everyone else from the Malayalam industries is really camera shy.  And Naga doesn't have any daughters.  And I don't really like any other Telugu actors.
Oh look!  Allu Arjun has a daughter!  Be better not touch her hair, I like it natural.
Okay, she looks strong-willed enough to protect her own hair.
And one more photo of just her!
And everyone else seems to have just sons!  This is a nightmare!  The Southern industry is bereft of cuteness.  I mean, there are Rajinikanth and Kamal, but I can't find any baby photos, and without baby photos, what's the point?
Oh well, just to be nice I will break the rules and throw in this:
Now, here's a challenge for you!
If you could pick only one Dad to co-parent with you, which would it be?
I'm gonna avoid Shahrukh because he seems overly involved in a way that would stress me out if I had to raise kids with him.  And I'm also gonna avoid Saif because he seems under involved.  Aamir is too short, would the children ever respect him?  And Tovino and Allu are cute with the baby, but can we rely on that longterm?
So, Arjun Rampal wins out for me!  Involved but laidback, and tall.
If you could pick only one of these baby photos to put up in your school locker, which would it be?
This one!  Aamir is soooo handsome, and the baby is so cute.