Oh boy, this is a fun one!  I've been saving it for a special occasion.  Indian women looking fabulous in saris.
I'll start with the youngsters!  Who don't look quite right in a sari somehow.  Like Deepika.  Lovely sari, looks great on her, but somehow it doesn't feel like she is holding it correctly.
Ooo, this one might be worse.  Not the sari, it looks great, but it feels like it is falling off her shoulder somehow instead of looking on purpose.
The pattern on this one may be my favorite, and the pleats are perfect, but somehow the shoulder drape still just looks messy, and the way she is standing isn't helping.
Possibly the best in terms of how she is wearing it, but not the most interesting in terms of style or design.
Moving on, Sonam! Our fashionista!  And I think the problem might be that she is just trying to hard.  I love the folds around the back here, and the interesting design on the blouse, and the little flowers are cute too.  But put it all together and it just isn't right.
Same problem!  It's just too much!  But I love the pink color.
This is so close!  If only it had a different blouse.
Okay, this is absolutely gorgeous.  You don't have to be crazy inventive, just have a perfectly white sari with a little border and a perfect drape.
Let's go a little bit older, see how a mature woman handles it.  Kajol!  Definitely got the "keep it simple" memo, this black and gold is perfect.
Another simple one, although maybe a little too long?  I can't tell, it could just be the way she is walking here.
Okay, a little inventive with the blouse here.  But I will allow it.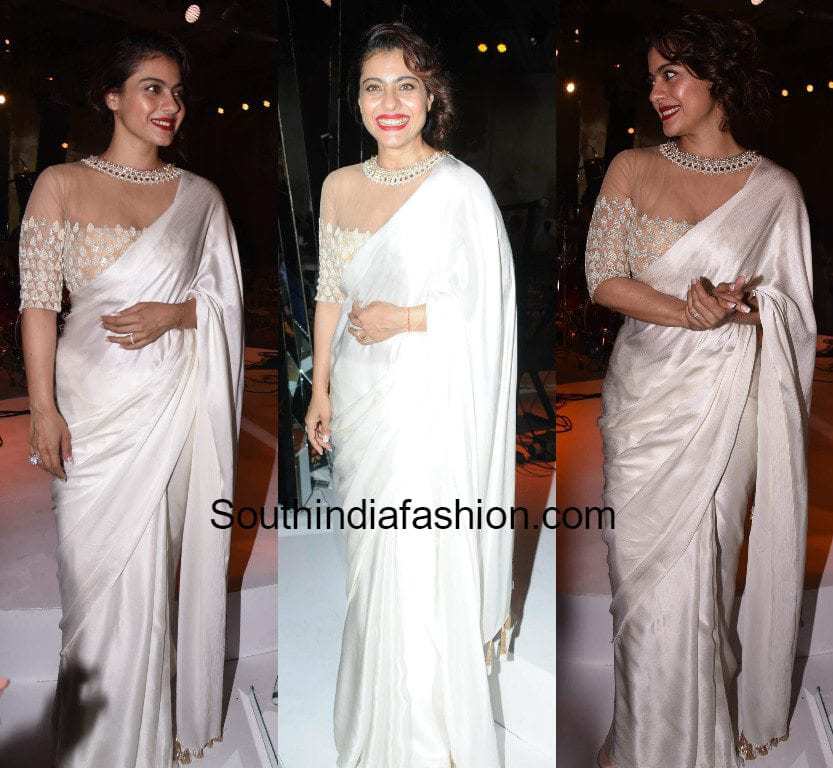 Kareena always plays it safe.  This is a nice basic see through sari and matching blouse.  Nothing wrong with it, but also nothing stunningly right.
Same thing again, see through with a border, nice and safe.  A little sexier with the blouse, must be an evening event.
Okay, you ready to move in to the big guns?  The real sari queens?  Madhuri time!!!!  This look is so close to perfect, but that scarfy bowy thing is just stupid.  Yes, I said, it, Madhuri is wearing something stupid!
This is an awkward angle in the photo and she clearly isn't really posing, and yet the sari still looks pretty darn good!
Madhuri bonanza!  Oh yeah, that's the stuff.  Notice in the 3rd one how she shows her mastery of the drape and fold.  Although I think I might like the first one best.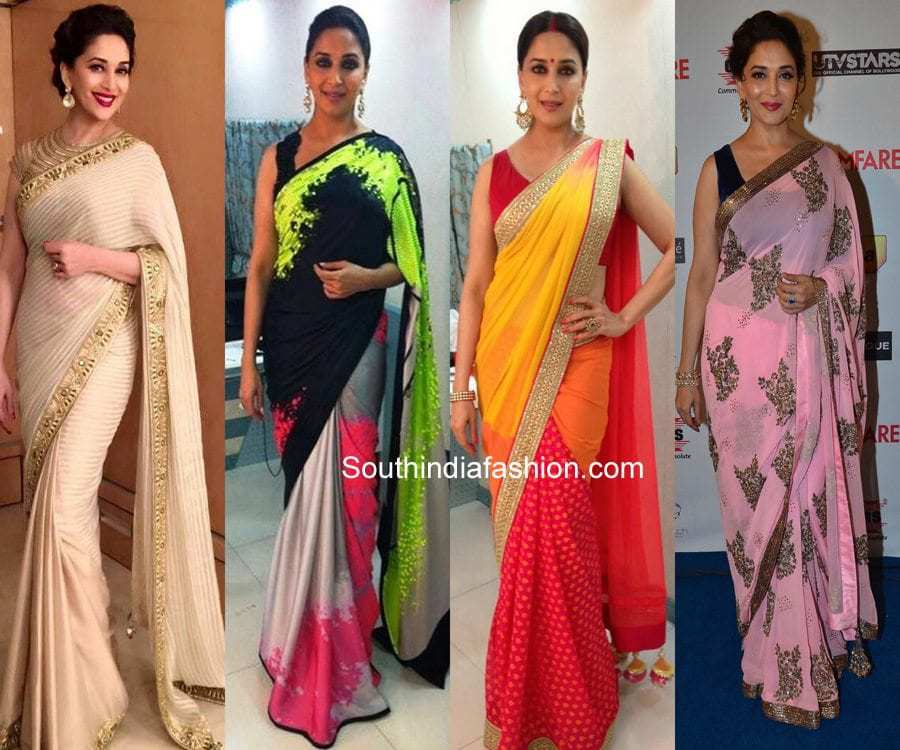 Another batch!  The black one has a very dramatic style to it, the green one has the best drape, I don't know if there is anything right about the last one.
Madhuri's good, but let's keep on moving up.  Hema Malini!  Been wearing saris for decades and looks it.  Look how casually she is moving around in this.
I love the design on this one.
Another classical subtle eye catching fabric.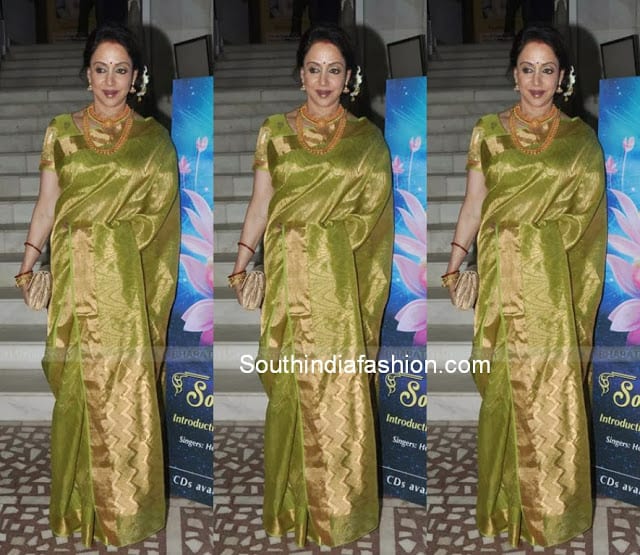 Ooo, I don't know if she can handle the young see-through look.  And I think her face is saying that she is regretting it.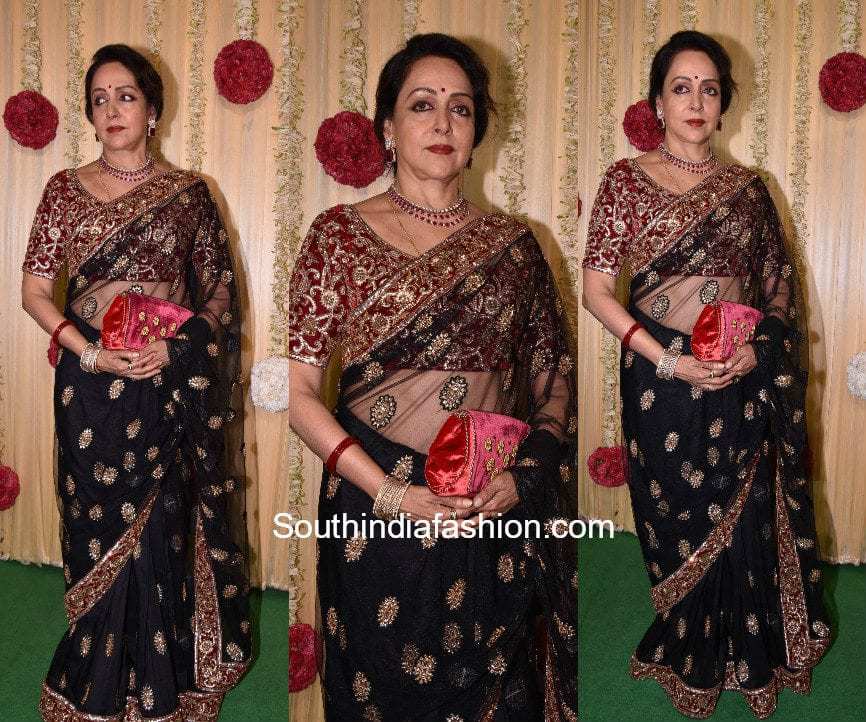 Let's check out young Hema, handling a simple cotton like a Boss!
Hema may be good, but we all know who the late middle-aged queen of saris is-Rekha!
I also love how she always matches her bag and earrings to the sari.
Kind of makes you realize that Rekha wears a bunch of identical outfits.  And yet they are all gorgeous!
Let's check out young Rekha!  She was way more lowkey back then, but the sari is still gorgeous.
Hema is good, Rekha is good, but it takes a seriously old and seriously classy lady to really wear a sari.  Let's take a look at Waheeda Rahman!
I don't understand how there are two separate drapes and that one bit of the skirt is the same color as the other drape, but I'm not going to worry about it.
A nice appropriate lessor event look.
And back in the day.  With two guys giving her the eye (deservedly)
And finally, the surprise winner from the younger contingent, Vidya Balan!  It took her a while to find her look, but my goodness she is gorgeous in a sari!
Even an everyday cotton kind of sari, just wonderful looking, so comfortable with herself.
Also a little bit sexy.
And dignified and impressive and worthy of our respect.
Final bonus image, greatest sari in Hindi film history:
And now your two very difficult questions:
Which of these saris would you most like to wear?
Gotta go with that gorgeous Sonam sari.  It took her a few tries, but she finally got it perfect.
And if you wanted to look exactly like one of these women, not just the sari but the attitude and hair and everything else, which one?
Definitely Mumtaz.  Not even close