Happy Wednesday!  I have had NO SLEEP.  Very difficult week.  But hey, my blog posts are still on schedule!  So it's all worth it.
I'll start!
Reading: Nothing!  I'm rushing around getting a service ready for Sunday which is taking all my time.
Watching: See above!  I've just got TV shows streaming in the background while I send emails and write blog posts.
Thinking: On the happier side of things, I'm supposed to have my "home visit" to see if I will be a good dog parent tomorrow.  Which, yes, is ridiculous to do all of this just to let me have a dog.  But I really like this big sad dog!  I am willing to jump through hoops for her.  What do you think they look for in a doggie home visit?  Besides that I have a nice bed and dishes for her, and I'm not obviously a lunatic?  Should I hide all my Shahrukh posters?  Should I vacuum under the bed?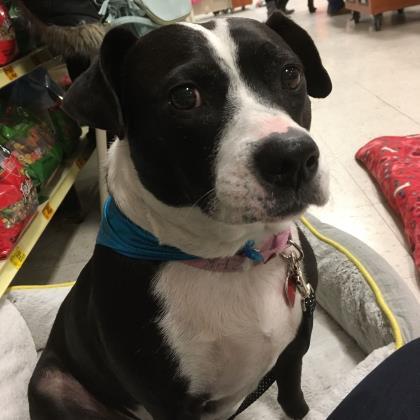 (Big sad dog)
Now, question for you, Mrs. Perfect mentioned in a comment that she watched Zachariayude Garbhinikal and couldn't seem to shake a feeling of darkness about it.  I know what she means, it's not that a movie is sad necessarily, it just has a view of the world that is so completely alien to your view of the world that it makes your skin itchy, makes everything feel wrong somehow.
What is the movie you watched which you could not shake this feeling of ugliness?
For me, as I already said here, it is Tiger Zinda Hai.  Which is objectively a good film, well-made and well-acted and all that, but just makes my skin itchy and I can't shake this feeling of "wrong".  Also Zachariayude Garbhinikal, of course.
But, on the other hand, What is the movie you can watch to set your world right again?
For me, anything by Mani Ratnam.  He has such a hopeful view of the world, filled with love and possibilities and joy.  Also, A Gentleman, which just sees everything as very very funny.
And a fun question:
What Western TV show would you like to see remade with Indian film stars?
I have several ideas!  I want to see Murder She Wrote remade with either Hema Malini or Waheeda Rahman.  I want to see Frasier remade with Madhavan and Saif as Frasier and Niles.  I want to see Grace and Frankie with Shabana Azmi and Rekha.  And of course I've already done my brilliant Golden Girls remake (Shabana as Blanche with a boy toy Shahrukh!) and Friends.