You know the concept of "narrowcasting"?  Where you target your content to a tiny tiny audience?  Welcome to a very narrow cast version of Sunday posts!  Just for those of you who are both Indian film megafans, and Golden Girls fans! (also, unrelated, don't forget to vote for the next tweetalong/watchalong movie on Friday's post!)
For those of you who are still reading this, I will start by giving the main theoretical underpinnings for my concept of a Golden Girls feature film, and then 3 separate casting options because I just couldn't decide!
Firstly, as I see The Golden Girls, each of the main four characters have different times in their life when they truly felt their best, when everything was perfect.  I think this is one of the best parts of how the show presents end of life, because most people do have those times at some point.  And when you are in your 50s/60s, those times are usually behind you.  And all you can do is refer back to them in stories and try to remind the people around you of what you once were.
For Rose, it was her childhood, they even give a little backstory to explain it with her early years in the orphanage, that just served to make the later years of her childhood after her family adopted her that much sweeter.  And she has never quite lost that adorable childish side of her.
For Blanche, it was her young adulthood.  It's established that her childhood was not that happy, she never felt as loved as her siblings or like she belonged anywhere.  But once she hit puberty and started attracting and being attracted to boys, everything fell into place.  And she had all the love and support she always wanted.  Which is why she has never quite lost that wild teenage girl feel to her.
For Sophia, I think it is now.  Notice most of her stories of the past are made up.  She has no interest in her "real" past, she would rather live in the moment when she can be as rude and wild and irresponsible as she wants.
But for Dorothy, that time still hasn't come.  She was an awkward child, she lost her young womanhood in marriage and kids, and now she is in late middle age, still unloved and lonely and trying to find her place.
And therefore, my Hindi movie version will have Dorothy as the main character, as she tries to find her happy ending!  With Rose and Blanche and Sophia in supporting roles with their own little b-stories.  And all of this based firmly on real episodes of the show.
Blanche's b-story first, because it is the simplest.  Blanche isn't really about deep emotions and inner conflict, she's there to give amazing one-liners and physical comedy.  And, in the Hindi version, obviously a sexy item song.  I want to do just a quick variation on the season 1 episode 9 story "Blanche and The Younger Man".  As in the original, she will be asked out by a much younger man (let's make him her dance instructor so we can have a steamy dance number).  She wears herself out getting ready for the date, and when it finally happens, she learns in the middle of dinner that he just wanted to spend time with her because she reminds him of his mother.
But, in my Hindi version, after her date leaves, the maitre'd/restaurant owner comes over and asks her out, because he is so struck by her beauty.  And while he isn't quite as young as the original date, he is still a good 5-10 years younger than her.
Rose's b-story, I want to use a few of her interactions with Miles.  Their first meeting of course, at a community dance in episode 6, season 5 "Dancing in the Dark".  They love to dance together, but she thinks he is too intelligent and sophisticated to be interested in her.  She embarrasses herself at a faculty party with his university colleagues and feels like he has more in common with Dorothy when they spend time as a group.  But, in the end, he convinces her that her beauty and sweetness and special Rose-ness is all he wants.
That can be the beginning of her story, but I want to add on a couple of bits in the middle, just so we see Rose again.  Maybe something with the episode where she gets sick of how cheap he is and goes out on a double date with Blanche just so she can go to a nice restaurant, and then Miles catches her and they end up talking it out?  I like all the cheapness jokes in that one.  Or else the one where Rose feels like Miles has become boring and they go skydiving at the end.
And as usual, Sofia doesn't get an actual story, she just hangs around and makes wise-cracks about everyone else's stories.  And then gives words of wisdom at the very very end.
Now, Dorothy's story is the complicated one!  I am going to combine 4 separate episodes and 3 separate storylines to give her the ending she deserves.
First, there is season 1 episode 14 "That Was No Lady".  Dorothy is passionately in love for the first time in her life.  She's never felt like this before.  She and a fellow teacher are sneaking out for long lunches and meeting in hotel rooms in the middle of the day.  But then she finds out he is married and won't leave his wife for the sake of the kids.  At first she continues the affair because she loves him too much.  But in the end, she realizes she doesn't like what she has become.
Now, as I picture it, Dorothy in my Indian film version goes through this romance pretty quickly and early.  And Rose's first meeting with Miles is scattered into the middle of it. And then Dorothy's first story is over and she returns to form as a somewhat acerbic and entertainingly unhappy person.  At which point, she gets a call out of the blue from her ex-husband, the man who ruined her life, Stanley.
And now we go into the two part "There Goes the Bride" from season 6.  Stanley has returned, and he is different.  Considerate and mature and caring.  But still the man she was married to for 38 years as well, familiar and safe.  She agrees to marry him.  Only on the day of the wedding, he asks her to sign a prenup, showing that he still doesn't appreciate her and everything she does for him.  INTERVAL
Post interval, we have Blanche's little filler story with the younger man while people get popcorn and find their seats again.  And then we go straight into a Dorothy story by a back way.  It seems like a continuation of Blanche, she is all excited about her new lover and doesn't want to entertain her uncle who is coming into town, her father's youngest brother.  So she tricks him into going out with Dorothy and they have a terrible time together.  Until they decide to play a trick on Blanche and pretend to be in love just to mess with her!  And then in the end, they really do fall in love of course.  But when they tell the news to Blanche, she refuses to accept the relationship, Dorothy is just too different to fit into her family, and to marry her uncle and become her step-aunt.  Her uncle is willing to live with her objections, but Dorothy can't go against her friend, even if it means breaking her own heart.
Which brings us to "Cheaters" (season 5 episode 22) in which the married lover returns!  This seems like her happy ending, the first man she ever really fell in love with is now free and wants to marry her.  It's all perfect!  Except that wise Sofia keeps giving him a hard time, and Rose and Blanche aren't really sure either.  And then my little twist on the plot, in the end Blanche tells her that she is too good for him, she deserves a man who isn't just marrying the first woman who comes along because he doesn't want to be single after a divorce.  And while talking, Blanche realizes that Dorothy is wonderful like that and she was blind not to see it!  And rushes out to call her uncle and have him fly down and propose again.
And finally, Dorothy gets her happily ever after!  Married to a wealthy important man who adores her, about to start a new wonderful life, leaving her friends behind her.  And, of course, Rose and Miles and Blanche and her new beau are at the wedding too, and Sofia even gets a vision of her dead Sal in the big wedding dance number (think "Bole Chudiyan").
(In my version, Dorothy's wedding dress is considerably less hideous)
Beyond the general plot tweaks, it would clearly be set in Goa instead of Miami.  Rose would be from rural Tamil Nadu instead of rural Wisconsin.  Sofia would be a Punjabi partition refugee instead of an Italian immigrant, and Dorothy would have grown up in Delhi instead of New York.  And Blanche would be..what?  A local Christian Goan, I guess!
So, obviously, this is the perfect movie.  But who to cast?!?!?!?!?  I have been over and over this, and I am still not happy with all my choices.  And I had to come up with multiple casting configurations to make it all work (oh, and remember Estelle Getty was the same age as the others just wearing make-up!  So all 4 actresses should be the same generation):
Really really old classic 60s-70s actresses cast:
Blanche: Saira Banu
(I feel strongly that Blanche has to be played by an actress that was truly stunningly beautiful in her youth, just like Rue McClanahan was)
Rose: Waheeda Rahman
(Southern, sweet face)
Dorothy: Sharmila Tagore
(Confident, powerful personality)
Sofia: Helen
(So cute!)
Blanche's younger man: Shahrukh
Blanche's slightly younger man: Jackie Shroff
Miles: Dharmendra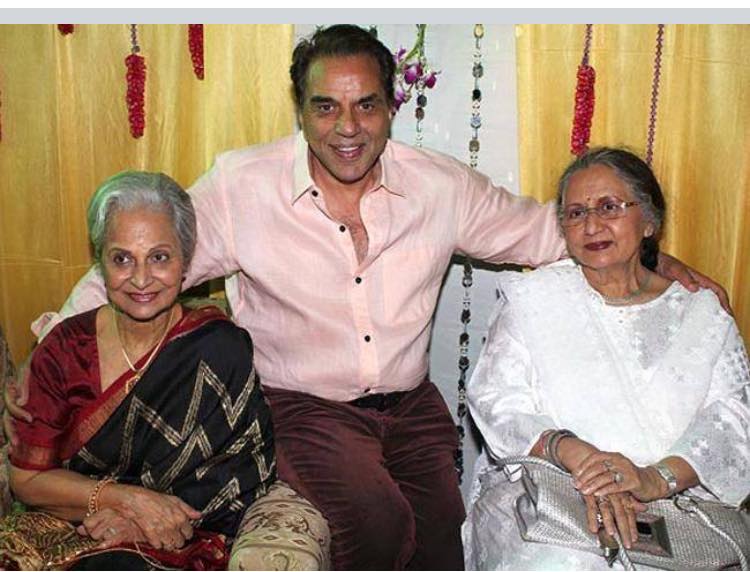 Dorothy's Married Boyfriend: Prem Chopra
(Obviously, he's always the bad guy)
Dorothy's ex: Amitabh
Dorothy's final husband: Dilip Kumar
(Look how good they looked together!  Also, I'm pretending he doesn't have severe dementia and can still act for this casting)
Sofia's Sal in a vision: Salim Khan, obviously
Kind of old 80s era cast:
Blanche: Shabana Azmi
(Remember, has to be stunningly beautiful in her youth!)
Rose: Sridevi
(Obviously she also fulfills the "stunningly beautiful" Blanche requirement, but Rose is a much harder role.  You need to be able to play silly-but-lovable, which Sridevi is particularly good at)
Dorothy: Ratna Pathak (so excited for her to get a leading romantic role!)
Sofia: Kirron Kher
Blanche's younger man: Hrithik
Blanche's slightly younger man: Shahrukh
Miles: Amitabh!  He is the perfect impressive professor type!
Dorothy's married boyfriend: Naseeruddin Shah. I know, you think he would be the husband, but I think he can pull off charming but weak better than anyone else.
Dorothy's ex-husband: Boman Irani. Perfect as a the lovable yutz!
(I don't know what's happening in this photo but I love it)
Dorothy's final husband: Jackie Shroff. The perfect man, always.
Sofia's Sal in a vision: Anupum Kher, of course.
Really too young for these roles 90s edition:
Blanche: Madhuri
(Just in case we needed proof that she was stunningly beautiful as a young woman)
Rose: Juhi Chawla
Dorothy: Dimple Kapadia
(I know she seems older than the others, but she isn't really.  Was just launched a lot younger)
Sofia: Rani Mukherjee (picture like in Dil Bole Hadippa.  Heavy make-up just frees something insane inside of her!)
Blanche's younger man: Tiger Shroff?  But really, who is too young for Madhuri?
(Most importantly, he can dance really well!  I want my Madhuri item numbers!)
Blanche's slightly younger man: Ranbir Kapoor
(I fully believe that he would fund and produce this movie himself, if we gave him a chance to play opposite Madhuri)
Miles: Shahrukh!  I want to see him playing a glasses wearing professor
(Plus, he and Juhi always have a great time together)
Dorothy's married boyfriend: Rishi Kapoor, clearly
Dorothy's ex-husband: Boman Irani (still the perfect yutz)
(Maybe we give him a bad wig to help with the characterization?)
Dorothy's final husband: Sunny Deol!  Or Jackie Shroff?  I can't decide.
(Who seems better with her?)
So, which cast is best?  Or would you mix and match between them?  And are there better options I missed for certain roles?