Anushka is 30!  And still younger than me (just like she was last year, such a coincidence!) and has accomplished so much more.  Oh well, such is aging. (this is an updated and reposted post from last year)
1. Starting with when India fell in love with her.  Not me, because I didn't see this, because stupid Indian satellite channels charge like $20 a month so I can't see TV ads.  But other people!
2. After a series of ad campaigns, of course her big break was in Rab Ne.  Which, let's be real, is mostly Shahrukh's movie.  But Anushka does a really good job with what they gave her!
3. After Rab Ne, it took her a while to get a film that was equally good of a showpiece.  But Baand Baaja Baarat definitely qualified!  Her character was layered and interesting, she had all sorts of fun scenes to play, and this song is awesome!  Especially her entrance at 1:25.
4. I have my issues with Jab Tak Hain Jaan, including some with Anushka's character (so spunky!  Why so spunky?), but I have none with this song.  And, yes, it is mostly because Shahrukh in scruff looks so good, but it's also because of her perky happy smile.  And, as we have all discussed in the comments many times, clearly Shahrukh should have ended up with Anushka!
5.  I have no real issues with Matru ki Bijli Ka Mandola.  I know most people didn't like it, but I really really did!
6. I like her because she is an old-school instinctive teenage actress.  Just like Kajol and Madhuri and Hema and dozens of others, she was discovered as a teenager, brought in for her first movie with no training, and did it all on instinct and on the job learning.
7. And her big break was the biggest possible break, the lead opposite Shahrukh Khan in an Aditya Chopra movie.  And yet, she was also willing to take a step back and act as an ensemble in Badmaash Company, and opposite a complete unknown in Band Baaja Baaraat (of course, that unknown was Ranveer Singh who became immediately popular, so it worked out pretty good)
8. She picked her projects carefully, but even when they flopped (like her BBB follow-up Patiala House, which I LOVED), she was so cheerful and confident about it, and so willing to appear on talk shows and walk the ramps on fashion week, that she was still well-liked by the public.
9. She must be easy to work with as well, since she's now been chosen for multiple big roles opposite big names, roles that could have been given to a more consistently successful actress, from Shahrukh in Jab Tak and Rab Ne and their next untitled film, to Akshay in Patiala, to Aamir in PK, to Salman in Sultan.
10.  She seems to have engendered little jealousy in the industry, despite her success, being a friend to all and an enemy of none.
11. Even her less successful movies still gave us some wonderful songs.
12. This movie was fairly successful, but this song I think is probably going to last longer than the movie.  Certainly I can't seem to get it out of my head!
13. Speaking of her with Ranveer, this is almost tied with "Gallan Goodiyaan" for my favorite song from this movie.  Largely because her chemistry with Ranveer is just so fun!
14. So long as I am talking dance songs, I better put in her very first dance song.
15.  And with the other Khan.
16. I like that she gave us the phrase "temporary lip enhancing tool" while explaining her different look in Bombay Velvet.  Because I find that phrase endlessly hilarious.  (what does it even mean?)
17.  I like that she is trying to get a Masters in Economics by correspondence while acting.
18.  I like that she isn't afraid to take long breaks between roles, instead of just signing everything that comes her way.
19.  I like that she doesn't apologize for wanting good roles in good movies, or pretend her career is just something she does for fun while waiting to get married.
20.  I like that she has never apologized for her body, whether people say it is too skinny or too tall or too whatever else.
21. Even though Bombay Velvet is a terribly terribly inhumanly bad movie, I really love this song, mostly because of how it sounds, but also because of how she emotes through it.
22. And if we are talking songs that work mostly because of Anushka's face, there's also this!
23.  And this one.
24.  And of course this, her very first reaction shot song in her very first movie, and she nails it!
25.  And finally, the best part of her most recent movie, a brilliant performance start to finish.
26.  I love how she founded her own studio and made NH10, a super female focused and feminist movie in every possible way, and made it a hit!  Well, a qualified hit.  Certainly better than anyone expected!
27.  I love that her follow-up as producer was Phillauri, a completely different sort of film, that was still female focused.  And had better songs!
28.  I love that she filled her last "Khan" notch when she co-starred with Salman, and held the screen against him, in Sultan.
29.  I love her for how she has handled her relationship with Virat Kohli.  A marriage just for them, a big reception for everyone else, and then back to work, no post-marriage slow down for her.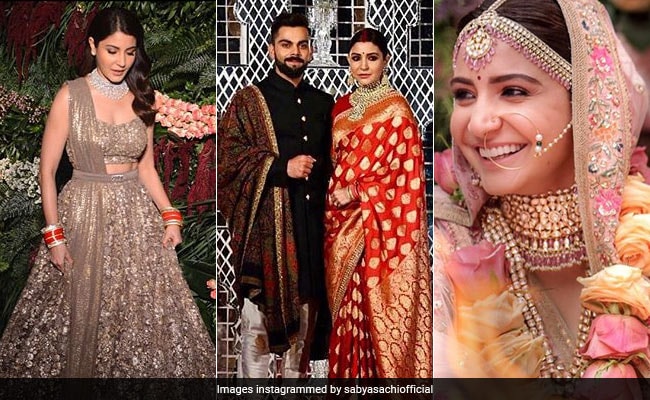 30.  And finally, I love her for producing and starring in Pari, one of the most interesting feminist films in recent years.