This is not an insult to all the many many Hindi film comedy classics that are not on this list!  It is just an acknowledgement that humor is a really hard thing to translate, there's social humor and language humor and all kinds of things that just don't cross over.  But, in my experience, these films for whatever reason do translate well.
(Totally subjective list, you can feel free to disagree, but in my experience as a White Person, this is what works.  Oh, and there are way more movies not on this list that have funny moments, but I am trying to limit this to just straight up comedies, no action-comedies or rom-coms or anything like that)
Chupke Chupke
Funny for this one to make the list, it's all about language humor.  But what makes it funny is not the details, but the reaction shots, we don't need to know what Dharmendra is saying, just see Om Prakash's sputtering inability to follow it.  Oh, and it's a Hrishikesh Mukherjee classic, master of the middle class parlor humor, featuring Dharmendra and Amitabh playing best friends who trade places, Sharmila Tagore being Dharmendra's wife who is in on the joke, and adorably confused young Jaya falling for Amitabh even though she thinks he is a married man.
Chalti Ka Naam Gaadi
The comedy classic!  3 brothers, played by 3 real life brothers, who run a garage and hate women.  But then Kishore Kumar falls in love with Madhubala, and Anoop Kumar falls in love with Madhubala's friend, and they have to convince big brother Ashok Kumar that women aren't that bad after all.  It's got a great cheerful spirit to it, lovely set pieces with Kishore mugging and Madhubala laughing at him, and a great title song ("Chalti Ka Naam Gaadi" means "if it goes, call it a car")
Son of Sardaar
This one is based on a Buster Keaton movie, so you know it must be good.  Ajay Devgan is the last surviving member of an enemy family, but so long as he is inside of Sanjay Dutt's household, their hospitality vows will protect him.  Ajay Devgan is really really good at mugging faces, and with a plot like this, how can you go wrong?
Welcome
Another remake!  By Anees Bazmee, who always does comedies and they tend to be very hit or miss.  A very very loose remake of Mickey Blue Eyes.  Really it just takes the idea of a sweet shy guy who falls for a gangster's daughter.  In this case, two gangsters' sister.  The best part is, the sweet shy guy is played by Akshay Kumar, action star.  Adding another layer of humor to all the scenes where he shakes in fear.  No, wait, the best part is that Anil Kapoor and Nana Patekar team up to play the gangster brothers and are HILARIOUS.
I had a hard time deciding between this one and Biwi No. 1!  But ultimately I think Judwaa is the bigger classic, and less of a romance.  Salman plays estranged twins, they both grow up, they both fall in love, they both have problems, and so on and so on.  It's the most ridiculous silly happy over the top comedy ever.
One of the all time comedy cult classics.  But be aware, like most cult comedies, it doesn't work at all on the first watch.  It's all about coming back a second time and anticipating the jokes.  That's why it works so well in translation, it's not about the details exactly, it's about seeing them repeated over and over again until you can't help but laugh at them.  Plus all the double-meaning humor related to how film romances usually play out.  Oh, and Salman and Aamir are wonderful.  And Karisma is even better.
I love this movie so much!  It was a big deal when it came out for being the first "Hinglish" film, which is maybe a tiny bit why I like it, because I can actually get the language humor mostly.  But more than that, it is the best clever sort of slice of life comedy I've seen, nothing much happens scene to scene, it's just the funny bits of real life presented really really well.  Also, Juhi is the Queen of Everything as the hero's wife and beloved "Bhabhi" to the rest.
Tere Bin Laden
(This is from Tere Bin Laden 2: Dead or Alive, but I don't care, it's the best song video in the history of the world and I will use any excuse to play it)
If you think it isn't possible to make a laugh out loud comedy about Pakistani politics and Bin Laden, that also turns into sudden sincerity and a cry for peace, then you haven't seen this film.  Really, it's the best feel good comedy about terrorism you will see in your life.  Ali Zafar plays a local reporter who fakes footage of Bin Laden using a lookalike in order to get a pay out from his boss, and then it all spirals from there.
Hera Pheri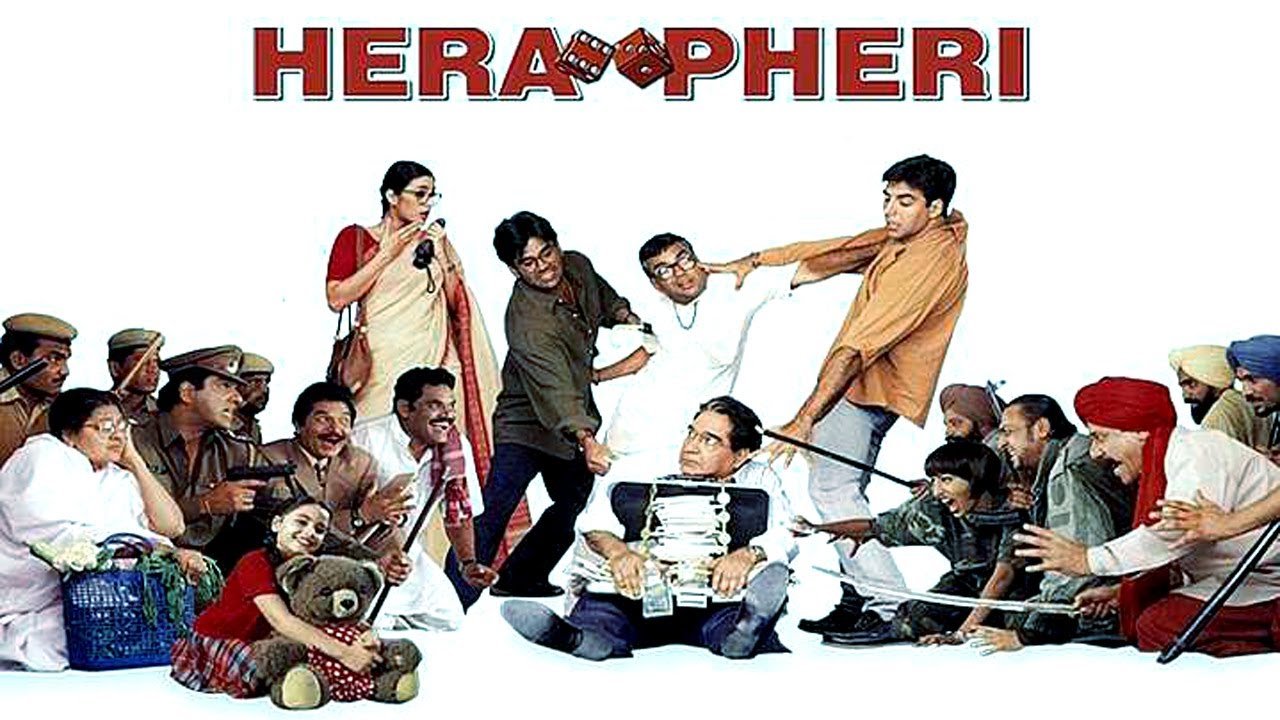 Yes yes, I am aware that the Malayalam original is superior.  But the Hindi version is pretty good too!  3 broke roommates, Suniel Shetty, Akshay Kumar, and Paresh Rawel get caught up in a kidnapping plot as a get rich scheme.
Munna Bhai MBBS
(Also, you can't NOT sing along to this)
The best!  Well, by me.  All the others are pretty good too, but Munna Bhai is just seamlessly enjoyable. Brilliantly simple idea, a gangster who goes to medical school in order to please his father, played out with so many little funny touches.  And, of course, the perfect cast, Sanjay Dutt playing the cheerful hero, Arshad Warsi playing his devoted follower, Boman Irani playing his nemisis, and Jimmy Shergill playing his sweet Jimmy Shergill self.