This is a very very very very very good movie.  I had to jump through a lot of hoops to see it, and it was absolutely worth it.  Congrats to Rhea and Sonam, they have made the perfect female friendship movie.
I have never had a female friend like the friends in this movie.  Some woman don't, and that's okay.  I am super close to my sister, fairly close to my mother, and I have had a lot of close friends in my life.  And my cousins.  And the little girls in my Sunday school class who tell me about popular music and I tell them about how its okay to be sad sometimes and let them play with glitter.  I've never had this exact friendship, but I have had the ingredients of it, my sister is that person-who-is-always-my-person, and I am for her.  My Mom is the one I go to for my emotional pick me ups and support.  My close friends watch movies with me and fight with me and tease me.  My cousins give me someone to fuss over and worry about (all 3 of them are likely to get married in the next couple years, busy times!).  And my Sunday school class keeps me young and hip.
(totally had nights like this though.  Usually the nights when we play "Dard-E-Disco" on a loop until we start singing along despite not knowing Hindi)
And then there's my Dad too, and my Grandpa.  They are nice, they teach me how to take care of my car and help me move things and put up shelves and give me sound advice about landlord disputes and tax forms.  And pick me up at the airport when my plane lands in the middle of the night and listen to me babble on about what I am writing and worry about me and support me and do all sorts of wonderful things.  But my life is made up of women, and men, together.  And most of the time, it is the women who matter more.
That's what this film gets.  It's not just paying lip service to the idea of female friends as a framing device for yet another rom-com.  No, the friends are there for each other in a way the men in their lives, perfectly nice men, never will be.  And the support they provide, the unconditional all encompassing understanding, is for problems that aren't really related to men either.  Or rather, are only secondarily related.  In Indian society, men will always be a major concern in women's lives.  Do they love you, do they hate you, will they marry you, should you get married at all, should you get divorced, what does your father think about all of this?  But this film gets that men may be part of the situation, but a woman's emotional life, even her physical needs, belong to her, not the man she is with.  And on some level, they can best be understood by her lifelong friends.  Women of the same age who grew up together, that is a bond that is powerful and will not be overshadowed by any johnny-come-lately husband (sorry to my brother-in-law, but he knew when he married my sister we were a package deal.  He's never going to understand her the way I do.  Or at least, not until after another 20 years of marriage).
(It's edited better in the film, and it's clear that this is a joyous celebration of Kareena's wedding, but her friends understand her joy on a level her family, and her husband, will not)
I have to start with that big big thought, because that is what is underneath every single moment of this film, every relationship.  It's mother-in-law to daughter-in-law, mother to daughter, friend to friend, even householder to maid.  The men are there, but they are in their proper place.  This is a movie about woman, and it stays a movie about women, bringing out all those things about women's lives that have no place in the traditional film.
So, yes, the language is raunchy.  And so is the behavior.  But that's the reality of women.  They give birth, they have sex, they wear swimsuits, sometimes they get drunk and throw up the next day, sometimes they fight with their husbands, sometimes they even masturbate.  And none of that, in this particular film, feels over the top, feels like shock value.  It is what it is, if the film is going to be true to their emotional lives then it has to be true in all the other ways as well, really wake people up to the shocking fact that women are people, just as much as anyone else.
(This song is more true to the spirit of the friendship in the film than all the raunchy jokes.  But you don't get here, to sitting together and singing together and being happy, without also taking about some physical stuff.  Who else do women have to talk about it with?  How else do you learn these things?)
So, who are these people?  Without any spoilers, I can tell you that Sonam and Swara and Kareena and Shikha Talsania are life long friends, all from very rich families in Delhi.  It's that ideal combination of specific and general, the movie knows they are from a particular kind of family and culture, it's not trying to sell the idea of these massive weddings and designer clothes and female careers as universal.  But it's also dealing with basic human questions, family and friendship and love.  And each of the women are both specific and general as well.  We can relate to their problems, because their problems are universal.  But the 4 friends are drawn carefully to be slightly different from each other.  They don't follow the standard Golden Girls template either, you don't have a sweet ditzy one and a sassy one, and a wacky one, and a sexy one.  Woman aren't just those stereotypes.  These are characters with essentially different personalities, which we see in the high school flashback, one a little bit of a free spirit, another with a little low self-esteem, but then time and circumstances changed them and molded them, as it does everybody, and who they are at the start of the film is a result of where they have been and what they have come through.  That is what makes their friends so important, because they are the only 3 people who can fully understand their journey, and how they got from there to here.
All 4 of the actresses do an amazing job with their characters.  I can't pick a favorite, either character or performance, between Shikha, Sonam, and Swara.  Sonam's character is the least spectacular of the 3, but she still does a good job with what she has, building up someone who is more than just "the good one".  And then there's Kareena.  I saw an interview with Sonam, when she talked about the struggle getting funding for this film, and pointed to Kareena as her "star", that is, as the actor who should have brought in the star funding and promotions.  Because Kareena is a star, she's been acting and leading films for almost two decades now, she has an almost unbroken track record of hits, why isn't she getting recognition for that the way a man would have?  And in this film proves what Sonam was saying, Kareena really is a star.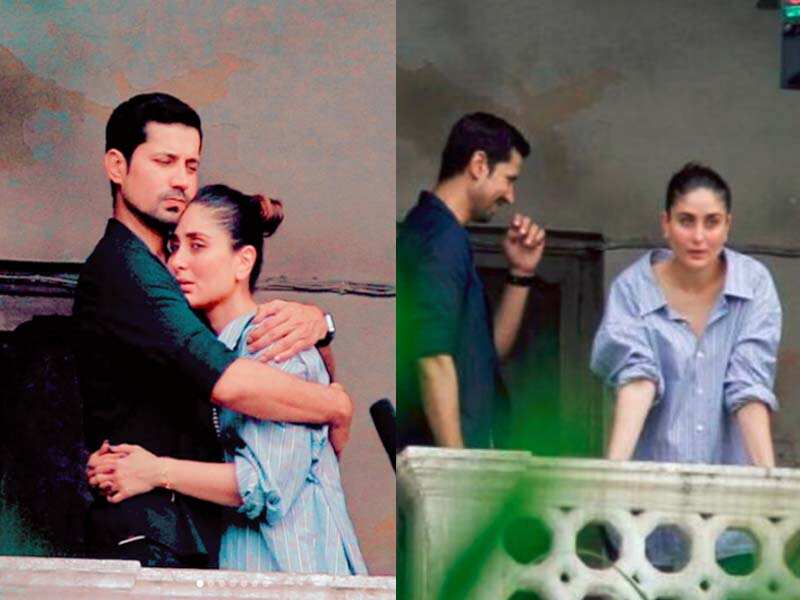 (Also, I have to say that Kareena is clearly in the first trimester of her pregnancy, and she is almost unearthly beautiful.  Her skin is translucent, her body somehow seems softer and stronger at the same time, you want to protect her and worship her all at once.  I know it doesn't hit every woman that way, but Kareena is definitely one that has that pregnancy "glow".  Oh, and they were costuming around her slight waist thickening, but loose flowy clothes are a good look for her anyway, so it worked out)
Kareena has the advantage of the Kapoor name, but also the Kapoor charisma, her face takes the camera. So, there's that.  And she has those two decades of experience being a movie star, dominating a scene and so on.  But mostly it's her acting.  I was watching going "oh yeah, I forgot what it's like when Kareena acts".  Because she doesn't always.  In something like Bajrangi Bhaijaan, she did a perfect job with her role, but the role was meant to be small and pleasant, not distract from the rest of the film.  In Udta Punjab, again she was wonderful, but again there wasn't much that was needed, she was meant to be there as an ideal for the other characters to look up to, to support rather than compete with their journeys.
But in this movie, she was cast for her emotional journey to play out and serve as the catalyst for everyone else.  And she was cast for the ability to show that emotional journey in such a way that the audience can see it, but the characters in the scene with her might not be able to, fragile but invisible at the same time.  And she is straight up phenomenal at it.  And not for the first time.  This movie made me start to remember the Kareena from Dev, way back when she was just starting out.  And the Kareena from Jab We Met.  And Tashaan.  When they write her a role that actually demands something from her beyond the simpering heroine, Kareena always makes it work.  It's just not often that people give her that role.
People don't give Kareena that role, and people don't highlight these female connections on film, because it's not supposed to be what the audience wants.  Even the way this film was promoted showed that no one had faith this would be what the audience wants.  The trailer cut together all the bad language and out of control moments from the film and removed the context, how they were just part of the natural flow of conversations.  And it threw in, for no particular reason, the one line that made it sound like the friends have a falling out.  "Tareefan", in context as the end credits song of the film, is a bit of a joke.  A "let's pretend woman and female friendships really are this superficial and laugh at it" moment.  But the music video released to promote the movie didn't show that.  Everything about the campaign sold this film as "let's see women behaving badly".  Instead of what it was, "let's see women".
(At least they kept my favorite song somewhat close to how it is used in the film)