You may say Farah or Zoya has more power, and maybe if you just look at the films they produced, okay.  But if you look at all the stars and stories and production changes Ekta has done through film AND television, there is no contest.  So, for her birthday, here are 18 reasons I love you, one for every hundred episodes produced of Kyunki Saas Bhi Kabhi Bahu Thi (1833 in total). (this is an updated and reposted-post from last year)
1. You were only 19 when your father suggested that you and your mother start a TV production company as a subsidiary of his production house, and you immediately took charge.
2. Your first hit, Hum Paanch, not only launched Indian TV sitcoms, it discovered a young actress named Vidya Balan.
3. I love you because, although it took 6 years before Balaji hit it big with Kyunki, you were still only 25 when you started running your soap empire.
4. I love you because your soap operas are truly women focused, dealing with female villains, female heroines, and issues of home, children, and marriage.
5. I love you because, when the soap operas started to weaken and fail, you weren't afraid to take a step back and refocus the entire company.
6. I love you because you took your time with the new track, making a series of low-budget co-productions before taking a real risk with your films division.
7. I love you because one of those early careful low-budget films also happens to have an all-time great song sequence in it.
8. I love you because you first real bigger budget bigger star film had an all time great trailer.
9.  I love you because it also had all time great songs.
10.  I love you because you followed up that success, with an even bigger one, taking a chance on a heroine from an old TV show, and a script that was even more scandalous than any of your soaps.
12.  And then you went for an old school classy romance, just to keep us on our toes.
13.  I love you because you are unapologetically unmarried, at age (now) 41.
14. I love you because you don't spend a lot of time on publicity or personal appearances, with barely even a wikipedia page to your name, preferring to let your work speak for itself.
15. I love you because your nephew is adorable and you are adorable with him.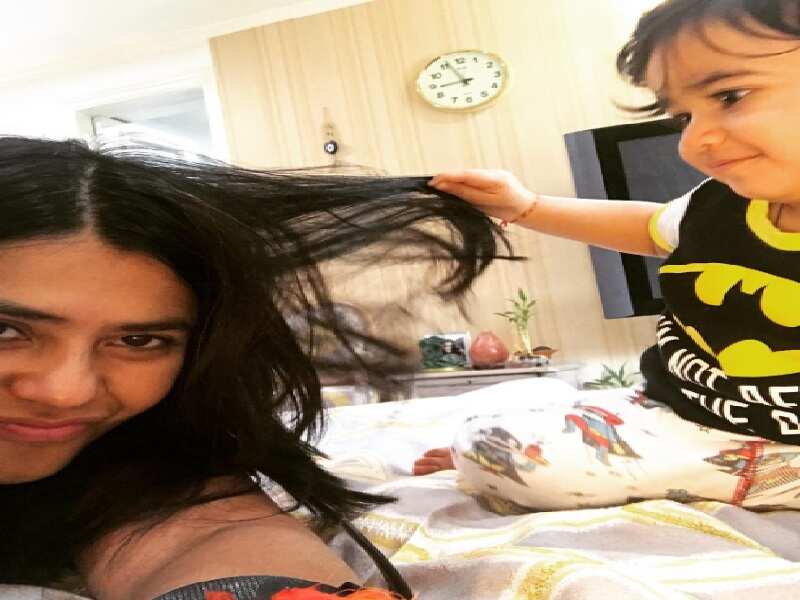 16.  I love you because you just partnered with Sonam Kapoor and her sister Rhea to make a hit movie, starring women, written by women, and produced by women.
17.  I love you because you are following up that success with another hands on production, this time partnered with Imtiaz Ali, indicating that you are taking personal control of your film division just as you used to control the TV wing.
18.  And I love you because before Veere Di Wedding, you also quietly stepped in to distribute and make sure Lipstick Under My Burkha got a release.  A signal that your products are shifting from traditional soap opera fare to something very different.