I was browsing through einthusan and I saw this movie and thought "oh hey, I've heard about this film a lot, I should check it out".  Not a great decision!  Really a very odd and strangely regressive film that is supposed to be about two women but is really just about the man torn between them.
You know the Bechdel test?  It's not the end all-be all of feminist film theory, not by a long shot, but it is an interesting starting point to look at a film.  It's really simple, are there two female characters in a film with names who talk to each other about something other than a man?
There are 4 layers to this:
Are there any female characters at all? (think of all the police movies, army movies, all the other films that exist in an entirely male world)
Are there female characters who are named, not just eye candy? (think of the movies with the sexy girl who dances, the mother who calls from the other room, the secretary and the waitress and all the other women around with no names)
Are there female characters who intersect, rather than being isolated in their own little man islands? (think of all the movies where each of the male heroes has their own girlfriend or wife or daughter or mother, but those women never talk to each other, just their respective men)
Are there female characters who relate to each other directly, not through their relationship to a man? (think of all the movies where women only talk in order to fight over a man, or fight back at a man, or raise a man, or whatever)
This film is sold as about the female characters because it easily passes the first 3 rules.  2 women lead characters versus one man.  Their names are the title of the film, "Neena" and "Nalini"=Nee-Na.  And they not only converse with each other, they also both converse with female friends.  So, yaaaaaay!  A feminist film (not in the political sense, in the film criticism sense).
(See, "a tale of two women", it's right there on the poster)
Only, the Bechdel test is just the beginning.  For instance, Dushman is an extremely feminist movie.  In which Kajol bonds with Sanjay in order to defeat Ashutosh Rana.  Kajol plays a double role and talks to herself (that sounds weird, but you know what I mean), but that only lasts for the first few scenes, the rest of the film Kajol is only talking to Sanjay about Ashutosh Rana.  But the film is so much more than that!  Sanjay is supporting Kajol in her endeavors, not the other way around.  Her feud with Ashutosh revolves around a woman, not a man.  There may not be another woman onscreen, but there is one behind the camera, a female director who wrote a film for a female star.  And so on and so on.
This film 3/4ths passes the Bechdel test.  And yet, it is not a feminist film (again, in the film criticism not the political sense).  Because it fails that final 4th step HARD.  Deepti Sati talks to her friends only about Vijay Babu.  Ann Augustine talks to her friend only about Vijay Babu.  And of course, Ann Augustine and Deepti Sati talk to each other only about Vijay Babu.  These women have literally no lives outside of the man they are talking about.
Well, Ann Augustine also has her son.  And Deepti Sati has her father.  Mothers don't matter, sisters, certainly not daughters.  Just men, men are all women care about, ever, the source of everything.  It's incredibly old-fashioned and Freudian and ridiculous.
It's so Freudian that it misses something post-Freud which is pretty obvious to me.  But I can't get into that with out getting into SPOILERS.
SPOILERS SPOILERS SPOILERS SPOILERS SPOILERS SPOILERS SPOILERS SPOILERS SPOILERS
We open with Deepti attractively wandering around St. Petersburg as an English language emo song plays in the background about missing someone.  So yeah, it's that kind of crushingly thick melodrama.  And then we flashback to Ann Augustine and Vijay Babu talking about leaving Bombay and moving back to Kochi after his transfer.  Vijay arrives at his office and is the cool boss that everyone likes, and offers to give them all a party that night.  At the party, he notices a cool dangerous girl with short hair and jeans trying to walk a straight line and falling into the lake instead.  He rushes over and drags her out, learns she is the "weird" girl at the office, but she immediately expresses her hero worship for him, knows he will understand her and appreciate her work.  And insists that she will call him "sir" rather than by his nickname like everyone else.
(She does have a nice hat, I like that part of the song video)
The relationship follows the predictable moves after that, Deepti is troubled and strange, always drinking vodka from her water bottle, all her friends are tough boys, she ignores everyone else at the office as too normal and beneath her but identifies Vijay as someone special.  He is flattered, he overlooks all her line crossing and indulges her crush.  She gets drunk on New Years (after he helps her buy liquor for her party with her friends, which is definitely his own line crossing and the film never calls his character out on that) and calls him up and says she wants to kiss him.  And then at the office the next day she says she wants to tell him her life story, and he listens as she pours her heart out over the next several days, culminating in her cornering him in the men's restroom at a club at an office party and declaring her love for him.  He brushes it off, they go dance together and she tries to kiss him, he leaves and goes home to Ann Augustine, his wife, and puts his phone on speaker so she can hear him turn down Deepti once and for all.  It would all be over, only Deepti ends up in the hospital with alcohol poisoning and Vijay is called as her emergency contact.  The doctor tells him that Deepti will die if they don't get her into rehab, but the rehab needs a family member to go with her.  The doctor also indicates that her romantic obsession with Vijay is part of her addiction, if she gets into rehab and gets cured, she will leave Vijay alone.  So Vijay decides to gamble on this and goes with her to rehab, lying that he is her husband.
(I have never heard of a rehab center expecting/requiring family members to stay with the patients.  Is that an Indian thing? Or is it just totally made up?)
Through rehab, Deepti confronts her relationship with her father which is of course the root of all her problems, and realizes that her obsession with Vijay was just because she wanted a father figure (Freud is still totally relevant, according to this movie).  Vijay, meanwhile, is coming to care for her.  But in the end, he talks to her therapist and learns that she no longer cares for him, she is cured and past him.  He even catches her talking on the phone with the nice age appropriate young man from the office.  And so he is able to drop her off at her apartment and go back to his wife, heart whole and happy.  Only for the audience to see that Deepti is really being picked up by her parents.  She has reconciled with them, it was her father on the phone not the young man from the office, and she still loves Vijay just as much as ever.  But he gave her back her life by helping her through rehab, she is going to give him back his life by lying that she doesn't love him so he will go back to his wife without any doubts.  And she ends the film at the beginning, wandering around St. Petersburg dreaming of Vijay forever and ever.
Meanwhile, Ann Augustine barely has a plot.  She overhears and knows about all the phone calls at odd hours from Deepti and starts to get worried.  She tries to befriend her, invites her for coffee, and Deepti turns down the friendship.  She talks to her own friend about Deepti and Vijay and what to do and (of course) how much she loves her son.  And then at the end, she goes to the rehab center and overhears the psychiatrist telling Vijay that she knows he isn't Deepti's husband, but it is okay, Deepti doesn't really love him.  And the psychiatrist then tells Ann Augustine that she will always be the only woman in Vijay's life.
So, this is the movie that is supposed to be about 2 women.  Vijay comes to a new city, Vijay struggles in a new job, Vijay is torn about his relationship with Deepti.  Deepti is an alcoholic, Deepti is troubled, Deepti is in love.  Ann Augustine is…..there?  She doesn't really have much to do.  It's not a movie about 2 women, it's the same old "perfect noble man torn between the dangerous interesting young woman and the mature good woman".  The "Nee Na" of the title isn't about the two women being the focus of the film, it's about Vijay trying to decide between them.
I'm not really interested in taking down this film as unfeminist (again, in the film criticism sense), because that is so obvious as to be boring.  Two women both obsessing over a man, Deepti's entire mental journey being about dealing with Vijay and her father and nothing else (her mother isn't even present for her, not a factor in her life story), and of course Vijay being perfect and blameless and innocent in this whole thing.  Blah blah blah, whatever, you can see that for yourself I am sure.
No, what I find fascinating are the indications that Deepti's character is on a journey the filmmakers aren't even capable of imagining.  She describes her whole childhood to Vijay.  Her father wanted a boy, so when she was born, he raised her as one, cut her hair short and so on.  She spent her childhood playing with the boys in the nearby slum, one of them, happy.  The saddest day of her life was when she got her first period and suddenly was told she had to be a girl instead of a boy.  That trauma is what started her drinking, why she still drinks.  She says she doesn't have female friends, doesn't know how.  Has never been interested in a man before Vijay.  Can't relate to her parents because she is so miserable at them seeing her as and treating her as a girl.
This doesn't sound like a "tomboy" to me, or an alcoholic, or at least not just an alcoholic.  This sounds like someone who is transgender.  A boy born in a girl's body.  The trauma over the onset of puberty, the insistence on considering herself a boy and misery when that is challenged, the inability to relate to anyone who sees her and treats her as a woman, and this desperate attempt to fall in love for real with Vijay to prove that she is a woman after all.
That's not the "real" journey of this character, because of the opening and closing scenes that show her all feminized in St. Petersburg.  Now that she is "cured" she is back to conforming to gender norms.  This film is sticking with the idea that her father made her into a boy in order to please him, and she rejected femininity because she saw it as what made him retreat from her, until she got the fatherly approval she needed from Vijay and resolved her internal conflict, blah blah Freud.  And now that her internal conflict is resolved and she is "normal", she has long hair and wears skirts and has female friends.
But the whole thing just played to me as so clearly a trans journey.  It makes me wonder if perhaps the scriptwriter based the character on someone he knew, a story he had heard, and then invented other bits and tacked it on without realizing that the real person he knew was trans, not just a "tomboy".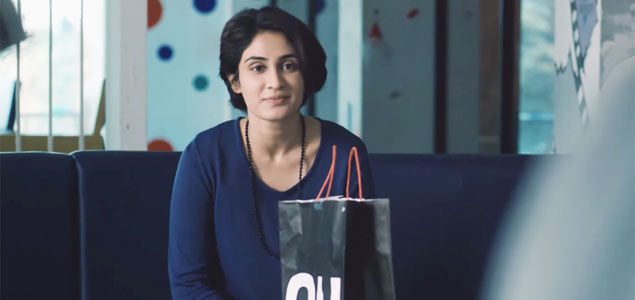 India has such a long tradition of Hijras, if a boy had insisted he was a girl his whole childhood, played with only girls, wanted to wear dresses and grow his hair, and cried and cried at the signs of puberty, then it is highly possible his parents would realize he was really a girl and know what to do about it.  But all those same things the other way around, a girl who insisted she was a boy, played only with boys, wanted to wear pants and have short hair, and cried and cried at puberty, that is clearly something that can be "cured".
This film positions itself as teaching us all about alcoholism, being all up to date and understanding and modern about mental health.  But it is terribly old-fashioned.  It misses something shockingly obvious (to me) because it is far outside of the realm of what this film and the filmmakers could possibly understand.