I put this up last week, a wee bit early, but I am reposting it today.  Partly because I am off at the vacation house with no internet access and I need something to fill the day, but also because this is a very in depth and comprehensive post and it did not get nearly the views it deserved last week, so I think you should all give it a second look.  There is EVERY actor!!!  From Sunil Dutt to Suniel Shetty to Aditya Roy Kapur and even Harshwardhan Rane. A whole fireworks display of manly flesh.  Oh, and I added in a few more photos even since last Wednesday.  Really, it is EPIC.
I'm just gonna start at the top!  With a new classic.  A still from a movie, but don't worry too much about the character motivation and stuff.  They are talking to a gay Akshay Kumar, he orders them to strip out of their clothes, and they do.  And coincidentally are wearing the same underwear.  So I guess that is an early indication that although seeming to dislike each other they are destined to be best buddies?  All right, so this whole thing is like justified by the narrative.  Sure.  That makes sense.
Okay, on the other hand, this image is from the promotional tour and there is absolutely no reason for it.  Except for the fact that they clearly know what exactly it is they are promoting.
Now, speaking of promotional images with no real reason to exist besides the obvious reason they exist, we all know why this photographer had Shahrukh take his shirt off and stand in the water, right?  So we can all pretend that there is nothing else underneath on underneath the water?  Oh look, we surprised him!  He didn't see us there.
Another Shahrukh, kind of distraight and bearded.  He is uncomfortable with all this attention!
But it's his own fault this time, he's the one who put up the shower video!
Unlike Shahrukh, Ranveer just likes us all to watch him.  I mean, I guess this is in character too.   But really, Ranveer just likes us to watch.
Although Ranveer at least pretends to embarrassment when he is caught with his friend (?) Arjun.
Another Arjun, all by himself
Shahid Kapoor, before he got super skinny and when he was (I think) slightly more attractive.
See?  This is nice
Kunal Kapoor, very similar pose to the first Shahid photo, and also very nice.
Okay, he is technically wearing a hat in this, but nothing else, so I think it still captures the spirit of the post.
Here's something for the, like, 5 people in the world who are Harshvardhan Rane fans.
John seems to enjoy us watching him.  Or at least not mind it.
Ranbir, not sure if he likes us to watch or not?  But I guess he will let us, if he feels like the plot requires it.  In other words, what I am saying is that he danced in a towel (and dropped the towel), in his very first film.
At least the previous images were kind of hidden within a film.  Or within a photoshoot.  But boy, Vogue India is not messing around!  Naked Hrithik and Lisa Haydon right on the cover!  Definite something that will get you to pick it up from the newsstand, right?  Although, speaking only for myself, I am never going to wear whatever it is that Lisa is wearing.  That looks crazy uncomfortable.
Hrithik isn't messing around either, something he chose to take and post online all himself.
Aditya Roy Kapur, still a little shy, hiding behind that convenient stone railing.
Unni Munkundun who is, theoretically, working out naked.  Which seems dangerous.
Varun is so happy, on the other hand, that I have to put him in gif form
A nice one of Tovino, which reminds us all that his daughter is way more photogenic than he is, even without clothes.
Akshay here, he is selling "unbutton" jeans.  See?  See how you look at this image and think "oh yes, myself as a straight young man, I am fascinated by this image and it makes me want to buy button fly jeans".
Now, while we are talking men liberated from clothing, I think there is one photo that  I just have to put up one more time.  Oh Jackie!  Who stole your clothing?
Maddy of course is all about pleasing his fans.  And there's no shame in that!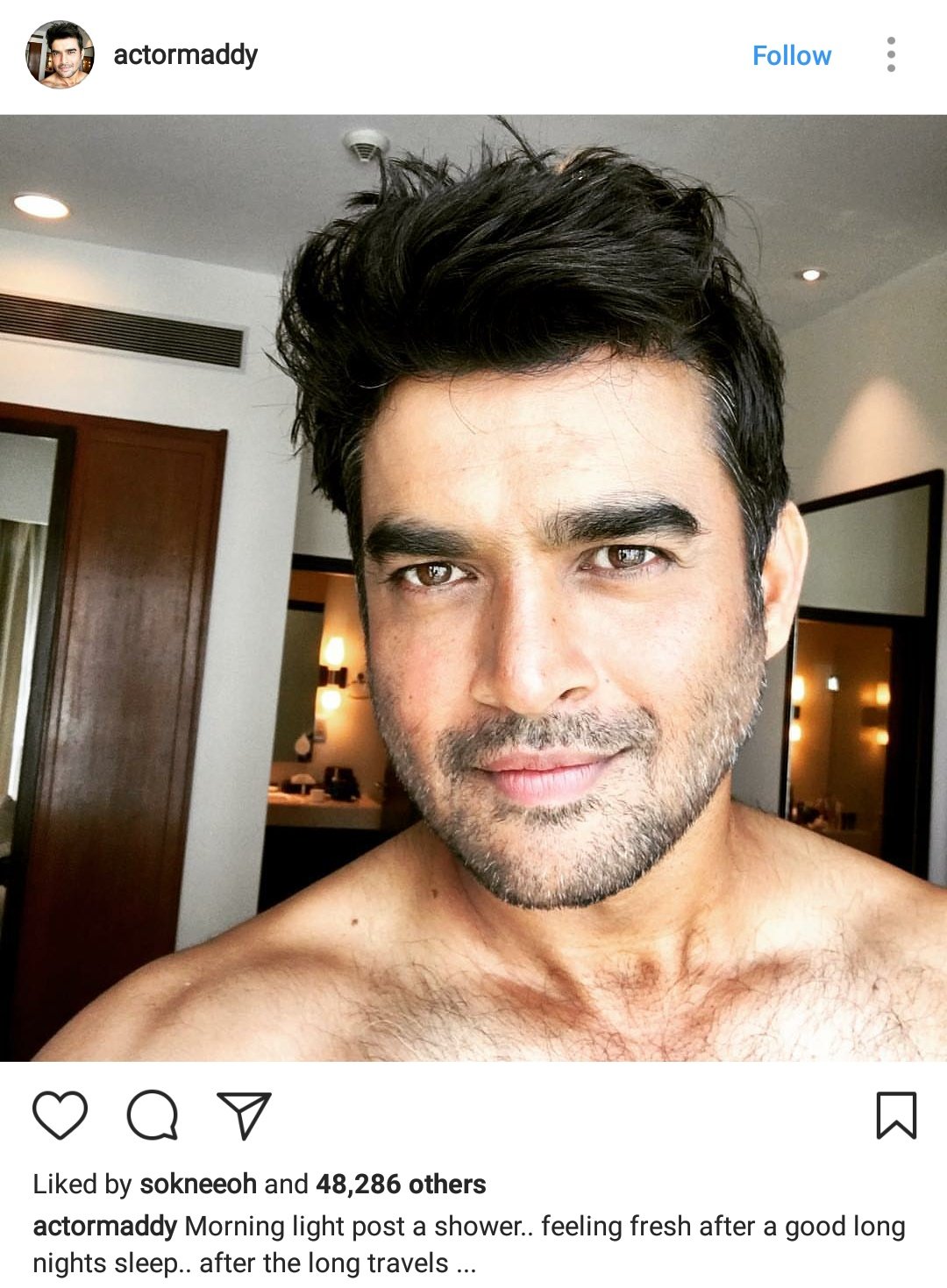 And here's another Maddy, a little more full body
Unfortunately, Prabhas just doesn't have that many options for us in the "freedom from clothes" visuals, so I have to fall back on the old reliable.
Dang Saif!  How'd I forget about this version of you?  It's getting me all excited for Sacred Games again!
See?????
Speaking of Khans, I'll throw in some Aamir for those of you who like that sort of thing.
And some young Salman
So long as we are going old school, let's go really really old school…young Sunil Dutt!
A little bit newer, young Sunil Shetty!
Oldie but still a goodie, Akshay!  In a recent selfie, the man has aged WELL.
Finally, just because it makes me happy even though it is completely unrelated to the theme, check out this photo of Arjun Rampal and a patient dog that I just found!  Well, I guess the dog is naked, so there's the thematic connection.
(Now you are going to yell at me for not having enough southern men, but southern men don't take their shirts off!  It's not my fault!  The images just aren't out there)
Anyway, questions for discussion!  Really just two vitally important questions:
If you could see one of this images full frame, as it were, which one would you pick?
I'm afraid to pick Shahrukh because it might overpower me for life, so instead I will go with Ranveer.  He seems so proud of himself and so confident, just makes me curious what it is he so wants to show off, you know?
If you had to see one of these images full frame, which would be the LAST one you would pick?
Shahrukh.  Because of the afore-mentioned "possibly too overwhelming and mind damaging" concerns.