As I feared, I ended up doing nothing today and just binging Sacred Games.  Oh well, at least it was a really really good show, so I don't feel like I completely wasted my day.  And I will try to put up little mini-spoiler reviews over the course of the day tomorrow, so we can discuss without spoiling people who haven't started/finished yet.
The first most important thing, terrible subtitles!  First they were slightly out of synch, with some lines flashing so fast I couldn't even read them.  I have seen this before and Netflix usually fixes promptly, so there is hope.  And that they were just bad translations.  Stuff like, changing "Hema Malini" to "movie star".  I hate that, just tell us what was said!  If it's a reference we don't know, we can figure it out.
The other flaw is that the plot is essentially impossible to follow.  But that's not really a flaw, once you just let go of any attempt to understand it step by step.  The details aren't the point, it is the broad sweep that matters, the character motivations, the big stakes.  You can let go of the little things like "wait, where did that file come from which lead them to that witness?  Why are they searching this house?" In fact, letting go of those things will make it easier to follow what really matters, you can spend more time looking for the exchange of glances and personal stories instead of worrying about where that particular significant whatever came from and why and how it lead them to the next step in the case.
Overall, it is a very very good series.  And the thing that I noticed more and more as the episodes rolled past was how important it was that there were two series directors, Anurag Kashyap and Vikramaditya Motwane.  The Netflix series is structured for binge watching.  And the flaw of binge watching is the tendency to get lost, lost in the story and the characters, lost in the episodes as they flow past without a break.  Anurag and Vikramaditya filmed their sections completely separately, and found their own distinctive voice in the materials they were given, and ended up giving us little landmarks in the episodes, helping us to keep track of the movements of the plots.
Anurag works with Nawazuddin, his discovery of years past, and builds a complicated decade spanning story of a crime king.  It's sprawling and layered with characters who disappear and come back as the years roll past.  It's also very violent.  And very superficial.  Nawazuddin, our central character, is a sociopath.  His emotions aren't the same as normal people's emotions.  And so his story doesn't have subtle depth, doesn't have inner growth, none of those things that can cause Anurag to struggle.  Instead it has a cast of dozens, massive action set pieces, brutal life philosophies, etc. etc.  Exactly Anurag's strong suit.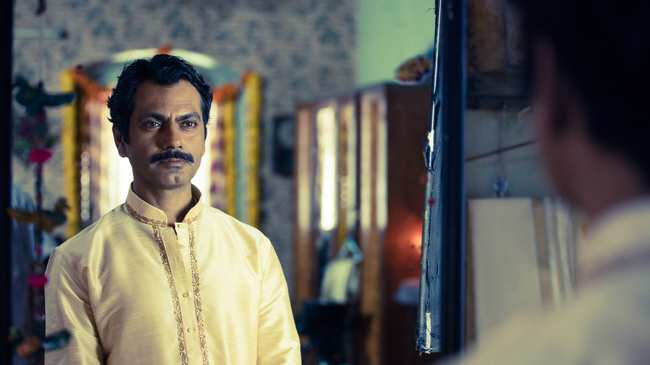 And then there's Vikramaditya Motwane.  He is all about the internal journeys.  He needs a different kind of actor, one that can convey an inner shift rather than an outer.  And he needs a different kind of story, one about small everyday moments between characters and incremental changes, not massive decades long shifts.  And very few moments of violence or action (as I learned from Bhavesh Joshi, it's not necessarily his strong suit).  And he gets the cast, Saif Ali Khan and Radhike Apte, and the story, a cop slowly investigating, trying to prove himself, and dealing with his father issues, that match his talents.
The switch between two stories, and two directors, is a brilliant structural decision.  Just as the audience begins to tire of the pace, problems, characters, and filming style of one story, suddenly we are thrown into the other one.  It even makes them slightly easier to follow, in the time we have "off" from one story, we are able to process it and retain only the main points, coming back to the story refreshed instead of dragged down by ultimately pointless details.
What I am most impressed by is that the series actually manages what most crime miniserieses try for and fail, it gives an honest complicated look at the city where it takes place.  It doesn't just name check The Emergency and Ayodha, it digs into them, shows how they effected the fabric of the city and the characters.  There is a careful power balance of the national government, the local politicians, the police, and the criminals.  And none of them are fully bad or fully good.  The politicians are misguided, the national government is trying its best, the police are corrupt but only up to a certain point, and the criminals are just trying to survive the best way they can.  All of this without falling in love with the setting, without the lingering glamour shots of the city or constant refrains of "it's Bombay, it's like that here" which kill so many of these shows by making them obvious.  This isn't the greatest city in the world, or the worst.  Or the most beautiful, or the ugliest.  It is simply the place where these characters happen to live.  We see it like they see it, in their homes and their offices and the places they drive through and walk past and eat lunch.  Maybe it's because much of the show was filmed on sets, not on location, they were forced to think small, to think about where these characters would actually live and work instead of trying to think of the usual impressive filming locations out in the real world.
And of course the cast is wonderful.  Nawazuddin is his usual fascinating complicated self.  Although the character relies a little more on physical ticks than internal moments for my taste.  Saif is solid.  That's what his character is supposed to be, slow and solid.  Not sensitive, not complicated, not brilliant, but steady and trying his best and moving along in the world.  Saif is perfect, with the maturity and gravitas needed to play someone who is old enough to be looking for a second chance, not a first.  And he manages the needs of his characters, being silently conflicted, trying his best, talking to his mother and his friends and his boss and his suspects, all in a slightly different way.  He doesn't show off the real Saif fireworks, nothing at the level of his Omkara performance, or even Dil Chahta Hai or Kal Ho Na Ho.  But this is just the first series of 4, they haven't really tested him yet.  His character is still growing into being a hero.
Oh right, that's the most important thing to know about the series.  It's going to be in 4 parts.  So this whole series of episodes is just a set up.  The plot conflicts, and the majority of the characters from these episodes, are finished.  We will move on to the next section with Saif, and possibly Nawazuddin, and not necessarily anyone else.  Or the characters who do continue may be ones who only had a few lines of dialogue in this section, for instance the amazing Anupriya Goenka (from Tiger Zinda Hai and Padmavat) only has one line of dialogue and is never seen onscreen.  Surely they wouldn't have cast an actress of her talents if they didn't have bigger plans for her.
This is the first major Indian made Netflix miniseries and it is getting a lot of buzz for that, but I find it much more exciting for the way it upends the miniseries structure.  Bringing in two different directors and two different casts-inspired!  Planning out one massive novel in a 4 series commitment from the start-groundbreaking!  And slowly easing us towards a challenging political statement.  It's barely hinted at here, but I can start to feel the shape of the plot, and it is one that makes the BJP and the RSS and the Shiv Sena look pretty bad.