I just got in trouble again, some more, for discussing and critiquing a star persona which was seen as critiquing the person behind it.  Which made me start to think about how I define for myself the star persona versus the person behind it.
A couple years ago we had a lesson plan in my Sunday School class to have the kids build masks.  It was supposed to help them talk about their emotions and their internal lives, we discussed how sometimes you may feel sad inside but not want anyone to know it, you might need to put on a happy face instead.  The 8 and 9 year olds in the class understood this concept immediately.  But the one 6 year old little girl was confused.  Why would you ever want to hide what you are really feeling?  Her thinking was "if people know you are sad, they will help you".
At 6, it hadn't occurred to her yet that some people may react to knowing you are sad by taking advantage of your weakness.  Or that you may have a kind of sadness that you want to keep within yourself and not share with others.  That there is a private personal internal self which must be protected by the masks we wear.
(Masks like this)
That's part of growing up, finding your own "mask" and making it comfortable on your face, discovering a need for something inside which is just for you, just for your most intimate friends.  And eventually building several layers of masks, the "you" with your friends, the "you" with your family, the "you" with your intimate partners, and the secret "you" deep inside that no one else knows.  None of them are "lies", not exactly, they are just different aspects of yourself that come to the front depending on who you are with and what you are feeling.
This is also something that is part of Hindu philosophy, the many "faces" of the Gods.  According to some extreme beliefs, Hinduism is actually monotheistic.  There is one all powerful force, who is too immense to be grasped by human minds, and so different names and stories and aspects have been created to help understand it.  Even the most commonly understood versions of Hinduism accept that, for instance,  Durga, Parvati, and Sati are all the same in some way.  Christianity has the Trinity, Father, Son, and Holy Ghost who are all somehow separate but the same.  Classical psychology has the Id, the Ego, and the Superego. They are all different ways of getting at the same truth which we know in our hearts, that each of us contains multitudes.
(Kartik Calling Kartik was also going after this concept, with mixed results)
If you are a celebrity, there is an additional challenge.  All of your multitudes of masks need to be sharpened, polished, and magnified.  You need to create a face that can be easily replicated over and over again, that will be comfortably close to, but not quite the same as, the real you.  That has blunter features, a cleaner look, that is pleasingly simple to the eye.  But at the same time, it has to fit closely enough to the "real" you beneath that it will stay on your face without being knocked off, so that you can move easily underneath it.  For every mask a normal person has, the one for business, the one for friendship, the one for being charming at parties, there has to be created a second over-mask, that same version of yourself but for public consumption, the version of you doing those things for the cameras.
This isn't something celebrities necessarily sit down and plot out in detail right at the start.  You sort of ease into it.  You learn what kind of answers get a good response from interviewers and/or fans and head towards those answers in every interview.  You unconsciously borrow lines and mannerisms from your characters (if you are an actor).  You borrow looks from your photo spreads (if you are a model).  But eventually you reach a level of fame where this IS something you are consciously crafting.  The same way someone going to a Halloween party builds their costume, on top of their real self.  And this is what I call the "star persona".
(Shahrukh playing himself in this movie, using his real life roles to do it, and revealing that ultimately even "himself" in reality is a bit of an act, a combination of past roles and public appearances)
The "star persona" has many parts to it. Every time you step out your door you are contributing to it in some way, every casual line in an interview, every haircut, every clothing choice, every photo posted on instagram, every sentence on twitter.  It is a combination of real and fake, a "based on a true story" version of a person, not completely fake and not completely real either.
There are essentially 3 ways celebrities present themselves.  The first is the carefully crafted and rehearsed version.  The planned interviews, the promotional appearances, the places where they are playing a role of being themselves complete with scripts, costumes, and rehearsed gestures.  The second is the improvised version of it, the unscripted interviews and the candid photographs, working with a framework of what they want to present as established in those scripted appearances, dropping in and out of previously used rehearsed lines and mixing in whatever feels natural to the moment.  And the third is something close to the "real" person, the person as they are to their co-workers and friends when the cameras are turned off, something that can appear when they are surprised by a question they are not prepared for, or when they are simply in an emotional state that makes them unable to protect themselves, as can happen to all of us from time to time.
(Shahrukh's speech here, playing himself but saying words written by someone else, that would be the first instance)
The greater public, the fans and the casual observers, we are their "audience".  And we can choose how to react to this performance.  We can enjoy unquestioningly the created version of themselves, accept it as "reality".  Or we can reject even those small moments of honesty that bleed through as an act, say that there is nothing real, that everyone is faking everything just to please us and the reality could be anything.
For myself, I choose the path of constantly trying to identify which of those moments I am seeing, and enjoying them for what they are.  The crafted moments, the planned appearances, those are a work of art.  I can admire the craftsmanship, and try to place them within a larger narrative, why this message at this particular moment?
For the semi-crafted, the improvised, I can admire the skill of it, the way the celebrity turns it into what they need it to be, the thrust and parry of the duel between the star persona and public that is trying to break through.  It's fascinating to watch, and exciting.
And then there are the third elements, the moments of something closer to "truth".  When the public mask drops off and the private one replaces it.  No one can ever see the real person, the "you" you are inside.  A few people can see something close to the real person, your closest friends and family.  But the "you" you are at work, at parties, that is someone who can sneak out when you don't expect it, break through the celebrity mask and surprise you.
(This is why Koffee is so addictive, it is mostly for that duel as Karan tries to surprise them into being real and they tried to avoid it, scattered with those exciting moments when the truth breaks through)
That's the goal of all celebrity media.  The interviewer who tries to ask the question you aren't expecting, the game show that forces you to play silly games, even the new media that makes you limit your thoughts down to 40 (or 120) characters, or try to tell a story in cell phone photos, it's all about tricking you into revealing the "real" person.  And that's why we watch, because we want to feel we have found that "real" person, we have made an actual connection with this person we worship from a distance.
The best celebrities, the people who are beloved of their fans for years and years, they are very good at this game.  Which doesn't mean they lie more than others, it means they have found a way to come closer to the truth than the others.  The public can spot a lie, a blatant lie, but a truth that still keeps some part of your life private, that is much harder to see.  The best celebrity narratives are the ones that are their true stories and their true lives, made just a little simpler and easier to believe, a mask worn lightly and easily over their true face.
So, how do you tell the difference?  Between the real, the improvised, and the scripted?  Well, no outsider can ever really know if someone is lying or not, but you can make an informed guess in two ways.  First by watching what they do instead of what they say.  And second by being aware of the narrative that they are trying to create, and therefore the moments of truth are the ones that do not fit in that narrative.
If Salman Khan talks about loving his family, that is probably real because be still lives with his family.  If he talks about wanting to get married someday, that is probably false because he is 52 years old with several serious relationships in his past and never so much as an engagement.  If he talks about being scared of marriage, afraid of making that commitment, he is probably being extremely real because it matches his behavior but does not match with his happy traditional family man persona.  A moment of truth breaking through.
Why does all this matter?  Besides a general fan urge to understand and know our heroes?  It matters for the same reason any powerful narrative matters.  We need to understand its power over us, the public, in order to better understand ourselves. To understand the lies we want, and the truths we want spoonfed to us, made simple.
Here is a simple example from Shahrukh Khan's star persona.  The public loves his narrative of loving his wife, and always has.  He steered into that, it began as something "real" in his earliest interviews back when he was just a TV star, and then as he saw the response he kept it up, something which is true in his life, but which he also learned to simplify and play up as part of his fake face.  The moment of truth comes in an interview a few years back when he talked about how he and Gauri hardly talk any more, they are more co-parents than anything else.  So, no, they don't have the fantasy perfect marriage, they are like any other couple with three kids and busy lives, they love each other somewhere in the background but it isn't roses and chocolates all day every day.  And yet Shahrukh keeps that truth covered, hidden under his mask most of the time.  Because he knows how important the fantasy is to his fans, and now we know this too.  And we can understand that his audience craves not just a dream lover, but a dream husband, one who will remain forever passionately in love with them as the years go by, the fantasy of the love marriage that must be loving forever.  A sign of how few people in India actually have that marriage.  This is something worth knowing, something beyond mere celebrity gossip.
More exciting is when the star narrative and star persona tries to lead society instead of following it.  When they push on what the public finds acceptable and try to move it, forwards or back.  Not by changing their own truth, but by changing how that truth is presented to the world.  Choosing to talk about their religious identity, or sexual identity.  Or the unusual way they live their family life.  In order to fully appreciate what they are doing, it is first necessary to understand how they are doing it, the means they are using to create this narrative.  And then the good deeds they are trying to keep hidden will burst forth into sight.
What can be hard to grasp, is that you can praise a star persona, or criticize a star persona, the invented character a star is performing, the "based on a true story" but not really true version, without meaning anything about the true version.  They are two different things, one is a fictional character created by a real person in their own image, and the other is the real person.
There is a general taboo, an appropriate one, over judging someone else's personal life.  Whether they are unfaithful in their marriage, how they parent their children, whether they choose to marry, or divorce, or remain single, their relationship with their own parents, all of it is off limits for the public domain.  But if someone creates a slightly fictional version of themselves and presents it to the public, then that can be discussed, the fictional version, without any insult given or intended to the real version.  I can appreciate that Aamir Khan presents an image of a marriage of equals, two artists with their own talents and interests, without making any statement on the actual status of his marriage, just how he is presenting it.  And I can be angry at Aishwarya Rai for presenting an image of a happy wife and mother, not because she shouldn't be a happy wife and mother, but because it is a created image and it can have damaging effects on society to deny that she also has career ambitions.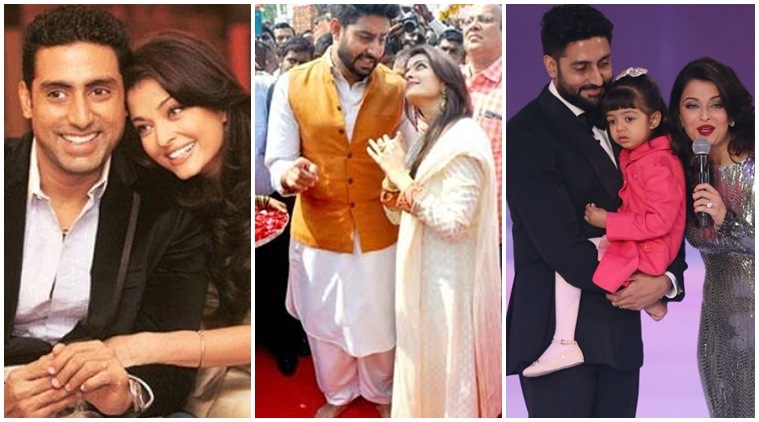 A star persona, the way a public figure presents their life, is a mask.  Only a little different than the same mask I built for myself when I was a little girl and first discovered that other people won't always want to help me when I feel sad.  But it is an important mask, one that tells us how they want to be seen, and how we (the public) want to see them.