I suddenly got one of my random Kannathil Muthamittal urges last night, and it made me think that I haven't done a ten ugly crying films post yet.  Of course, ugly crying is a deeply personal thing, so these are my ten, but they won't necessarily be yours.  Feel free to share your particular triggers in the comments!  Oh, and they are almost all Hindi, but that's just a coincidence, don't feel limited by that.
There are some films that make me, like, wistfully sad.  Like Anand.  Or that just make me angry more than anything (this is why Raees isn't on the list, it doesn't make me sad, it just makes me ANGRY).  And then there are the movies that are just cleansing bursts of emotion, you cry and cry and cry and then feel so much lighter.  Anyway, these are the top 10 of those for me.  With the most important first and last and everything else all mixed up.
As I have mentioned before, this was the only time I had to stop writing the review because I was crying too hard to type.  A story about adoption and a little girl and the parents who love her more than life itself, but sometimes that just isn't enough to protect her from the things that can hurt her.
2. Bombay
Mani Ratnam's take on the Bombay riots, as seen through the eyes of 6 year old twin boys who are separated from their parents, and then from each other.  Before I saw Kannathil Muthamittal, my top most crying movie.
The role Salman Khan was born to play, a man who is too simple to know hatred, who has to confront what he was taught when he finds himself learning to love a little 6 year old mute Muslim girl just because she needs him even though he was always told that Muslims were the evil "other" and he should avoid them at all costs.
4. Baghban
Finally, something that is NOT about small children being unhappy/in danger!  See, I have other crying triggers!  But only if it is Amitabh Bachchan and Hema Malini as an elderly couple who has never spent a day apart suddenly being separated in their old age.
5. Masoom
Okay, back to small children.  Little Jugal Hansraj having his heart broken again and again as he just wants a mother's love from conflicted Shabana Azmi.
6. Chak De India
Here you go, something different!  Crying over adults who just want a chance to be what they can be, who sometimes feel as helpless as children but finally get a chance to take back control, and you start to cry at the victory instead of the defeat because it means so much more.
7. 3 Idiots
It's sold as this big beautiful happy funny film, but it's the most realistic and heartbreaking of Hirani's movies.  Dealing with a situation that doesn't have an easy answer, not really, no matter how many "Aal Izz Well" songs he sells.  And sometimes things happen and there is no going back, no making it better.
What is there to say?  Young people growing up and having their hearts broken by the world they leave in, and then breaking our hearts in turn as they try to fix it.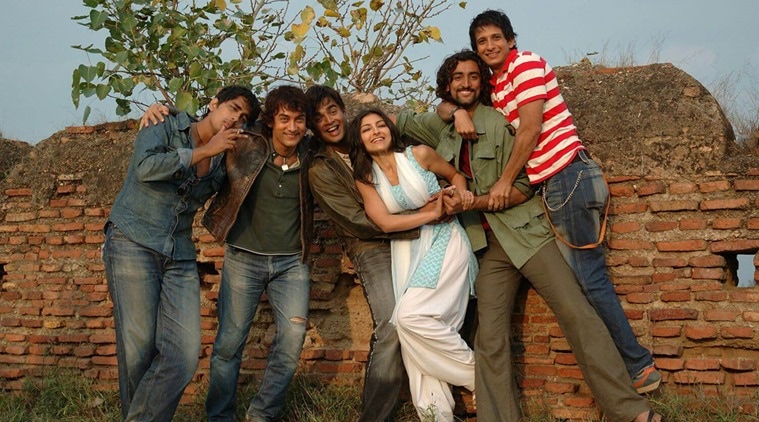 9. Phillauri
Surprise!  This is not a sad movie, not at all.  It is mostly a fun funny happy fantasy film.  But then suddenly in the last 5 minutes it takes a dramatic turn to the tragic, somehow without ruining the light mood of all that came before.  Which makes it sadder, that light happy people can be surprised by tragedy, that historical tragedies never really leave us.
10. Neerja
This is the movie that my friend Dina was so worried about me after we watched it, she made us stop and have some food before I drove the rest of the way home.  Big big tears.  A true story of a young woman who gave up everything, including her life, to protect those she was responsible for.