Well, this is a nice little promising collection of stories on upcoming films!  Everything looks good today.
Sadak 2 CONFIRMED!!!!
Yaaaaay!  Okay "confirmed", no one has officially tweeted or anything, but it's next door to that and I am excited enough to take "next door to confirmed" at this point.  Release date November 19 2019, starring Sanjay and Pooja and Alia and Aditya Roy Kapur, Sanjay rumored to be playing a recovering addict, Alia possibly his daughter.  Wooo!  All of this makes me happy!  Oh, and best of all, Mahesh Bhatt is returning to direct for the first time in years, and the first time he has directed Alia. (story here)
Setting aside all the rest of it, I am excited about Alia and Sanjay in a Bhatt production.  Sanjay hasn't had a really great role or great performance since his return, and Mahesh Bhatt always brings something special out of him.  Alia, she has done so many glossy films, or intense films, but she hasn't really done a gritty film, not the way the Bhatts make them.
And I am also excited because I love Sadak 1 and I really hope this is a straight sequel.  Sanjay and Pooja are a couple, Alia is their daughter, she is in love with Aditya Roy Kapur, and Sanjay is struggling with addiction.  Although I would also be happy if this was a remake of Daddy, Alia is Sanjay's daughter and tries to help him recover, Aditya is her boyfriend, and Pooja is her dead mother in flashback.  That would also have some interesting real life parallels with Sanjay's story, the way it originally did with Mahesh's.
(Fictionalized version of Mahesh himself played by Anupam Kher, his daughter played by his real daughter, and her mother played by Mahesh's second wife, her stepmother.  And it's really good!)
Manikarnika Spin Creates a Dance
While, this is a nice normal story to come out about an upcoming film.  An epic dance number is being filmed between Kangana and Ankita Lokhande who plays her best friend and top officer, choreographed by Ganesh Acharya, costing 2 or 3 crore.  This is the kind of set story you want to come out, gives the audience just enough details to make them curious and excited (story here)
Of course, the problem is we all know the director is off in Madras working with Vidya Balan.  So this story ends up having an unintended message of "wait, they are filming a big dance number and the director isn't even in town?  Who's running this thing?"  I guess they are hoping people will pick up on this story and miss the others, get excited about an expensive dance number and not notice that the film has no director.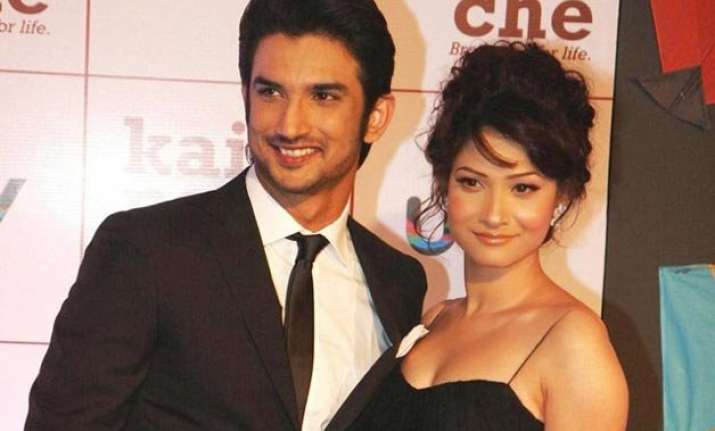 (If you feel like "wait, I know that name", it's because she is Sushant's TV co-star and ex-girlfriend and used to go to all the events with him before they broke up)
Arjun Rampal Produces and Stars with Abbas-Mustan
I am so happy about this!  I want good things for Arjun, I want good things for Abbas-Mustan, and I want good things for me and an Arjun Rampal starring Abbas-Mustan movie is DEFINITELY a good thing for me. (story here)
Abbas-Mustan have been in a low period, they always had about a 50% success rate and kept chugging out movies at the speed of one every 2 years.  They had a hit in 2013 with Race 2 (following the flop Players).  Then they made a comedy with Kapil Sharma which kind of flopped.  And then Machine, to launch one of their sons, which definitely flopped.
So, it was Machine that did it.  They can handle a flop-hit-flop-hit pattern, but flop-hit-flop-flop will kill you.  Anyway, Arjun to the rescue!  And Abbas-Mustan to the rescue of Arjun!  He's not in great shape either right now.  Not in terrible shape, but not great.  A big glitzy twisted thriller with good songs might be just what he needs to buck up his career.
And a big glitzy twisted thriller is just what I need too!  Race 3 reminded me (and many people) that there is a certain magic only Abbas-Mustan can create.  They are frothy fun, and jaw-dropping twisty, and the music is good and the costumes are good and the actors get to chew scenery and make big speeches in the most gloriously over the top way.  Yaaay!
(More fringed dresses!  I still haven't gotten over how awesome this one is)