The news broke late last night, right after I went to bed, so I am aware I am late in acknowledging it.  But I still felt I should say something.
I don't have much to say about her life story, which is a bit of a tribute to how well she ran her life.  Her heartbreaks and happinesses were not for the public consumption and were not known by the public.  They were private, all we can know are the broad outlines of how she lived and who she was.
Krishna was born in 1930 to a Malhotra family, maternal cousins of Raj Kapoor's mother.  They were from Peshawar in the far north, like the Kapoors, but settled in the south, Madhya Pradash, after Partition.  Raj and Krishna did not grow up together or really know each other, thanks to the scattering of Partition.  When she came of age, 16, the families agreed that the two second cousins once removed should marry (thus in the Indian press, you will occasionally hear reference to Raj marrying his "aunt", that being as close as Indian-English can come to "second cousin once removed).  Raj was 22 at the time and already a movie actor.  He traveled down to Jabalpur to meet this prospective bride, his teenage cousin, and walked into the house and heard the sound of music being played.  He followed it and found her playing.  Without a word, he sat down and picked up the tabla and played along, they made music together in perfect harmony, and then he left and gave his agreement to the marriage.
They were married with all proper pomp and ceremony and Raj took Krishna back to Bombay, to live in his parents house with his mother (her distant cousin) to guide her.  Krishna gave birth to her first child, a son Randhir, before she was 18.  Meanwhile, Raj was doing his duty by his in-laws, first one and then the other of Krishna's brothers came up from the south to try their hand in film, Rajendra Nath and Prem Nath, and Raj helped them along.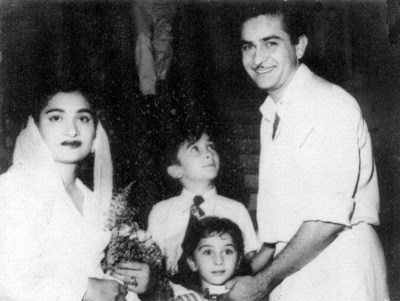 (Young Krishna and Raj with their first two children, Randhir and Ritu)
Krishna and Raj kept their love story private, not much is known about it.  But there are a few things that are public knowledge.  Raj used to write her love letters, from all over the world, whenever he was filming.  And Krishna always wore white, for her husband.  Raj Kapoor, ever since childhood, had an affinity for women in white chiffon saris.  For the past 30 years of her widowhood, she has continued to wear white chiffon in his memory.
Krishna and Raj Kapoor were married for 42 years.  And during that time, she was the perfect hostess, the perfect support, the perfect proper wife.  She made friends in the film industry, she ran the household, she raised the children, she even did his taxes.  And she looked the other way (mostly) while he had his affairs.  First Nargis, a relationship that started while she was pregnant with their second child barely 2 years after their marriage.  We can't know exactly what happened in Krishna and Raj's marriage during the public relationship between Nargis and Raj.  But Krishna's children seem to bare Nargis no ill-will, the families respect each other.  It was (supposedly) one of the women after Nargis that was too much, too far.  Krishna moved out to a hotel, but returned because Raj needed her.  His finances descended into disaster, his household did as well, Krishna came back and cleaned things up and fixed things and never left again.
(Krishna with Raj in his later years)
Raj died in 1988, at age 64.  Krishna stayed on living in their home together, with sons and daughters-in-law moving in and out.  Krishna's house became the private refuge for her family.  Her grandchildren and their troubled childhoods received respite and security at her weekly Sunday lunches.  There were no more lavish parties hosted, instead Krishna would make a rare public appearance and choose to remain focused on her family above all else.
(Krishna with her brother-in-law Shashi Kapoor, 8 years younger than her who she helped raise)
When Ranbir and Katrina broke up, Ranbir moved back in with his grandmother to nurse his wounds.  That was the most public moment, but for the past 30 years as her grandchildren dealt with public trials and scandals, there would be photos of them going into her quiet old Bungalow.  Krishna had no scandals, Krishna had no publicity, Krishna was simply a mother and an indulgent grandmother, always there for whoever needed her.
(Krishna, with her other brother-in-law Shammi, one year younger than her. She helped him find his own perfect proper wife after his first love marriage ended in tragedy. Her daughter in law Neetu is leaning on her shoulder, Ranbir on the other side)
That was the ideal of the star wife, not an actress and not wanting to be one, just someone who could provide a respite for you from all the challenges and craziness of fame.  Krishna set that tone, rose to that challenge before she was 20, survived multiple public disasters without ever being tarnished by them, and tried to raise up her children and grandchildren in her image.  For good or bad, the life stories of Babita and Neetu, Shweta Bachchan, Karisma Kapoor, Kareena Kapoor, and whoever Ranbir marries, will be influenced by the tone Krishna Kapoor set.
Krishna was the maternal head of a very large family.  Just a reminder, as we enter into this period of public mourning, here is who they all are and how they are related to her:
Raj Kapoor was the oldest of 3 brothers, considered Shammi and Shashi more as his children than his brothers.  Krishna arrived when Shammi was a teenager and Shashi was 8 years old.  She was like a second mother to Shashi, helped him through the difficult years of growing up and finding his way, and was his support when he married Jenifer Kendal and moved out of the house.  Shammi married twice, the first time to Geeta Bali, a young actress he was passionately in love with, who died at a young age of smallpox leaving him brokenhearted with two small children.  And the second time to a respectable woman from a good Bombay family that Krishna picked out for him, who took over his household and his children and brought sanity back into his life.
Krishna and Raj had 5 children of their own.  Randhir, Ritu, Rishi, and then a gap of several years, followed by Rima and Rajiv.  Randhir married the actress Babita and had two children, Karisma and Kareena.  Karisma married a businessman from Delhi and had two children with him before the marriage failed.  Kareena is married to Saif Ali Khan (from another old respected family) and has one child, baby Taimur.
Ritu married Rajan Nanda, a factor owner from outside Delhi, and had two children with him.  The oldest, a son Nikhil Nanda, took over the factory and married Shweta Bachchan (Amitabh's daughter).  Their children Navya Naveli Nanda and Agastya Nanda are now great-grandchildren to Krishna and grandchildren to Amitabh.
Rishi married the actress Neetu.  They had two children, Ranbir and Ridhimma.  Ranbir is a famous movie star and unmarried, Ridhimma married fairly young and has two children.
Rima married another business man and had two sons, Armaan and Aadar Jain.  Both songs tried to break into the movie industry and failed.
Rajiv married once, no children, and the marriage failed.  He has never acted or produced, just shows up at family events.
Krishna's sister, Uma, also married into the film industry, marrying Prem Chopra.  Prem's daughters all married into the film industry as well, most notably the actor Sharman Joshi.