I love you us.hotstar.com!!!!!!  I think I may have been able to watch this even before the India broadcast?  Anyway, get a hotstar subscription, all you people reading this!  It's worth it!
It's baaaaaaack!  Koffee time again!  So happy, so tired.  As usual, I watched it with my finger on pause and a notebook in my hand and I took a full 10 pages of notes.
First note, New Set!  There's a new set every season, but the last few scenes have had a similar "living room" kind of look.  This season, he is returning to the look of season 3, more like a film set, a big entrance, curtains in the background, a big space without a lot of clutter in it.
Next note, the clothes (of course).  I don't know about Karan's suit, it feels a little like trying to hard.  Loud floral print, matching jacket and vest.  And no tie and unbuttoned collar.  It is, of course, perfectly fitted and all that.  But I still might have preferred a floral vest and plain jacket or vice versa.  This is just too matchy-matchy for me.  Although as a "costume" for a TV host it is also perfect, very distinctive especially against the plainer background.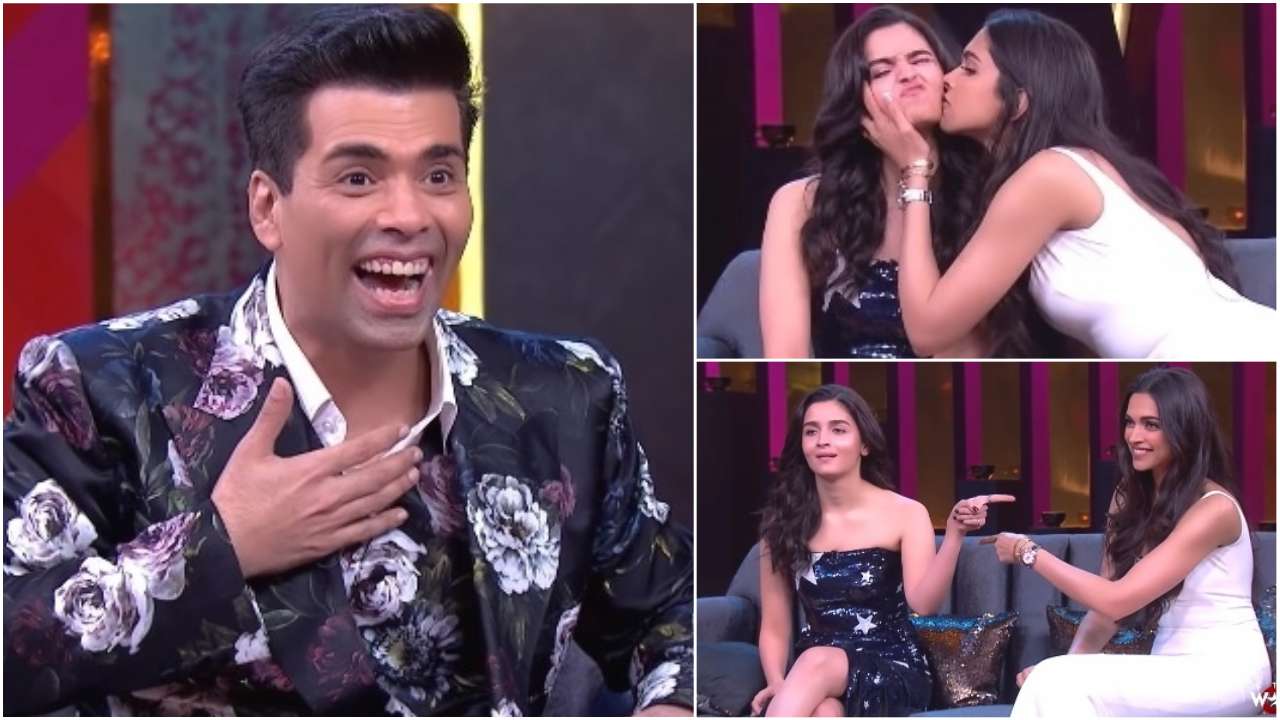 Karan than gives his introduction, not just for this particular episode, but for the whole concept of Koffee.  He reminds us that it is the longest running English language show  on Indian TV, and that it gets more viewers than he gets for his movies.  Which I kind of doubt, actually, but I can understand why he is phrasing it that way.  We think of Karan as a director/producer, and TV show host separately.  As he becomes more successful and powerful as a producer, it seems odder and odder that he is still hosting this show.  And in the same way, it seems very strange that these super famous and successful people keep coming on as guests.  So he is reminding us that, first, the show is at least as popular and will get them at least as many eyes on them as one of their movies might.  And second, that the show itself is an institution now, no longer just Karan's little experiment.
Karan then moves on to gently acknowledge all the things that have happened in his life in the past year.  Starting with Bahubali, and a comment about how it has let him buy many nice suits.  A good thing to say about the past year, and also another subtle way of saying "I don't do this show for the money you know, I really care about it".  Oh, and he mentions nepotism but refuses to discuss it, just says that the word has started giving him a "nepospasm" whenever he hears it.  He is saying without saying "that's it, topic closed, it's not going to be coming up this year".
And then, finally, the intro for this actual episode, all about girl power and box office power of Alia and Dips and so on, before they come out holding hands.  And, this was interesting, they didn't know what was in the intro!  A reminder that in some ways this is still an unscripted show.  I am sure Karan wrote the intro in advance, but he didn't share it with them, because it wasn't their business, and they just assumed he would say something nice and didn't worry about it.
Karan begins by talking about them as actresses and public figures, congratulates Deepika on Padmavat and gives her a chance to say what she felt about the controversy, she avoids it and Karan lets her, leaves it at a simple "there could have been more support" but also "many ties the industry has had to face these issues".  As in, "I wish those who supported me privately could also have been public about it" but "I understand why they couldn't".
And then he moves on to Alia and Raazi, and Alia has a really interesting reaction.  She's proud of the movie, doesn't take credit for the success, but says what she is really proud of is that she got the script and thought "this could be a commercial film" but wasn't sure so she didn't say anything.  And that's what she finds exciting, that she now has the instincts to possibly recognize commercial films even when everyone else says they won't work.
Karan than announces he is done with that, but makes sure we noticed he started with talking about them as actresses.  Which is fine with me, we don't watch Koffee to learn about films and so on, we watch it to learn about the people.  And that's why people come on too.  But it's okay he started this way, gives us a chance to see and understand them as actresses before moving on to seeing them as people.
And right away he comes to the theme he will return to over and over again, Dips and Ranveer's wedding.  It's clear from how Alia and Varun are talking that they know perfectly well it is about to happen, and Dips knows they know, and everyone is very happy and excited, but Dips is just a little bit shy about saying anything.  It starts with Karan and Alia teasing her about a "ceremony" that might be coming up, and her evading here.  It comes up again and again, and I wouldn't be surprised if that is why she posted her wedding announcement today, knowing this episode was about to air.  Oh, and another moment showing just how unscripted this show is, Dips says something about Karan agreeing not to cover that, and then he keeps pushing anyway, so I guess those promises don't mean much once the cameras are rolling.
Next topic, a bit out of date now, that photo from instagram of all of them hanging out together, Ranbir and Dips and Shahrukh and Aamir and Karan and on and on.  The conversation kind of weaves in and out as they discuss how it happened, but eventually the story comes together.  Ranbir and Karan and Alia were hanging out at Ranbir's place, Karan suggested calling some people over, and then they all came, even after Aamir was all "I'm busy now" and so on, they just kept coming!
Karan uses this as kind of an intro into the discussion of the whole complicated Ranbir dated Dips, now she is dating Ranveer and he is dating Alia but they all hang out together situation.  They both say that it feels comfortable and safe to hang out together now, no issues.  Dips is a little more emphatic, says it was in the past and this is the present and she is so happy with how things are in the present (implying that she and Ranbir are happy and better friends now than ever).  Alia says something a bit confused about how if there is ever any awkwardness, it is just because the conversation happens to be awkward, not the people.  Which, hmm, I guess she isn't totally okay with everything.  Oh, and it also comes up during this that Alia calls Ranveer "ZuZu" because it is what Zoya Akhtar calls him, and Zoya calls Alia "LuLu".
I'm gonna jump ahead in my notes a bit.  Later Karan asks Dips and Alia how they became friends.  And it turns into this confusing story of two years ago at IFFA they were waiting for the bathroom together and then had an impulsive trip to a Coldplay concert.  And then leaping ahead to remember that time they were all hanging out at Shahrukh's house for a party, and then another time that Karan called them "home" (or Alia?  Not clear), plus they go to the same gym, plus there was that other time at a Diwale party and at Shahrukh's birthday.  And Dips really loves Alia's sister, even more than Alia, because they have "that thing" (referring to depression) in common.  What pieces together is a whole story of connections, people who work together and socialize together and know each others families and stories and secrets and everything else.  There is no special magic to why they are friends, they just spend a lot of time together.  In a way it sounds like a small town, every one knows every one else because you just keep going in circles around each other.  Zoya has a special nickname for Alia even though they have never worked together because she watched her grow up, Zoya has a special nickname for Ranveer because she did work with him even though they didn't grow up together.  Dips is part of this group too, and she grew up completely separately, but now is a part of it.  And Shahrukh and Kat, mixed in with the rest, all of them different generations and inside or outside of the industry, but thrown in together and inevitably becoming close because they just see each other all the time.
Karan's stated goal with Koffee is to bring that connection out into the public, to let the people really know these actors just like he knows them.  And so after talking about that last minute casual party, he brings out another part of this, asking Dips why she and Ranveer are so obvious on instagram, and yet she has made no real public statement about him?  It's a valid question, do movie stars not realize that their social media is just as public as a newspaper interview?  Why so obvious with one and not the other?  It's something I hope Karan keeps up as a running theme this season, because it is ridiculous how the two are divided, the social media persona versus the formal one.
His simple trick here is just to pull up Dips and Ranveer's instagram and highlight some messages between the two of them on the instagram images.  It's fun, and it makes Dips laugh, she isn't embarrassed, but it is odd how they do this "public" flirting but hesitate a bit about other public news.
Alia is much less calm when Karan pulls up her instagram and starts pointing out all the Ranbir photos.  Partly, I think, because it is still a new relationship so that is fair enough.  But also because she just isn't as good as Dips yet at handling these things.  There are a lot of moments in this episode where I felt like Dips really showed her skill and sophistication, and one of them was the casual way she joked off all the loving instagram messages.  Alia wasn't quite casual, defended the photo of the two of them at Sonam's wedding as just a nice photo, that Ayan was right there with them as well (to which Karan points out they shoved Ayan out of the photo in order for it to be the two of them).  And then Karan and Dips both have a lot of fun pointing out how Ayan was used as a "safety", if it was a photo of the three of them, or Alia posting a photo of Ranbir with Ayan, then it was all of them hanging out and nothing wrong with that.  And then Karan and Dips really started to laugh, pointing out that Ranbir has a whole SERIES of these photos, Ranbir and Ayan and some girl, and only Ayan is the constant.  Which, HA!  Ranbir can't quite get away without being made fun of.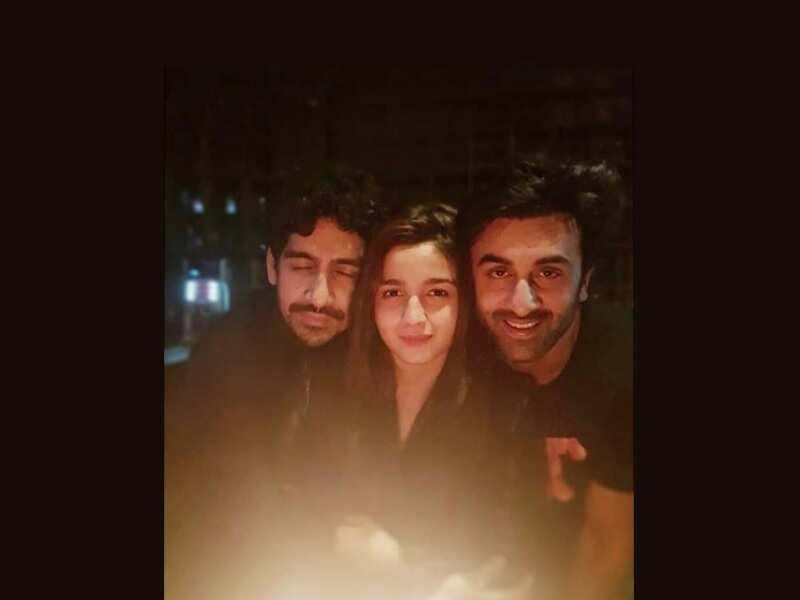 And, commercial break!  Let us take a moment to look at the brand sponsors.  Google Home is the big one, and it includes Karan doing awkward things like saying "Google Home, tell me the questions for the rapid fire round".  There's also Jaguar, L'Oreal, Audi.  This is not a low income kind of show, they are expecting people with a lot of disposable money.  Karan may say more people watch it than his movies, but not really, it's just wealthier people who watch it.
Post commercial was the whole conversation I already went over about all the ways Dips and Alia are connected.  And then, finally, the first game!  I am sure Alia and Deepika relaxed a little, that's what Karan's games are for, to give you a break from having to think of witty things to say and let you just give the easy answers with all his straight lines.
The first game was a new one, and I don't know if it will work that well.  Karan says something, and you have to point to yourself or the other person as someone who did it.  Alia immediately asked if you could point to both, Karan didn't allow it, but that made it kind of boring.  If it was an embarrassing thing, you would always pick yourself (partly not to be mean, and partly because you couldn't know that about the other person).  The game picked up a bit once they started pointing at Karan, that gave them both a soft target and someone they knew really well.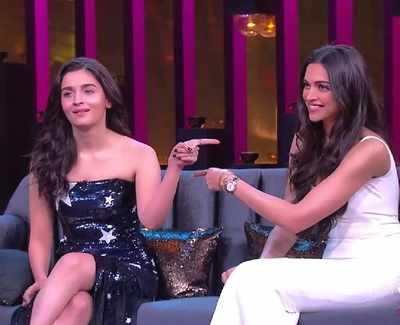 The first question was who is going to get married first, Dips wimped out and pointed at Alia instead of herself, and both Karan and Alia called her on it despite her protests, Karan even came back to it at the end to force her to be honest.  The marriage thing was definitely what Karan wanted to be the big take away of the episode.
What surprised me was how open about her sexuality Alia was.  In her previous appearances she played it a little young.  Not inappropriately so, but with Shahrukh there was discussion of her "dating" but no details, and her first episode was all extremely babyish.  This time, she acknowledges being in the mile high club, having a Friends With Benefits arrangement, and having a rebound relationship.
Oh, and the other thing to file under "these people know each other way too well" is that it comes out that Karan told Dips about his babies before anyone else, including his mother.  It was just random, he got the phone call from the doctor and then she came by right after while he was still so emotional.  That comes up because Dips points to herself as someone who can keep many secrets.
And then, finally, rapid fire!!!!!  Neither Dips nor Alia are very good rapid fire players, I didn't make a note of anything super-uper juicy.  There was one moment the camera work tried to make juicy, Karan gave Dips the impossible question of if she would rather be cheated on and know about it or remain ignorant, she said "know about it" and the camera zoomed over hoping for an Alia guilty reaction shot, but no luck.  Another interesting one, Karan gave the challenge of naming a thing you love, a thing you hate, and a thing you tolerate abotu various people.  For Ranbir, Dips picked "doesn't get upset, doesn't show emotion" as all 3.  Which tells you a lot about their relationship and why she is so much happier with Ranveer (for Ranveer, the thing she tolerates is his fashion).
One of Dips' last questions was "movies or babies?" which got a hisssssss from both women.  Because that's the real problem, that's why Dips is being so cautious with her marriage news, it is always seen as an either-or situation.  And marriage is seen as meaning babies, imminent babies.  Dips solves it by saying "babies while doing movies!" which got cheers from all.
And then a new game, based on a google poll (Google Home!), what the viewers want Dips and Alia to do is sing a song, Alia to sing a Ranveer song and Dips to sing a Ranbir song.  Alia goes for "Laal Ishq", which is fine, although Dips has to help her with the words a little.  And then Dips sings "Channa Moreya" and Alia joins her and it is just lovely.  Not as a funny game on a talk show, but just a lovely moment on its own, two nice voices singing a beautiful song together.  Strangely lovely, doesn't quite fit with the rest of the episode.
(It's such a melodic song)
And then the final challenge!  Something totally new and very interesting, Karan gives them a quiz show and tests, many of which involve their phones.  It's a way of interacting with the virtual space and social media during a TV show, very clever, and also a way of (again) seeing them as real people, the actions behind all those social media posts we see and think of as fake.  The first challenge is to post a photo on instagram and see who gets more likes.  Dips is smart, gets Karan in her photo.  It's a clever trick, better for promoting the show and long term popularity.  Even if Alia ends up winning the round, it is Deepika's photo that will be more longlasting, used over and over again to represent this episode.
Karan gives them a series of questions like "Cricket player, biker, loves animals" to see if they can guess.  Dips is better at this too.  Although, she is supposed to be better, Alia got the rapid fire hamper, Karan always structures it so the other person can win the other prize.  There's also a hilarious game of guessing the actor from their torso.  I love how practical Alia and Dips are at this one, they don't see these men as sex objects, they see them as co-stars and tells of their trade.
And then, FINALLY, Shahrukh!!!!!  Karan's last challenge is for each of them to call another actor on their cell phones and get that person to say "Hi Karan!"  Alia immediately starts scrolling through her phone, but Dips is frustrated because she doesn't have those numbers on "this phone".  I assume Dips has a personal cell and a more professional one.  On this, the personal one that has her instagram account, she says she only had Alia's number.  I assume that is because Dips was doing this today and needed the number to coordinate.  So at first she just calls Alia, both trying to get her to say "Hi Karan" and tying up her phone so she can't call anyone else.  But just as Alia finally gets through to Sonakshi, Dips gets through to someone too, "Shah".  Alia starts calling out to him over the phone as well "Shah!  Shah!"  But he is confused and doesn't say "Hi Karan" right, so Deepika hangs up on him.  But says he was alarmed, asked her "what's happening, are you okay?"
So, here's what I got from that.  First, both young women have a very warm and casual feeling towards him, excitedly calling out "Shah! Shah!".  Second, even on her special private no other numbers phone, Deepika has Shahrukh's number.  Which could be because they are very close, or could be because she just randomly put it in at one point when they were working together, or could be because Shahrukh is her prime contact in the industry and the one person she always wants to be able to reach.  Oh, and third Shahrukh is a very nice confused man who picked up the phone as soon as Dips called him only to hear a lot of screaming and confusion and ask "Are you okay?" and then get hung up on.
There's really nowhere for the episode to go from there.  Karan always knew it would be the closer, whoever they got on the phone it would be exciting to have another famous person referenced.  So he gives the second prize to Alia also (for once he wasn't able to maneuver to split the prizes between the two guests), and has them sign their coffee cups, and ends the show in the usual slightly hurried and unplanned way.
Oh!  I forgot one more important thing!  I'm not sure if I liked the outfits on the women.  Great for TV, Alia was in sparkly black with white stars, showed up great under the dim lighting, and was a nice contrast with Dips all in white.  However, I think I could do without Alia's ribbon skirt and Dips' little waistband instead of straight line.