I did it!  A two movie week!  So I was able to see both the northern and southern big Diwali release.  And although I really didn't like the Hindi film, I didn't like the Tamil film EVEN MORE.
Years ago when I was in high school, we went over to a party at a family friend's house and in about 5 minutes of the arrival I realized that one of the fellow guests, a girl about my age, had a massive crush on the hostess' son.  He was shockingly handsome and charming (like, he literally has strange women come up to him in restaurants and give him their phone number to this day).  But he was also, you know, him!  The kid I'd known since he was 2 years old, who used to have tantrums in the grocery store, who did stupid things that made his mother roll her eyes, who I knew far too well to ever think he was anything more than just an average teenage boy.  And so watching this little 13 year old girl make big eyes at him like she thought he was wonderful and perfect instead of dopey and stupid was just SO EMBARRASSING.  I was cringing in sympathy the whole time, and desperate to take her aside and say "you're better than this!  Don't build your life around this idiot boy!  Go to school, read, be smart!"  Anyway, that's what it is like watching this movie.  With Tamil Nadu as the 13 year old girl who could do so much better, and Western corporate culture as the idiot boy they have an embarrassing obvious crush on because they don't know how stupid he is.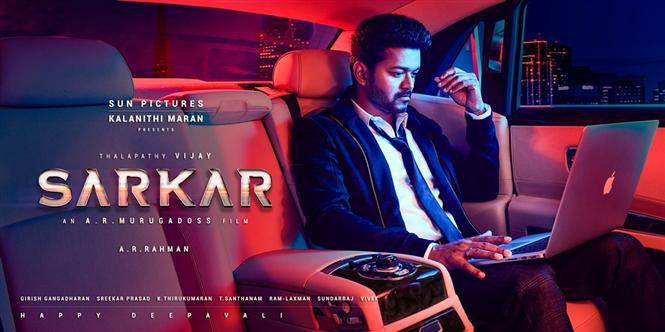 (Oooo, he has a Mac!  He must be better than us!)
I'm fine with having a crush on Vijay.  He's cute, he can dance, he seems fairly smart, no problem with building him up as a hero.  It's the kind of hero he is, heroic because he is an American CEO, a corporate raider, and therefore clearly the smartest strongest person in the WORLD, and the pride of Tamil Nadu.  Corporate raiders may be smart, in their own limited way, but really what they are is sociopaths.  Meaning, they don't care about people or long term consequences.  It's all short term power trips.  And short term power trips are like cute teenage boys, very effective and romantic for short periods and then later you are terrible embarrassed for finding them attractive.  Tamil Nadu can, and should, want to do much better for itself.
So, yeah, did not love this movie.  The basic premise fails utterly for me, I don't think Vijay's character is interesting or heroic, I think he is a selfish idiot who could solve most of the problems of Tamil Nadu far more effectively through simple business practices than through politics.  And in fact he probably caused most of the problems of Tamil Nadu through his shadey business practices and business practices of others like him.
Let's see, what else fails?  Well, Vijay a little bit.  Like I said, he's cute and all.  But this is definitely one of those movies for people who are already his fans, not for ones trying to become his fans.  His character has no growth, no moments of weakness or doubt, nothing that really makes him seem human.  It's just Vijay being awesome in a variety of colors.  Which, again, I would be able to handle if the rest of the plot was less irritating.
(See?  He is corporate, but can also use Tamil slang, because he is the perfect man in every way)
The heroine is a big zero for me.  Keerthy Suresh does not impress in her second film.  It's all tricks and smiles, I never get a feeling of a real person.  Of course, the character is terrible too.  She is introduced already with a crush on Vijay, no further explanation of why she likes him or why he likes her back or anything.  I understand Murugadoss does not like putting in romances, but he's not incapable of it.  Thuppaki has a decent romance, I loved the romance in Akira.  It was barely there, but it was good.  In this movie, Keerthy is literally just there to stand next to Vijay as he does stuff.  She contributes absolutely nothing of her own.  There is even a small indication of a family issue that she may help Vijay with, and then that goes nowhere too.  So strange!
(She's also not that very good of a dancer)
Let's see, what did I like?  Well, the songs were good.