What an odd combo. Two actors who never co-starred, aren't known to be friends, and aren't even related. And yeah, it's pretty boring. Best part of the episode is the Bahubali episode teaser at the end.
Well, this was a super boring episode!  It was that perfect bad spot between new stars who were too unpracticed to not be natural (Sara Ali Khan) and old stars who are so good at the game that they make it all look natural (Kajol and Ajay).  We had two stars who were experienced enough to be smooth and careful in what they said, but not good enough to figure out a way to be both amusing and careful.
Karan has all kinds of tricks built into the structure of the show to help guests reach that "natural" level.  If you are new and fresh, he will make you comfortable and gently lead you towards the topics where you can speak most easily.  If you are old and hard to break, he will bring out games and other tricks to get you to loosen up and reveal something new and harmless about yourself.  Karan really isn't looking for the scandals or to make anyone look bad.  He just wants them to open up to the audience a bit, let us feel like we got a glimpse of the real person.  But in this case, all his tricks failed.  Vicky and Ayushmann remained stubbornly boring.
And, okay, Karan also really wasn't trying hard.  I don't know why he was pulling his punches, but he was.  Maybe because he felt uncomfortable with two people he just wasn't as close to?  Maybe because he felt like they were "serious" actors and he shouldn't try to make them into just gossip?  Maybe he simply didn't know them well enough?  But there was so much that was RIGHT THERE for him to draw out.
Ayushmann's wife has cancer, let's talk about that.  Vicky's father was just accused of sexual harassment, let's talk about that.  But instead Karan avoided both topics, kept Ayushmann's marriage to a light story from his wife, we didn't even learn how many kids he has or their names, let alone have a serious discussion of the difficulties of his wife's illness.  And Vicky's family was briefly mentioned as "perfect" and his father as involved in films from "the action side".  Could be that they only agreed to be on the show if Karan avoided those topics, but in that case Karan should have just uninvited them, better to not have them as guests at all than to have them as boring guests.  Better for them and better for the Koffee brand.

The boredom starts right from the intro. Karan doesn't do a personal monologue this time, because he doesn't even have enough of a feel for his guests to have a personal tie in (like, for instance, talking about his weight before Arjun's episode).  Instead he just introduces them as "millennial" (which is meaningless, everyone younger than the Khans is a millennial, that's most of the industry and every other guest so far on this season of Koffee), and the new rising stars.  No discussion of them as people, just bland generalities.
Vicky and Ayushmann come out looking very good.  That perfect presentation that makes their conversation boring, leads to spot on styling.  Vicky has a nice fuzzy beard, very hipster and also very attractive on him, plus makes him look more mature.  Ayushmann has one of those cool guy faux-mullet looks.  They both went with the slightly tight and short suit pants style that is in now, plus black shirts and no tie, and perfectly fitted jackets, Ayushmann with a bold style on it and Vicky with plainer herringbone plus vest.  Nothing as crazy as Ranveer would do, but also not as boring and safe as Salman might play it.  If they were doing a red carpet turn, I would give them full marks.  But then, it's Koffee.  You are allowed to be a bit more out there just this once, give us SOMETHING to talk about.
Karan starts with his usual "why are they here and why are they here together" intro, but it doesn't really answer that question at all.  This combo is as random as Alia-Dips at the start of the season.  That time he was very clear that a) they were the two top actresses by box office of 2018, and b) they are actually friends.  And of course the implied c) there is potential personal drama between them since Alia is dating Dips' ex.  This time around, it's just sort of "well, they are both up and coming stars".  And then he has to qualify even that by acknowledging that Ayushmann has a far far longer career than Vicky, so they aren't really equal at all.  It's just such a strange combo!  At least Diljit and Badshah last week had clearly known each other for years from the music scene, and were the two best known Punjabi based musicians breaking into Hindi film.  Ayushmann and Vicky, so far as I got from this episode, might never have even met each other before. And have completely different career tracks.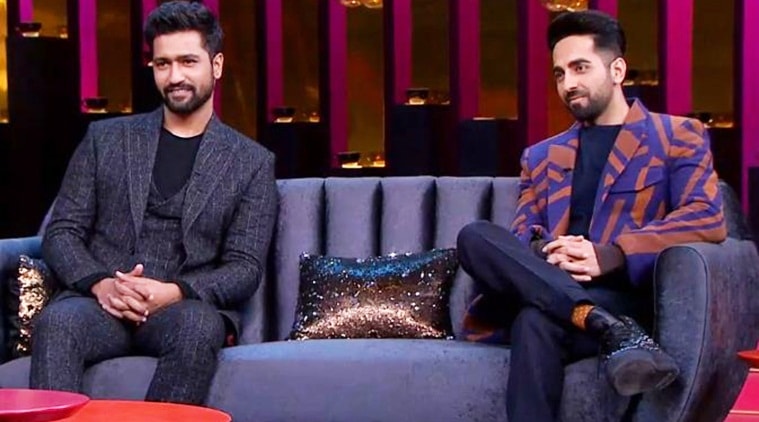 Karan tries to build a connection by having them both talk about their career graphs, but that just reveals how very little they have in common and what super boring interviewers they are.  Ayushmann responds with a story about wanting to be an actor at 5 that sounds very practiced, and really doesn't reveal anything.  The most he reveals is when Karan pushes him and Ayushmann admits that he did have a plan with his debut film, was careful to pick a good script.  But no interesting stories of acting in Delhi, no discussion of being nervous about his career when he had a wife and kids, nothing intimate like that.
Karan moves on to Vicky, discusses how they were in Bombay Velvet together and then he broke through.  Karan acknowledges that he was in the industry, but his Dad was in action, not really connected.  Vicky says that he wasn't sure if he wanted to be an actor, or more correctly a "hero", didn't think he had it.  And that's it.  Nothing about growing up on film sets, cute stories about watching his father work, remembering meeting Karan on the set of Bombay Velvet, nothing.  All very dull and cards held close to the chest.
Karan then talks for them, frames them as good Punjabi boys from good families.  Could have been a moment for either Ayushmann or Vicky to tell a story leaning into that stereotype, so embarrassed the first time they had to do a love scene or something, or leaning away from it "no no, I had loads of girlfriends".  But they just smile and nod.  BLAND!  Best Karan can do is get Vicky to accept that he is a bit of a ladies man and is currently seeing someone.  Karan is a bit thrown by Vicky's calm and lack of embarrassment.  At first watch, I thought it was because Karan was on the backfoot, not aware of how cool and casual Vicky was.  But then I realized it was because Karan was trying to direct him to have SOME emotion.  Karan is acting obviously excited and intrigued, he wants Vicky to be overly proud about it, or defensive, or SOMETHING.  Heck could just act a little, get a bit over the top about "and I fell in love at first sight" or whatever.  I'm sure his girlfriend will understand if he has to use her for publicity, and it would be such easy publicity.  This is what Ranveer does so well, playing to the interview and making it interesting.
Karan tries a new tactic on Ayushmann, not the personal life part (I'm guessing Ayushmann put that firmly off limits) but instead pushes Ayushmann for his outsider view of the industry.  Ayushmann goes back to his RJ days, remembers meeting Karan back then and asking for a number for an audition.  And remembers calling Dharma and being told they don't have auditions right now.  Ayushmann tries really hard to sell this story, but there is just nothing there.  He met Karan, called a phone number, and got a brush off from some anonymous Dharma employee.  It's not a great story.  He could have talked about being nervous to meet Karan, Karan wearing a wacky outfit, Ayushmann saying something stupid out of nerves, really ANYTHING that makes it seem like a human story.  And then right after saying it, Ayushmann acknowledges that he used to be more open and himself as an RJ, that since he became an actor he has learned not to just say what he thinks.  And he should UNLEARN that!  It's super boring to have him not say anything about himself.
Karan keeps on plugging, trying to get a break from their cool dude blandness, pushes for Vicky's memories of Shahrukh calling after Lust Stories, Vicky delivers a nice story of Shahrukh calling him on Karan's phone and being all surprised.  And then that's it.  Karan gave him the lead in of "remember you said you were so excited you couldn't sleep?" and Vicky translates it to a boring "very cool to hear his voice" response.  Bleh!
Karan brings out his standard of the videos from relatives.  Ayushmann's wife (yaaaay!) starts off, her story is about when her father almost caught them together in her bedroom.  Another friend tells a story of earning money on a trip by massaging "goras".  And yet, it still just doesn't have that spark.  This is nothing really groundbreaking or changing how I see them.  Ayushmann sells himself as an average guy, these are average guy stories.  I want to hear about him doing something super romantic and over the top for his wife, I want to hear about him doing something dangerous and exciting with his friends.  Karan pushes for more on the being caught story.  Ayushmann explains that they were family friends, so it wasn't strange for him to be in the house.  Well, that's boring!  Give us a glimpse of your inner life, something like "we were so in love and couldn't be married until I after finished college".
Vicky stories are even more boring (if possible).  You know what they feel like?  Humble-brags.  Like "oh wow, this is so embarrassing", but actually you are a little proud of it.  The one that is closest to being interesting is his brother telling story about him losing his belt and pants while performing.  But even there it is a cute non-sexual story, and reminds us that he danced as a boy.  And then a director tells about him getting drunk for the first time for a scene.  Another director tells how he has to call his mother every day and tell her about everything, including what he ate.  Other friend says he is terrible at picking up signs from girls, tells story of girl who flew down just for one night and Vicky ended up going home with another girl.  At least that last kind of makes him seem like a bit of a dog, but when Karan asks for more on the story, Vicky flips it too "I didn't know the other girl was interested, and I fell in love with someone else at the party".  Not just a hook-up, but fell in love like a good (boring) boy.
Karan tries to get some interest going by giving them a series of acting games to do.  And they are TERRIBLE at it!!!!  And it really isn't their fault, these are a little hit and miss every time Karan does them.  Not every actor is good at improvising.  And not every acting team is going to be able to build up an immediate rapport.  In this case, Vicky is, like, REALLY bad at improvising.  Ayushmann is a little better, but is hampered by not having a good scene partner.  They do a "pretend you are on a blind date in different film styles" game, which is no good.  And then reading famous dialogue with different affects (have to go to the loo, sexual).  Again, pretty dull.  With that one in particular, you need to have a baseline.  Shahrukh and Alia were both hilarious with the sexual reading because it was so unlike their usual line delivery.  In this case, I don't have a good enough sense of Vicky and Ayushmann's usual delivery to make it work.  Plus Karan had them read actual film dialogues instead of stuff like recipes, which is no good either, any dialogue is going to be emotional, and what makes it fun is the contrast of the unemotional words and emotional delivery.  And then the final game is another scene, a break up scene between Vicky and Ayushmann, and again it is super dull because they are bad at improv.
Finally, Rapid Fire!  The best chance to get them to break through.  And, nothing.  The only thing interesting is to watch how they manage to make it uninteresting.  First, Karan is careful with his questions.  Nothing like "what would be the first thing you say when you wake up from a coma?" or even "one word for these actors".  No, it's all "who do you most like working with?"  Bleh!  And even there Ayushmann plays it safe.  He says he likes working with Bhumi (fair, because he has worked with her the most).  And he would drop everything to work with Rajkumar Hirani, and Ranbir Kapoor is the "most complete actor", and his man crush.  Yep, Ranbir is always the safe choice for "best actor", somehow he has managed to become the universally accepted option and in fact to choose someone else would be big news.  And same with Rajkumar Hirani, that perfect position of critical acclaim and commercial success, totally acceptable director choice.
Vicky, thank goodness, is slightly more interesting.  Maybe because Karan gives him a little better questions.  He gives a big fun reaction at least once when Karan informs him that Katrina said they might look good together.  He says a recent film he would have done better than the lead is Bhavesh Joshi, which is true and exciting for me, but probably for no one else because Bhavesh Joshi was so safely unnoticed most audience members probably don't even remember that answer.  And his superstar ranking is SUPER interesting, Shahrukh-Aamir-Akshay-Salman.  Putting Salman at the bottom and Shahrukh at the top and throwing Akshay into the middle is fairly radical.  But, the thing is, none of these answers really land because Karan doesn't put his stamp on them.  "Bhavesh Joshi", that would have been a time for Karan to say something cheeky about playing a superhero, or insulting the Kapoor family, or anything.  Putting Salman at the bottom of the superstar list, that's something else that really deserves comment.  But no, Karan just lets it go.  Maybe just because he didn't know Vicky well enough?  Couldn't sense when his voice changed as he gave a risky answer, or know for sure this was an answer Vicky wanted him to highlight?  The only one he gave an underline to was the response to hearing Kat wanted to work with him, and that was so over the top that it was hard to miss Vicky wanting to be noticed.
In the end, it's a tie between the two, and I am not surprised.  They were equally dull.
And finally, the game show part!  Which turns into the best section.  It starts with quizzes on film knowledge, name of characters who had particular costumes and stuff.  And they are HARD questions.  The game is interesting for once not because of the reactions, but because the questions are legitimately challenging.
Next challenge is equally difficult, they are told to lip synch to a song.  Which means both that they have to do an entertaining dance and match the lips to the lyric.  It's that sweet spot of being entertaining, without needing to improvise, and they both do very very well on it again.  Essentially, the sections when they are following a script, when there is a clear challenge and not this general directive of "be yourself", are where they are entertaining.  Makes perfect sense to me, they are on a strange show with strange people (both each other and Karan) and not experienced enough to know how to "be yourself" at the drop of a hat.
And finally the usual phone number challenge.  Which is where I really notice the difference in their careers. Ayushmann calls Bhumi, she says "Hey AK", very casual.  Clearly they are good casual friends, the way you would be after working together and seeing each other at events and so on for years and years.  Vicky calls Abhishek, he doesn't pick up, Karan says "you should know Abhishek never answers".  So, doubly sad, the only person Vicky knows from the industry he doesn't even know well enough to know he doesn't answer.  Then Vicky calls Taapsee, and she answers, Karan makes sure to say her full name and give her credit.  So, yaaay!  Vicky has at least one friend!  And she isn't very famous so Karan is sure to give her a bit of promotion as a thank you!
You can feel free to disagree with me, but overall I just found it an extremely dull episode.  And I think Karan was trying too hard, trying to bring on new names he didn't know as well, to go with the trend of the market and so on.  But that's not the Koffee brand.  We watch because the guests are more relaxed, more "real" than on other shows.  That doesn't mean he has to keep bringing on the same people, that just means he needs to take their ability to relax with him and in this setting into consideration when picking guests.
Diljit and Badshah last week, Rajamouli and Prabhas and Rana next week, they seem completely relaxed and happy.  They aren't the usual group of guests, but they are people Karan knows really well.  Well enough to make them feel at home in all ways big and small, ask the right questions, set up the right games (that fashion quiz concept for Badshah and Diljit was inspired), just generally make them feel safe enough to open up.  I would far rather Karan have someone non-buzzy and non-famous that he actually knows well than try to bring on a buzzy name just because they are talked about.  That's what makes the conversation interesting, people who know each other talking. 
I don't even mean the gossip, I felt like I got a much clearer idea of the Punjabi music scene by listening to what Badshah and Diljit said to each other and about each other.  And it only happened because Badshah and Diljit had a shared history, and Karan knew enough about their history to know what to ask.  But in this episode, Karan couldn't seem to get them to break through their mutual reserve, and they certainly weren't challenging each other either.  I ended the episode knowing even LESS than when I went in, instead of more.