I thought I didn't have a lot to say about these, but now all three are out, and I know a lot of you have watched them, I thought I might as well put up a space for us to talk about them. And then I turned out to have A LOT to say after all!
It's a good promotional concept, a lowkey and slow kind of thing to match the lowkey and slow pace of the films. And it's easy, a professionally shot semi-scripted conversation between Shahrukh and Amitabh. They don't have to travel anywhere or memorize lines or dance moves or anything, just one day of shooting, post it online, and promotions are done.
And it's especially good for this film where Amitabh's character has surprising layers that can't be revealed in advance. So instead they do one controlled interview with no spoilers present at all, and Amitabh is off the hook for any other interviews that might accidentally lead to reveals.
As for the episodes themselves, they are a pleasant watch, but pretty dull. Clearly scripted and rehearsed, both Amitabh and Shahrukh are mugging for the camera a little bit. Especially Shahrukh. I don't think either of them are lying about anything, it's just that the truth has been burnished and practiced and prepared in advance. Kind of funny considering they are promoting a movie that is all about carefully preparing your truth.
The mugging and careful presentation starts right at the beginning. We get a quick flash of the lights and the set and so on, telling us "remember, this is all staged, you know it and we know it" and Shahrukh's voice over it all checking the sound and stuff (a reminder that he is the producer of this film) and finally Shahrukh giving the "to catch Don is not difficult…" dialogue for sound check, and Amitabh finishing it "it's impossible". Amitabh mugs "old man tired of this upstart", Shahrukh mugs "young cocky guy embarrassed to be caught by his teacher", it's fun and tells us (the audience) right away that this will be a series of videos in which Amitabh and Shahrukh are "playing" the characters of Amitabh and Shahrukh, at least a little bit.
And then they move into prepared questions and answer, kind of awkward, Shahrukh pulling out Amitabh's same old familiar origin story, he left a job to become an actor, he wasn't hired on All India Radio, blah blah blah. They needed a smoother intro into why Shahrukh is making Amitabh go over the familiar stories.
But it moves into a part that makes a little more sense, Shahrukh talking about how Amitabh has this long career and still works hard, playing a little bit of a promotional song with voice over that Amitabh did. This is very on topic, Amitabh's performance is brilliant in Badla and pulls on his whole career of experiences. So it was a bit awkward to get there, but they tied it back into the film. This won't be Amitabh sleepwalking through a film for a paycheck, he really cares.
Next section is Shahrukh playing the "devoted producer serving the star". He jokes that he produced the film just so he could see an Amitabh film before anyone else, and he has Amitabh sign a poster for the film to go with the Deewar and Sholay posters he already has signed. Now, see, I believe that Shahrukh has expensive authentic Deewar and Sholay posters, and that he got them signed by Amitabh with great respect during the photo shoot with Dilip Kumar a few years back. But I think the little line about producing the film just so he can see an Amitabh film before anyone else is silly, and he invented it for this interview. That's what I mean about him "playing" Shahrukh Khan. In this case, Shahrukh the shallow humble younger star who is so shy around Amitabh, he can't even say the Shahenshah dialogue to him, "I am your father", because it would be disrespectful.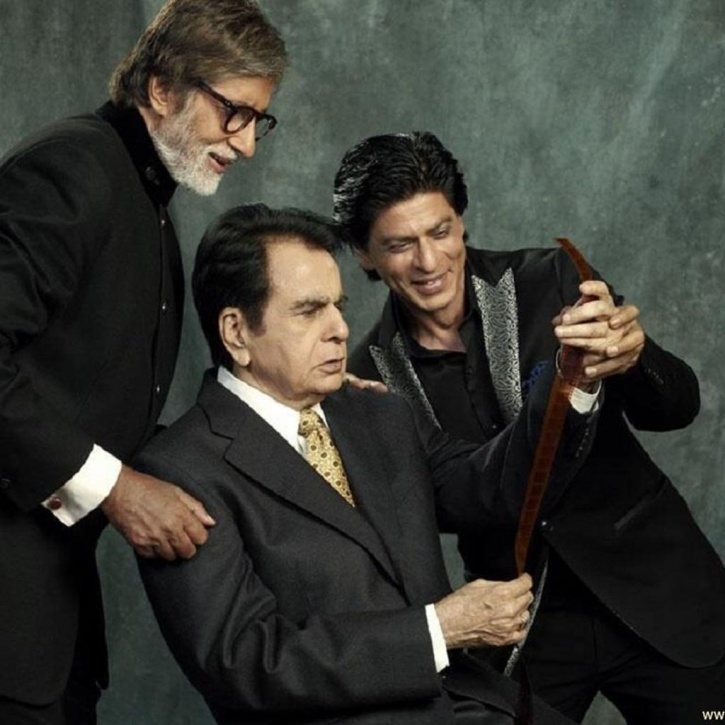 And that same "playing" Shahrukh is there in the final section, with Taapsee showing up. Taapsee is also "playing" a role, just like Amitabh and Shahrukh, she is playing the eager enthusiastic youngster who wants to impress the old hands. And with her, Shahrukh is "playing" the borrish egotistical star and producer. So he makes her say the line of "Badla is coming to a theater near you" instead of giving her a real line that she is enthusiastically asking for. But beyond the "playing" part, this is a good deal for Taapsee. She looks great, for one thing. In a way that was clearly styled and made-up and so on, the production team put a lot of time and energy into giving her a distinctive look for this moment. And it is instantly relatable, she is going to pick up young people fans and female fans from this moment, people going "I've been that person who was eager and ignored by the boss man!" Oh, and the simple fact that they didn't have to include her in this video series at all. People are going to click on it to watch Amitabh and Shahrukh, not Taapsee. Sticking her at the end in this memorable way is a bonus. Good for the film too, since Taapsee is a major part of it, but also a bonus boost for Taapsee's career, giving her this little goofy bit that will make people notice her.
2nd video! This opens with the two little joke "ode" videos. The first is from Shahrukh, it's a terrible poem made of quotes from Amitabh films, and some Shahrukh films, with a really well-edited together bunch of clips. The "joke" is that it is actually kind of terrible. It's another bit of playacting, Shahrukh playing the shallow youth who thinks he is smarter than he is and Amitabh putting up with it. And then Amitabh responds with his own "ode", a series of Shahrukh making nonsense faces with Amitabh saying nonsense. Amitabh is playing the wise elder, slamming down Shahrukh for his presumption. Another nice little "joke". And both videos have such high production values and so on that by no stretch of the imagination could you believe that Shahrukh and Amitabh actually put them together, so it is another little nod to "you know this is fake, and we know you know it is fake".
Those two little clips are very social media friendly, and the rest of the section is all about social media. Shahrukh asks Amitabh why he numbers his tweets, a super boring question along the same lines as the "tell me about applying to Air India Radio" question that we all know the answer to. And then he pulls out a couple of recent tweets with photos, all printed up fancy on cards, and has Amitabh explain more about them. And finally they take a video selfie together singing a song. So, this is the section for the twitter followers and all those folks who want the cute little things, the short "ode" videos, the "selfie" video, and the little story about a tweet.
Perhaps part of the goal of these videos is to introduce Amitabh to a new audience? Not new-new, these don't feel like crossover videos, but maybe second generation NRIs who vaguely know him from seeing Sholay with their parents or something. They get the all-India radio story showing his humility, they get the little social media jokes showing his new age youthful spirit, and it's all done in a very easily consumable way.
And then Taapsee comes out again! It's a continuation of the same joke, Shahrukh is the shallow male star who is ignoring the intelligent sincere hardworking woman, just like in the first section. It's so over the top that I really don't think anyone is supposed to take it seriously as an insult to Taapsee. It's supposed to be a joke on Shahrukh, he is so shallow and stupid (just like Amitabh was slamming him for being shallow and stupid earlier), that he doesn't know what to do with Taapsee. And the end result is that Taapsee comes off looking very good and he looks bad.
She also literally looks good. Which is important to note, Amitabh looks dreadful, clearly not in costume (or if he is, it is a terrible attempt to make him look young). Shahrukh looks great, extremely polished in every way, definitely wearing loads of make-up and hair gel and in a suit picked out just for this and so on. But Taapsee is even more striking. She looks great, her hair is perfectly blown out but still with curls, her glasses convey "serious intelligent young woman" and are also super flattering, and her statement blouse plus heels plus pencil skirt, all in shades of brown, is both striking and serious. They didn't put her in a ball gown or something, she is wearing adult working woman clothes. But they gave her this big statement blouse that draws the eye and makes you pay attention to her. Obviously these are not just the clothes she showed up in, Red Chillies stylists and make-up and hair and all must have been working on her for ages to get this right. The "joke" is that she was forgotten in the videos, but actually there was more prep work putting in to making her come off well than anyone else.
Now, video 3! (do you see why I hardly ever watch/report on these kinds of things? They make so many thoughts appear that my head can hardly contain them all)
Final section, they finally officially tie it back to the film. Although really the connection has been there all along. Shahrukh asks Amitabh about his character, and Amitabh describes him as a brilliant lawyer with 40 years experience who has to try to solve a riddle and save Taapsee. So, fitting with the "Amitabh" character as established in this interview, experienced and smarter than everyone else in the room.
To tie that in, Shahrukh asks him a series of riddles to solve like his lawyer character would. This is a great segment idea for this particular film. It's very tricky and complicated, it will appeal to the kind of people who would enjoy solving a riddle more than watching a video selfie or any of the other silly ideas from the other segments. So, put in the riddles, including one that Amitabh can't solve so folks can try to solve it on social media, and make everyone feel smart and excited to solve the greater "riddle" of the film itself.
And finally, Shahrukh asks Amitabh to recite one of his father's poems. I love it when Amitabh recites his father's poetry, I don't even care what he is saying, I listen to it all the time without subtitles just for the flow of the words and Amitabh's voice. This particular poem is about how we all live within worlds within worlds within worlds, and it is lovely. And a very nice way to end this three part series.