There is just barely enough between Jackie and Tiger to patch together a 101. But still worth doing! For Jackie in particular, he is an odd odd man.
Usual Disclaimer: I don't know these people, I don't know what is "truth", I just know some interviews and gossip articles. If you know nothing at all, this might be a good starting point.
Jackie Shroff was born into crushing dangerous impossible poverty. Most actors in Hindi cinema are born into a family that doesn't have much. But there's a difference between going into debt when your business fails, or living in a 2 bedroom apartment in a nice neighborhood and sometimes borrowing money to make rent, or being "artist" poor, struggling to get by job to job, sometimes up and sometimes down, and the kind of poor Jackie Shroff was.
Jackie grew up next door to one of the best neighborhoods in Bombay, in the middle of a slum in one room with his parents and his brother. His mother's family was from Turkey, refugees who made their way to Bombay. His father's family were Gujurati traders who lost everything in a stock market crash. His parents married as teenagers and moved into their one room where they raised their sons. Jackie, and his older brother Hemant. This is Jackie's story of his life in the slums with his brother:

My brother was the real Jaggu Dada of our chawl. He used to take care of our slum people, look after them when in need. But at a very young age, unfortunately, my brother jumped into the sea to save someone. And my brother did not know swimming so he also started drowning. I threw a cable line at him, he held onto it, was floating for few seconds but the cable slipped out of his hands. I was young and scared and I stood there watching him drown. After him, I decided I had to look after my slum people just like he does and then I turned into Jaggu dada.




https://www.mangobollywood.com/2017/01/17/jackie-shroff-exclusive-interview-jyothi-venkatesh/

Jackie was a shockingly handsome young man, exotically handsome (thanks to his mother's Turkish heritage). But that wasn't going to help him get a job and feed his family. He tried for a job as a chef's assistant at a luxury hotel, he loved to cook, but he was told he didn't have the qualifications (no high school diploma). He tried for a job as a flight attendant, he had the looks for it. But again, no qualifications. Finally he was waiting at a bus stop one day when someone came up to him and said "would you like to model?" and he responded "would you give me money?" And thus, his career started.
Jackie's romance started before his acting career. Supposedly. There are a lot of strange stories floating around about Jackie's personal life, and I can't figure out what is real and what isn't. One version of his romance has Ayesha, rich teenage girl whose father was in the air force and whose mother was a white Frenchwoman, seeing handsome young Jackie and getting a crush on him. They hung out at record stores and walked the streets together, but he let her know that he already had a girlfriend. To which she said "that's fine, we can share you, I just want to be with you". Jackie was finally convinced to start dating her seriously by her sincerity. They dated while he modeled, and she started modeling, they dated while his career was starting out, they dated while he was a big star, and they finally got married in 1987, 14 years after they met.
This could be true, I don't know, but somehow it just doesn't feel quite right to me. Would a teenage girl from a good family and a teenage boy who is a gunda for his neighborhood really start up a romance? Sure it happens in movies, but in real life? And if it did happen, why did they wait 14 years to get married? During those 14 years, he was becoming a very famous movie star, more than able to support her and marry her. And she was living at home and modeling, meaning her family wasn't pressuring her to marry anyone else or break up with him. Again, it could still happen, I can come up with reasons. Jackie was working so hard, he didn't want to get married until his career settled down. She stood up to her family and they respected her wishes. Love is hard to explain. But somehow it doesn't feel quite right to me and I can't honestly report the story without admitting my discomfort with it.
There's some other stuff that's a little bit odd about Jackie. For instance, there is a story that keeps circulating claiming that Jackie came out as bisexual. According to the rumor, he was hanging out drinking with some journalists in a bar and said that he preferred men to women, that was "natural". But he and his wife came out to deny that story almost immediately. There's also a story that he molested Tabu when she was a teenager and visited her uncle who was directing Jackie in a movie. Which has never been confirmed by anyone and Tabu and Jackie don't necessarily seem to have a problem with each other now.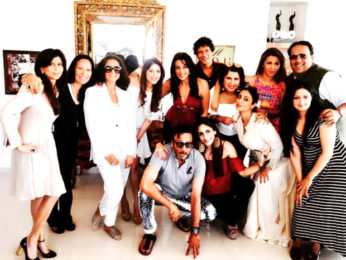 Again, I don't know what exactly to make of this. For the Tabu story, it could be that he tried to kiss a pretty teenage girl and it turned into a "thing". It could be that nothing happened at all. It could be that he misbehaved with her and now it is water under the bridge. It was so long ago and it has only lasted as an odd rumor floating around. Certainly Tabu doesn't seem to have tried to shut him out of the industry, she is extremely close to Anil Kapoor (for instance), and Anil continues to work with Jackie. And the bisexual story was quickly denied and is hard to track down. I'm less leaning towards "nothing happened" with that one just because Jackie is a very odd person and could easily be bisexual and in an open marriage because he just doesn't care what people think. But I absolutely think he did not intend to come out to anyone, it is not public information or necessarily any of our business. If he did say something, it was not meant to be repeated in the media. Or maybe he didn't say anything at all and this was a made up story based on a reality "everyone" knows. Or maybe it was just entirely made up.
I guess it's just that Jackie is odd. He is a boy from the slums who watched his brother die because he couldn't save him. He got out and he got his family out, and nothing else really matters that much. You can say he's gay, and he'll deny it, but he won't make a big deal about it. You can drag up some story about Tabu from before she was famous, and he won't care about that either. And of course, he's an outsider. No one really cares enough to defend him either, or to attack him and gain power, or anything else. And so these stories bubble up, and then die away, and just leave odd traces floating around the internet.
Even his wife Ayesha has her own stories. She launched Katrina Kaif in Boom (classic small time moderately connected producer kind of movie, no budget and no people, and then coincidentally the nobody model they hired ended up a big star later on). And at some point, supposedly, she casually mentioned in an interview that they invented the whole "estranged Kashmiri father" backstory for Kat, she has no desi connection at all. But no one paid much attention to it, because it's just Ayesha Shroff saying it. And Ayesha never bothered to deny it or anything, because she doesn't care what people think, they are the Shroff's, they do whatever. Ayesha also got in trouble a couple of years ago when she sued the young man who was her business partner and he said they had a romantic relationship. In turn, Ayesha casually denied it and said that he was gay anyway. This family just doesn't play the PR game. They won't be quiet and let things go, but they also won't exhaust themselves putting out denial after denial.
Jackie doesn't even have to care about his career really. He got into acting because someone met him at a party and gave him a bit role. Then Subhash Ghai saw him and launched him in Hero, making him the rare true overnight star. He went to bed a nobody, and woke up the next big thing. After that, he did whatever he was asked. Sometimes good movies and good roles, sometimes bad and bad, he's fine either way. And he'll say it in interviews, he did bad movies as favors to friends. He did bad movies just for the paycheck so he could do good movies. And he moved on to "father" roles very young because Subhash Ghai asked him to and he owed Subhash. Acting is just the job that got him out of the slums, and he will forever owe those people who helped him escape. That's what's important.
He really REALLY doesn't have to care about his career now, because back in the 90s he and his wife invested in Sony TV and ended up with a 10% stake in the channel. Which they just sold a couple years ago. They now have the kind of money that means they don't have to worry about working, well, ever. And no one else in their family does either.
But that doesn't mean work doesn't matter. Jackie still works, now he takes the interesting roles, or the favors for his friends, but nothing else. And he and Ayesha raised their son Tiger to do the work too.
I first started hearing about Tiger maybe 8 years ago, when he would have been about 21. I was reading an interview with Aamir, and in the course of setting the stage for the interview there was a mention that outside the window where they were talking, Tiger Shroff (Jackie Shroff's son) was parkouring up a lamppost. That wasn't the last time I ran across one of those stories. He was just kind of part of the city scape of Bombay, super buff guy, working as a trainer in a gym (he was Aamir's trainer for Dhoom 3, not like gave him tips at a party but actually had a paid job training him), and liked to do parkour in surprising places that got him little mentions in the news. I knew Tiger's name and face for years before his first movie role was signed.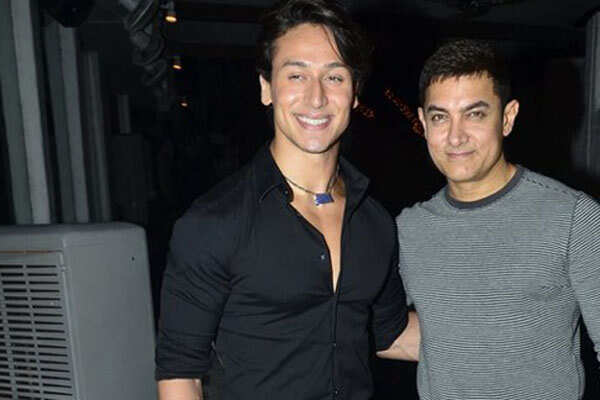 Tiger's first movie wasn't a big launch. He was signed by Sajid Nadiawala for a remake of an Allu Arjun movie, directed by Sabbir Khan, Nadiawala's assistant turned director. And to co-star, a southern actress Kriti Sanon who had made one movie before. It didn't get a massive publicity campaign, it didn't get an impressive director. It didn't even get a stacked cast, just Prakash Raj to carry the whole thing. But that was all good. There were no expections, there was no buzz, there was no bad or good word of mouth, it just quietly hit theaters and people discovered they liked it.
The thing with Tiger is, he puts in the work. He can't act, but he is willing to do whatever it takes to make up for not being able to act. While the Khans are lumbering through fight scenes with stiff backs and sagging muscles, or Ajay and Akshay are faking their way through dance scenes with quick edits, Tiger does the kind of action scenes that make you do a fist pump, and the kind of dance moves that make your jaw drop. He gave the young people (especially the young men) of India the kind of movie lead they want.
Tiger is still putting in the work. He has made 6 movies in 5 years, plus appeared in an elaborate song video. He has had one (rumored) relationship with Disha Patani, an actress who also works hard and keeps her private life private. I truly can't find anything about her besides her professional credentials, she was in Loafer with Varun Tej, then did a music video with Tiger, then was one of two heroines in Dhoni, and finally was cast opposite Tiger in Baaghi 2. They seem to have calm comfortable lowkey relationship, at least for two stunningly attractive semi-famous people.
And just a few months back, Tiger opened his own gym. In Bandra, the fancy and filmi neighborhood where he grew up. A small business that he plans to grow. Tiger's smart. Not the kind of smart that results in brilliant acting or witty interviews, but the kind of smart that lead his parents to pick up 10% of Sony TV back in the 90s. He's career is good now, but who knows how long that will last, so he is taking the money he is making and investing it in a small safe business that can support him if the movie career ever stops panning out. This family is not going back to Teen Batti.
Well, they aren't going back to stay. Although the thing is, Jackie and Tiger are probably two of the only people in the film industry who are comfortable going back to visit. Here's a story of a time Tiger went back recently:
While on their way back from dinner, Jackie Shroff saw two bikers signaling at him. "At a traffic signal, they caught up with us and told Jackie sir that they live in the same house where he grew up." Pleased with the happy coincidence, the actors then continued towards Bandra, "but suddenly Jackie sir took a U-turn and headed towards Walkeshwar." Bajwa says, "He told me, 'They must have put on all the lights and must be waiting for me.' When Jackie Sir entered the one-room tenement, he showed me where his mother cooked, the more where he had a bath, and the balcony. He also explained how he would put up a rod and hang a curtain on it to divide the room for some privacy."


https://urbanasian.com/entertainment/bollywood/2018/03/when-jackie-shroff-took-arjan-bajwa-to-his-old-home-in-teen-batti/
Tiger is deeper than he seems, smarter than he seems. But Jackie is something else. The best I can do is Tiger's own account of his father:

He used to stay in a chawl in Walkeshwar, in Mumbai, in an area called Teen Batti, with his family. Even after becoming an overnight superstar with his first film, Hero, he continued to stay there for a good five to six years. Chawls have public bathrooms, and he used to wait in line to do his business in the morning. I remember him telling me that after becoming a star, the only advantage was that the other residents used to let him cut the queue. He'd request them to let him go early, because he would be getting late for a shoot. I've heard so many such stories about him. It is amazing to hear about his humble background, his beginnings in the industry and what he's accomplished….He was a very hands-on father and very involved in our lives. There were times when he would fly to Ooty for a shoot in the morning, fly back at night to see me and then go back again the next day. I think he did that for almost 30 days continuously…. He's not a person who likes to be pushed around, so I've never forced him. He likes to do things his way. The best part about him is that he has remained absolutely the same. I think he is that same Jackie dada or Jacky bhai that people know. His mannerisms and his style of talking have remained the same. On set, he treats everybody equally. I've noticed that he always chills out with the light guys and the spot boys, even more than the director. 


https://www.mansworldindia.com/fresh/tiger-shroff-talks-to-mw-about-his-father-jackie-shroffs-chawl-days-to-his-overnight-superstardom-after-hero/