This was one of many movies from my YRF list earlier this week that it was requested I review. I picked it because, well, I can remember it well enough to review without needing a rewatch. And it certainly doesn't deserve a rewatch.
This is not a great movie. It's a star turn for Ranbir and he is up for the challenge, just barely. But besides putting him through his paces, there just isn't much to it. Not much plot, not much songs, and not much for the other actors to do. Although at least the heroines all have really interesting backstories and characters. The problem being, those backstories and characters never get any real attention or focus, because it is all Ranbir Ranbir Ranbir.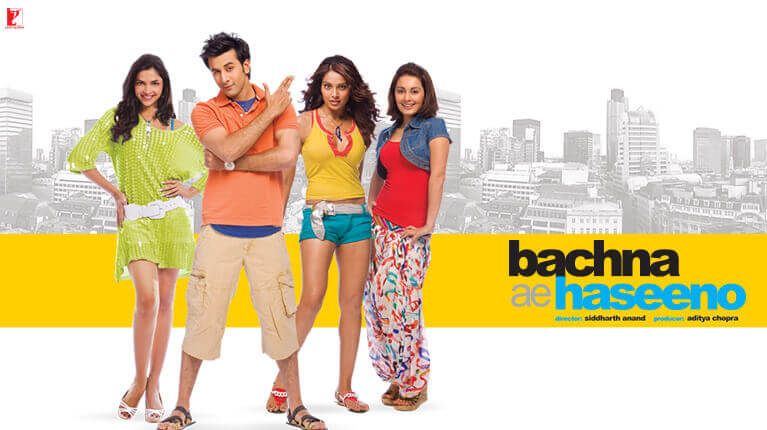 But Ranbir is fun! Young attractive boyish stories are fun! This came out in the era when the Khans were really too old for this kind of youthful story. Having anyone young doing a young story was refreshing and exciting. And you can feel that excitement everywhere in the film, the songs are new and different, the dialogue is new and different, and so on.
The whole movie kind of feels like people being excited and seeing what works. It's more a series of plots than one cohesive thing. Feels almost like they couldn't decide what they cared about the most, or else didn't care about any of it enough to make it a movie. And what was left was three almost movies.
It's modern in content, but that structure is a bit of a throwback. Back to the wild days before bound scripts when storylines were created and discarded willy-nilly, when everyone did everything all at once. So in that way, the title works! Repurposing one of Ranbir's father's hits from one of those fun silly 1970s films.
Beyond the fun, and the Ranbir, there are the heroines. Bipasha gets one of her deepest roles, although ultimately kind of sad and regressive. Minisha Lammba surprised me by doing a really good job. And then there's Deepika. Poor Dips. She got stuck with the least interesting, most standard, role of them all. Her role could have been played by literally any actress, unlike the other two which required something really specific.
Huh. Now that I think about it, that's what makes this film feel so strange. Minisha and Bipasha have all the emotional depth and growth, Ranbir really doesn't sell it in the same way, our "hero"s story is far less meaningful and touching than the stories of the two supporting women. It would be radical and feminist, if it weren't for the film still saying "Nope, forget Bipasha and Minisha, it's alllllllll about the selfish rich young man". And I guess that goes for within the film and without it, Bipasha and Minisha were the most experienced actors, but were pushed aside for Ranbir in his second movie.
SPOILERS SPOILERS SPOILERS SPOILERS SPOILERS SPOILERS SPOILERS SPOILERS
Ranbir meets Deepika in Australia and starts dating her, no strings attached. But then he falls in love with her. She reminds him, "no strings attached" and he is heartbroken. So he thinks back to the women whose hearts he has broken. When he was in college traveling through Europe, there was a girl traveling with her cousin who was obsessed with DDLJ. He arranged for them to be left behind together and miss the train, gave her a wonderful adventure, is implied that they had sex, then left her with promises of True Love. And never got in touch with her again. Later, he started a relationship with the sexy woman who lived next door, they started living together, it was great because he got all the sex he wanted and no pressure, just fun. And then he got a job opportunity in Australia and discovered she thought she would be coming with him. Rather than breaking up, he proposed, thinking she would say "No". She said "yes", and so he fled the country without talking to her, leaving her waiting at the alter (literally). Ranbir now feels like he understands what he did to them and feels bad. So he tracks down Bipasha, who is now a successful famous model, and she makes him work as her gofer and slave to earn her forgiveness. Eventually, she lets him go and tells him to try to find love, it is too late for her. Next he finds Manisha in her home in Punjab with her husband and learns that, although she is married with two sons, she never fully opened her heart again after he left her. He helps her husband woo her and romance her and she finally believes in love. And then he leaves and returns to Australia to find that Deepika missed him and wrote him a love letter every day, so many that he can't open the door of his apartment. They are united, Happy Ending.
The problem is, our "hero" is a sociopath, right? He destroys these woman, and feels almost nothing about it. He is only capable of empathy once he experiences a similar experience, once it is about him rather than someone else. And he considers his small unhappiness as equal to their far greater unhappiness. Leaving your long time live-in girlfriend at the alter with no explanation and never talking to her again is not the same as the woman you are seeing saying "no" when you ask to get more serious. Ditto lying and seducing a young woman, giving her her first sexual experience, and then disappearing.
The title is "Beware, women!" And I think maybe the writers and directors did not realize how literally that should be interpreted. Ranbir's behavior isn't "charming" and "boyish", it's the behavior of a true misogynist who just doesn't see women as people. But, put a pin in that for a moment! The fun of the movie is what is built within the framework.
The jokes about DDLJ and romantic young women in the Manisha Lamba flashback are dead on, and super fun to see the kind of through-the-looking-glass version of the DDLJ romance. The Bipasha romance is fun, seeing the young people in the city. And the Bipasha revenge is super fun, seeing all the wacky things she makes him do. And Deepika has a running gag with multiple jobs all over the city, plus that "so many love letters I can't open the door" is dreamy.
But if Ranbir had been, say, an international spy who had to seduce women for the good of the country. Or had a dying grandmother who kept emotionally blackmailing him to leave these women. Or ANY reason beyond "I want to satisfy my sexual needs, so I lied and manipulated and destroyed these women's lives and went on my way and forgot them", then the film would be a far easier watch.
Now that I look at the list, I think Siddharth Anand (the director) might specialize in sociopath heroes? His first movie was Salaam-Namaste where SPOILERS Saif and Preity are in a committed serious relationship but when she gets pregnant and decides to have the baby, he is furious and dumps her and offers no support, financial or emotional, seeing this as a "her" problem and not a "him" problem. END SPOILERS Then this movie, then Ta Ra Rum Pum Pum where a rich guy wastes all his money and then steals from poor people to make it up. And then Bang Bang, which I ADORE, but in that one at least the hero is consciously a sociopath. As someone who is not a randy young man, I have a very hard time watching these movies where all the non-randy young man characters are used and abused and forgotten while we all cheer, Yay Sociopath!
The weird thing is, this movie gives us enough of a story for Bipasha and Manisha that I actually care about them. But I think I'm not supposed to care about them? Or somehow I am supposed to care about Ranbir sooooooooooooo much more that I can forgive him for what he does to them?
And Bipasha and Manisha's stories are truly heartbroken!!!! Bipasha was ready to give up everything for love, thought she and Ranbir were together because they were in love, only to be left behind in the worst way possible, not only heartbroken but given the realization that the person she was living with for a year saw her as only a convenient vessal for his sexual desires. Manisha's first sexual experience was tainted and, it is implied, she was left unable to enjoy sex or believe in love. She married a perfectly nice man and built a life with him but was empty on the inside. For TEN YEARS!!!!! Those are the stories that deserve their own movie, these are the characters who truly suffered.
But no, we just visit those stories, and then we come back to Ranbir and his "wa-wa, the woman who said she wasn't looking for anything serious was telling the truth" heartbreak. That's another thing the movie seems to be blind to, that Ranbir set out to hurt these women, but Deepika never intended to hurt Ranbir, never lied to him, he was the one who hurt himself. This is a very false equivalency, Ranbir didn't just break up with these women, or turn down their love, he destroyed their lives.
The really sad thing is that with Bipasha at least, she is never going to be able to rebuilt her life. I guess because she isn't married and had sex before marriage and so on, like an "evil" woman. And so she is left to tell Ranbir that her heart is dead and it is too late for her, and she sends him away. It's terrible!!!! And a terrible message, that sexually active career women are doomed to lonely empty lives. Minasha is a little better, at least she gets to be completely happy and gets to be married to Kunal Kapoor, but she still had all those years of misery, as did her husband. She also deserves a better ending!
Heck, even Deepika deserves a better ending! She didn't want a romance, and then Ranbir left and her heart broke and she discovered she did love him and was miserable and heartbroken. Punished for…nothing? For being a woman who exists and has opinions that are sometimes not convenient for the man who is her current sexual partner?
So yes, this is a story of "women, look out". Look out for Ranbir's character, look out for Siddharth Anand's view of the world, look out for an Indian mentality in which once a woman gives up her virginity, she becomes a less-then-person and nothing you do to her really matters.
Boy, I had a much stronger opinion on this movie than I remembered! I may have to reconsider my stand of "Ta Ra Rum Pum Pum is the one Indian movie I truly totally hated".