Do you like rom coms? Do you have patience with flawed movies? Do you like Sidharth Malhotra and Parineeti Chopra? If your answer is "yes", you should watch this movie. If it is "no" to any of those questions, avoid.
So much plot in this plot! So many layers that it makes it hard to follow and appreciate each of them. And so many layers it becomes impossible for our two lead characters to play them all at once. They do their best, but it's not easy. Especially since Pari and Sid aren't the strongest actors in the world to begin with.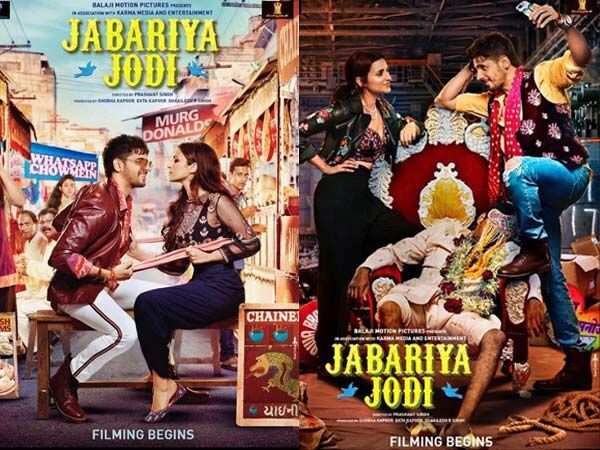 Pari's not bad in this movie. I know she was great in her first few roles, then went on her break, and came back just terrible in a few more movies. She isn't terrible in this, she actually works hard and tries to bring honesty to her character. But this character is written in such an all over way, you would have to be a Rani Mukherjee level actress to make sense of it.
Sid's not bad either. For the parts that require him to smile goofily or slap people, he's great. But like Pari, his character has such all over motivations scene by scene that it's almost impossible to make it work even for a great actor. The most enjoyable moments of his performance are when he just gives up and plays the one emotion for the one moment he is in and doesn't try to make it tie back to any of the other many many things that his character is supposed to be feeling.
Sid and Pari aren't bad, the costumes are fun, and the rest of the cast is decent as well. Although they also struggle with the weird writing for their characters. Sheebha Chadha as Sid's mother plays her usual traumatized struggling Sheebha Chadha role, Javed Jaafrey is evil and over the top, Sanjay Mishra is humorous and human. Aparshakti Khurranna is fun too, he has the simplest character confusion, in half the scenes he seems to be written as possibly "gay best friend" and in the other half as "best friend with a crush".
But the real problem is in the basic technical elements. The sound mixing, for instance, was so badly off that I couldn't hear the dialogue over the background music in multiple scenes. That's just crazy, how can that be? The way scenes were shot and edited was also confusing, like I'd lose track of where the characters were, if they could overhear each other or not, if they could see each other or not, if this was happening simultaneously or at different points, and so on. What made it extra noticeable is when a song would start and suddenly everything just flowed better. Because the choreographer was coming in with their team of professionals to do this 5 minute segment before handing the film back to the amateur directing team that was running it the rest of the time.
And the songs weren't even that great! Not super catchy, and the visuals weren't super imaginative. Nothing really stood out. But then, they weren't that bad either.
The whole movie isn't that bad. The hero and heroine are clear interesting people (just, with super complicated motivations by the end), and sympathetic people, they are both just trying to do the right thing as they see it. And I buy their love story immediately. It's an unusual film because the love between them is never in question, just what they are going to do about it. Also not that bad, the costumes! Pari looks great, and Sid has fun with his ridiculous outfits. And the individual love scenes are lovely, including a sex scene that feels organic and truly loving and is treated with the proper seriousness/lack of seriousness for the situation.
The overall message is really good too, against "forced" marriages of any type. Whether it is your parents forcing you into them, or dowry forcing you into them, or Sid kidnapping you and forcing you into it. It takes a loooooooooooooong time to get there, but by the end all the plot twists and everything make sense in terms of showing every possible variation on the "forced marriage" idea and how different it is when you have a couple that comes together by choice.
What kills me is that this film is going to get terrible terrible reviews because it is a rom-com that isn't perfect, while sports biopics, police films, army films, and western style dramas of equal quality will all get better reviews just because of their genre. Which brings me back to my opening. This is not the kind of film that anyone, even someone who hates romances, will love. But it is the kind of film that, if you already like romances, you will enjoy. Just give it a chance and forgive its flaws so you can enjoy its virtues.