Another common NRI trope! I was thinking these films didn't fit because the hero is still desi, and then I realized it only doesn't fit if I consider the national identity as residing in the man. It doesn't of course, a woman can just as easily be an NRI.
Let's start with DDLJ. What was revolutionary about DDLJ was that the hero was an NRI. Not just an Indian studying overseas, but British born and raised. That's very important for Shahrukh's character, but it is perhaps even more revolutionary for Kajol's character.
There have been many many MANY NRI heroines before. The prototypical one is Saira Banu from Parab Aur Paschim. She is ruined by the West, has lost touch with her Indian roots, is sexually loose, appears "white" in her make-up and clothes, and disrespects her parents. And has no knowledge of or value for her culture. And then the nice hero arrives from India and teaches her how to be Indian again, saves her and restores her to her natural "Indian" setting. And brings her back home to India.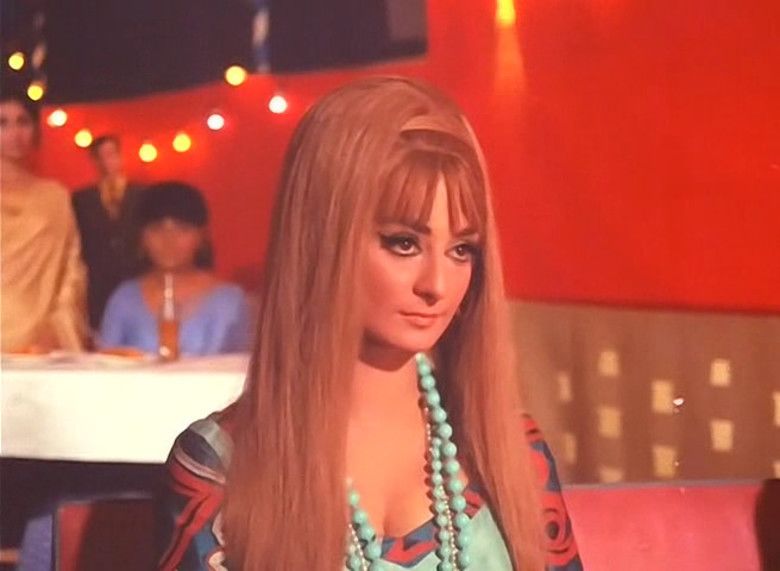 This is a fantasy of the actual NRI woman, while Kajol in DDLJ provided the reality. An NRI woman, if she is truly spoiled by the west, will not return to her default setting of "Indian". Because that isn't her default setting, she is British or Polish or Canadian or whatever else. The changes are not mere superficialities of hair and make-up, they are deep inside her soul. And on the other hand, often those changes don't even appear as superficialities. Merely raising your child overseas does not mean she will not know Indian culture, inherit Indian modesty, and so on and so forth. But it might mean that she has a different way of thinking about the world which is hidden deep inside where you cannot reach. That is the NRI woman we see in Kajol in DDLJ, and in her filmi descendants. She loves her parents, she knows her Indian traditions, but somewhere deep inside she wants to marry for love, she wants to travel through Europe, she wants to enjoy all the freedoms that all her non-desi friends have. And she does NOT want to go back to India.
It all goes back to the national identity residing within the woman. If an "Indian" woman is not truly Indian, down deep where it counts, than is there any nation at all, any firm identity? The NRI woman must have her surface scrapped away, must be worn down and forced to reveal her true "Indian" nature. And so the idea of an "NRI woman" ceases to exist, she is merely an Indian woman waiting to be revealed.
But at the same time, we do get to see that surface. Again, we go back to Purab Aur Paschim. Our hero Manoj Kumar has a girl in love with him back home, Bharathi Vishnuvardhan. She is the perfect Indian girl, traditional and sweet and loyal and modest and patriotic. Manoj goes to London for studies and stays with an old friend of the family and meets his daughter, Saira Banu. She wears short skirts and a blond wig and heavy eye shadow, she drinks and smokes, she is "bad". But it is Saira who Manoj has the love affair with. And once she asks about marriage, he forces her to come back to India and breaks her down until she reveals her "Indian" heart. Essentially, until she transitions into Bharathi, the girl he rejected. But if he ends up with a girl like Bharathi after all, what was the point of rejecting her to begin with in preference for Saira? Or, put it another way, if his end goal was to change everything about Saira, why did he even want her to begin with?
It's the challenge, it's "conquering" the West through conquering this woman who represents it. A white woman character in a film can serve the same purpose, but then would bring up questions as to our hero's identity as an Indian man. In these films, the Indian woman has turned Western. Our proper Indian hero is given control of her through proper Indian channels (family connections and so on). And then, without risking his identity as a good Indian boy, he can go on to tame the West, capture and control it.
This is the story of Hrithik and Kareena in K3G, of Akshay and Katrina in Namaste London, of innumerable other films. But then there are the exceptions, the ones that push back, that say "no, being an NRI is not an identity a woman can shake off like a cloak, and it is nothing that makes her worse than you."
Aditya Chopra started to question this idea with DDLJ, making our heroine not "soiled" by the West but merely existing within it, and letting her and the hero meet each other as equals, neither conquering the other or converting the other. And then in his light farce Befikre, hidden deep inside, he directly confronted it. Befikre begins as your standard NRI Woman-Indian hero kind of story. Our hero arrives from India and meets his French-Indian heroine that same day. They fall into a relationship, her parents love him and approve, she was previously sexually free and casual but after getting together with him becomes monogamous. It is the standard beats of our good upstanding (sexually inexperienced) Indian hero fixing our broken NRI heroine.
But then they break up. And during the final fight, he throws in her face that she slept around before she was with him. And she leaves, too hurt to stay. Over the next year, he has his own experiments with casual sex, and she seriously dates someone else. They finally come together and have an honest conversation in which he acknowledges that he was wrong to make her feel guilty for having other relationships, that was his problem not hers. This is a story of growth, this is a story of the reality of cross-cultural overseas relationships. Ranveer, our hero, is living in France. It is up to him to adjust to French standards, not Vaani to adjust to his Indian standards. Not only that, hidden within Vaani's performance and character, is guilt because she is not so confident in her French identity, Ranveer's accusation really did hurt her. She responds by trying to become "Indian", go through that journey of every other NRI film heroine, date a nice Indian man, have a respectable marriage and engagement, and so on and so forth. But that's not the answer. The answer is for her and Ranveer to jointly accept their identity as both Indian and French, for him to leave behind his casual sex shallow easy relationship with a white woman and her to leave her quick serious marriage relationship with an Indian man, and find a middle ground together.
That is the answer for all of these NRI women. To simply accept who they are and expect those around it to accept it too. They are not some perfect Indian woman waiting to be discovered, they are NRIs, and that identity is as secure on them and within them as it would be within a male character. A woman's identity isn't controlled by her father, or her future husband, but by the whole society around her.
There's another Shahrukh-Kajol film that also doesn't get much attention for the NRI heroine element, My Name is Khan. Setting aside the tragic horrible elements of it and focusing solely on Kajol's character, this is what a female NRI looks like. She came to America as an adult, she made a life here, and it is her home. It is never discussed that she might return to India, that is not where she belongs any more. She still speaks Hindi to her child and prays every day, but she also starts a business in America and has white friends here and dreams the American dreams. And the film honors her for that, it doesn't try to squeeze her back into a sari and the kitchen, it is proud of what she has accomplished and the new identity she has built. This is what all NRI women should be like, really all Indian female characters, proud and strong of who they are all on their own, not carrying the weight of the whole nation on their backs.