Merry Christmas Angie! And Merry Christmas to all of us, because while I find Arjun unremarkable as an actor, as a person I find him surprisingly inspiring and, a strange word to use for a movie actor, but maybe a little bit Noble?
Usual Disclaimer: I don't know these people, I have no special knowledge, this is just how it looks to me based on publicly available records.
I wrote a long post about Arjun's whole family a few years back, you can read it here if you want to catch up. But this go round I want to focus on the recent years of Arjun's life and talk about how his personality has come through more and more clearly over those years.
Arjun was born in 1985. His mother was 21, and his father was 30. His father was the oldest son of Surinder Kapoor, a small time producer. They had a little house in Bandra (the old film colony), they occasional went to parties or interacted with their rich relatives THE Kapoors. Their cousins, Sonam and Rhea, were constantly running in and out of their little house. Boney was gone a lot, that was the life of a small time producer, he would be traveling or on location. But Arjun had the love of his grandparents and his young doting mother. His sister Anshula was born shortly after Arjun, they were a little team. It was a wonderful happy secure safe childhood. And then when he was 10, his little world blew up. His father moved out of the house and he was told that his father had a new wife, and was going to have a new baby, and didn't want to live with them any more. Lots of whispered family conferences, lots of crying, lots of trauma that didn't seem to end. His funny uncle Anil was still around to joke with him, and his grandparents and aunts and uncles were all very kind, but little Arjun and Anshula were still left adrift, trying to understand how their whole world had fallen apart, all at once.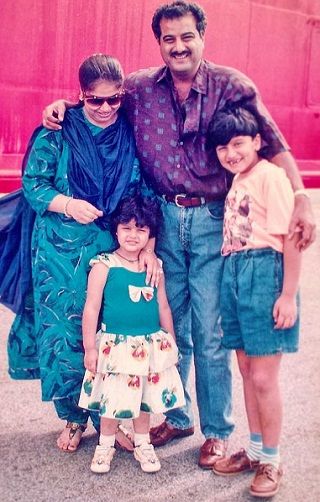 Looking at Arjun's teen years, it is clear that he carried that trauma with him for everyone in the family. From an average child, he ballooned up to a morbidly obese teen. While Anshula excelled in school and ended up going to Columbia University, Arjun flailed and failed and dropped out in grade 11. His family stood by him, helped him get a job as an assistant director, and Arjun started to put his life together a bit. Like many children from a broken home, he leaped on the idea of a new perfect family to solve everything, recreating his childhood but better. He would be a director/producer like his father. And he would marry his teenage girlfriend Arpita Khan. And life would be perfect and happy forever and ever, and no one would ever break his heart again. And then Arpita broke his heart. She dumped him, and it rocked his world. What would he do now? Who would he be? How could he live?
Arpita's brother Salman has more in common with Arjun in some ways than probably anyone else in the world. Salman was also the oldest child when his father left his mother in a public and humiliating way. Salman also carried that pain for everyone else. And Salman also dreamed as a young man of marrying his first girlfriend and being happy forever and ever. I don't think Salman has the self-awareness to have thought all of that through when he saw Arjun be wrecked by this break up, but I think he saw Arjun's face and knew the thoughts going through his head ("what's the point of life? how do I go on? no one will ever love me, I don't deserve love"), and stepped in to save him. Salman gave Arjun the same solution that saved him, focus on a physical goal and put all your energies there and you will get through this. Salman gave Arjun a new life, offered to mentor him and make him an actor instead of a director. And to help him lose the misery pounds he had been putting on since his father walked out on them.
Thank goodness Salman reached out to Arjun, because the tools Salman gave him helped him through the worst time of his life. 2 years after Salman started working with him, Arjun was slim and handsome and had an immediate charisma onscreen. YRF signed him to a 3 film deal and he started working on his first script, an extremely difficult part of an unlikable hero. Which is when he was called home one day and his family broke the news to him that his mother had been diagnosed with cancer. Arjun balanced filming his first movie with watching his mother die. Everyone knew what was happening, even though he didn't really like to talk about it. As soon as the first shots were cut together, the studio rushed the trailer over to his house so he could show it to his mother. She died a couple days later. Arjun's father was there for the funeral, his half-sisters and stepmother were not. For one day, they pretended that everything was still "normal". And then when the funeral was over, Boney went back to his second family and Arjun was left alone with Anshula.
I think Arjun's mother's death was one of those "what doesn't kill you makes you stronger" moments for him. His career continued with the same ups and downs of any young actor, he made a movie with his family next (Tevar) and there were some minor rumors of a romance with his co-star in that, Sonakshi Sinha. A few more movies followed, two more films with YRF, his acting ability seemed to go up and down role to role, but he always had that interesting screen presence. It was off-screen that he wasn't quite as interesting. He participated in the AIB roast, but that felt more like Ranveer and Karan talked him into it than something natural on his own. He went to award shows and gave interviews but it didn't feel like we ever really got to know him.
I think the problem is we were all looking in the wrong place. He was playing this very young immature hero type onscreen, but the reality was that he was the head of his family. He was a grown man, a real man, in real life. He wasn't going to crack jokes or open up about emotions or do wacky gags, because he was beyond that kind of thing. He wasn't even going to put his all and everything into his performances, because acting was just a job, he had more important things in his life.
When Boney moved out, his wife and children stayed behind in the family home. Meaning as Arjun aged, he became the primary support and family for his younger sister, and also the primary caregiver for his aging grandparents. His grandfather died of a sudden heart attack the same year Arjun's mother was dying of cancer. His elderly grandmother still lives with him. Sure, the uncles and aunts and cousins were around, and they were wonderful, but it was Arjun's responsibility to take care of his own people. Or at least, that's what he thought. His father had walked away, his mother had died, why trust that anyone else will ever stay? It's on him, everything is on him.
I started hearing rumors about a relationship with Malaika Arora Khan, Salman Khan's ex-sister-in-law, years ago. Right when she officially moved out of the family home and away from her husband, Salman's brother Arbaaz. Malaika is 46, 12 years older than Arjun. And she has a 17 year old son. She's also a bit scandalous, even besides the divorce. An item dancer and model, known for sexy dance numbers and photo shoots. But here's what jumps out at me about her background, her parents also divorced when she was 11. And she dropped out of high school. Two big parts of Arjun's life that she shares.
And I think, for Arjun, an older woman who doesn't want a traditional family, who already has a child and is just getting out of a marriage, might be what would make him happiest. They have been together about 4 years now and, so far as I can tell, it was happily casual on both their parts for most of that time. Malaika lives with her son now, I am sure that as a single mother she is cautious about getting serious with someone who might become part of her son's life. Arjun is still living with his grandmother and his sister, he wants someone who is just easy and fun and can take care of herself. At least, that's what it was, until last year. When everything changed.
Arjun had a life a year ago. His career was going up and down but he was working at it. His sister was in a good place, she had a good job with Google India and was happy. He and Malaika got together on the down low and had fun. He hung out with his cousins Sonam and Rhea and Harsh, his uncles Anil and Sanjay were just a phone call away and always happy to work with him. And his relationship with his father hadn't gotten any better, but at least it hadn't gotten worse. He saw him at his office sometimes. That was enough.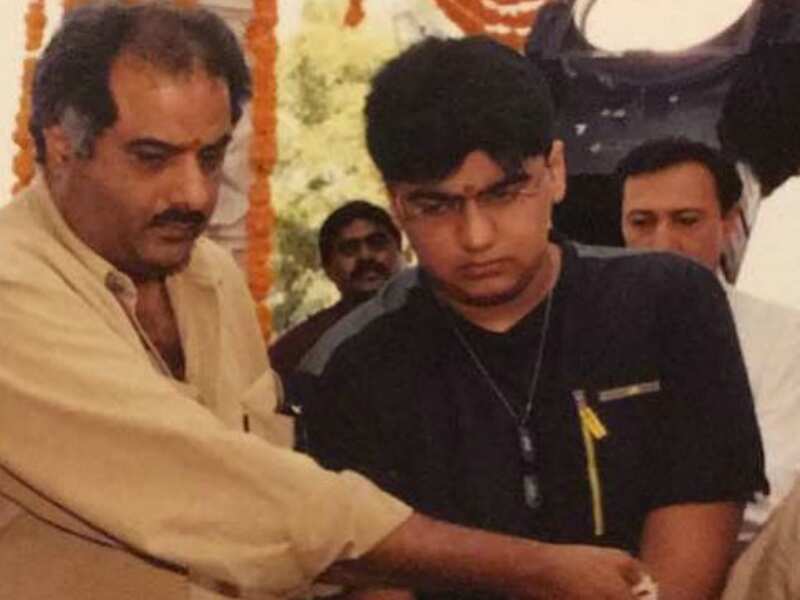 And then one night it all blew apart. Arjun got a call in the middle of the night from his father, sobbing, his stepmother Sridevi had just died in Dubai. A couple of years ago he had given an interview about his half-sisters, and said that his relationship with them did not exist, they did not matter to him. But people surprise themselves, when he got the call his first thought was "who is taking care of the girls?" And his second thought was to call Anshula, because he had to take care of her, because all they had was each other. He called her, told her what happened, and she said "where are the girls?"
Jhanvi, the oldest, was alone in the family home in Bombay. She got the call and immediately called Karan Johar who was mentoring her through her imminent film launch. He and his best friend Manish Malhotra drove over to get her and drive her to the home of her aunt and uncle and stayed with her. The younger one, Khushi, was still with family overseas and rushed home as soon as possible. Arjun and Anshula split up. Anshula went to Jhanvi, Arjun got the first plane to Dubai to go to their father.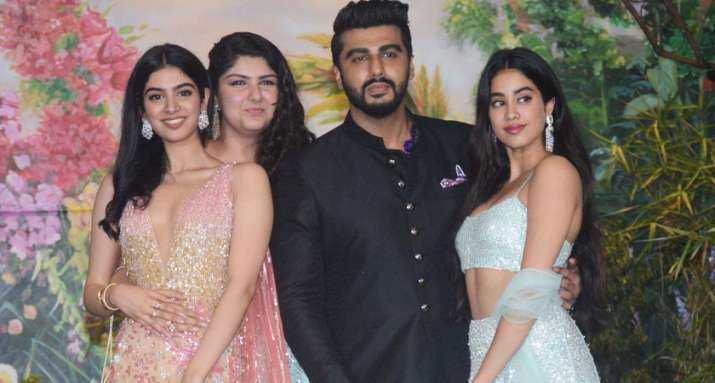 Through out the next day as the formalities were gone through to release the body, Sanjay and Anil Kapoor flew back and forth, and the larger family gathered at Sanjay's house. Arjun stayed with his father the entire time, afraid to leave him alone because he was a broken man. Arjun had heard since childhood about this great love of Sridevi and Boney, how this was the reason that Boney just had to move out and abandon him. And now he was seeing it, Boney barely able to function after Sridevi's death. If this had happened when he was an angry sullen teenager eating himself to death and skipping classes, or when he was a passionate confident young man sure that his first love would last forever, I doubt Arjun would have been able to stand it. But this was Arjun after his first love left him, after he lost his mother and grandfather, after he came into himself as the head of his household. So he squared his shoulders and took on his father as one more burden.
The confusion of the death and the funeral didn't give Arjun much time to know Jhanvi and Khushi as individuals. He just loved them because they were his little sisters and they needed him. We can see it in the shots of the funeral, this tall young man in the middle of things with these fragile teenage girls following him around like puppies. But it was in the days after that Arjun saw it was Jhanvi who needed him most, and would always need him most. Jhanvi, who is also the reason his whole life fell apart when he was a child. It was her birth that confirmed Boney's decision to marry Sridevi, move out, and make the whole thing public. And Arjun let all that go in a moment and instead just saw this little girl who needed him more than anyone else.
Jhanvi was Sridevi's "special" one. Some families are like that, one child belongs more to one parent or the other. Khushi is Boney's favorite, he thinks she is the greatest thing in the world. But Jhanvi and Sridevi were special together. Sridevi used to put her to bed every night, even through her teen years. She would make her special meals and feed her by hand. They were hardly every separated. This launch was the first time Jhanvi was stepping out on her own, and even that was with her mother's guidance and approval and constant presence. And suddenly she was gone and Jhanvi had nowhere else to turn. And her mysterious big brother was suddenly there.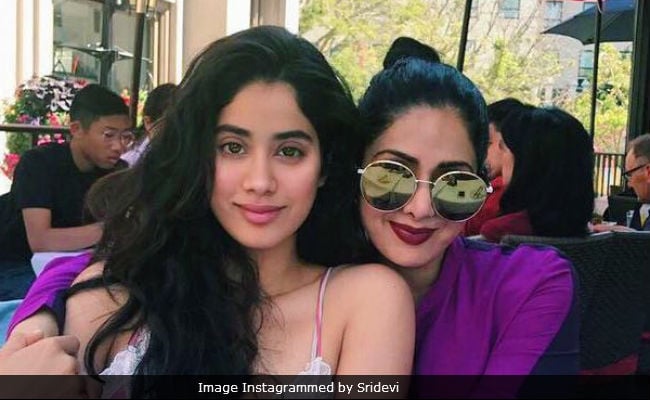 From Arjun's side, he said that the girls were nothing in his life. But from Jhanvi's side, this was all she wanted in life. Her whole life she knew about her big brother, out there in the world somewhere. About a larger family beyond her mother and sister and often absent father. She wanted to know about him, wanted to be loved the way she could see him love her half-sister Anshula from a distance at family gatherings. And suddenly, he was here!!! And he said he would always be here, and he gave her his phone number and she could call him any time, and he would send presents or show up just out of the blue, and he would call and ask how things were going, and encourage her, and tell her he understood, and just be there. Her father was still in a fog of grief, her mother was gone, her little sister was shut down, but she had this wonderful amazing perfect brother who was always going to be there and take care of her.
I don't know what kind of personal growth allows someone to take on responsibility for two teenage girls they barely know, and a father who abandoned them, just because there is no one else to do it. But I am not surprised that that same personal growth lead Arjun to decide that his secret middle-aged divorcee girlfriend shouldn't be secret any more, that she was going to be the woman he married and loved forever and he didn't care what anyone else thought about it. I imagine they are waiting for Malaika's son to graduate high school and move out, but once that happens, Arjun and Malaika are going to be married. Despite the age difference, despite the religious difference, despite her divorce, it's going to happen.
So that's Arjun Kapoor. A semi-talented actor, and an amazing human being. I don't much care what film role he takes next, but I am fascinated to see what he does next.
(and if you feel the need to sob embarrassingly at work, here is the report on the Jhanvi-Arjun Koffee https://dontcallitbollywood.com/2018/11/25/katching-up-with-koffee-janhvi-and-arjun-get-ready-to-want-to-give-them-both-a-big-hug/ )