Oh my, that was a tearjerker!  And not in a forced obvious way, but just because it's so sad, and so happy at the same time.  And I am so glad Karan eased them through it and now the first interview is done and they have it behind them.
This is one that you really need the backstory to understand, because Karan doesn't fill it in and just expects you to know.  Boney Kapoor had a young arranged marriage to Mona Kapoor.  They had two kids, Arjun and Anshula.  Years later, he fell in love with gorgeous most-famous-actress-in-Indian-history Sridevi.  He left his wife and married her and had two children, daughters Janhvi and Khushi.  Mona and her two kids stayed with Boney's parents and family and had their own lives.  Boney and Sridevi and their two kids had their life.  Arjun grew up and planned to be an actor, and just before his first film came out, Mona died of cancer.  And years after that, almost exactly ten years later, Janhvi prepared for her first film to come out and her mother Sridevi suddenly died.  The two sets of siblings, Khushi and Janhvi and Arjun and Anshula, had never been photographed together, barely knew each other.  But starting with the funeral and continuing straight on to today, suddenly Arjun and Anshula were just sort of around their teenage sisters.  No one fully understood what had happened or was happening, and now we are on Koffee with Karan with Janhvi and Arjun to get a glimpse of what happened between these siblings.
And the answer is, a lot of sadness and a lot of love is what is happening between them.  There were so many moments that I just kind of wanted to cry, when Janhvi would get a frozen look on her face and fiddle with her hands and just generally seem sad and then Arjun would make her laugh.  So touching!  So sweet!  So sad.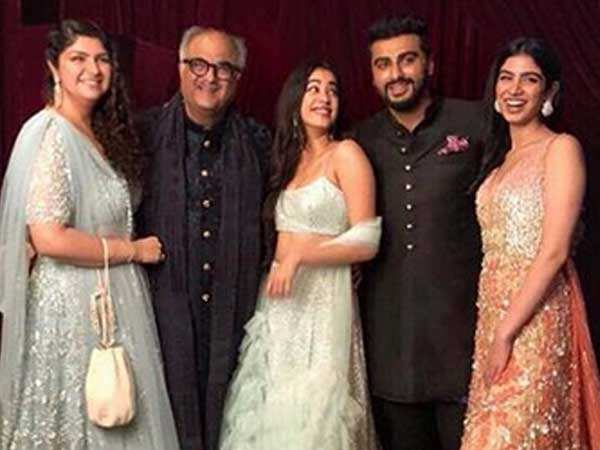 (See how she's smiling at her big brother?)
We start with something not sad, or at least not sad in the same way, Karan coming out with an Ascot!  An ASCOT!!!!  At first I thought it was just another open collar shirt, but then I looked closer and it was definitely a separate piece of fabric all folded up.  Oh Karan!
His intro is kind of bland, just about his weight problems and dieting and then seguing into Arjun's weight issues.  In retrospect I am grateful for it because there is so much emotion coming, it's nice to have a lowkey opening.  And then Janhvi (the subtitles called her "Janhvi" so I am going with that spelling) and Arjun come out and it immediately gets emotional.
Janhvi is wearing a pretty pink lace dress, very innocent.  Arjun is wearing a nice standard suit, nothing remarkable except for a fancy jeweled snake looking pin.  He brings her out holding her hand, not like holding hands, but like he is escorting her.  And then he gets her settled on the couch before going the long way round to sit down himself.  The clothing is telling a story, she is young and fragile and he is touch and adult.  But their behavior is supporting that, it's maybe not just a story but the way they actually are.
In the first little exchange I still thought Janhvi might be faking.  She talks about dreaming of being on Koffee, having to answer a rapid fire question like "marry-hookup-kill" and Karan asks her the question, and she responds with "what does hookup mean?"  And then when Arjun reminds her that all the options Karan gave her are his friends so she can't kill them, she opts to marry them all and then stops herself and says she just doesn't know.  It is so ridiculously innocent, a little girl who doesn't even have a firm grasp on what "hookup" is and is embarrassed when she realizes she jokingly said she would marry 3 guys.  It feels like it can't be true, no one can be THAT innocent.
Karan lets that be, lets her possibly fake innocent answers stand, and then switches to a new topic, brings up very gently that this has been a hard and strange year for them both, especially Janhvi.  Nods towards her mother's death and towards hire debut, and towards this new closeness with Arjun without turning it into a direct question.  And Janhvi kind of fails at answer.  Says this is what she always wanted, she feels enveloped in love, but it isn't clear if she means love from the film industry and audience in general because she always wanted to act, or love from Arjun and Anshula (who Karan mentioned in his question) because she always wanted a family.
After Janhvi kind of grinds to a halt, Arjun takes over and gives a sincere answer in a calm voice, no fake dramatics about it.  I felt bad about Karan bringing this all out, and then I remembered that Karan was the one who Janhvi called to come be with her when she had no one else.  I am sure this was done with love and caring, wanting to give them a chance to tell their story in the safest place possible and get it over with once and for all.  But it's really hard to watch, Arjun is telling a sad story, and the whole time Janhvi has a fixed look on her face very carefully not looking at anything in that way that you do when you are trying not to cry.  She just feels sooooooooooo young and alone and sad.  Even the way she sits, she doesn't sit gracefully, she doesn't pay attention to what she is doing all the time, she isn't a practiced professional public figure, she is just a little girl struggling to put on a brave face and letting it slip a few times.
Arjun is not that, Arjun is very calm and clear about what he wants to say.  He doesn't try to define exactly what he is to Janhvi now or what he was in the past, he just talks about how he feels and why he is sitting with her now.  He says it was an impulse of pure honesty, just what felt right.  That he wanted to be there for his father.  That he and Anshula were in that same place and needed more people with them and he didn't want anyone else to feel that way.  And that his mother would have wanted them to do it, would have told them "of course, go to your father".  That's the sort of general statement of his emotions, this confused feeling that he had to be there for them because his mother would want it, because they needed people (and having been there himself he knew how much they needed people), because he owed it to his father.  But then he gets specific and says that was his first impulse, but he knew he could do nothing without Anshula by his side.  So he called her up at 2 or 3am, when they first heard the news and told her, and the first thing she said was "where are the girls?" so he knew she felt the same way.
That's the bit that makes me cry, Anshula waking up out of a sound sleep to learn her estranged stepmother has died and immediately leaping to "where are the girls?"  And it just continues sad from there.  Karan acknowledges that Arjun and Janhvi have an extra bond, because Arjun also lost his mother before his film released and Arjun saying how, because of that, he has probably talked more to Janhvi than Khushi, given her advice and helped her with trolls and stuff.  And he says how he is so sorry he couldn't be there for the trailer release, he was stuck filming in London, and he actually seems sorry, not like guilty but like he wanted to be there more than anything because she needed him.  And this whole time poor Janhvi is sitting there with a terrible fixed smile and unfocused eyes, with her little hands in fists and it just hurts SO MUCH to watch her.
Thank goodness, Karan leaps off from discussion of the expectations on Janhvi for her debut because of her mother to talking about how he was a big Sridevi fan himself, he used to sing and dance to "Kehte Nahin" alone in his room.  And right away Janhvi relaxes and her whole body loosens up and she focuses in on Karan and starts to laugh.  Karan does a lot of silly stories and jokes on this show, but at least this time (and come to think of it, probably most times) it is because he is trying to make his guests laugh and forget about things, give them a little break.  It works, Janhvi gets that horrible stressed look off her face and starts seeming human again.
Karan moves them on to happy topics, talking about how all the siblings are on a WhatsApp group together now, "Papa's kids".  Clearly it's something Karan worked out with them in advance and knew to ask about.  It's cute, both Janhvi and Arjun get excited to talk about how Boney is the most active, always sharing photos of himself young and making jokes like "look for something like this in a boyfriend" and then showing a photo of himself with an afro and bellbottoms, or saying he was always the most attractive brother and Anil had nothing on him.  And then Arjun kind of brings it around, Karan points out it's interesting that Boney is trying so hard on this new technology and Arjun says he is trying so hard, he was never really there and now he is, he has gone through so much and he is trying, "It's a lot more than it was 6 months ago, Karan".  And then I start to cry again thinking about this poor older guy who always let his wife handle the childrearing trying to be funny and jokey and friendly with his kids while his own heart is broken, setting up this WhatsApp group to bring together the two sides of his family and keep them equal.
And then, finally, Karan releases us from this torment and brings it around to lighter topics.  Starting with asking Janhvi if she is dating Ishaan to which she says "what does dating mean?"  This sounds so stupid and fake, but really, watching this girl on the show, it doesn't feel fake.  It feels like a 21 year old who was very sheltered and very young and doesn't know how to be in the world yet and isn't trying to be cute or "be" anything, just is exactly that innocent.  Arjun teases her about how Ishaan always seems to be kind of around, and she says that of course he is, he is a friend. Arjun teases about how he was jumping off a building for her, she says earnestly that he was just showing her a stunt.  Arjun is nice about it, doesn't try to come off the protective big brother, but still teases her gently a little bit and makes her smile.
And then it's Arjun's turn, Karan asks him flat out if he is single, and he says "No, I'm not single" and Janhvi gets this great surprised-happy-excited look an goes "oooooh!" And starts saying she had no idea, what is this?  And oh, Janhvi!!!!  I'm in America and I knew Arjun and Malaika Arora Khan were together since before her divorce.  But poor sweet little Janhvi, I am sure her mother didn't let her read or believe any gossip, and I am sure his long-term casual relationship with a divorcee is something Arjun isn't telling her either.  And I am wondering if her little brain will break when she learns the sister-in-law she might get is not the one she is picturing.  Or if she is so innocent that she will just accept without thinking about it.
And then Arjun breaks my heart again when he explains that he feels different now because in the past few months he has learned what it is to have a family, finally feels like he has a family.  Knows the importance of that foundation.  And now I can picture poor lonely Arjun and Anshula feeling adrift in the world for so long that they didn't even remember what it was like to not feel that way.  But, Arjun says, now that he has a family everything is different and he is "open to marriage".
Karan then surprises Arjun by asking "are you into men?"  And then explains by pulling up some instagram comments he made "marry me!" to both Karan and Badshah.  Janhvi is fascinated and cracking up and watching Arjun to see what he will say.  And oh my gosh, so young looking!  She's laughing a dorky laugh and leaning on the couch in an ungraceful way and fiddling with her dress, this is not a practiced person pretending surprise or excitement or anything, this is a little sister sincerely surprised by something with her big brother and fascinated to see what he will say next.
It just gets more cute-sad when Karan brings out Arjun's oldest friend from college to tell stories.  They call him "chach", after "chachu" which is a nickname Anil gave him because he was always calling Anil "chachu" (uncle) and Anil hated it so he started calling him "uncle" back.  Plus, he was such a serious little boy (poor serious little Arjun with his parents' broken marriage and his broken heart!  And now he has to sit on the couch with the result of that marriage in order to protect her from her own broken heart).  The friend tells a few stories, about how Arjun wear basketball shorts to college and would fake an asthma attack to get out of tests, and Janhvi gets SO EXCITED to discover she actually knows some of these stories.  She's so cute about it, but it's so sad because the excitement comes from her desperately grasping for anything she can use to cobble together the bond she so very much needs right now.
In the same way Janhvi's friend (Rajkumar Santoshi's daughter) tells two stories about her and Janhvi asks if she can explain after she finishes exactly what she was talking about.  And then explains them, not to Karan or to the camera but to Arjun.  Because she wants him to know the truth about even these silly little stories between her and her friends.  And she is so happy telling him the stories, about how "Momma" would buy her fish from the market and feed it to her, and he listens so nicely and laughs at all the right moments.
And, Rapid Fire!!!
Arjun is good at rapid fire, but the first answer that really stood out for me was when Karan asked if he woke up from a coma after 20 years, what would be his first question: "Where's Anshula?"  UGH!  These poor kids!  These poor little kids who had to cling together through everything and now are trying to help two other little kids so it isn't as hard for them.
And then on to less sad things, Karan asks who Arjun would ask for relationship advice, and Arjun says none of his friends, they all give terrible advice and then remembers when he asked Ranbir for advice and broke up with the girl the next day.  He tells the story very well, Ranbir and he standing on a balcony and Ranbir being very "Imtiaz Ali" about it and saying "just let it go", so he broke up with her and then regretted it a week later and now he doesn't ask for advice any more.
There weren't any other cute stories in the answers, just moderately interesting stuff, Karan asked if Arjun would ask Rhea or Sonam for fashion advice and he immediately says "Rhea, even Sonam asks her".  Which is cute to me that they know each other so well.  And Karan asks if he would go to Anil or Sanjay for family advice and Arjun says he doesn't even think Anil knows all the knows of everyone in the family, so Sanjay.  Which makes Janhvi laugh in a way that reads (to me) as "ha-ha, I know the in jokes now, I know about Anil uncle not knowing names and my brother and I can joke about it together!"
Oh, and Karan tries something moderately tricky by asking who Arjun would take to do a sexy song in a film and Arjun neatly handles it by calmly picking Malaika and then pointing out that she started it all with "Chaiyya Chaiyya".  Nothing left for Karan to leap on, no slips of the tongue or lack of explanation.  Not that I think Karan would leap, I think he is happy enough with the earlier admission that Arjun is seeing someone, doesn't need anything else.
(I am firmly pro-Malaika/Arjun by the way.)
And then it's Janhvi's turn!  And her answers are interesting, not clever or funny, but interesting.
For one thing, very southern!  Karan asks her what male actor she would want to wake up as and she picks Vijay Devarakonda and then she would cast herself opposite him.  Karan feels the need to explain to the audience who Vijay Devarakonda is, and identifies him as "sexy" which Janhvi clarifies to "talented".  I mean, she's right, if you are looking at the Telugu industry Vijay Devarakonda is the best right now and would be very good for her to act opposite.  But surprising that she picked someone so unknown to the Hindi audience that would watch this show.  It comes up again when Karan asks who she would want to be her roommate and she picks Deepika, so they could listen to South Indian music together.  I don't know why I find this so unexpected, her mother is from the south and lived there most of her life, of course Janhvi would be raised watching Telugu films as much as Hindi.  But it still surprises me.  And is a reminder of another thing she has lost with her mother, that connection to the southern heritage.
Beyond that, her answers that I picked out are just more of the same "oh wow, she really is just a little girl" stuff.  Karan asks what she does when she finds someone hot, and she says she daydreams about their wedding and pretends not to know his name in real life.  Which is basically what a 13 year old girl would do, she isn't dreaming about sex and she isn't flirting, she is far far earlier than all of that still.  And when asked who her crush is from a movie, she immediately tries to remember the name of the hero from Tangled.  Which, to be fair, is a wonderful movie.  I love it myself, and the hero is very crush-worthy.  But it is also a Disney cartoon, and she isn't joking or acting embarrassed about crushing on a cartoon, it seems completely normal to her.  Oh sweetie!  You are 21, you aren't supposed to be watching cartoons and dreaming about weddings any more!  Or at least, you aren't supposed to think that is normal any more.
And then it gets a bit odd for the last bit, Arjun fakes a fuss over losing Rapid Fire and at first isn't willing to pick up the hamper and bring it to Janhvi until Karan really presses him to do it (because Karan's back is out and the hamper is too heavy).  And then they move on to the buzzer game and Arjun makes another fuss because Karan slanted all the questions to Janhvi and it's kind of too far?  Janhvi is laughing the whole time, but Karan seems to sincerely be trying to get Arjun to keep playing instead of just walking off.  So maybe it's just a big show for his sister and Karan isn't in on it?  Or it's for the cameras and it didn't work as well as it could have?
The really interesting bit comes with the phone a friend section, Janhvi calls Anshula and puts her on speaker and while she is trying to figure out what is happening Arjun is saying from one end that he won't come home ever again if she helps Janhvi and Janhvi is begging her to just say it so she can win the point.  Arjun keeps her talking and trying to figure out what is happening long enough to get Boney on the phone and win.  It's another part that Janhvi is laughing but I can't tell if Arjun is sincere or just trying to make her laugh.  And I know when Janhvi loses that she is sincerely upset, her smile flickers a little.  And then Arjun ends up giving her the "present" reward for the game along with the hamper and she smiles again.
Poor little Janhvi.  Who hasn't really grown up yet and now maybe never will after this shock.  And poor Arjun, who keeps having to grow up too fast.  I can't wait until it is ten years later and they come on the show like Sara and Saif, still trying hard to bridge gaps but with history behind them now, instead of blindly fumbling and making it up as they go along.
Anyway, that's how I saw it.  What do you think, was it all an act?  Does Arjun not really care about her and is Janhvi just putting on the little girl persona?