Oooo, this is a challenging one! So many irritating creative spelling/grammer/Hinglish mixtures in this past decade. But which one is the WORST?
I decided to give 2019 it's own little post, so this is every title EXCEPT the 2019s.
Road, Movie
It's the comma. I hate it. So awkward to say "road……movie". And anyway, who puts a comma in the middle of a movie title?
I Hate Luv Storys
Why remove all the "e"s except one?
Hisss
Can anyone stop after one "s" and not just keep going "sssssssssss"?
Dunno Y…Na Jaane Kyon
India's first serious male-male romance, and I can't take it seriously because of this STUPID title.
Naughty @ 40
No
Bbuddah Hoga…Tere Baap
I actually kind of like the film! But with the extra "b"s and the ellipses, I just can't even.
R…Rajkumar
When you realize there is another movie coming out with a similar title, why is your solution to just remove the middle of your title?
Darr @ the Mall
I either hate this or love it and I can't decide.
The Xposé
The accent over the e, that is the line beyond which I cannot go.
Kyaa Kool Hain Hum 3
I decided to go for the third one, complete with the "K" for "C" and the extra "a" and the Hinglish.
Te3n
Is it "10" or is it "teen"? Or something else? I don't know!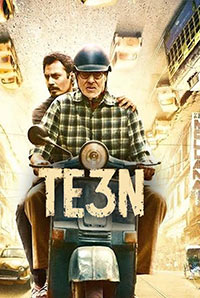 Guest iin London
The small subtle extra "i" is somehow worse than if it were more aggressive, right?
Which is WORST?