You ready for a post that reveals us as shallow shallow people who don't care about poetry or romance? I am!
Hindi film is delightful in its ability to skate around sexual absolutes. Couples spend the night together all the time without the filmmakers feeling the need to define exactly what happened. Fantasy songs, fade ins and fade outs, all kinds of things that leave it up to your imagination.
But forget that! I want certainty! Or at least, consensus. Or, failing consensus, a lively debate.
So just to throw some situations out there for us to consider, do we think they Did It or Not in each of these:
Kaho Na Pyar Hai, spend the night alone together on a desert island
I vote YES! They are young, they are in love, and they are really really committed post that night in a way that makes me think something happened
Qayamat Se Qayamat Tak, run off together and build a house
They are "married", they build themselves a little house, we even see them kiss. But are they smart enough to figure out where the pieces go? I say, NO!
Ek Ladki Ko Dekha, two young woman in love rolling around Delhi alone together for months
I vote No! They are nice shy young woman, I think they would want more privacy for their first time, and maybe marriage.
Maine Pyar Kiya, birthday party in the middle of the night on the roof
All alone with the house to themselves, on the roof, he gives her a sexy dress, does anything happen? NO! They restrain themselves and are Good.
Ghulam, just in general while dating
Do they go to Khandala? I don't know about Rani, but I would have. YES!
Hum Aapke Hain Koun, alone late at night in a silent house
Hey, it's Pehle Pehle Pyar! Madhuri's in a sexy pink dress, Salman's giving her the almond eyes, he's suddenly stripped down to a tank top, it's night time, everyone else is a sleep. YEP! Totally did it!
Dil To Pagal Hai, Aur Paas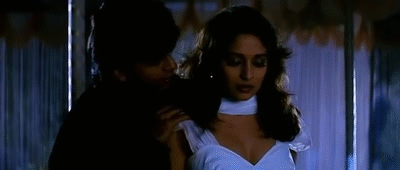 She came closer! I would say yes absolutely, except that after that they still have misunderstandings, so now I'm not sure. I'll go with NO
War, before Jai Jai Shiv Shankar
Tiger is a good boy and religious and all of that, but it's the army and morals fade away, and Hrithik is awfully sexy. I say YES
Tamasha, Ever
Why do I bring up Tamasha just to depress us all? Anyway, I say YES in the first meeting when Deepika goes back to kiss him, but NO after that
Guddu, after the "Pappu Se Pooch" song
Oh, totally! They are in a sex cave all night! There is no other possibility. YES.
Main Prem Ki Diwani Hoon, all night together on a beach
Brace yourself, I'm gonna go out on a lonely limb here. I say NO!!!! Kareena told her Mom nothing happened, it's canon.
Kuch Kuch Hota Hai, After the Gazebo Scene if Salman Hadn't Shown Up
YES. Right? That's the direction things were heading for sure.
Any other films you have questions on or feel would be worthy inclusions in this discussion?