Okay, I'm home, I'm feeling better, I am ready to do a FilmFare post I actually want to do. CLOTHES!
My office has a nice leggings-yoga pants kind of dress code that I have been taking advantage of all winter. Today, like a FOOL, I decided to wear actual pants. Actual pants are the WORST! Now that I am finally home and reunited with my lovely two sizes too big sweatpants, I am ready to consider the most important question of FilmFare coverage, Who Wore It Comfiest????
Mouni Roy, NO! Fitted waist and hips is death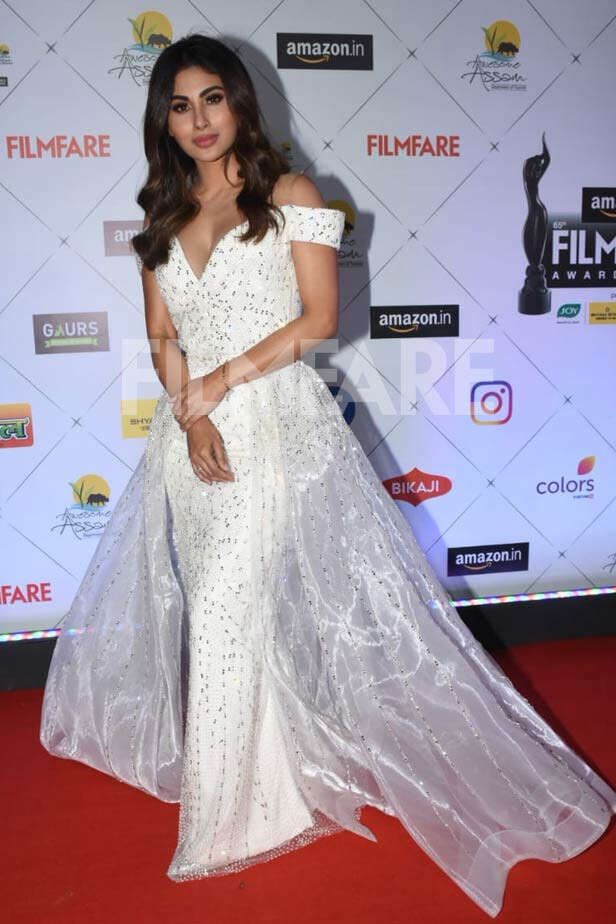 Pooja Hegde, I like it, looks nice and knit, and there is a nude panel so she doesn't even have to use boob tape. Plus simple hair and no jewelry, definite comfy contender.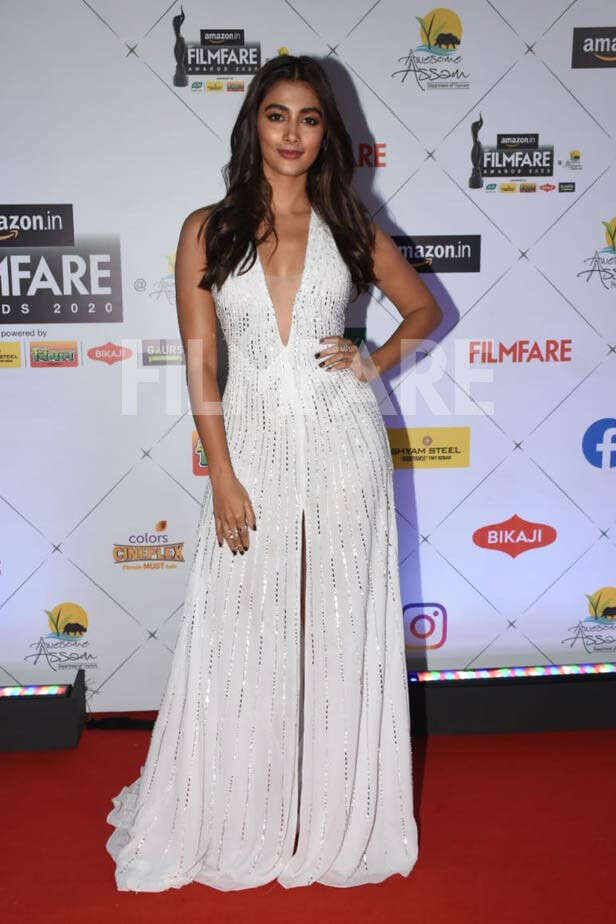 Siddhant, NO! Fitted pants? Plus narrow shoulder jacket? No one needs that for a 6 hour event.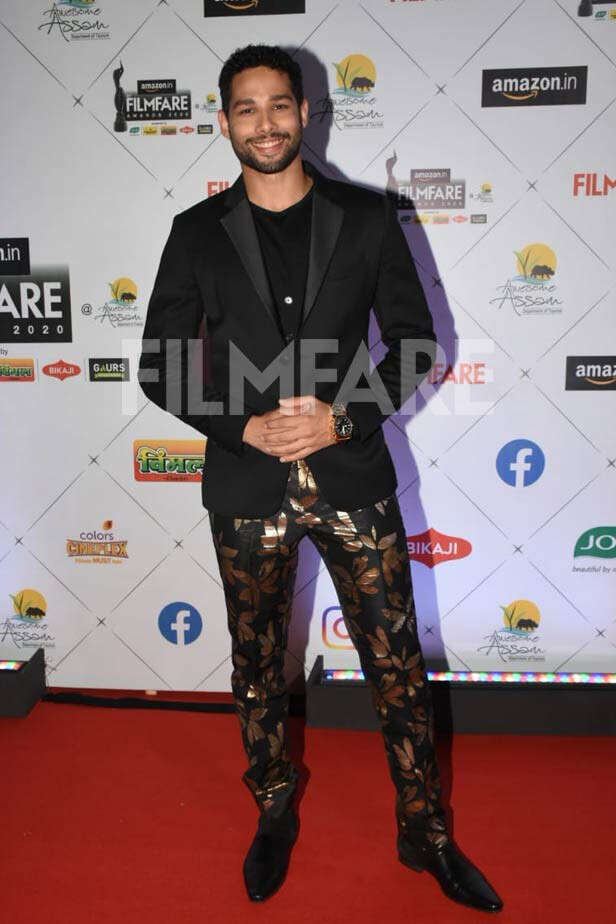 Vaani! Not only a sari draped in such away that you can't move, but also I think the bodice isn't quite fitted right. Worst of all, those little spanglies are probably super rough on the skin. Just all around NO.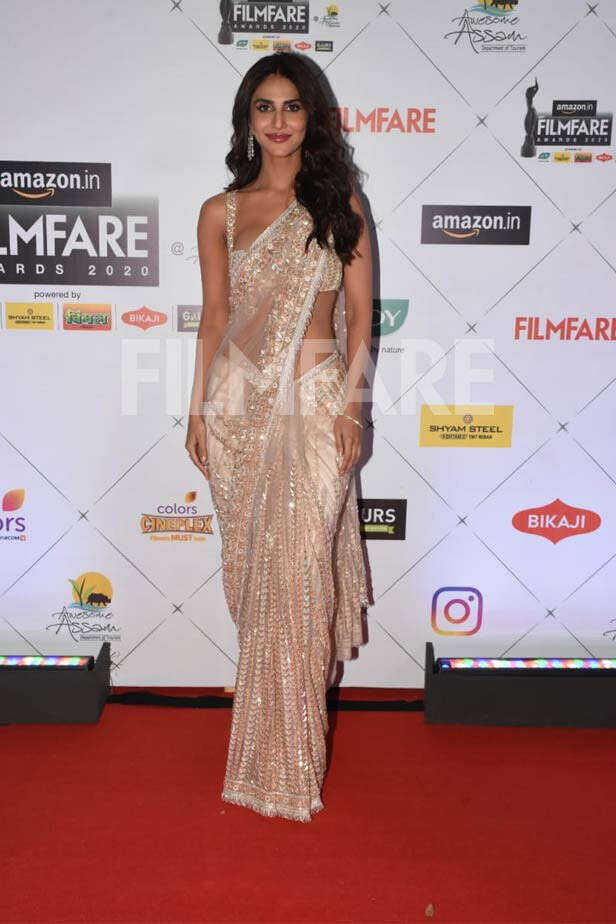 Oh Southern Harsh! How did you manage to combine unbelievable unattractiveness, with super discomfort? One or the other I can see, but why both?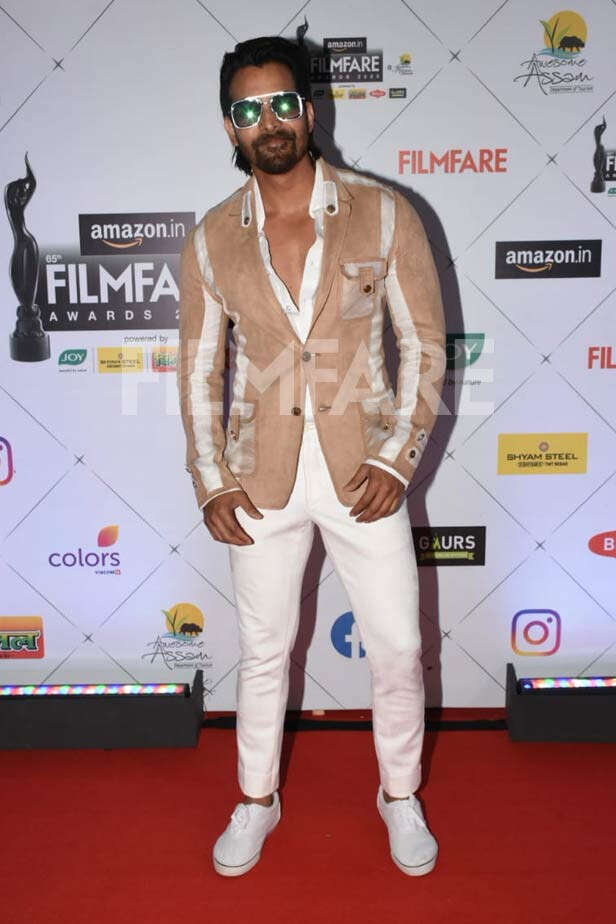 I really like Radhike's look. Nice, simple, pleasant, and loose and comfy for a long seated evening. Giving Pooja Hegde a run for her money in the comfy race!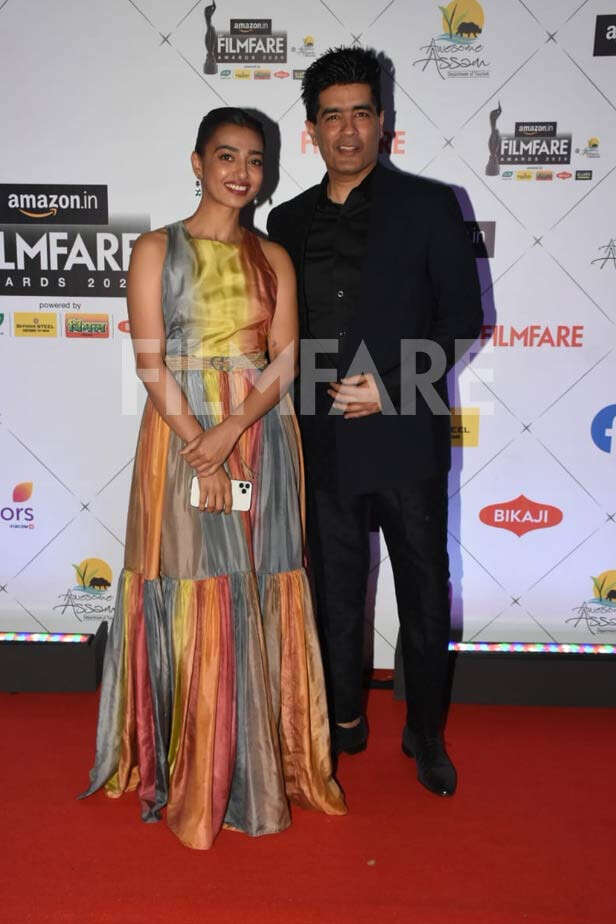 Now on the one hand, that bodice is incredibly fitted and she always has to do deep breaths to keep it up. On the other hand, she could be wearing sweatpants under that skirt and no one would know.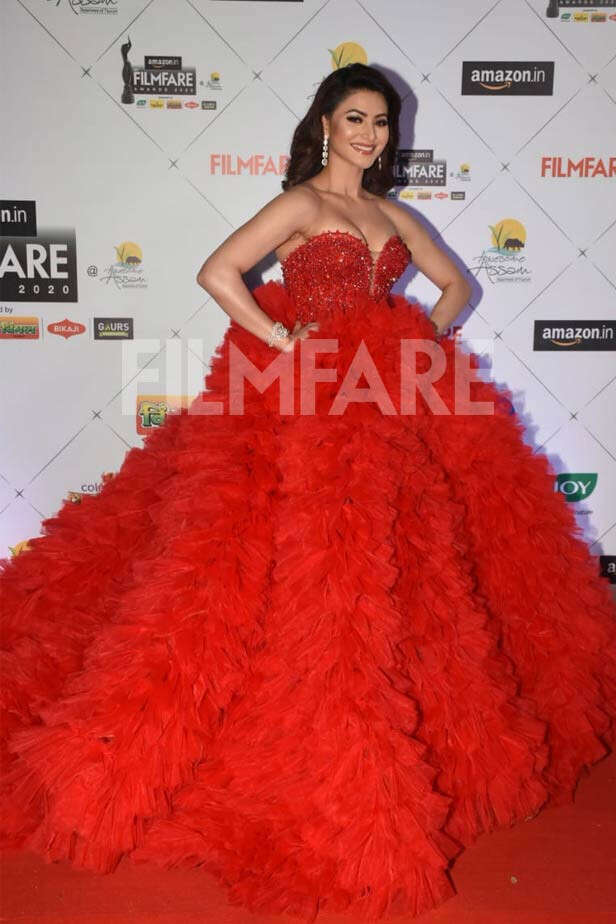 Madhuri looks good, but boy is that uncomfortable looking! There's probably a whole infrastructure underneath it too. Blech, not for me.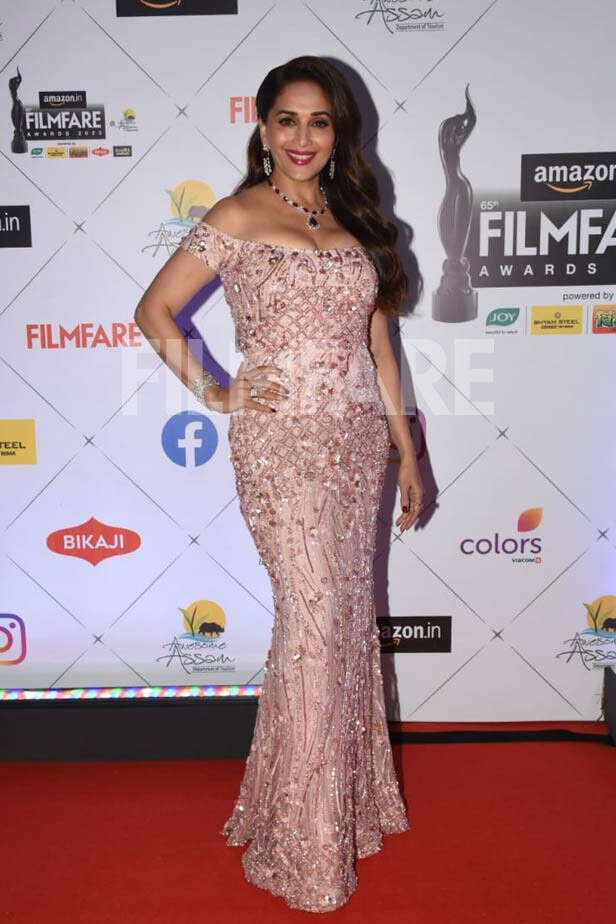 Now, Kartik Aaryan knows how to dress for comfort! Not so much taste, but you can't have everything. Look at that soft silk shirt, loose jacket, sneakers, and nice saggy pants.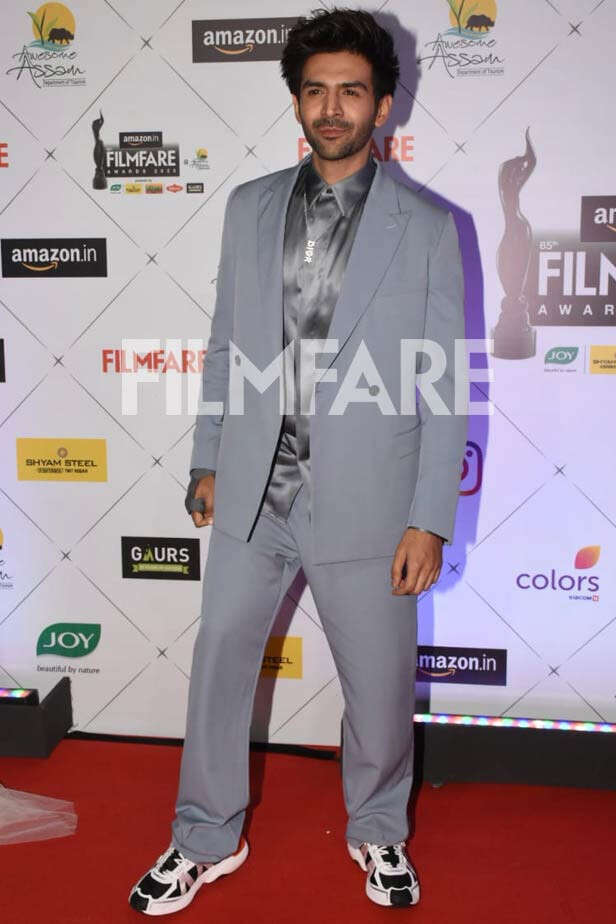 Ananya Panday, not comfy! You know that waist is digging into her all night, plus that top/sleeve combo is the kind of thing you have to hike up every 30 seconds. And if the theater had air conditioning, she is going to be shivering all night. Oh honey! Put on a sweater!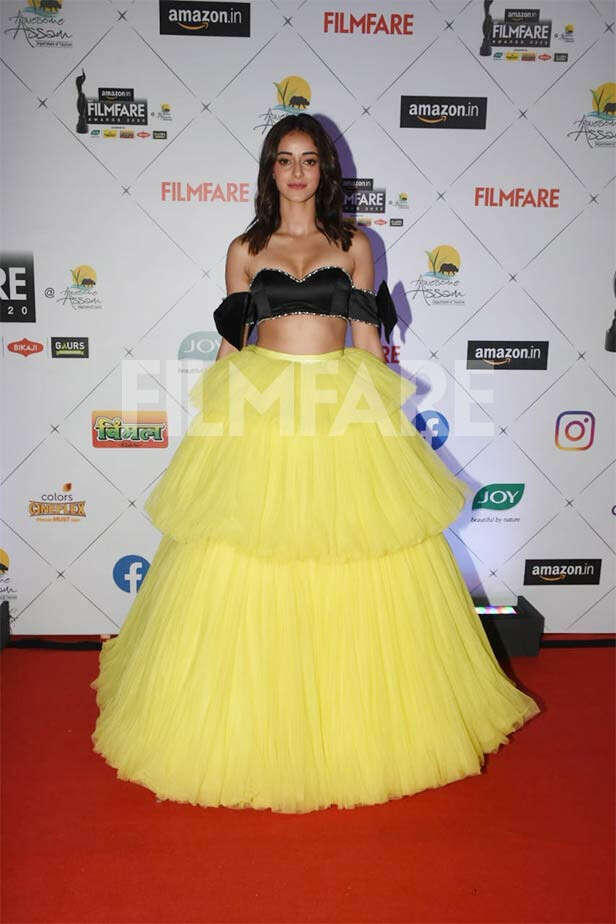 Cute Sunny Sing, nice basic suit. Not terribly comfy, but not terribly not comfy either.
Ugh, PRANUTAN! She should have borrowed one of her grandma's many MANY FilmFare dresses. Maybe she did? It would explain why it is about 6 inches too long for her. How is this both too tight and too loose at the same time? And with the sheer skirt, she is going to have to keep those knees tight together all night.
Saiee Manjraker, I don't understand your dress. There's a hard fitted bodice, then a weird band of fabric over the shoulders, random tucks at the waist, and a slit that is too high. So, you have to let your top half be trapped in clothing jail, an then your legs have to be carrelled all the time so they don't escape. Not great.
Ranveer? What? How? I don't….WHAT? And it's not comfy either! Can he even bend his knees in those pants?
Alia, I love this!!!!! So drapey and interesting, but also looks like it will hold up well all night. Nice loose over the tummy, full coverage on the legs, of the a/c is too high you can just wrap your drape around yourself. Plus simple hair and no jewelry. Love it! Oh, and it's my favorite colors, which have nothing to do with anything, I just like yellow/orange/coral.
Is Varun legitimately unable to button that button? Also, what do we call the thing around his neck?
Sanya, NO! This is weird, and unflattering, and probably uncomfortable too. I think it's two pieces with a scarf-y thing over it. Makes her look super stumpy and tiny, and the bodice looks like it is fitted enough to be uncomfortable but not so much she doesn't have to yank on it. The skirt could be okay, but the slit is too high and it's too long. She's gonna trip on that, get tangled in the scarf trying to stand up, and then her top will slide down while she struggles. All around disaster.
Taapsee, in the same look as Madhuri but slightly softer knitted fabric I think. On the other hand, big pokey shoulder thing, and way too heavy earrings. And the kind of eye make-up that just makes you feel itchy all night until you finally rub your eyes, and then it smears and everything is ruined.
Bhumi! Comfy!!! Except I bet there is something hard and tough under all that fabric along the top to keep it up. And it looks like she has to stand really weird to make her leg pop in the slit. I bet this looked way better in motion, and felt better too.
And finally, Ranvir Shorey! For the ultimately in comfortable facial hair.
Okay, my finalists for comfiest look!
Pooja Hegde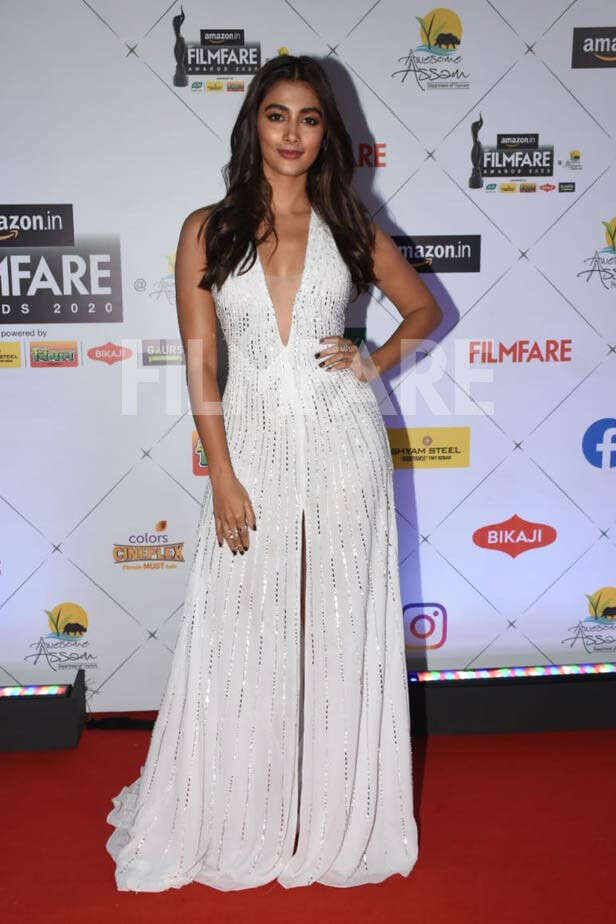 Radhike Apte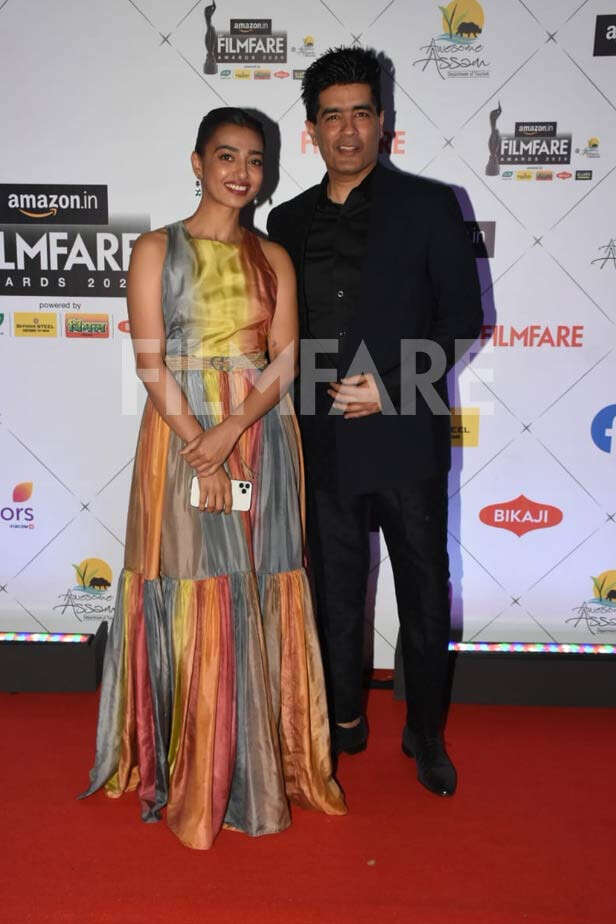 Alia Bhatt
And for least comfortable:
Taapsee Pannu
Or Ananya Panday?