I don't think I even have a conclusion for this, it is just a thing I wrote that you can read, and maybe respond to, and that's it.
We were talking in the comments a while back about how it can be entirely possible for a person to be a very good actor, and not good at Anything Else In Life. Like, not a deep thinker, not a kind person, not even able to fully understand why they are doing what they are doing when playing a role, just going on pure instinct. But because they are in a unique structural position, where they are the Face of this entire enterprise, they get outsize power and prestige while the people who actually are intelligent and hardworking and know what they are doing, do not.
That's just actors in general, of course with movie stars it is even more so. Movies employ soooooooooooooooo many people and make sooooooooooooooo much money and are seen by soooooooooooooooooooooooooooooooooo many other people, and everyone involved in the work and the money and the watching of the movies, puts all their attention on the kind of dim and useless actor, rather than on all the other folks around them.
Now, counter-point! In Indian film in particular, I think it has reached a tipping point. Actors get such an enormous amount of power, in every way, that eventually you just have to learn how to wield it or your ignorance will become obvious. You have to pick good scripts, and good co-stars, and be decent to the people you work with, and most of all you have to give back to the fans who made you.
Let's start with Rajesh Khanna. He came from a upper middle-class family in Bombay. He went to high school, and then college, performing in plays all along. Then he won a talent contest organized by FilmFare and received a contract for a few films as part of the prize. He made modest impact in his first 5 films, but his 6th movie Aradhana became an all time hit. From then on he had 15 consecutive hits, still considered a record. Something about his appearance on camera just drove the audience crazy.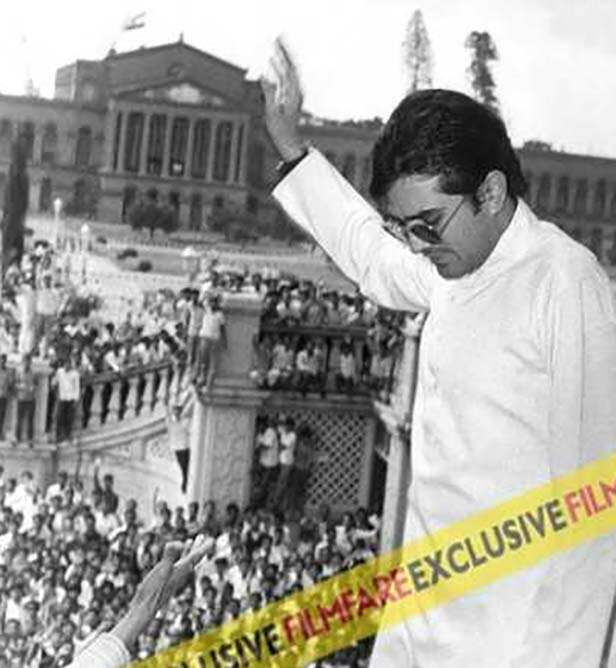 But does on camera charisma necessarily translate to anything else special about a person? In the case of Rajesh Khanna, the answer is pretty clearly "no". He wasn't more than human, if anything he was less than human. He gave decent performances, but was unlikely to sign the challenging role if there was a blockbuster role available. He didn't like rehearsing, showing up on time (like, he would be DAYS late), or really just working, at anything, at all.
He also started enjoying petty power plays on the people around him. A female reporter would show up for an interview and he would invite her into his bedroom and make her feel uncomfortable. Not attack her, just enjoy her discomfort. Producers would be forced to sit in his entry way for days at a time. He would sign their films eventually, he just liked to make them sit. He had 4 long term serious relationships and only married one of them (15 year old Dimple), the other women he enjoyed stringing along with the promise of commitment. His final girlfriend, in his 70s, he used to go off for weeks doing who knows what with who knows who, she would ask about it when he returned home and he would say "I came back to you, didn't I? That should be enough for you."
Rajesh surprisingly quickly drove away everyone around him. Even his innocent teen bride eventually grew up and walked out on him. His superstardom lasted less than 5 years, because producer/directors/co-stars simply could not stand to work with him, no matter how much money he brought them.
And then there is Amitabh, who came after Rajesh. For his entire career, he has been known as the hardest working most professional actor in the industry. He will rehearse with his co-stars over and over again, he will do whatever the director says, he shows up scarily on time for work (like, you have to warn people about it if it is an Amitabh movie, because he expects everyone else to keep the same standard). And on top of that, he gives massive unknown amounts to charities, volunteers for dozens of public service announcements, appears at film festivals and other industry events to support the art of film, and is a regular at every funeral and every wedding for anyone in the film industry.
It seems like this level of fame causes one of two reactions. Either you realize you have been placed in a rare position and it is up to you to somehow live up to that position, or you realize you have been placed in a rare position and decide that is proof of your innate superiority and you should do whatever you want.
Noblesse Oblige is what I am talking about, I guess, and it can take a variety of forms. But at its heart it is about understanding what you owe to others in gratitude for the gift they have given you.
What do you think? Does that make sense, what I am saying? Does it apply outside of Indian film? I don't really follow the pop culture news from industries, do Rock Stars and things also break down into givers and takers? Does the line between average matinee idol star who can be an idiot and no one cares, versus Massive Star who has a higher responsibility make sense?
Do you have anything else to add to this?