This is the review to read before you watch it! And you should watch it because (based on the taste of the people who tend to read my reviews), you will very much enjoy it.
As a reviewer, I want to tell people what movies they will and will not enjoy based on my understanding of the people who regularly follow my reviewers. But I also want to talk through my own reaction to the film and try to understand why I feel what I feel. So on the one hand, I need to tell you that you all will greatly enjoy this film. It's very witty, and lighthearted, and goodhearted, and has a happy ending. All my readers, from the sarcastic young desi feminists, to the aging liberal non-desi ladies, to my little baby college kids who like movies that make you think, will enjoy this. Go forth and be happy! My very small subset of young queer radicals, not sure what you will think but I am kind of curious to find out!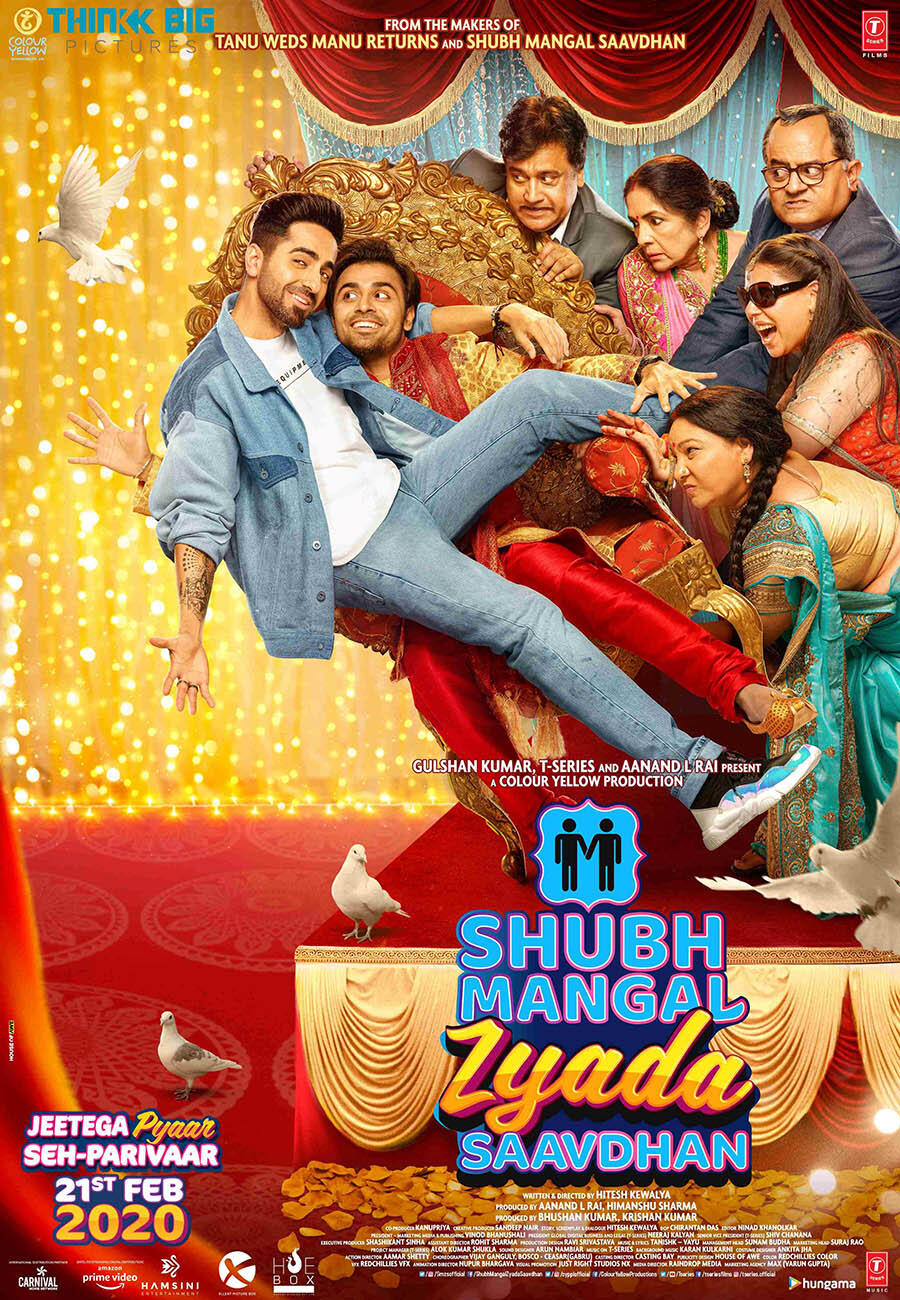 But I didn't like it. And you know, I'm not 100% sure why? I can break it down objectively, the good bits and bad bits of the film, but I'm not sure why the bad bits in this case out weighed the good for me.
There are a lot of good bits. First, and most importantly, the male-male couple is never treated as comic in and of itself. They are just a couple who are in love. Second, a heck of a lot of other stuff is comic and is truly funny! The subtitles are infuriatingly bad, but even with that handicap a lot of the little witty humor comes through. It's also the rare film that has humor of all kinds, visual and verbal and physical mixed together. I sincerely laughed out loud through most of the film. And third, it has that overly family and love and songs kind of feel that makes us love Hindi films. It's slightly less than 2 hours long, and there are two half songs and two full songs (including an end credit song).
There's even something that's just for me, and I'm still not happy. This movie has an INSANE number of cross-film references, and I love cross-film references. Sholay is mentioned so many times I lost count, and the list line of the film is a DDLJ quote. How perfect is that for me? On paper I should love this.
But then there's the bad bits. There are a few things that are thrown in and just left there as "ha-ha, how things are in India" and it bothers me. It is how things are in India, but I don't want to see that in movies. I want to see little bit more of a fantasy, something to aspire towards. Or else I want to just see more of a bright side attitude to it instead of taking the most pessimistic version and laughing and accepting. I'm not talking horrible human rights violations, I'm talking about stuff like a couple of 25 years who don't really love each other and couldn't marry the ones they loved, but they tolerate each other. I want the movie to give me the fantasy that they love each other now, or at least the reality of "but we've had a good life and I am happy" instead of this sort of acceptance of mild unhappiness.
There's also a few characters that feel underserved, and they are female, and that bothers me. The one small downside of a male-male romance is that it removes the requirement for a lead female character of the film, and I miss that. I don't like that the only female characters left are the ones with kind of half a story because they aren't the leads.
But the two biggest things that bother me, I think, is that this is a movie about gay relationships made for people who aren't familiar with them, and a movie about gay relationships not made for a gay audience. That's not a bad goal, it's a mainstream movie trying to ease the mainstream audience into this reality. I'm not the mainstream Indian audience though, and to me the speeches in the last third felt patronizing, and also straight up inaccurate. I, as a person who has been paying attention to this all along, found it very odd that the film put so much focus on 377's status as though it would change everything without ever talking about how it was struck down and then held up again in the past. I also found it straight up WRONG how they were implying 377 would be used, wrong to a degree that was almost offensive to people who were punished using 377. And also just the general discussion of this issue, or that issue, this problem or that problem, that had me feeling just bored and irritated and a little bit patronized.
And then the other part of it, while the gay relationship is at the center of this film, I never really FELT it. We have the characters over and over again giving very long speeches explaining their feelings for each other, but I wanted to see the love story, to be drawn into their emotions, and over and over again the camera turned away from them to focus on the family around them. There's a very sexy kiss, and some other nice moments, but I don't have the big swoony moment of feeling their love, instead I feel like I am always on the outside looking in.
But again, there is so much good in this film! And my critiques aren't even necessarily critiques, they are just considering what bothered me about the film. I am a person who has deeply researched this area, so the (very minor) inaccuracies, and the slightly remedial tone, bothered me. And I am a person who wants the big emotions that will draw me into a movie, so I missed that too. But that's just me. You will probably like the film.