Well, this movie was a kick! Definitely a fun Sippy, an Andaz-Seeta Aur Geeta-Shaan Sippy, not a Sholay-Shakti Sippy. If you have been politely ignoring all my Sippy movie posts because they seem way too deep and serious, you can swing back now and watch this movie because it is fun fun FUN! And a little melodramatic and romantic, but that's just a different kind of fun.
This is Sippy's first movie not written by Salim-Javed. Instead, it was just written by Javed. And you can tell. The poetry is still there, lots of lovely lines, but the plot is missing something. The cool thing is, with the script being a little more formless, the directing gets to create the form a bit more. This movie is all about the visuals, long slow wordless scenes that create a mood more than a plot. It's lovely, and unique, and a little bit strange.
The big thing I'd always heard about this film was Dimple Kapadia's return. And that is a big thing! Dimple had this spectacular once in a generation launch with Bobby, an adorable 15 year old girl who shyly sidled her way into the hearts of India. And then even more once in a generation, Dimple ended up married at 15 to the biggest star in India, Rajesh Khanna, who was also twice her age. And finally this, the completely unheard of unexpected move, returning to film 10 years later after having walked out on her husband.
How do you bring back an actress we all loved as a child, but now see as a mature divorced woman? You do it by having her play a mature woman who everyone loves. Dimple in this is just effortlessly charming. You can see why both Rishi and Kamal love her, and you love her too. And she's also a grown up! Not a married woman, that would be too easy, but an adult. She runs a business and goes out dancing and wears sexy dresses and lives her life. She is like the other heroines, but slightly not. Where another heroine (for instance, Dimple in Bobby) would shyly duck or run out of the room, or laugh like a little girl, Dimple will just toss her AMAZING blow out and move on.
Oh, and she takes off her shirt. That's honestly the thing I hear about the most with this film. Dimple, sexy scene, shirtless. Have to say, it didn't live up to the hype. Satyam Shivam Sunduram showed way more. But the rest of her character is great!
And Rishi is good! Rishi in this era is so hit and miss. Rishi 73-80, that's gold! Peppy, boyish, fun, super entertaining. And Rishi 2000 to present day, also gold! Funny, serious, chubby and cute. But that 80-2000 era? There's quite a mix there. This is one of the good ones though. Rishi gets to play his age just like Dimple. He's a young man finding his way in the world, but he isn't some college kid with little boy eyes, he's an adult. And he isn't torn about what he wants, he makes decisions for himself based on what he believes is right. Also, he's got those big dreamy Kapoor eyes.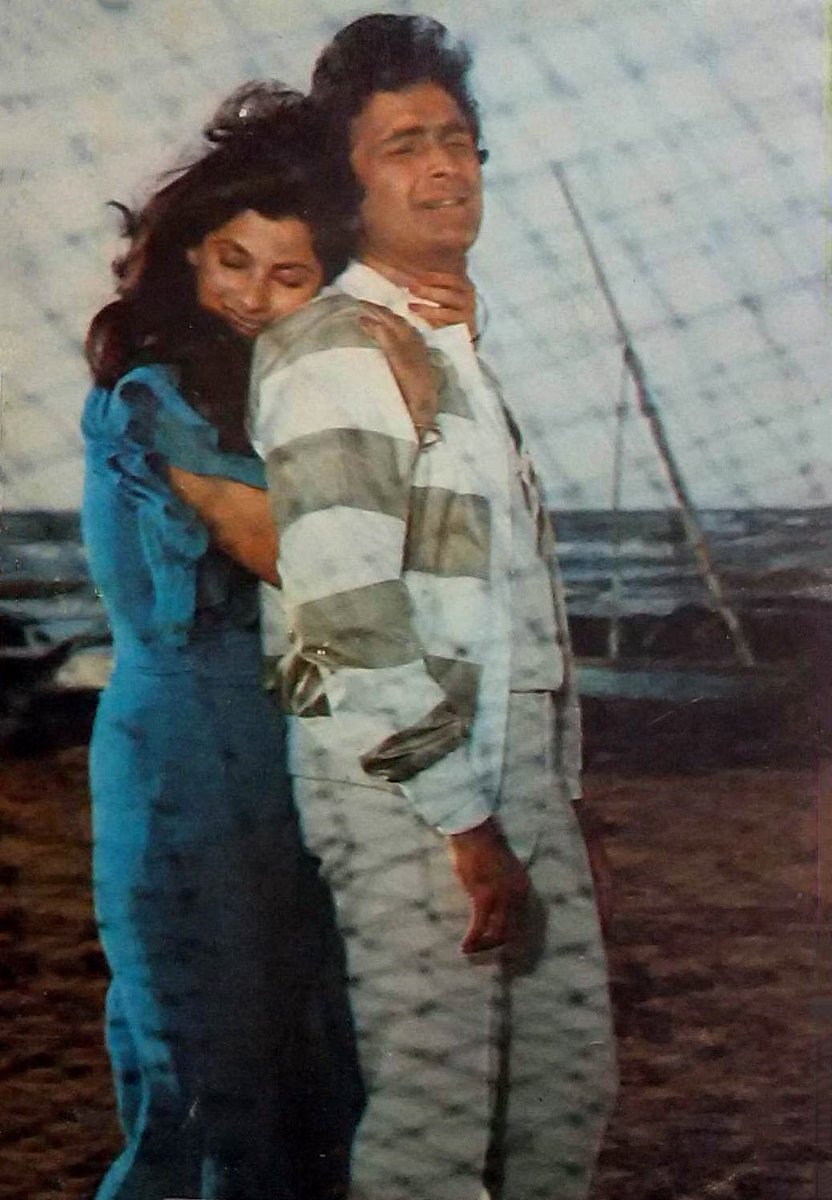 Kamal is in his sweetspot, sensitive overly physical character who is a loser in love. But hey, it works! And his energy of sensitive but strangely confident and charismatic, with Rishi's outgoing bluster and charm, and Dimple's unusually mature and womanly vibe for a heroine, brings together this amazing chemistry of three people that keeps me watching even though, again, Nothing Happens. No Plot Movie.
No plot, but lots of boats! This is a movie that is high on location. It's set in a Catholic Goan fishing community (although not necessarily in Goa? I'm unclear). Dimple and Kamal and all their friends live in this beautiful fishing village. The ocean is ever present, the boats, the loving community, the bright colors and big skirts and all the rest of it. You just kind of lose yourself in the beauty of it all, the striking characters, the emotions of the love triangle and let the film sweep you away.
SPOILERS SPOILERS SPOILERS SPOILERS SPOILERS SPOILERS SPOILERS SPOILERS
Dimple runs the cafe by the docks, Kamal is a poor fisherman who grew up with her, Rishi is the rich boy whose grandmother owns the nearby mansion and falls in love with Dimple and becomes friends with Kamal. Rishi's grandmother disapproves of Dimple, it would be easier for her to marry Kamal, what will happen?
That's kind of it. The film keeps going through variations on the setting and love triangle complications for over two hours, but there's no straight plot you can trace. It's more just sort of a meditation on class and community and friendship and love. Rishi is rich, but also a decent person, and this film argues that those two things don't necessarily go together. His grandmother Madhur Jaffrey has been corrupted by the power money brings her, has stopped seeing anyone beyond herself and her grandson as real people. Rishi is troubled because his parents, who he loved, were one of those people Madhur didn't see as "real". And then he sees Dimple swimming in the ocean, free and herself and with no class or community hang-ups. They meet and fall in love in a space beyond all those identities, just two people. On the other hand, Rishi meets Kamal in a space full of identity. Kamal comes to confront a friend of Rishi's for running over his fishing nets with his sport boat. Kamal is representing his community, the downtrodden lower classes, while Rishi is there as part of the rich and powerful. And Rishi chooses to step away, to side with Kamal and encourage his friend to pay what he owes. Rishi and Kamal become friends because Rishi respects him and his place in the world, and understands what Kamal has that he doesn't (achievements, responsibility, people whose love he has earned).
This is a very specific story, the Goan Catholic fishing community on the coasts near Bombay is a really really exact place. But it's also universal, anywhere that there are the locals who live and love and survive, and the weekenders who swoop in and watch but don't really connect. Rishi is a poor little rich boy who never found a place to feel loved and accepted, and Kamal and Dimple are the locals who don't fully understand the blessings they have until they are threatened with losing them. Rishi's grandmother buys up the loans for the fisherpeople and tells Dimple to let Rishi go or her village will die, and it is a real challenge for all the young people. Because the village and community is what is valuable and special. Rishi's grandmother is so far removed, she can't even see that what she is threatening is special. The film conveys that, conveys the magic of Rishi finding this place where he feels seen, loved, accepted, instead of the cold loneliness of his house.
This is a rare love triangle where you really feel the triangle. Rishi and Dimple have this magical love connection beyond society. Rishi and Kamal have this friendship that makes both of them feel validated and strong. Kamal and Dimple have a lifelong love and knowledge of each other, the kind that makes them ready to dance all night at the local party, or play tricks on each other all day at her cafe. How can any of them betray the other? So when Rishi and Dimple find out that Kamal loves Dimple, they immediately forget their own love. And when Kamal finds out that Dimple is being blackmailed to marry him and really wants Rishi, he immediately forgets his love for her in order to give her what she wants.
Problem is, all films have to end. After hours of the three of them sacrificing in turn, there has to be some kind of resolution. It ends up being a bit sloppy, Rishi's rich older friend is revealed to be Evil, plotting to get rid of Rishi one way or another so he will be made the heir to Rishi's grandmother. Rishi breaks his grandmother down with his steadfast insistence that he will give up everything before Dimple and she realizes she has to respect his wishes, and then Evil Dude tries to kidnap and kill Rishi, Kamal saves them over and over, and finally just as Rishi and Dimple are trying to convince him that they want to sacrifice their love again, Kamal jumps in front of a bullet to save Rishi and dies.
So yeah, the ending is a bit weak, and feels like service to Kamal because the man loves a dramatic death scene. But the rest of it is so delightful! You can even play "spot that actor". Nadira's there, and Madhur Jaffrey, and Saeed Jaffrey, and A.K. Hangal. It's just a bouquot of aging super talented folks in odd costumes and make-up.
Also, if you ever wanted to see what "timeless elegance" looks like, it's Dimple in this. Every outfit, every hair and make-up choice, she could (and sometimes does) still wear to this day. Gorgeous blouses, subtle wave to her hair, and tight skirts that show off her great figure. I want this movie, and Andaz, and Seeta Aur Geeta, to be my fictional clothing closets.