All right, let's do this! From our own isolated work at home places, we all watch an episode a day, and then come together to talk about it.
This has to ease us in to the world of the main characters and at the same time tell a distinct story of one wedding. And so it goes with kind of a "basic" wedding conflict and wedding story, which also happens to coordinate with the heroine's life.
Our heroine, Sobhita Dhulipala, is the wife of a wealthy industrialist heir, Jim Sarbh. She met him when she was hired as his secretary, but now she is the perfect rich daughter-in-law, perfect hair and make-up and clothes at all times. She is perfectly respectful and perfectly caring to her in-laws. And her husband has helped fund a perfectly respectable and appropriate hobby business, wedding planning. She has a fancy office and a less fancy business partner. At work, she is calm and in control. With her in-laws, she is too. But she reveals her vulnerability when she is in bed with her husband asking him to have sex with her, and when she is talking to her divorced best friend Kalki. And that vulnerability comes out in the final shots when she prepares a romantic dinner for her husband, only to have him skip it and the camera reveal he is sneaking off to spend the night with Kalki, her best friend with whom he is having an affair.
Sobhita Dhulipala has a really interesting face, beautiful but also distinctive, you can see why her husband fell in love with her and why her in-laws accept her and are proud of her. In real life, she's a former Miss India, but she didn't rush from the pageant scene into acting. She was in Raman Raghav 2.0 in a small role, then took an interesting part in Chef with Saif, playing his ambitious Sous Chef. Saif used her again in Kaalakandi, and then she went south for two really good parts in really good movies, Goodacheri and Moothon. And now this. She is clearly picking the roles that are interesting to her rather than the roles that will give her a shortcut to being famous. I can see why Zoya picked her for this part, the looks and charisma to keep us watching (and be believable as a rich wife), the experience in a variety of roles and industries to perform well, and not the type who will dump this streaming series and try to move on to something better as soon as she gets a chance.
And then there is Sobhita's business partner, Arjun Mathur. The show does a bit of a trick on us, when he is first introduced as the rumpled type she is ordering around, and then later waking up shirtless to have gangsters threaten him, and finally Sobhita and he going off during a party to talk together and him thanking her with a kiss on the cheek for loaning him money, all of this feels like "odd couple romance". Very Moonlighting or Band Baaja Baarat, he is the "do whatever it takes to get the job" practical and easy to read type while she is the perfect unreadable beautiful woman, they will end up falling in love. But, nope! Half way through the episode, right after he kisses her at the party, he goes to a bar and picks up a guy. The twists keep coming, just as the show seems to have pigeonholed him as a player, his landlord talking about how he has so many different overnight guests and all, we get a flashback to his first love, a sweet flirtation in high school with a boy who passed him an "I Love You" note. And the episode ends with the same boy showing up in his apartment, still a part of his life somehow.
Arjun Mathur is a Zoya discovery, he played Farhan's sincere actor friend in Luck By Chance. He's a trained actor, did Barry John and Lee Strasberg, plus a few years as an AD, before he got his chance. He hasn't had a lead role before, but he's worked a bunch in prominent young man supporting parts, everything from the young reporter in My Name is Khan to Rahul Gandhi in The Accidental Prime Minister.
The main task of the film is to establish these characters, and the setting. Delhi is very specific, and very different from other parts in India. It's about money more than anything else. Money, and power, and politics. There are the old royal families (looks like a later episode will get into them), but the real royalty is the money, the "industrialists", the ones who founded factories in the post-Independence era and kept growing and growing since then. The weddings are how they confirm their wealth, the union of two powerful families blessed with lots and lots of money. Early in the episode we see a rival wedding planning company give that pitch, that this is the new royalty, that they should sell a wedding like they are Mughals or Rajputs, they are the best of the best and the wedding is the way to show that.
The wedding they are planning in this episode is one that parallels Sobhita's love story. The bride is upper upper middle-class, overseas education, good job, westernized style, but she is not the same as the "industrialist" family she is marrying in to. It's not "poor girl-rich boy", it's "rich girl-shockingly wealthy boy". They had a modern love story, meeting through work (she was interviewing him), and then dating for a long time, before finally agreeing to get married. The wedding gets in trouble when the groom's parents ask Sobhita and Arjun to investigate the bride and their investigation reveals that she had an abortion. The couple fights, and then goes off together with the groom declaring he is leaving his family behind, by sending a letter resigning from the company board. It's a great introduction to a world in which business and money come first and weddings and love come second. And it's resolved by Sobhita revealing how clearly she understands this world when she talks privately to the bride and tells her, no matter how much she thinks love is enough now, she will miss the money. It is so much money, you can't just let it go without missing it. And Sobhita gives her advice, if they go back now, her in-laws will be grateful and accept her, and her life will be a lot easier. It's not a reveal of Sobhita as an evil manipulator, or of the bride as that, but it is a reveal of how no one in this world is truly beyond money, that's how this place works and you have to understand that.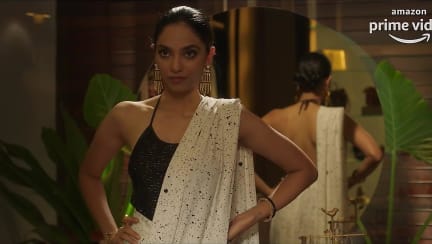 Which makes it a bigger question of Sobhita's marriage. Did she marry him for his money? If she did, is that still the only reason she loves him? Does she want his baby to please her in-laws and keep their life tidy, or does she want his baby because she loves him? Why does she care so much about this wedding business? Is it boredom, is it an effort to build something for herself and try to escape, is it some true feeling for these marriages? On some level this episode seems to imply that last. She understands image, and love, and family in a way that lets her see through to the truth of these weddings and what they really mean and why they matter. Arjun starts out seeming like the one who cares more, desperate for money, desperate to hide his secret, and so on and so forth. But by the end his conflicts have kind of faded back, he may be gay, and his upper middle-class family may be pushing him to return their money (another character who is Delhi-poor, but anywhere-else-in-India rich), but it is Sobhita who cares about these marriages happening because they are marriages, because they are joining two people and families together, not just for the paycheck.
A couple other notes, Neena Gupta plays the mother of the groom and is wonderful (of course). And it's also kind of hilarious to see her play this upperclass perfect respectable woman when she famously had a child out of wedlock in real life. We get the introduction of a few other characters in the wedding team without a lot of backstory for them, the older cynical woman office manager, the young videographer who gets caught up in the story he is watching through his camera, and the new hire Shivani Raghuvanshi who is the only truly "normal" Delhi-ite in the show. I'm pleased that Zoya and Reema included her, it would be easy to get caught up in the world of these characters, where Arjun is "poor" even though he has a nice apartment and parents who could lend him the money to start a business, and where the families who can afford to spend millions on a wedding are "normal". Even the other employees at the agency are not "normal", we can see that in their casual English and classy pure cotton clothes. They are the type that the uber-wealthy will feel comfortable working with, not as rich as they are, but still "acceptable". Shivani is different, awkward with English, wearing clothes that don't fit quite right, awestruck by the office itself. I'm sorry to see the end of Neena Gupta after this episode, btu excited to see where the other characters go.