It's funny, this is one of the people that I think I diverge in my impression from some of you. But not in an angry aggressive way, none of us feel super strongly about our opinions, there's just a difference somehow. It's interesting! And you can disagree totally with my conclusions, but still enjoy the basic facts I lay out.
Usual Disclaimer: I don't know these people, I have no special knowledge, this is just how it looks to me based on publicly available records.
Okay, get ready for me to attempt a brief family tree. It starts with Rani's grandfather and his brothers. They were part of a Bengali Brahmin family in government service. What this meant was that culturally and ethnically they were Bengali, but they were also all Hindi speakers. Rani's grandfather was the oldest of the brothers and had a settled career. The next oldest, Sashadhar, married as a teenager and struggled to find work. He ended up moving to Bombay and finding a job at the Bombay Talkies studio where his ability with Hindi was an asset. Eventually, he called his wife's younger brother Ashok Kumar over to the studio to assist him, and when the studio co-owner/wife of the studio's other owner/their biggest star ran off with her co-star, Sashadhar chased her down and convinced her to come home. And suggested his brother-in-law Ashok could step in to be her new (hands off and no infidelity allowed) leading man.
Ten years later, Ashok Kumar was the biggest movie star in Hindi film and had brought in his younger brothers Kishore and Anoop. Sashadhar had brought over his younger brother Subodh Mukherjee. And the Kumar/Ganguly (Ashok's real family name) family and the Mukherjee family formed a tight Bengali unit, to which was added Gyan Mukherjee (no relation at all, but the same caste and community) who was also an employee at Bombay Talkies. At which point, Hmanshu Rai died leaving his widow Devika Rani in control of the Bombay Talkies studio. The Bengalis formed a syndicate and tried to buy her out, the power struggle went back and forth for years. At the end of it, they just formed their own new studio, Filmistan.
This was a true "studio", not a banner. Filmistan has 5 acres and 7 shooting floors, including a temple and garden set. To this day, multiple films are made there. For 15 years, between 1943 and 1958, the studio grounds were rented out to other producers, and Ashok, Sashadhar, and Gyan also made their own films there. And mentored other talent, Nasir Hussain was one of their top directors (uncle of Aamir Khan). After 15 years, for unclear reasons, it fell apart. Filmistan was sold and the profits divided, partnership dissolved. Sashadhar left and started his own rival banner, Filmalaya.
On the ashes of this partnership, a new one arose! Ravindramohan Mukherjee was the oldest Mukherjee brother. He put in some of the money for the studio, but he was never as involved or influential in the industry as Sashadhar. But once Filmalaya started, Sashadhar brought in Ravindramohan's son Ram as his primary assistant and co-director. This was Rani's father. Her mother was a playback singer, her aunt on that side a Bengali actress. Rani was not born until Ram was 45, she has one brother Raja.
Ram was Sashadhar's protegee and assistant until his own sons came of age. He had 4 sons, 2 of whom became actors and stars of the Filmalaya studio, and 1 who became a director. Joy Mukherjee was the biggest Mukherjee star, kind of an alternative Shammi Kapoor star, teenage and floppy haired and in love. His younger brother Deb had a smaller career, and the youngest of the family Shomu went into directing.
Back at the beginning, this family formed a tight power block in Bombay thanks to their shared Bengali heritage. By the late 60s as Filmalaya was floundering, their sights turned back to Bengal. Shomu and his wife Tanuja both went into Bengali films. Ram Mukherjee turned his eyes there as well.
And this brings me to Rani. She comes from the oldest Bombay acting family in India, tied with the Kapoors and the Samarths. At one point her father was the powerful top director of one of the top banners in the industry, her grandfather was an initial investor in one of the first major studio lots. Her great-uncle was one of the first directors in Bombay, her father's cousins the top stars of the 1960s. And by the time Rani was a child, this had turned to dust. The studio was sold, the films were forgotten, her father was scrounging for work in Calcutta while Rani and her brother and mother lived in Bombay.
This isn't a tragedy, this is life in the industry. You are up, and then you are down. All you can do is keep going. And the Mukherjee's are a family that keeps going. Shomu's daughter Kajol started acting at 15 and kept going, Deb's daughter Sunita married another young actor/director Ashutosh Gowariker, Deb's son Ayan dropped out of college to assist Ashutosh on Swades and wrote and directed his first movie Wake Up Sid (funny thing, his father's last film was Love in Bombay which could easily have been another title for Wake Up Sid) at age 26. And Rani herself made her first movie for her father at age 18, a Bengali comedy.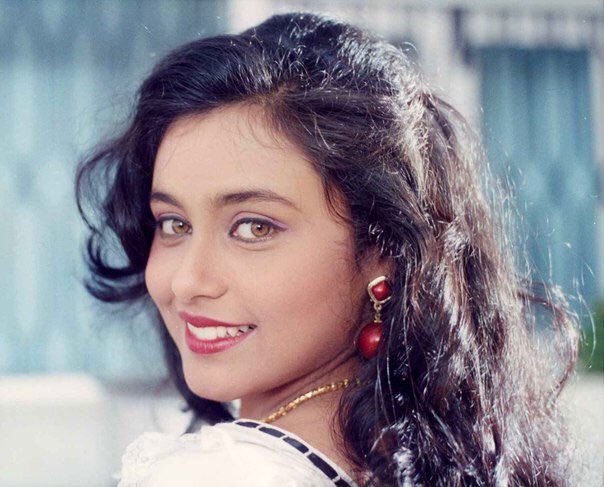 Rani wasn't totally sure she wanted to be an actress, she knew as well as anyone could how uncertain a life in film could be. She stayed in school and at the same time made a movie with her father in the Bengali industry, and then came to Bombay and made a strange film in which she had to play a rape survivor. After that, she got a role in Ghulam with Bhatt productions, but her voice was considered "bad" so she was dubbed. And then Karan Johar, son of a small time producer, came knocking on her door and asked if she would be interested in a small role in a film starring her cousin Kajol. Rani agreed.
Rani was a serious actress long before she became a "serious actress". She didn't rush into film and fall in love with it like her cousin Kajol, she tested it and took her time deciding. But once she decided, she was committed. She didn't complain about her voice being dubbed in Ghulam, she didn't mind taking the smaller role in Kuch Kuch Hota Hai, and she didn't make a fuss about the string of boring love interest parts that followed. She worked hard, she got along with everyone, she didn't make any waves. Slowly, steadily, she climbed her way up.
Finally, in 2002, Rani's career turned around thanks to Yash Raj Films. They placed her in two strong heroine lead films, Mujhse Dosti Karoge and Saathiya. One thing that was immediately different about those roles were that Rani was playing opposite someone her own age instead of propping up an aging male star. Hrithik and Viviek Oboroi were rising young stars, Rani showed off her confident experienced acting ability next to them, and they made her look young (that is, her actual age). The audience suddenly discovered Rani all over again.
This recognition of Rani as a performer came just in time to cancel out Rani's first scandal of her career. Beginning in 2000, there were persistent rumors that Rani was having an affair with married and much older Govinda. Govinda is a very interesting story on his own, son of a small time producer who struggled for years before he was finally noticed for his dancing ability and began making a string of comic hits. He is also extremely religious, to the point of canceling shoots and changing plans at the last minute on the advice of his Priest. To have this young modern seeming actress with this 15 years older married devout man was strange, to say the least. But looking back on it, it makes sense. Rani just feels older than she is, always. Certainly older than most other celebrities her age. And over the years as more and more hints of her real person have come out, it is clear that she is in reality deeply religious, uninterested in big events or parties or anything else, and in fact might have been tempted by a much older man who shared her lifestyle. Not that it mattered, because once Rani became the most successful actress, people forgot about Govinda and that whole part of her life and tried to make her into a young sweet innocent again.
Rani Mukherjee was now the uncrowned queen of the film industry. Partly on merit, and partly on hardwork. The 90s had a strong list of heroines, but by 2003 they had all retired for marriage and children. Rani, starting right at 1998 and working straight through, managed to be more established than the new batch like Kareena Kapoor, but still fresh and young and in no hurry to slow down. Suddenly Rani was getting her pick of the best roles. Finally, she could show what she could really do. And at the same time, somehow burbling up from the depths of the industry, came a persistent story that Rani was having an affair with Aditya Chopra, head of Yash Raj Films.
It's a tribute to Rani's good reputation both among the audience and the industry that the idea that Aditya was helping her career has only been brought up occasionally. Her talent and hard work are there on the screen for us to see. In 2004, she played the dedicated lawyer in Veer-Zaara, the troubled abused wife in Yuva, and the funny Type A fashion designer in Hum-Tum. In 2005, she played a deaf blind woman in Bhansali's take on The Miracle Worker, Black. By that point it was just accepted that Rani was the best actress working in Hindi film, and the one most likely to be able to open a film, Aditya Chopra or no Aditya Chopra.
But, what was up with Aditya Chopra? Rani made her first YRF film in 2002, she absolutely would have met Aditya as part of that process, he was already running the studio even if his father was still the official head. Adi had just married a year earlier, to Payal, his first girlfriend. By 2005, there were rumors that Adi had moved out of the family home and the marriage. The separation and divorce process became public knowledge shortly afterwards. So what I am seeing here is that Adi realized very early on that his marriage was a mistake, early enough that he never had children with his wife (even though in Indian society it is accepted that marriage should be followed by children ASAP). That he started the process of ending the marriage fully and completely and legally, no loopholes or confusion, and that process took a very VERY long time.
Rani took two years to decide on a film career for sure. Adi knew it was what he wanted since birth. Adi always knows what he wants. The easy version of their story is that Rani, sexy young actress, seduced a powerful married man away from his wife. But for me, that doesn't quite fit. What fits better is that two people who were naturally suited to each other, both very introverted and serious and hardworking, met each other at work and were attracted. Because that attraction lead to an affair, or simply because that attraction made him realize his marriage was a failure, Adi started the long slow process of ending his marriage. At some point Adi and Rani officially became a couple. Not a couple as in "they have sex, they go on vacation", but a couple as in Rani looked visibly devastated at the funeral for Adi's father, they were spotted together at the home goods department of a mall, and their first controversial papparazzi photos were taken when Adi was at Rani's family house for her big family Diwali celebration.
Speaking for myself, I found the photos immediately charming. It wasn't wild celebrating drugs and rock 'n roll, it was a family party on a religious holiday with Rani sweetly feeding some sweets to the man she loved. The graininess of the images, and the fact of them being shot through a window speak for themselves in terms of whether or not this was staged (clearly not). But I do wonder if Rani and Adi watched the reaction unfold and were surprised by how non-judgmental the world was. And I have to wonder, considering that they both came from families that had never had a divorce, if perhaps they were more judgmental of themselves than the world was.
Of course it is wrong to fall in love with someone else when you are married. Of course it is wrong to have a relationship with a married man. But it is also wrong to stay in a marriage that isn't working out simply because it is "easy". Both Rani and Adi paid a price for him to end that marriage the right way. A literal price, YRF had to sell off some serious property to pay Payal's settlement (that's how I got half my DVD collection, thanks Payal!). But also the price that they didn't marry for almost a decade after they (possibly) fell in love. That Rani couldn't publicly be there to support Adi through some of the toughest times of his life.
And now Rani is paying another price, after 4 years of peace and solitude to focus on her daughter, she is slowly beginning to take on the job of being the public face of YRF Studios. Rani comes from a film family, she knows that film means everyone works. Adi has to actually run the studio, and suffers from crippling social anxiety. Pam Aunty is increasingly elderly. And Uday is….Uday. If someone is going to host the big events, pay the social prices, keep the family alive in the minds of the public, not to mention offer a big name to some of the studio films when they need it, it is going to be Rani. Rani hosts and organizes the major party that introduces their daughter to the little kids she will need to work with later in life. Rani runs up and down India promoting her micro-budget action film to bring in some money to the family coffers. And yes, she gets accusations of taking on too much, of using her husband to promote her career, but does that match anything anyone has said about her before this? A young woman without scandal, who has never turned in a lazy performance ("bad" is a judgement call, but she is never lazy), an actress who is still working in many positions (PR chief, public spokesperson, actress, sounding board, etc.) when she could easily remain famous and adored by simply walking in fashion shows, an actress who is universally respected by those who have worked with her.
And that brings me back to the title. Rani is an actress, and she takes that seriously. But she sees that is part of a great tapestry of what the industry is. Rani's cousin Ayan Mukherjee got his first chance assisting his brother-in-law Ashutosh Gowariker who got his first chance thanks to his old friendship with Aamir Khan who got his first chance thanks to his uncle Nassir Hussain who was mentored by Ayan's grandfather Sashadhar who became what he became because his wife suggested they bring her little brother Ashok Kumar down to Bombay and see if he could make it in film. What Rani is doing now, hosting these parties and working with new talent and supporting her husband as he runs the studio, that's going to pay forward tenfold. She is one of the many woman of the industry who keep the wheels greased, keep the love flowing, keep it warm and fluid and alive, because that is how everyone benefits.