I'm gonna get a bunch of people yelling at me for this because it isn't totally perfectly comprehensive and accurate. I'm sorry! I'm trying! This is close enough!
Rain Song–Pyar Hua
I am sure there are other previous rain songs in Indian film, but the rain song that truly completely forever and ever encapsulated the meaning of "Rain Song". That made rain song into such a clear perfect amazing moment that every filmmaker afterwards, and ever audience member afterwards, could see the value of that moment.
In 1959, India was in transition as the fantasy of a perfect life post-independence began to die away, and Raj Kapoor and Nargis were in transition as the fantasy of a long term extramarital relationship began to fade away. There's this moment when you can feel it sleeping away, the reality of the world pounding down, and you just want to escape for a little longer into the tiny cover of fantasy.
And that's when Raj and Nargis made the movie Shree 420, and the song "Pyar Hua". Their characters were in love, but the reality of the world said nothing could come of it. She was a social worker and teacher living in one room she shared with her father, and he was a new arrival to the city desperate for a job and living on the streets. She came to meet him one night, they shared enough money between them to buy a cup of chai they could split, and then they walked along the street under an umbrella, talking about how they were in love and were going to try very hard to forget the world around them and just be in love, together, for now.
In the real world, Raj and Nargis had been together for 10 years. Raj had 3 children with his wife Krishna, and Nargis was pushing 30. If Nargis wanted marriage and children in her life, it was no or never. And with Raj, it was going to be never. He was never ever leaving his wife. In the middle of the song, as Raj and Nargis' characters walk along the street thinking about the possibilities and impossibilities of their life, they see three children running in the rain representing their possible children, if they can ever find jobs, find a house, somehow manage to start a life in the falling apart Indian economy. In real life, those three children where Raj's three children, brought on set for a brief time with their father. Nargis and Raj were singing about trying to be in love no matter the world, while looking at the three reasons that, in reality, they could never truly be together.
And then Nargis left Raj and married Sunil. But this one last perfect moment of love between them is so beautiful and so powerful, it forever brought into the Hindi film language the idea of the "rain song". That moment when the world is beating down around you, and you just create this one small perfect place together and forget the world.
Sure, most of the time now that means sex. But it doesn't have to mean sex, it can just mean being in love, together, for a brief moment.
Shirtless Men-Phool Aur Patthar and Kaho Na Pyar Hai
Two origins for this one! Old style and new style. Garam Dharam and Hrithik.
The male body had always been objectified in various ways in Hindi film. The eyes, the hair, the cool clothes, more attention paid to the male body than the female just as there was more attention paid to the male actor than the female. But there was one magical moment when suddenly the naked male body became part of that attention.
In 1966, Dharmendra was a new rising actor. And he had just started a very hot affair with the older very very successful actress. This movie, Phool Aur Patthar, was a starring turn for Meena Kumari, Dharmendra's new girlfriend. Meena was already starting her health problems and spent most of the film wrapped up in multiple layers of white sari (she was playing a tragic young widow). And Dharmendra, little known new actor, was there for eye candy. The moment that brought it all together was when, halfway through the film, Dharmendra returns to their shared apartment drunk and sleepy. He takes off his shirt to give it to a poor beggar woman on the street. He arrives home and then leeeeeeaaaans over Meena (who is pretending to be asleep). Before pulling himself together and gently pulling a blanket over her. BLAM! Blew the minds of the Indian audience! Men have breasts! And nipples! And chest hair! And it's all soooooooooooo goooooooooood!!!!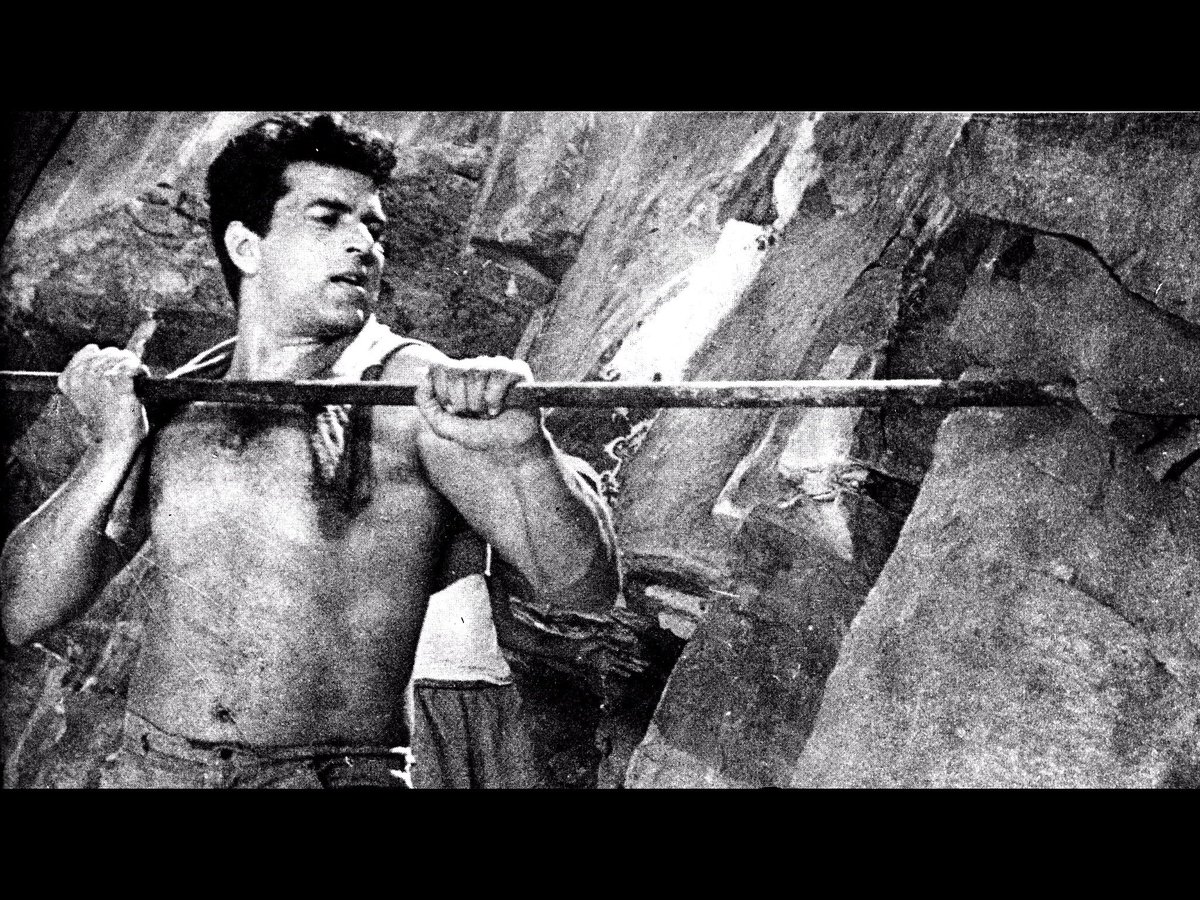 The 1966 era of shirtless men was kind of a "natural" shirtlessness. In two ways, first the bodies themselves were more natural. There was no dieting, and no steriods, it was all about lifting weights, little bellies, big pecs, strong arms. And it was treated "naturally" onscreen. Guys taking shirts on and off around the house, or while working at their Rock Factories or where ever. There was no long lingering slow motion pan up and down, minimal oiling, just dudes without shirts living their lives.
And then came Hrithik! As we discussed on another post, Hrithik has a really unique body type. He is naturally extremely long and lean. When he spent a couple years working out and adding muscle on top of it, he ended up with a body that was all muscle, no fat. His appearance in Kaho Na Pyar Hai in 2001 was completely different from the previous heroes. As was the way the camera caressed his body, showing it off not just incidentally but as the main point of a scene.
Waterfall Song-Jis Desh Main Ganga Rehta Hai and Satyam Shivam Sundurram
Fun trick, when you are wearing thin white fabric, and it gets wet, it becomes see-through! Raj Kapoor really liked this trick. It also was kind of almost realistic in the way he used it. India is hot, and there are a lot of public bathing places. In villages, they might be a public pool or the spring or river. Or a waterfall, which is scenic plus you can really get clean with the water pouring down on you. I suppose it is possible some people bath naked in public areas, with bushes around and folks keeping watch, but it is also not uncommon for people to put on their thinnest oldest clothing and bath with clothes on.
Which brings me to Satyam Shivam Sundarram and Jis Desh Main Ganga Rehta Hai! In both of them, our city hero stumbles upon a village woman who is bathing under a waterfall in a sari that becomes see through. It lets the audience see boobies, but is also this kind of moment of nature and naturalness and beauty stunning the city guy. Something about a woman being wet in nature is this very primal sexual feeling.
Fantasy Song-Awara
Have you noticed that so far 3 of these have ALL come from Raj Kapoor? Yeah, not a coincidence, the man essentially invented Hindi film. Anyway, Awara! And fantasy songs!
I should clarify, these aren't "fantasy songs" like "I am on a mountain top because I am so happy" songs, these are the really elaborate dream sequence visual metaphor type songs. Raj came out of the theater, his Dad made him stage manager/set designer/costume designer/lighting guy/whatever as a teenager for their Prithvi theater troupe. Prithvi did big stuff, not like intellectual stripped down dramas, but big entertaining things. And Raj wanted to take that big BIG stage set vision and put it on film.
In Awara, our hero is a thief and a conman who has fallen in love with a good woman, an honest woman who thinks he is honest. He goes to sleep and dreams of heaven and hell, of trying to reach her in heaven and falling down into hell. It's a big powerful sequence, and so incredibly creative and imaginative.
Film Montage Song-Dil Chahta Hai
Okay, back in 2001 Farhan Akhtar wanted to make a weird different kind of a film. A multistarrer with 3 heroes, but 3 heroes who spoke in "Hinglish" and treated love casually and weren't concerned about their duty to their parents. On the other hand, he wanted to show how even these super cool modern types still felt a connection to Hindi film, how that whole history of Hindi cinema informed him as well.
Thus, this song! In which the modern couple watches a movie and starts imagining themselves onscreen. This was it, this was the first one. And it was so immediately resonate that it was imitated over and over and over again.
Pots Song-Himmatwala
And to end, something simple! There's this visual shorthand for an over the top silly sexy song, of having multiple colored pots all around while a woman dances. That's from Himmatwala, a super super silly movie that was a big hit and Sridevi was amazing in it. It's one of those song visuals that has been imitated so many times, you may not even realize where it came from originally. But this is it! The origin!