Part 3! What happened to Jaya as her husband's star waxed and waned, her children grew up, life moved on and she seemed to be left behind?
Usual Disclaimer: I don't know these people, I have no special knowledge, this is just my conclusion based on publicly available sources.
Jaya Bachchan was raised with love and support by intelligent parents, went on to hard work and success in her chosen career, found a loving boyfriend and married him, had two children almost immediately, watched her husband go on to fabulous success, enjoyed a happy homelife in the lovely house her husband purchased, went on nice vacations as a family, just general sunshine and happiness.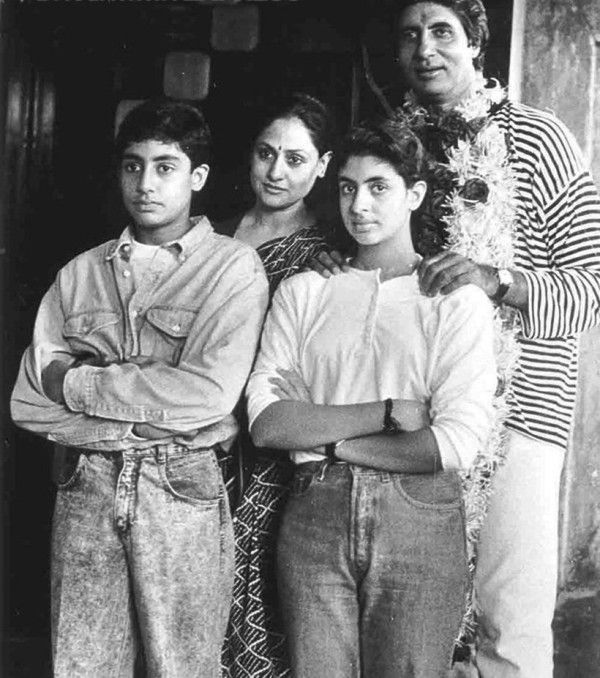 There were a few clouds of course. The persistent rumors of her husband's infidelity, and then his nearly fatal accident and the resulting medical issues that haunt him to this day. But no big drama, nothing that shook her life to it's foundation. And yet, after the coolie incident, Jaya retreated more and more.
It wasn't just a retreat from movie stardom, Jaya had already made that retreat. She was firmly and happily (it seems) in the "star wife" space. She went to the industry parties, her kids played with the kids of other film industry people, she was smiling and pleasant and people liked her. In the mid-80s, Jaya's husband took a stab at politics which lead to dishonor and confusion. Then in the 90s, he left acting to try at creating an entertainment corporation, more failure and dishonor. And somehow in there, Jaya faded back farther and farther into nothingness.
As I always say in my disclaimers, I truly don't know these people. Everything I am saying just how it looks to me. What I have seen and heard in these very vague rumors is that something odd is happening with Jaya, and has been happening since maybe the early 90s. She doesn't smile as much in public, she seems odd in her interactions with Amitabh (hard to define exactly, but somehow their chemistry feels off), she gets uncontrollably angry at photographers who swarm her. And she hasn't acted. She has been in 12 movies in the past 20 years. If she was fully retired, that would be one thing, but instead she comes back for a film here or there, difficult roles and complicated shoots, and then disappears for several years at a go. It doesn't feel like she is being picky and only taking the best parts (there are some small boring things mixed in), and it doesn't feel like she isn't up to the work, it feels like sometimes she is mentally and emotionally able to do it, but a lot of the time she isn't.
The cause of this behavior is generally accepted to be Amitabh fooling around, their marriage being dead, her heart is broken, and so on and so forth. But somehow that answer doesn't feel right to me. Not with the way they still live together, host parties together, love their children and grandchildren together. And not with the way they first married in love, and the happy years of parenting their children. The other answer, that Jaya is perfectly happy and nothing is wrong, doesn't feel right to me either. There are just too many photographs and moments that look wrong, and her career pattern is too uneven. Yes, she is in politics now, elected first in 2004 and again and again since then. But she is in a minor role, it takes up time but should not swallow her whole life. And that oddness was there with Jaya before 2004 as well.
So the answer that feels most right to me is a third possibility. You can disagree of course, none of us knows or will ever know the truth, you can believe that Amitabh is a hounddog and his cheating wore her down, or that Jaya just photographs poorly and is actually very happy. But to me, the third possibility that Jaya has some kind of socially unacceptable illness and the family (including Amitabh) is protecting her and helping to hide it, feels most true.
Let us try out, just as a thought experiment, the idea that Jaya might have, for example, depression. This is the kind of thing that would cause the film industry to close ranks around her, Karan Johar might tell sweet stories about her from his childhood but he simply won't say anything about her in the present day. No one comments on her outbursts at papparazzi, everyone accepts without comment when she does or does not appear at events, and everyone understands that her famous relatives will not be discussing her or her part in their lives. And for her, the stress of hiding her feelings when in public causes her to shut down, not seem to connect with other people when in public. When she is healthy and in a good place, she rushes to work, to doing things, to feeling useful. And then the illness comes back and she has to retreat, no more acting, just the political work she can easily manage without feeling over-whelmed.
The same pattern might work for addiction of some kind, or a complex hormonal imbalance, or even something like chronic fatigue syndrome (although that would be less of a private matter). To me, thinking about Jaya as someone who broke from the inside, who is being protect and cared for now by the family she spent years caring for, that fits better than any external explanation. If it was Amitabh's infidelities that broke her, why would the behavorial changes come long after the peak of the rumors? If everything is fine, then why does everything feel so very very not fine?
What I am seeing is that the Bachchan clan, lead by Amitabh, are sheltering Jaya in their shadow now. She does not go out alone, she does not go out at all if she does not wish to. Amitabh goes everywhere, and he will take Shweta, or Abhishek, while Jaya stays home. Amitabh provides tweets and blog posts about his whole life and we don't notice that Jaya is never revealed. The Bachchan family rules and privacy, strictly enforced by Amitabh, could be a wall built up to keep Jaya safely nestled inside.
I don't know if this is the case, I hope it is not, I hope my second supposition is the correct one (Jaya is very happy and just comes off grumpy in photographs), but it feels true to me.
That was short! So, as a bonus, here is a timeline of Jaya's life:
1948: born in what is now Madhya Pradash
1963: Her first movie, Mahanagar, she played the heroine's younger sister
1971: She graduates FTII with a Gold Medal and is launched with Guddi, and meets Amitabh
1973: She marries Amitabh
1974: Shweta Bachchan is born
1976: Abhishek Bachchan is born
1981: She returns to acting in Silsila
1983: Amitabh almost dies in the Coolie incident
1984: Amitabh enters politics
1988: Amitabh returns to acting in a script Jaya helped write, Shahenshah
1992: Amitabh retires
1996: Amitabh founds ABCL
1997: ABCL collapses, taking the Bachchan family fortune with it
1998: Jaya returns to acting and receives a FilmFare and National Award
2001: Jaya acts opposite Amitabh again in Kabhi Khushi Kabhi Gham
2004: Jaya elected to Rajya Sabha